We, the City of Greater Sudbury, have progressed so far from the days when many a new bride cried in despair as her husband brought her from Europe or Montreal, or anywhere else in Canada, to Sudbury. And I am not being sexist. I'm sure the men were crying, too.
So we come to another juncture in city life where we can decide if all the talk from one side of the mouth matches the chatter from the other.
On Tues., Dec. 13, the Transportation Master Plan (TMP) goes to city council. On Wed., Dec. 7, is a community-led information night to review the TMP. The meeting is open to the public and will be held at the Open Studio at 93 Cedar Street, from 5 to 8 p.m.
So on the one hand, we proclaim Sudbury is a learning city, a place for families, a city hosting more than 330 lakes (size of lake undefined?) and a walkable city? A happy place? Let's invest money to bring professionals and other folk to live.
Sudbury is home to the Big Nickel, Olympic champions (four and counting), a film and television hub, literary, jazz, folk, comedy, and heavy metal music festivals, to name but a few. Local garlic and potatoes, anyone? Once a Vancouver-ite told a foreigner (true story) that her sister had a nicer lifestyle in Sudbury.
On the other hand, speeding is high, pedestrian safety is low. It's all about the trucks; poor health, obesity, smoking rates and so on.
We study it but we're never implementing cycling and pedestrian infrastructure. The TMP looks at it as a long-term of 11-15-plus years (we will need to study it again at that point); and, oh while we're at it, let's revive what is supposedly just a proposal of a road through Lake Laurentian Conservation Area.
Reading the thorough the TMP, one sees the city will add 268.5 kilometres of cycling infrastructure to the already existing 138.6 kilometres, for a total of 407.1 official kilometres. They would appear in a combination of lanes, cycling tracks, signed bike routes, multi-use trails.
Yet again, we find a proposal for a possible southern university route, identified in a shady yellow, lurking on the far right corner of the maps.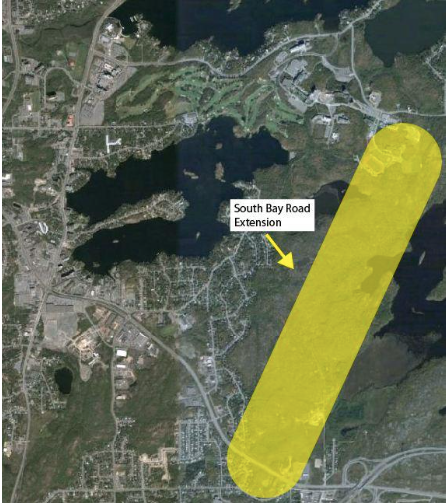 Who really wants this hot local potato? Laurentian? In the past, they've said no. The City? Really?
Anyone stuck in traffic on Ramsey Lake Road and Paris Streets at certain times of the day may well be wishing for another way. But the city's own research has stated that a secondary road won't necessarily reduce congestion. Is a four-lane expansion of Ramsey Lake Road really a good idea? Do residents want that?
Besides, there's another issue in this particular situation.
As Laurentian's student newspaper, Lambda, reported this fall, parking space is already at a premium on campus.
Since the announcement of the date for council to receive the TMP, calls have gone out from groups like the Coalition for a Liveable Sudbury.
The CLS wants safe cycling infrastructure on busy streets made the priority.
They are not all doom and gloom and are happy to see advances, for example, the effort this fall toward crosswalks that help with pedestrian safety.
Their other main concern is that proposed phasing in of cycling occurs over the long-term.
The CLS strongly recommends the city identify primary travel corridors and apply a high priority, thus implementing the corridors over the short-term or up to five years.
"Specifically we recommend designating the Paris/Notre Dame, Lasalle, Barry Downe, Lorne, Kingsway and Elm corridors as high priority (short term), stand-alone cycling infrastructure projects, with dedicated, separated cycling infrastructure.
"In the TMP, some major routes, including the Paris/Notre Dame and Lasalle corridors, are listed as long term (11 to 15-plus years), others are incomplete, while others propose unsafe cycling infrastructure," says the CLS.
Like many other groups, the CLS wants even the whisper of the South Bay Road Extension, aka the Southern University Link, eliminated.
On page 155 of the city's own plan, it says: "From a traffic capacity perspective, the road link is not essential to accommodate traffic volumes and would not help to alleviate congestion."
Here's the link to the Transportation Master Plan: http://www.greatersudbury.ca/living/roads/draft-transportation-master-plan1/;
Find your councillor's email at: http://sudburycandidates.ca/
A student petition for the trails:
The FB public open-house event on Dec. 7: https://www.facebook.com/events/650356081810025/.
It all comes down to much ado about the future of the city. Remember what it used to look like. We can always strive to be better, safer, and greener, however that's defined.
Laura Young's Personal Best appears every other Monday in The Sudbury Star.