Laurentian University Indoor Track & Field Team
Press Release
Sunday, February 19, 2023
"Ford Wins Another Sprint Gold"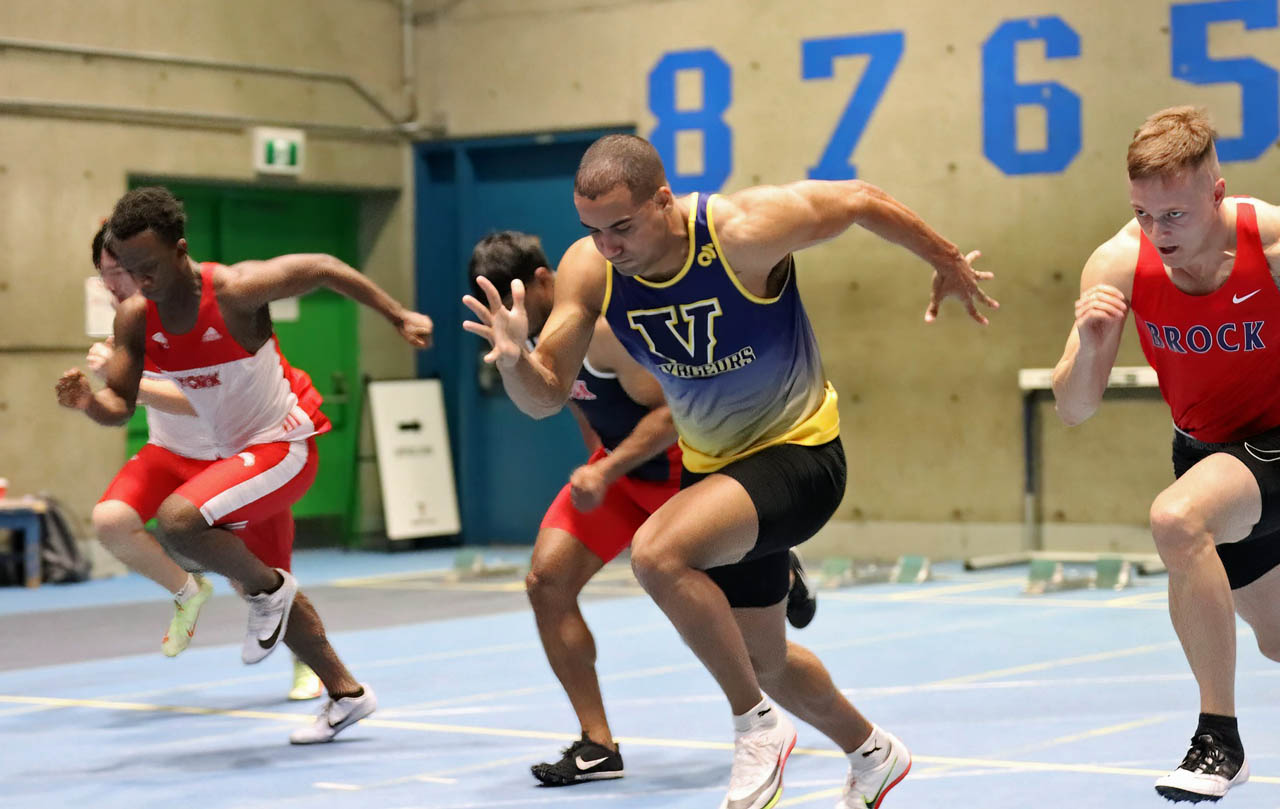 The Laurentian varsity track and field team travelled to Toronto this past weekend to compete at the Hal Brown Memorial Indoor Track and Field Meet hosted by the University of Toronto. This competition provided the Vees with a final opportunity to improve their provincial ranking or set qualifying marks prior to the OUA Championships set for the University of Windsor, February 24 & 25th.
MBA Student, Tre Ford (Niagara Falls) led the Vees by claiming another gold medal in the men's 60 metre sprint.
Ford matched his season best time of 6.94 seconds in the final. Ford will enter the OUA Championships ranked 9th in the province.
Second year kinesiology student, Naomi Palmer (Sudbury) met the OUA qualifying standard in the women's 60 metre event, running a personal best of 8.27 seconds in the heats. Palmer went on to place 12th in the finals with a time of 8.46 seconds. Palmer also set a new personal best in the 300 metre event, placing fourth in a time of 44.16 seconds.
Other top-10 performances by the Vees included second year nursing student Kristen Mrozewski (Sudbury) who placed 8th in the women's 1,000 metres in a time of 3:00.27. This mark places Mrozewski at the #9 all-time spot in Laurentian history. First year nursing student Brandon Radey (Sudbury) placed 10th in the men's 600 metre event in a time of 1:27.35.
This marks the end of the OUA Indoor Track & Field regular season. Laurentian will be represented at the OUA Championships, hosted by the University of Windsor, February 24 & 25, by Naomi Palmer (60m, 300m), Kristen Mrozewski (600m, 1000m), Sarah Booth (1000m), Pascale Gendron (1500m, 3000m), Tre Ford (60m) and Tristan Routhier (60m, 300m).
Photos courtesy of Cameron Date