| | | |
| --- | --- | --- |
| | | |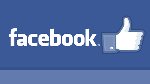 Hello Everyone, October 10, 2019
In this Issue:
Oct 6 Run for the Cure
Rocks!! and Locals at the County Marathon
Ultra Trail Stokely Creek had people running for the hills in Goulais
Rocks!! Run the Trails
The Story of TAHOE 200 - Chasing the Spirit
Upcoming Events October 13, Turkey Gobbler Trail Run, October 20 Wiky 10k
Running Room Run Club Update:
Track North News Waterloo/Don Mills Open Cross Country Meet
October 6, 2019
A sea of pink at the annual CIBC Run for the Cure
The community gathers at Cambrian College to support breast cancer research
by Keira Ferguson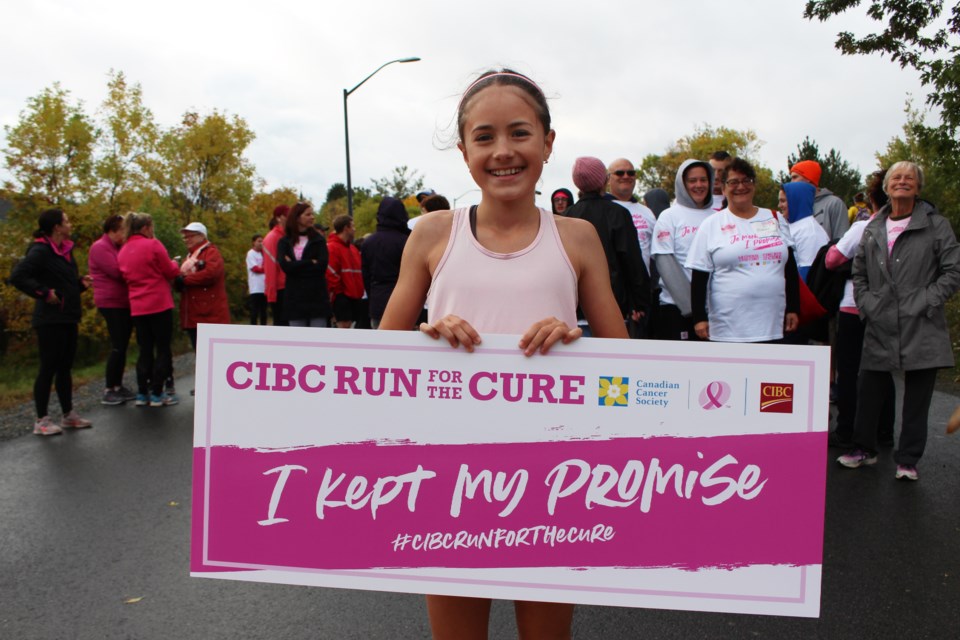 Lucia Salmaso at the 22nd annual CIBC Run for the Cure at Cambrian College. (Keira Ferguson/ Sudbury.com)
See all Keira`s photos here at Sudbury.com
Thank you for joining us at the Canadian Cancer Society CIBC Run for the Cure! You came together with thousands of participants across the country to walk, run and fundraise. With your help, we truly became a force-for-life in the face of breast cancer.
Together, we raised an estimated $17 million nationwide! This is an incredible accomplishment that would not have been possible without your hard work. Your passion and commitment will allow us to help more Canadians than ever before live with and beyond breast cancer.
While 1 in 8 women is expected to develop breast cancer in her lifetime, you are helping us make important progress. Thanks to the generous donations to the Run this year, the Canadian Cancer Society can fund the most promising research in the country that can change the lives of people diagnosed with breast cancer. Funds raised also allow us to continue providing a nationwide cancer support system, so that no Canadian has to face breast cancer alone.
On behalf of the thousands of Canadians who turn to us every year, thank you for your support and for helping to make breast cancer beatable.
Sincerely,

Andrea
Andrea Seale
Chief Executive Officer
Canadian Cancer Society
Members of the community gathered at Cambrian College Sunday to participate in the 23rd annual CIBC Run for the Cure.
This family friendly event is hosted to support breast cancer-related research through the Canadian Cancer Society.
There were approximately 460 participants in the event and $67,000 was raised for an amazing cause.
Run Award Winners
Male
1 - Brandon Raddey - 19:42
2 - Travis Annett - 20:02
3 - Niel Castonguay - 20:14
Female
1 - Sara McIlraith - 20:17
2 - Lucia Salmaso - 21:30
3 - Melanie Courchesne - 22:30
Child (under 13)
1 - Matteo Ceccon - 23:42
Survivor
1- Stephanie Koett - 25:31
Two Decades of the Run for the Cure

by Sara McIlraith

This Sunday marked my 20th annual Run for the Cure. Our team has morphed over the past 2 decades, including three re-brandings (yes, I am still embarrassed by our first name '21 buns and a wiener'). Over this time one of our founding members developed breast cancer and lost her fight to this disease, and another member has successfully fought her way back to health. Not surprising, as the statistics are that 1 in 8 women will develop breast cancer in Canada.

I am terrified of cancer. It is something that seems to see no boundaries and doesn't care how healthy you live. This is a day for me to look cancer in the eyes, to think about life and to remind myself of how much I am truly grateful for.

While most participants come out to enjoy a walk with their friends and family, I always race it. I want to embrace the discomfort, to push my limits, to thank my body for carrying me through another year of health. It is often hard to think positively in the depths of a race, but that is always my goal on this day.

I am very proud of our team, now called the Pink Hooligans. As our steadfast leader Pam Pancel said, every one of our members has their own reasons for participating in the Run for the Cure, but together we continue to support each other, and we really are making a difference.

Rocks!! and Locals at the County Marathon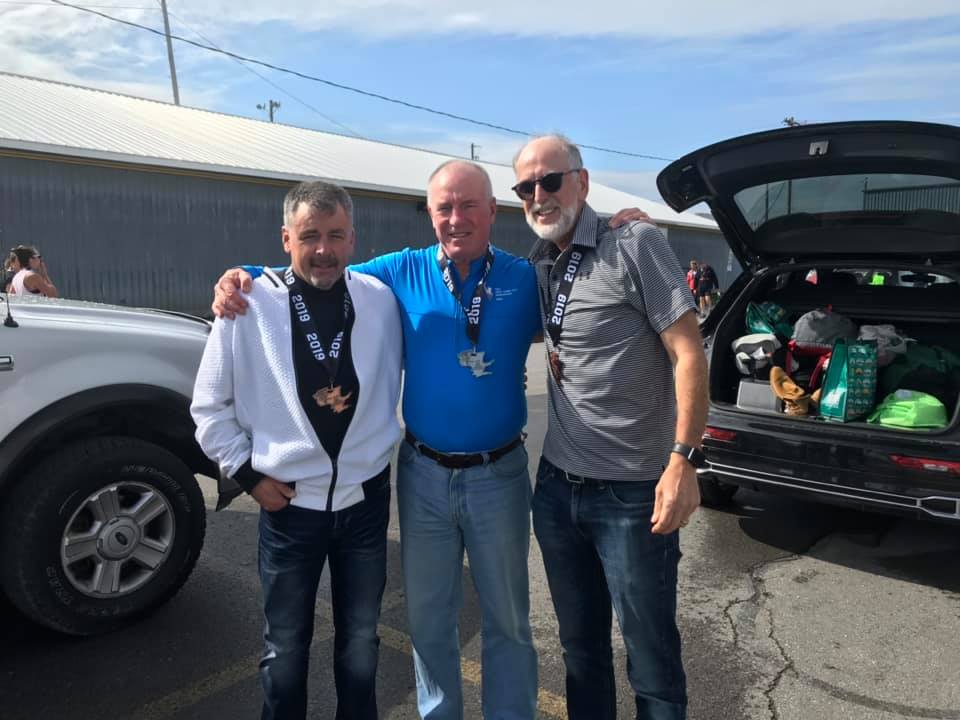 Mike Wilson, Jesse Winters and Yves Robichaud finish the County Marathon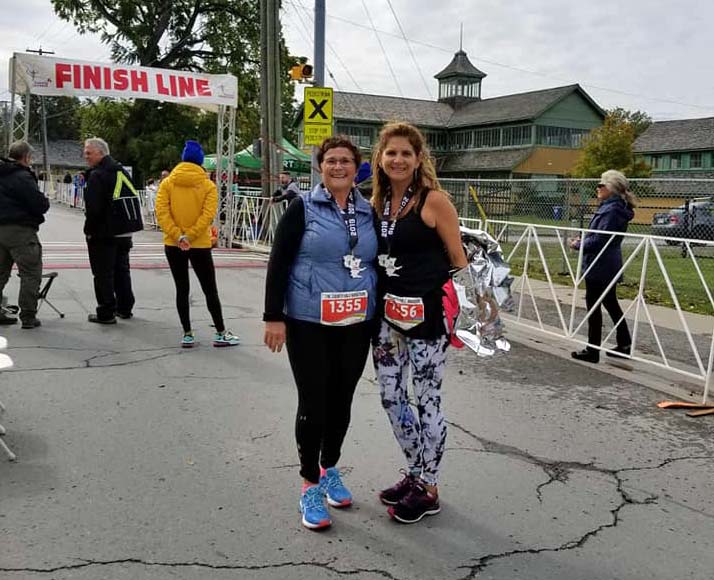 Dianne Rossi and Lise Edwards
The Prince Edward County half marathon may have started off with an hour and a half of rain but we didn't let it stop us from completing the 21.1 km walk in 3 hrs 13 mins. Thank you Lise for setting a great pace that led to my fastest time to date. Thank you to Cristina, Joel, Sophie and Lucas for cheering us on at the finish line and taking us out for a great lunch afterwards. It was so nice to have family at the finish line.
Dianne Rossi
Marathon

BIB
NAME
CATEGORY
RANK
GENDER PLACE
CAT. PLACE
SPLIT 1
CHIP TIME
OFFICIAL TIME
238
Yves Robichaud
M60-69
64
48
2
2:04:56
4:08:05
4:08:18
240
Michael Wilson
M50-59
65
49
11
2:04:53
4:10:25
4:10:37
257
Jesse Winters
M60-69
77
57
4
2:04:57
4:17:10
4:17:24
215
Ken Stubbings
M50-59
86
64
15
2:07:06
4:23:11
4:23:32

Half

BIB
NAME
CATEGORY
RANK
GENDER PLACE
CAT. PLACE
SPLIT 1
CHIP TIME
OFFICIAL TIME
1169
Jacob Raskevicius
M30-39
70
43
13
0:52:24
1:51:24
1:51:44
1170
Bruce Bichel
M50-59
145
75
8
0:52:24
2:03:11
2:03:32
1267
Lynn Stubbings
F50-59
231
128
16
1:04:10
2:20:57
2:21:34
1385
Marc Saini
M40-49
315
122
32
1:13:37
2:57:02
2:57:23
1355
Diane Rossi
F50-59
324
200
26
1:29:42
3:13:49
3:13:49
1356
Lise Edwards
F50-59
322
199
25
1:29:42
3:13:45
3:13:47
1121
Dave Murray
M30-39
327
124
31
1:34:51
3:25:19
3:25:34
1120
Cindy Murray
F30-39
328
204
76
1:34:51
3:25:18
3:25:34
Ultra Trail Stokely Creek had people running for the hills in Goulais
More than 150 runners take part in a day of trail running; organizer wants race to become world-class qualifier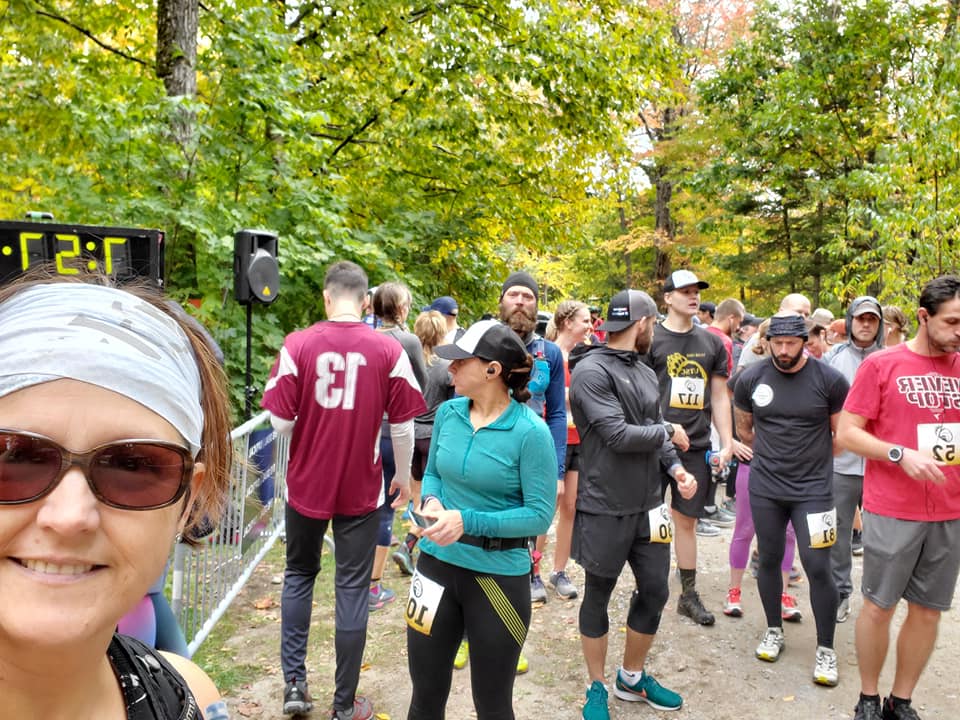 Sudbury at Stokely Photos Here
---
The inaugural Ultra Trail Stokely Creek event brought more than 150 runners from two provinces and seven states together at Stokely Creek Lodge in Goulais River Saturday for a day of trail racing.
"This is one of the most beautiful places I've ever run in my life, and it's helped me train for ultra-marathons that I've run all across the world," said organizer and world-class marathon runner Nicholas Brash. "I figured if I can train here and do well in those races, this should also be a race."
"We figured everybody needs to see our backyard, it's so beautiful."
A total of five races, ranging from five kilometres to 83 kilometres, departed from the lodge to hit the trails.
Race day volunteer Allison Notte says that runners were on-site well before the sun came up in order to prepare for the first race of the day, which began at 5 a.m.
"All the trail runners were in here sitting by the fire, keeping warm. It was awesome to see," Notte told SooToday. "They had all their headlamps on, and everyone was excited to get there."
The first-ever Ultra Trail Stokely Creek event marked a number of firsts for its participants.
"I've done the distance before, but not on trails - all on roads," said Saultite Ryan Mitchell. "So it will be a very different race."
And for some, the real challenge is all in their heads.
"Well, it's going to be all mental because it's hills," said Niki Maione, who usually runs about 15 to 20 kilometres each weekend with a couple of her friends. "I'm doing the 32 [kilometre race], so I'm not doing the hills until 19.4 kilometres in, and by that time, it's all mental."
"It's going to be good, though. It's going to be a good day."
Brash, who participated in the 101-kilometre ultramarathon at the World Summit of Trail Running in Europe in 2018, says that there's a reason the event t-shirts bear the words 'year one.'
"There's an opportunity to have this course audited by the International Trail Running Association, and once they come in and do a GPS tracking of the routes that we put on, they'll realize what a gigantic challenge this race is," Brash told SooToday. "If we get a stamp that says it's approved as a qualifying race for Ultra-Trail du Mont-Blanc in France, then we can be on the map to bring runners from all over the world."
"With the races I've run all over the world, there's no reason there shouldn't be one, in my opinion, because it's just as difficult, if not more."
Additional information and photos can be found on the Ultra Trail Stokely Creek website and Instagram account.
Rocks!! Run the Trails Oct. 9
Photos by Ratvinder Grewal
The Story of TAHOE 200!
by Amber Konikow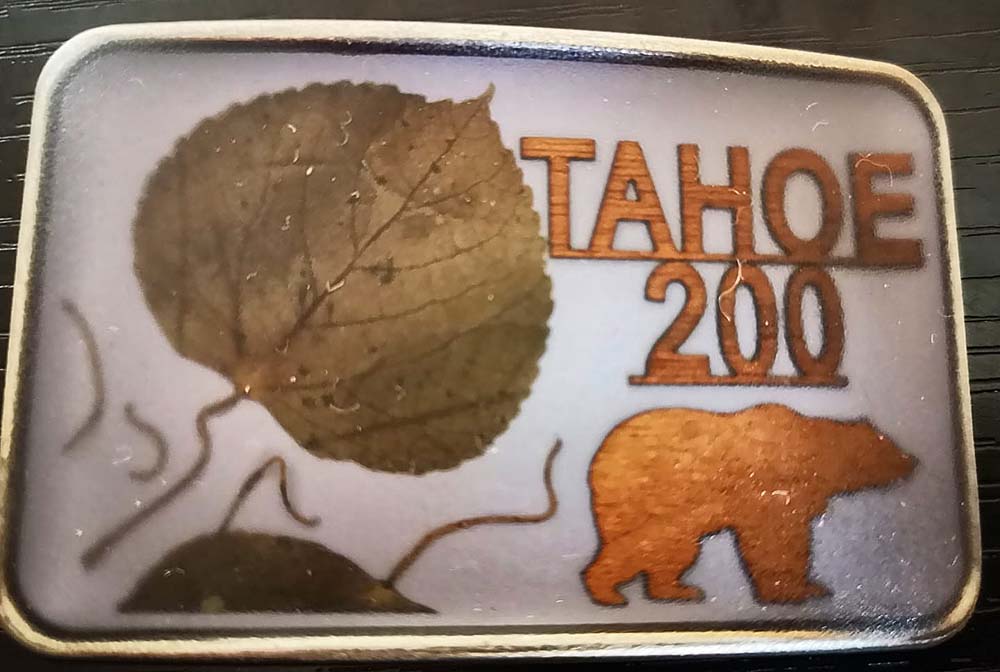 ---
Finally, the story of TAHOE 200! It's a big read but well worth it! Enjoy!
September 13 to 14, 2019
TAHOE 200 mile Endurance Race

Muscle spasms, aches, soreness.
Feet swollen and numb; feels like I am a sponge but there is no comfort. I am sure underneath the protection of the grossly fluid filled feet, I could be broken.
I feel extremely fatigued; I could sleep for days.
I am hungry, all the time.
Even though, I have these feelings and aches and pains, I am still satisfied with completing a 200 mile Endurance Race; wait, I should say, 205 mile race.
The great thing about this whole experience is how my body and mind adapted to the hard conditions of this race. It doesn't just happen overnight and it certainly doesn't happen from couch to 5 km.
I attempted Tahoe 200 mile Endurance Race last year, 2018. I DNF at 137 mile. Definitely, not from lack of trying, nor did I give up that easy. I swore I would try this race again in 2019 and I would beat it. I learned so much from my 2018 experience, so not everything was lost. Many lessons learned.
I signed up for the 2019 Tahoe 200 in November/December 2018 and even though, I knew what I needed to do, I was falling into the same pattern. I had some challenges, bronchitis and gastroenteritis, living and working away from home and not having the daily conveniences that most of us take advantage of. I did however, had some good experience; I hiked in Guatemala and Ireland, however, my running was suffering. I attempted to run Sulphur springs 100 mile in May 2019. I DNF at 100km. Weather and environmental conditions totally destroyed my body. It was at that moment I knew I needed help; needed guidance and accountability for my training. I needed a balance between training and working up North in Attawapiskat, Ontario, Canada. I needed support and open communication. I needed a coach. A coach who would know and understand what it is like to be a shift worker, working away from home for about 3-5 weeks and have limited access to the essentials training equipment to train for such an extreme ultramarathon. And most importantly, a coach to guide, monitor and reduce the risk of training burn out, illness and injury.

I was very excited to have found a coach who was and is perfect for me. The coaching and training in my opinion was perfect. Thank you Derrick Spafford!
The goal of 2019 Tahoe 200 was to finish but finish well without injury and to keep a steady, realistic pace that worked for me. Basically, to be at my best potential for this type of race. I wasn't looking at being the fastest or being the top runner or looking to finish in a certain amount of time as long as it was under 100 hours. I just wanted to run and hike at my best capabilities and enter the race without injuries and/ or sickness.
My goal was accomplished. No injury. No sickness. Nice steady pace of 2-3 miles/hr.

My mind and body felt strong. Even when my brain was tired my leg muscles still carried me. I had no leg cramps, stiffness and/or tightness at anytime during the race; okay, not anytime, but I did have few aches on the side of my left knee and both shines and my feet were sore due to swelling and from the impact on hard, rocky trails and the very occasional, paved roads. These pains/aches and so on, did escalate during the last 50km. Now, that says a lot about the training! Spot on!
Mental!

In comparison to last year's attempt, my mind and emotional self was on point, in the game, sort of speak. There were no emotional outbursts or crying or self hating or feeling defeated like last year. My emotions/mental state were positive and I had more of an, "I am impressive with myself" attitude. This was motivating. Even with the extreme fatigued and upset stomach, I remained calm thinking of ways to resolve or improve my current situation without letting the boo-hoo girl out. When I implemented an action and really looked at the outcome, I seen and felt how it improved my current situation and I would adapted. To me that was so important and proved to me what I needed to do to finish this race. Very powerful stuff!
How I approached this race was not by it's whole, meaning, not by the distance of 200 miles (actually 205 miles). I simply planned it by aid station to aid station and not by miles but by hours of running/hiking. My training leading to this race was by hours, why not keep it the same.
It worked. I was doing my best to avoid the distance thing. I didn't want to be disappointed about why it took me so long and why I am over my time for this amount of distance. It seemed more realistic to focused on hours instead of distance; for me at least. I would figure out my estimated time from one aid station to the next by using a pace of 2.5-3miles/hr, later in the race, I was also calculating 2miles/hr in the much "harder" or more "fatigued" sections of the race.
So depending on the distance between aid station to aid station, the hours would be 6-8hrs and it would still give me tones of time for my recovery at the aid station and overall, enough time to finish the race.
When the terrain became rough such rocky, dusty and big climbs as high as 3 to 5 miles long or longer, I would hate it of course but I kept my feelings in check. I would acknowledge it, sucked it up and then moved my attentions to one step at a time and focus on what I needed to do now and not focus on when it is over.
Oh yes, the hallucinations, both auditory and visual. I would hear singing when there was no singing and I would hear conversations that had nothing to do with me. Glad I didn't have an opinion or talked back. I saw animals and little demon like creatures in the trees, old pieces of fallen wood and in the roads. They did not cause fear but more of an amusement. I would take mental notes because I actually thought about drawing my hallucinations. I knew what I saw and had acknowledge those visions and just moved forward, one step at a time. The hallucinations were not scary or worrisome. They were just there and gone as I past on by. At no point was I disorientation or delirious. I kept my mind from over reacting by focusing on the present and letting go of any attachment to the hallucinations. Keeping my mind at peace and present.
Food!
I have allergies to wheat, barley and oats, this of course, reduces my many choices at aid stations and what I could carry.
I made sure I ate Maple syrup, Endurance Tap every 30 mins. It was easy to swallow and did not upset my tummy. Thank you Derrick for the extra Tap! I would also alternated it with gummy bears, peach fuzzy, jelly babies and fruit roll ups. I would also drink water of course and take tones of salt tablets and electrolyte drink. At every aid station, I would take a tablespoon of magnesium before and after leaving an aid station, I would drink tones of ginger ale, eat rice noodle soup with salt (provided by my crew), eggs and bacon /sausage and hamburger patties. The best food that was made for me at an aid station was a gluten free turkey, cheese, lettuce sandwich! Wow! So good. Ate 3 of them before heading off on the trail.
There was one time my stomach hated me. It was during the first day of the race. Exposure to the sun and heat, dust and high elevation made me want to throw up everywhere. I tried to eat something more "real" like a protein bar but I just vomited it up. I dealt with this situation by just stopping and resting. I sat on a rock, took an antiemetic, drank water and electrolyte solution. Ate some sugar and rested until my heart rate and breathing went back down to my baseline.
It worked! This is when I knew I needed to take micro breaks; smartest plan ever, next to taking dirty naps.
Bio-waste!
I am sure there are some people out there that may have an interest or curiosity about personal hygiene and going to the bathroom while running an ultramarathon. As gross as this maybe, we all do it and when it come down to running an ultra, nothing is private, clean, tidy and available.
No showers and no bathrooms between aid stations! I am running in the same stuff, however, I did have to change out of my running shorts because I did pee myself; not pleasant. Plus, I needed to change into warmer clothing due to colder nights and rain and snow.
Did I smell bad? Of course, dirt, dust, sweat and pee would make anyone smell like roses. It does become an inconvenient to pee. I would need to move off the trail and do my business. At times it was challenging, specially, on a mountain switch back. Poo! This really sucks when it happens. All those sugary sweets, drinks and protein eventually makes its way through the digestive system. The shit thing is, literally, if you are not around a port-a-potty, you are going to poo in the woods. And even the port-a-potties at the aid stations were not the King of thrones! I have to say, it was safer just to poo outside which I had to do! I will leave it at that but I will tell you this, I did cursed the race and the race director; nothing personal of course, just sucks to poo in the dark, on a big, steep climb up a pole line, having to find an area off an already overgrown trail to make a kitty hole and then squat on already sore, beaten, tired legs to do my thing. Yep! I cursed alright! But that's part of the adventure; just have to embrace the suck, laugh at yourself and move on.
Sleep!
This was an interesting experience. This is when I discovered dirt naps. I did organized sleep in my planning. I figured I would sleep 1-2 hours at the aid stations but the key here, was to let my body decide when it was time sleep and how long. Strange right? I am a shift worker and I work 12 nights mostly, so no problems being awake for 24-30, even 40 hrs. Plus, I trained with less and/or shit sleep. I learned how to cope with these stressors. It sucked but very useful in a race such as this. My first nap was at Sierra at Tahoe with 62.5 miles done so far. Our rental van was set up with my camp mattress, yoga mat and a thermal mat, plus pillows and sleeping bags. Definitely comfortable for sleeping. Prior to sleep, the plan was to hydrate, eat, prep bag for the next section and foot care. Joe was my only crew member and together we were able to do this routine at every aid station that allowed crew. Amazing what you can accomplish in 1-2 hrs.
I found it easy to fall a sleep. I never really slept long. The longest I slept at an aid station was at Heavenly, distance done so far was 103.1 miles. In fact, that was the most strongest urge I ever had for sleep. It was more powerful than eating. So I drank 2 large cups of ginger ale and slept for 1.5 hrs. Joe got my bag and my foot care supplies ready while I slept. My pacer, Chuck had also arrived.
When I woke up, mentally, I was feeling a wee crushed. I knew it was fatigued and exhaustion. I just wanted to sleep. But I couldn't! Something snapped! Get up and get going, not going to drop out because you are"tired". Unbelievable, thought!
I got up, went outside, ate some food, took care of my feet and off I went with my pacer.
Dirty naps! My first dirt nap was before Heavenly and I would only take a dirt nap if my body needed it. I would have these symptoms: my whole body would feel super floppy like a doll, my eyes would roll side to side and the trail would shake and fade into an abyss and my mind would have this over whelming sense of mental collapse into darkness. As soon as I had these symptoms, I would find a safe little borrow beside a rock and/or a log for safety because I would be sleeping on the edge of a switch back; rolling or falling off the mountain would be bad, then I would position my poles in the direction I was going, set my alarm for 5-10 minutes, curle up in a little ball and slept hard. I mean, I would literally, pass out. The interesting thing is I would always wake up before the alarm went off. Wide awake, sitting up and ready to go.
When I had my pacer, he would be my alarm clock and my snooze button; thanks for the extra 2 mins, Chuck!
I truly believe the micro breaks, dirty naps, aid station sleeps were part of the key to my success. It helped rest my mind and body and just maybe, helped with a little recovery. It also helped keep the hallucinations from worsening and becoming disorientated.
Feet!
I am very impressed with my foot care. I kept it simple and it worked. Only had one little blister to my right lateral heel and one hot spot on my right lateral foot.
Moderate swelling during the race and with the last 50km, swelling did increase however, my shoes still fit and were able to accommodate the swelling without causing damage to my feet.
I used a foot cream/lubricant; can't remember the name! My coach had provided me a sample and it worked like a charm. Every aid station, with my one man crew, I would inspect my feet for sores, wounds, blisters, clean my feet with a baby wipe, apply lubricant and new socks; either using toe/finger socks and full coverage socks (thank you to Voxxlife for their amazing socks!). To reduce swelling, I would apply ice packs and/or soak my feet in ice water. I ran using Altra running trail shoes; "Lone Peak" is the name and only once I used my running Luna sandals.
Crew and Pacers!
Majority of ultramarathons can be done solo. I have in the past completed some 100 mile races without a crew and/or pacers but having a crew and pacers for Tahoe 200 mile was essential for me. My crew was only one person, my husband, Joe. He was my driver, cook, equipment check, bed maker, timer, motivator, runner for food, supplies and the like. He was also my emergency contact and even my pacer on the last 50 km. Joe was organized, prompt and sufficient. Even though, he lacked sleep and the comforts, he was positive and kept the energy and momentum up. I am forever grateful of his efforts and his willingness to support me through this craziness!
My pacers. My first pacer's name is Chuck. I meet him through a friend, Keith, on Facebook. I was looking for pacers to help after 123 miles. Luckily enough, Chuck had agreed to help. We meet before the race and did a hour run together at around Brockway. We learned a little about each other and discussed what my plans were. Thank you Keith!
Chuck started pacing me at Heavenly aid station, distance mark 103.2 miles into the race. He paced me all the way to Tunnel Creek aid station, the distance, 140.5 miles. Chuck was amazing! Positive, full of energy and had a beautiful appreciation for nature. Thank you Chuck!
I prefer to have my pacers in front of me, I like the idea of a chase. The pacer would set the pace I needed and I would chase. Also, having a pacer gave me a sense of safety. If anything was to go wrong, they were there to help and after being out on your own, it's nice have someone to talk to.
My second pacer's name is Kristina. She paced me from Brockway summit (155.5 miles) to Tahoe City ( 175.5miles), total distance from aid station to aid station: 20miles. I meet Kristina at our campsite at Sugar Pine Bush. She was working as a ranger/ranger assistant. Joe and I had shared with her that I was running the Tahoe 200 race and right way she was interested, wishing she could participate. It was then I asked her is she would be interested in pacing. She accepted. We exchanged numbers and sooner than later, we spoke about my plans. Thank you, Kristina!
Brockway summit to Tahoe City was one of my favorite sections. I loved the soft trail grounds, the scenery and just the whole feel of things. Maybe it was I knew I was almost at the end or I just felt I was still in a good place with my mind and body, maybe it was both. When we left Brockway, it was raining and cold, then the rain turned into snow. The snow fall was gorgeous. The snow flakes were big and heavy landing without grace on us and the trees. At times the sun would peak out and for a few minutes you could feel the sun's warmth. The trails were snow covered but there was no worries about getting lost. Kristine paced like a boss, moving well and with confidence, she seemed to know the trail very well. We actually caught up to other racers who had left 2 hours before me!
Just like Chuck, both of them had an excellent knowledge of the trails used in this race either by running the trails before or studying maps and reviewing the information on the Tahoe website. Both were supreme pacers and really did an excellent job. I feel so grateful having them both on my team. I truly believe what makes an athlete achieve their goals is their team.
My last pacer was my husband, Joe. He was concern about me being alone too long. Initially, he was going to pace me on the last 10.2 miles of the race but decided, to make sure I stay safe, to pace me starting at Tahoe city to Stephen Jones and then to the finish line (205.5 miles). Joe would pace me for the remaining 30 miles. I am glad he did! I was still mentally good but by then the aches and pains in my lower legs, starting at my knees and all down to my feet were intense. Every step hurt. Again, I would accept the pain and focused on one step at a time.
Joe was great and even through his own fatigue from crewing me, he still managed to keep me going and on pace. We did enjoy the night scenery, full moon or at less part of it, reflecting on the snow. We would turn off our headlamps and just take in the beauty; it's not everyday, you get to see such scenery up in the mountains.
We also joked around a lot. I called him a "bad pacer" and he would call me a "bad ultrarunner", it was all in fun, nothing was taken personally.
He also had the sweet honor of hearing about my bum issues and even witnessing me picking up some snow and stuffing it between my bum cheeks! My hopes, in doing this desperate act would help relieved the burning pain around my privates. Damn, who would have known, chaffing could happen in that area! I called this snow treatment "my asshole melt". Oh the joys of ultrarunning! We had a good laugh at it. Anything to keep the momentum going and spirits high as I had a race to finish!
Thank you Joe!
The finish!
I don't know the exact time I finished but it was under 100 hours that I can tell you!
My feelings after finishing was mixed, maybe it was because of the extreme fatigued, mental drain and the stress on my body. I wasn't happy with joy, I was more satisfied and relieved I had finished it. The feeling felt anticlimactic for me, more like, maybe there should have be more? Or that was it? What do I do now? So strange what goes through our minds and what our emotions tells us. Don't get me wrong here. I am very proud of finishing. It is a great accomplishment but I think it is more than that.
To be honest, it was the actual journey of this race that was more satisfying to me than the finish. It was the racers and volunteers I met during the race and developing friendships with my pacers. It was the support I received from the outer boundaries of the race and it was the love and support from my husband that was infinite.
Most importantly, I gained and learned a great appreciation of what the human mind and body can and will do with the right determination, dedication, desire and discipline towards one's goal. That to me, makes me feel good and humbled. Really, how could I ever say to myself or anyone, "I can't do that"!
After having some food and a beer, I gingerly hobbled in the van, climbed on my mat, into my sleeping bag and with Joe by my side, we both fell into a deep sleep.
Was I chasing the Spirit? The spirit of who and what? Tahoe, myself, maybe? Regardless, there was no chasing of anything. The spirit was already there, in me. I knew deep down I would finish. I did the training and had the courage and confidence to do it.
Tahoe 200 (205.5 mile) Endurance Race, you have taught me how one can achieve their goal even after failing the first time.
I learned from my failures and worked hard to achieve such a challenging race. I am thankful for all of its lessons. It has truly opened my eyes, mind, heart and soul.
After all of this incredible experience, I have learned nothing is impossible!
Amber Konikow
Upcoming Local Events
10k Championships on beautiful Manitoulin Island Plus 10k Walk
We have the 10 km Slower Runner Division for beginner runners and walkers.
Sponsored by the Wikwemikong Health Centre Diabetes Program this Race Starts at 10:00 a.m. Kaboni
10k Run Starts at 10:50 a.m.
Registration: 8:30 a.m. to 10:15 a.m. – Wasse Abin Pontiac School
Entry Fee: $20 for Adults $10 for Students
Shuttle service is available.
Info: (705) 859-3164
| | |
| --- | --- |
| | |
---
Store News

Good afternoon Sudbury Runners and Walkers,

We have FREE run club Wednesday nights at 6pm and Sunday mornings at 8:30am.
| | |
| --- | --- |
| | Track North News - by Dick Moss |

Waterloo/Don Mills Open Cross Country Meet
Waterloo, 10/5/19
---
The Laurentian university men's and women's cross-country running teams competed at the Waterloo/Don Mills Invitational this weekend. The men's team placed first, led by Eric Gareau's gold medal run. The women placed 3rd, led by Pascale Gendron's fifth place finish.
Athletes from eight universities and several track clubs competed in the event, held at the University of Waterloo's Columbia Icefields park.
The men's race was won by Laurentian's Eric Gareau, who ran a time of 26:13 over the 8.2 km course. He was followed by Alexandre Fishbein-Ouimette, who was 7th in 27:00; Liam Passi who was 8th in 27:08; rookie Keon Wallingford who was 13th in 27:17 and Caleb Beland, who finished 15th in 27:23. Displacers were Maurice Graenert and Dylan Brown who were 16th and 25th in 27:25 and 27:41 respectively.
The men scored a total of 30 points for their first-place finish with a top-five average time of 27:00.
"Eric's hard work over the summer is really paying off," said men's coach, Darren Jermyn. "He put in a hard surge at the 6km mark that gave him a 16-second lead and was a real sign of his fitness. The team also ran well, but we're still not at full strength so there's lots of room to improve as the season progresses."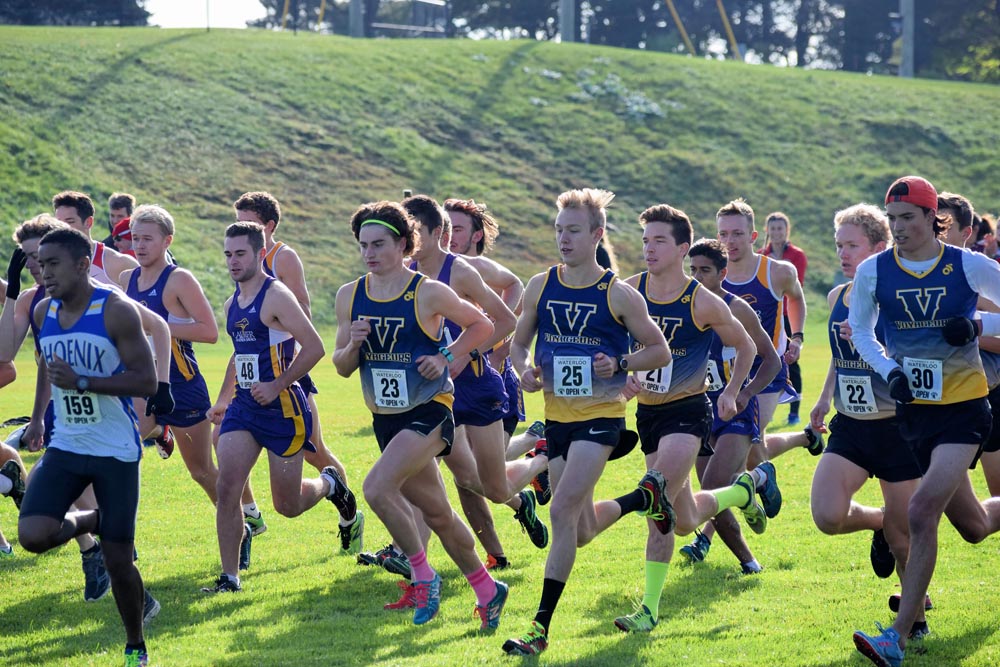 "Men's Start:"" (Left to Right) Eric Gareau (#23), Liam Passi (#25), Caleb Beland (#21), Alexander Fishbein-Ouimette (#22), Keon Wallingford (#30)
Individual Results - Laurentian Men (8.2km)
1. Eric Gareau, 26:13
7. Alexandre Fishbein-Ouimette, 27:00
8. Liam Passi, 27:08
13. Keon Wallingford, 27:17
15. Caleb Beland, 27:23
16. Maurice Graenert, 27:25
25. Dylan Brown, 27:41
38. Justin Graenert, 28:36
47. Nick Lambert, 29:11
70. Cameron Date, 32:13
Team Results - Men
1. Laurentian, 30 points
2. Waterloo, 39
3. Laurier, 78
4. Brock, 111
5. Nipissing, 122
6. Ryerson, York, Trent – incomplete teams
The women's squad was led by 2nd year runner, Pascale Gendron, who placed 3rd among university runners and fifth overall. Her time over the 8.2km course was 31:18. She was followed by Meghan Sippel in 15th with a time of 33:49; Sarah Thackeray who was 25th in 35:10; rookie Ashley Valentini who was 27th in 35:22; and Kelsey Lefebvre, who finished 34th in 36:06. Angela Mozzon was the displacer, finishing 38th in a time of 36:36.
The women scored a total of 70 points for 3rd place with a top-five average time of 34:21.
Individual Results - Laurentian Women (8.2 km)
5. Pascale Gendron, 31:18
15. Meghan Sippel, 33:49
25. Sarah Thackeray, 35:10
27. Ashley Valentini, 35:22
34. Kelsey Lefebvre, 36:06
38. Angela Mozzon, 36:36
Team Results - Women
1. Nipissing, 59 points
2. Waterloo, 63
3. Laurentian, 70 (5th place tiebreaker vs York)
4. York, 70
5. Laurier, 79
6. Ryerson, Trent, Brock, Incomplete teams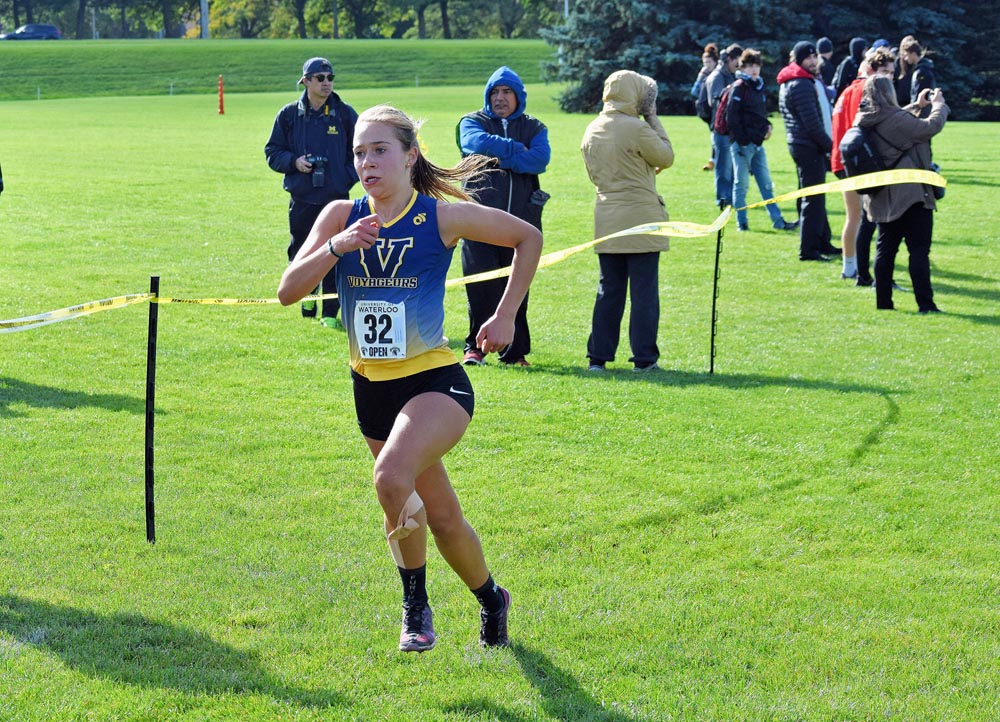 Pascale Gendron
The team's next competition is the Marauder Bayfront Open on Friday Oct 11.
Thanks!
Dick Moss
--

Dick Moss, Head Coach
Laurentian XC/Track Team
c/o Coach Moss <pedigest@cyberbeach.net>
Web: http://laurentianxctrack.com
Facebook: https://www.facebook.com/groups/laurentianxctrack/
Twitter: https://twitter.com/@luxctrack
Instagram: https://www.instagram.com/laurentianxctrack/
For information call me.
Vincent Perdue
vtperdue@cyberbeach.net
Proud sponsor of the Sudbury Rocks!!! Race-Run-Walk for the Health of it
HOME | ABOUT US | CONTACT | ARCHIVES | CLUBS | EVENTS | PHOTOS | RACE RESULTS | LINKS | DISCUSSION