| | | |
| --- | --- | --- |
| | | |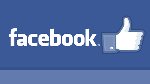 Hello Everyone, May 31, 2018
In this Issue:
Sulphur Springs Trail Race May 25 - 27, 2018 Ania Derecka Runs Her First 50k
Cancer Centre Walk/Run/Bike
Run Ottawa Sudbury Results and Chantal Dagostino Success
Sudbury Team Competes in Cabot Trail Relay
Upcoming Event June 3 Girls Run and the NEW Firecracker 5k on July 1
Running Room Run Club Update:
Track North News

Sulphur Springs Trail Race May 25 - 27, 2018
Ania Derecka Runs Her First 50k
---
Ania celebrates her first 50k trail run with the family - Andrew, Emilia and Ewa

Months ago, when the idea of running an ultra trail run sprouted in my mind, I knew there was no way back. I was signing up for Sulphur Springs 50km trail run in Ancaster, just outside of Hamilton. The images of me running the race were so clear and so immersed in my mind that I never questioned it. I did what I could training wise. I did my long Saturday runs, I did my Wednesday evening runs, and I did a few other random runs when I could squeeze them between kids, work, and life in general. I knew I should have been following a more rigid plan but I didn't want to stress out about the time that I didn't have. The time flew by, and the weekend of the race was approaching fast. Again, with the busy life, I never had a chance to worry or overanalyze my ability or inability to run it. I packed everyone and everything into the car and off we went. I was grateful for the four hours in the car, as it was my only pre-race rest. I had a bucket of roasted-salted-baby potatoes with me so I could do my carb loading. The morning of the race I showed up and off I went. The weather, in my opinion, was great. A bit hot and humid (28C by the time I finished) but overcast so we were not frying in the sun. The trails were beautiful. The views of green trees and wild flowers, and the sound of chirping birds and flowing water made me feel at ease. I felt in an almost meditative state where ideas flew through, my thoughts were clear, images of friends were going through my head, I felt lucky and blessed. The trail had lots of hills (some super steep) and I walked most of them (as did the other runners). Unlike during road races, I could not let go on the way down and let gravity do its work due to footing. One had to watch for roots and uneven terrain. Nutrition wise, I had my water with me and a couple gels. I strategically placed a bag of potatoes by the trail for a mid-run snack. I never ate my gels or the potatoes. As soon as I got to the first nutrition station stocked with food (fruit, potato chips, potatoes, candy, pretzels, sandwiches) and drinks (water, gatorade, coke, gingerale), all my body wanted was watermelon (that I dipped in salt) and gingerale. The funny thing is, I never drink any kind of pop but that gingerale was calling my name so loud and tasted like a million bucks! I stuck with salted watermelon and gingerale for the rest of the race. At 40km I started to feel tired and my stomach was in a bit of discomfort. I'm still not sure if that was from overall fatigue or from trying new foods/drinks. The thing is I could still run (slower pace) and finish the race feeling relatively well, excited, and happy. My body was tired but mentally I felt strong, positive, happy, and full of optimism. I was worried going into the race about my hip that I have injured just a couple weeks before during Sudbury Rocks race. I never felt my hip during Sulphur Springs. The key was to run slow. I guess I'm not meant to be a super fast runner. Overall, the race was very well organized, well marked, and the people were super friendly and chatty. I'm not sure exactly, but between all the distances (10km, 25km, 50km, 50 miles, 100km, and 100 miles) there must have been well over 1000 runners participating. Who is in next year?

Ania Derecka 50k Age 42
BIB #435

CHIP TIME6:14:26.9 GUN TIME6:15:19.1 PACE 7:29
OVERALL67 of 180FEMALE 99 AND UNDER22 of 64ALL FEMALE25 of 67

10K SPLIT 1:00:43.8 6:04
30KM SPLIT 3:31:36.8 7:03
50KM FINISH 6:14:26.9 7:29
https://runsignup.com/Race/Results/62116/#resultSetId-117677
May 27, 2018

Cancer Centre
Walk/Run/Bike
Sunday, May 27th 2018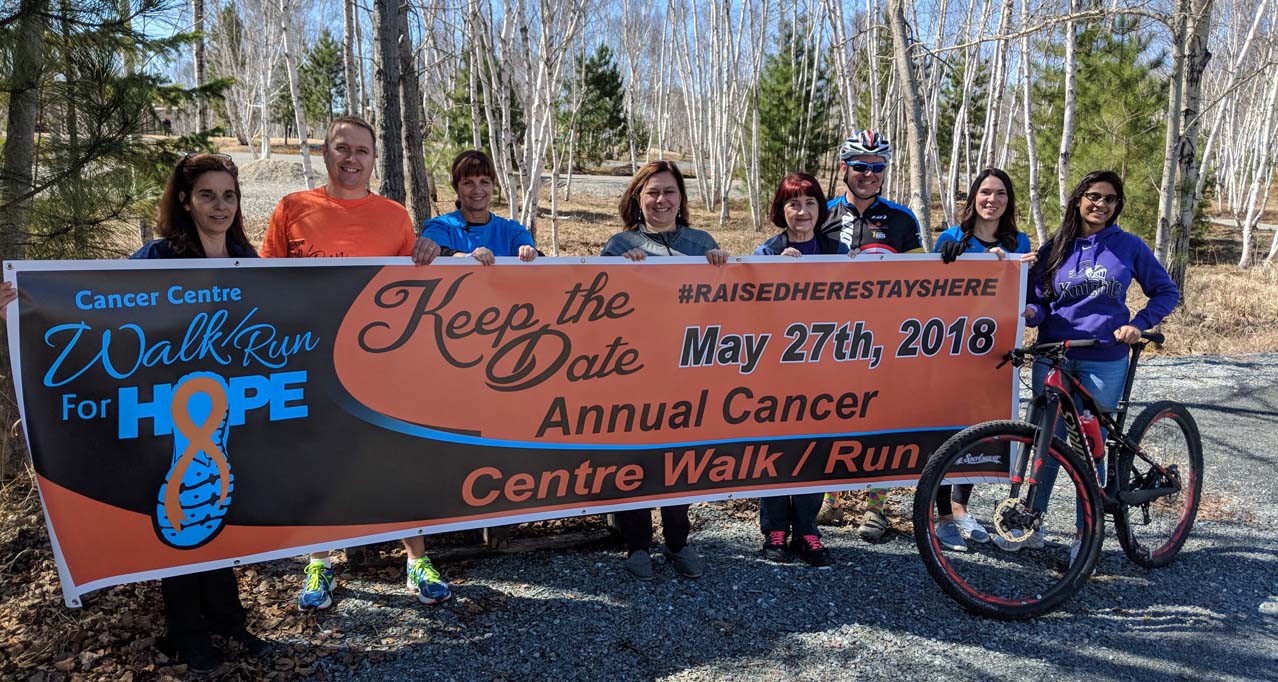 Hundreds at Kivi raise thousands to fight cancer
Walk/Run/Bike for Cancer takes place at Kivi Park
https://www.sudbury.com/local-news/hundreds-at-kivi-raise-thousands-to-fight-cancer-936129?utm_source=dlvr.it&utm_medium=facebook
The skies had cleared up from the rain the night before. Sun was starting to peer through promising a bright day.
And making use of the clear day were Sudbury residents as they participated in Walk/Run/Bike for Cancer.
The Walk/Run/Bike for Cancer is the third of six MOVE - The Kivi Park, Fitness Series events, held to support the Northern Cancer Foundation.
"The response has been great, so far, many more families come out for our summer events, which is good," Tannys Laughren, executive director of Northern Cancer Foundation said.
The event offered something for everyone ranging from one-kilometre to 10-kilometre routes. In addition this time the participants could even pick the type of cancer researches their pledge would support.
"We have all the different causes that are Northern Cancer Foundation, like radiation, or breast cancer or prostate cancer. The participants could tick on the registration form where they would like to see their money go," Laughren said.
The event saw a turnout of more than 250 participants, beating the records of the previous two events held in winter.
"This event is extra special because we have had another team join, Team Elaine. It is from Mike Wilson, owner of Continental Insulation who has put the team together in honour of his wife, and we are thrilled to have him," Laughren added.
So far the event had raised more than $4,000, however, more was expected as the race ended this morning.
Coming up next in the MOVE Series is Miner's Mayhem Mud Run, Stand up to Cancer Paddleboat race and Mountain bike race.
If you missed out on today's event, check out our photo gallery for some of the best moments.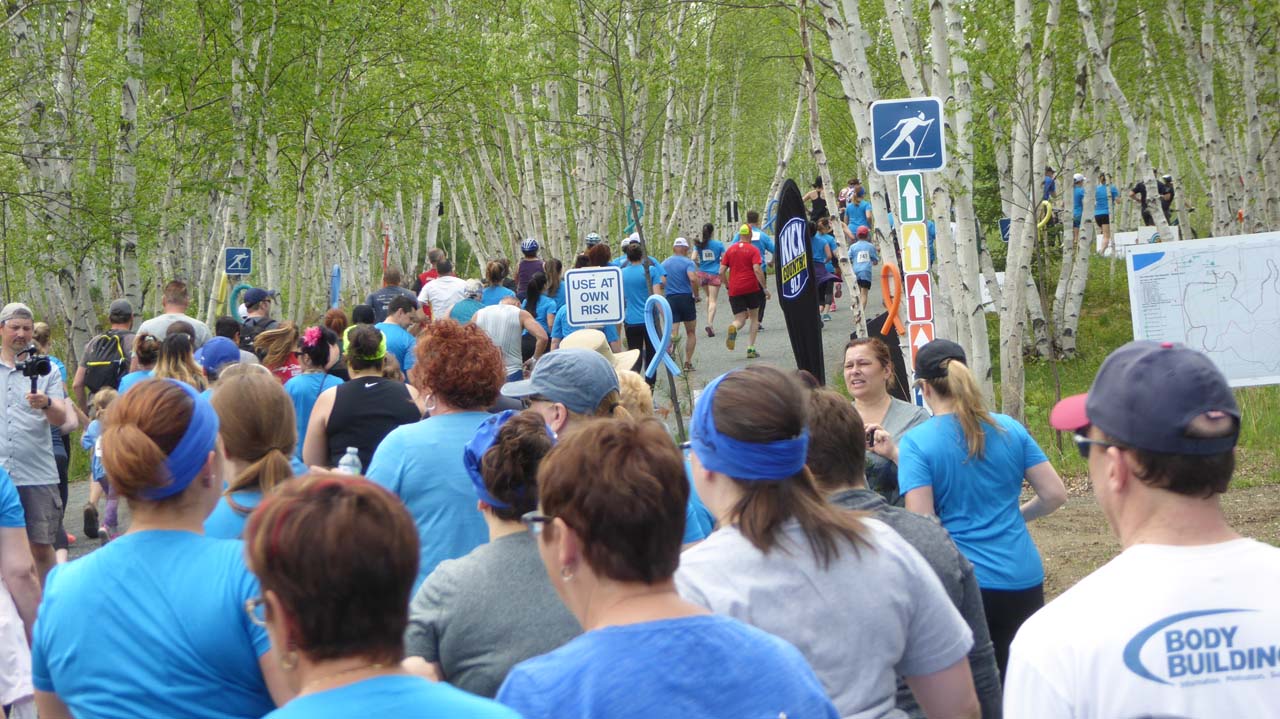 May 26 - 27, 2018
---
| | | | | | | | | | | | | |
| --- | --- | --- | --- | --- | --- | --- | --- | --- | --- | --- | --- | --- |
| BIB | NAME | CITY | COUNTRY | CATEGORY | RANK | GENDER PLACE | CAT. PLACE | @10 | @21.1 | @30 | @40 | TIME |
| 1381 | Chantal Dagostino | Skead | CAN | F40-44 | 570 | 70 | 15 | 0:50:46 | 1:45:36 | 2:30:58 | 3:20:34 | 3:30:58.9 |
The Nature of a Marathon - by Chantal Dagostino (edited)

Tthe length of a marathon is 42.2 km!

This was my 14th full marathon that I have ran over the last 9 years! Everyone one of them have given different challenges to overcome, different outcomes, and above all have taught me so many different things about me!

As I got ready on Saturday night before going to bed, runners have the ritual of taking a picture of their outfit with their number wondering if this was a good choice for the big race! You always get it ready so when you get up in the morning you are not looking for last minute items that is detrimental to your success.

I went to bed thinking, how am I going to do tomorrow, did I train enough, am I ready to overcome the heat and the adversity that nature will through at me?

Well, for every marathon that I have completed I always have 3 main goals in mind! The 1st one is always finish no matter what, the 2nd is to get the 3:40 needed to qualify for Boston, and last, if everything was going perfectly, I will try run it faster than my best time on that course which was in 2014 when I ran 3:37 and qualified for my 1st Boston!

My goal plan was to follow a 265 power through my 1st half then increase slow;y to 270! After my 2nd km I felt great and didn't feel much in effort! I had a great feeling during my 1st 10k. I made sure I stayed with my plan. Even though I could of increased my speed I decided to stay with my plan and see if this was indeed the right way of running a full marathon!

I actually had the time to look around, see what Ottawa had to offer and observe all the amazing volunteers that came out that day to help all runners achieving what they were after on that day! I even took the time to give high fives to young children having a great time cheering on all runners passing by. I even had time to wave to a few people who cheered me on!
I started to think about what am I going to tell all my amazing friends who took the time to send me a message prior my start and all of you thinking about me and watching facebooks light up with updates after every 5km.
During the 42.2 k I had time do a lot of thinking and really enjoy my running career as an accomplished runner! I might be to you a very fast runner but I started like all of you out their who wonder if they will every be able to conquer a distance. It doesn't have to be 42.2k. It could be setting your self a goal and chasing it no matter the distance! I was also thinking of people that I have encouraged to become active, that are waiting patiently for their moment at a race and chasing their goal! There are days where I doubted my training, wondering what if I could of pushed harder, or even run a bit further! I was also proud of helping my community by putting on the Girls Run Sudbury - held in less than 6 days! Seeing all you guys crossing the finish line makes me feel extremely happy and I am very proud of all of you!
On Sunday crossing that finish line in 3:30:56, I had just accomplished my 3 goals that I had set myself in January when training for Boston! Now, my next goal is to try to qualify for the New York marathon with a qualifying time of 3:25:00!
I can't thank enough my Husband who gives me the time to train and my kids for waiting patiently for mom to come back and do fun activities! My 2 sisters Amelie Grégoire and Nadia Gregoire and Andrew Hodder for making sure I had everything I needed over the weekend. And my parents for encouraging me to put my best effort out there!
Thank you everyone! Keep chasing your happy pace ! There is no limit to what you can do!
---
The annual Cabot Trail Relay Race is a 185 mile/276.33 km, 17 stage relay race through some of the most beautiful scenery in the world… beginning in Baddeck, Cape Breton, over steep mountains in the Cape Breton Highlands National Park, through many small communities around the famous Cabot Trail, to the gently rolling Margaree Valley.
---
CTV Atlantic
Published Sunday, May 27, 2018 5:25PM ADT

Runners from across the country flocked to Cape Breton this weekend to participate in the 31st Cabot Trail Relay. The 24-hour long race, which has earned a reputation as a bucket-list event, wrapped up Sunday in Baddeck, N.S.
Close to 1,200 runners from 70 different teams crossed the finish line. Runners also included CTV Atlantic's own Ryan MacDonald and Amanda Debison.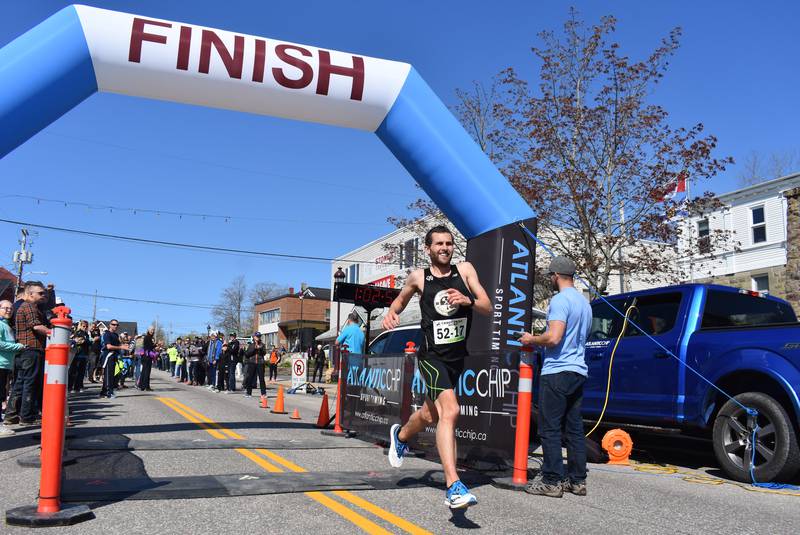 Matt McNeil (pic above) of Halifax was the first to finish, with a long line of athletes cheering him on, to mark the end of one of the largest and most popular running events in Eastern Canada.
"We knew it was going to be a tight race, so I knew we had a bit of a gap on that leg, but I wasn't sure by how much," says McNeil. "We were all pretty excited I finished first."
For the first time in several years, the race title was captured by a Maritime team. The Halifax Road Hammers finished with the best time, knocking out the Maine-iacs who have won the past seven years.
"I've been doing this for 11 years now, and it's pretty special," says team organizer Ian MacIntyre. "It's only been a couple of times where the title has been taken away from the Maine. To have a guy like Matt, who is the best in Atlantic Canada to be on our team, in the group of guys that we have, is an incredible feeling."
The 300-kilometre race takes runners through some of the most beautiful scenery on the island; it's also challenging with steep hills and terrain. The event also stands out for its party-like atmosphere and camaraderie.
"This race is so unique," says relay chair Dave Parkinson. "The runners that come here, come here to win, but if another team beats them they'll shake their hand, pat them on the shoulder, and say, 'we'll see you next year.'"
With a local team winning this year's event, organizers hope it will encourage more Maritime flavor.
"I was talking to one of the runners who has been to running events all over the world, this is their first year here," says Parkinson. "And they said it's absolutely unique amongst everything else. And to look around see the happy faces… it tells you why."
Organizers also believe the race has brought in more than $8 million into the communities around the trail.
With files from CTV Atlantic's Kyle Moore.
---

Wreck Cove General Store Relay Exchange
Sudbury Team in Cabot Trail 2018
---
Leg
Place No. Runner Name Team Name Category Finish Pace
Leg 1 (17.00 Km, Difficulty: 3.5)
44 69 Alison Newman Macdonald THE NICKEL CITY RUNNERS MIXED 1:28:42 5:14
Leg 2 (17.92 Km, Difficulty: 3.5)
40 69 John Burrows THE NICKEL CITY RUNNERS MIXED 1:28:28 4:57
Leg 3 (13.46 Km, Difficulty: 2
70 69 Daniel Welch THE NICKEL CITY RUNNERS MIXED 1:25:30 6:22
Leg 4 (20.01 Km, Difficulty: 5)
61 69 Glenn Mcrae THE NICKEL CITY RUNNERS MIXED 1:56:42 5:50
Leg 5 (17.50 Km, Difficulty: 3.5)
50 69 Jesse Winters THE NICKEL CITY RUNNERS MIXED 1:36:01 5:30
Leg 6 (17.50 Km, Difficulty: 4.5)
47 69 Yves Robichaud THE NICKEL CITY RUNNERS MIXED 1:30:19 5:10
Leg 7 (13.10 Km, Difficulty: 3)
52 69 Ginny Denomme THE NICKEL CITY RUNNERS MIXED 1:13:56 5:39
Leg 8 (12.36 Km, Difficulty: 2.5)
56 69 Marianne Sasseville THE NICKEL CITY RUNNERS MIXED 1:11:19 5:47
Leg 9 (17.84 Km, Difficulty: 5)
56 69 Jean-Luc Larouche THE NICKEL CITY RUNNERS MIXED 1:39:34 5:35
Leg 10 (14.70 Km, Difficulty: 5)
29 69 Paul Guerin THE NICKEL CITY RUNNERS MIXED 1:16:01 5:11
Leg 11 (14.00 Km, Difficulty: 3.5)
50 69 Debbie Mccosham THE NICKEL CITY RUNNERS MIXED 1:12:54 5:13
Leg 12 (15.78 Km, Difficulty: 3)
61 69 Andree Bourgeois THE NICKEL CITY RUNNERS MIXED 1:29:44 5:42
Leg 13 (15.88 Km, Difficulty: 3)
70 69 Pierre Gionet THE NICKEL CITY RUNNERS MIXED 1:42:19 6:27
Leg 14 (19.81 Km, Difficulty: 4)
38 69 Renee Macdonald THE NICKEL CITY RUNNERS MIXED 1:37:58 4:57
Leg 15 (15.42 Km, Difficulty: 2)
60 69 Kelly Bowie THE NICKEL CITY RUNNERS MIXED 1:30:57 5:54
Leg 16 (15.35 Km, Difficulty: 2)
70 69 Linda Mccosham THE NICKEL CITY RUNNERS MIXED 1:31:44 5:59
Leg 17 (18.70 Km, Difficulty: 4.5)
35 69 Danielle Macdonald THE NICKEL CITY RUNNERS MIXED 1:28:35 4:45
THE NICKEL CITY RUNNERS Overall Place 64/70 Time 25:20:43
Rocks!! Outdoors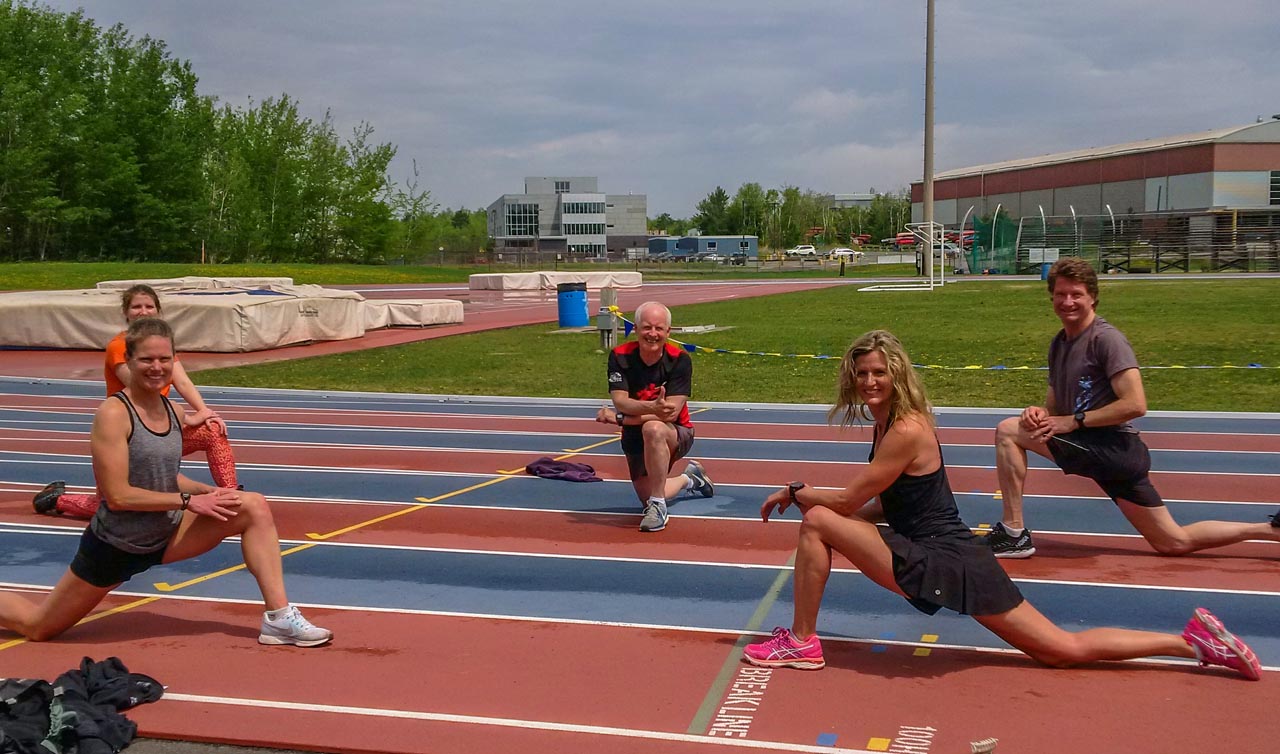 Upcoming Local Events
June 3, 2018
Click on the photo for all information
Laurentian University Fitness center
Event Details: Cross-country run or walk – 2.5, 5 or 10 km
| | |
| --- | --- |
| | |
---
Store News

Good afternoon Sudbury Runner's and Walker's,

See you all at Run Club tonight 6pm

Cheers,

your Sudbury Staff,

Eric, Caleb, Brendan, Ania, Sam




We have FREE run club Wednesday nights at 6pm and Sunday mornings at 8:30am.
| | |
| --- | --- |
| | Track North News - by Dick Moss |
For information call me.
Vincent Perdue
341 Fourth Ave, Sudbury On. P3B-3R9
705-560-0424
vt perdue@cyberbeach.net
Proud sponsor of the Sudbury Rocks!!! Race, Run or Walk for Diabetes
HOME | ABOUT US | CONTACT | ARCHIVES | CLUBS | EVENTS | PHOTOS | RACE RESULTS | LINKS | DISCUSSION

All photos images and content copyright Sudbury Rocks!!