Beaton Classic crowns new solo champs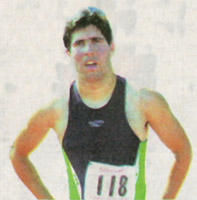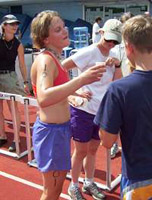 David Zylberberg, 21, and Melissa Bota, 17, are tops at the Sudbury Fitness Challenge event
By Harold Carmichael/The Sudbury Star
Monday, August 11, 2003 - 11:00
Local Sports - It was a breakthrough day for several Beaton Classic hopefuls on Sunday.
David Zylberberg, 21, of Sudbury, captured the men's solo title in his third try with a time of 3:01.57.
"I went strong in the first three kilometres of the run," he said, moments after finishing the quadrathlon at Laurentian University Stadium. "I'm just glad to finish. I felt it (exhaustion) at the end of the run."
Zylberberg had finished near the top in the men's solos in his previous two tries.
"I don't swim well," he said. "(But) I had a good swim."
A top-notch cross-country skier, who has competed at the provincial level, Zylberberg said he loves the quadrathlon because it's in his home city.
"I like running," he said. "I'm from Sudbury. It's a great event to do."
More than 250 people turned out for the quadrathlon. The event consists of a 12-kilometre run, 30-kilometre cycle, 1.5-kilometre swim and a four-kilometre paddle. There is also a children's division, which is held following the end of the competition.
Melissa Bota, 17, of Sudbury, won the women's solo title on her first try in a time of 3:33.16.
"The bike was tough, but the run was getting really grinding," she said.
Bota, who had competed in the pairs event the past two years (she did the cycle and canoe last year and did the run two years ago), said the key to her win was a good time in the canoe portion.
"As I started the run, I thought I had a chance," she said. "I had a pretty good bike. I knew I would have a strong run ... I was really happy with my swim and canoe."
A recent graduate of Lo-Ellen Park Secondary School, Bota, like Zylberberg, is also involved in cross-country skiing. She also competes in badminton, track and cross-country running.
Steve Tremblay, 21, and Rob Gregoris, 41, both of Sudbury, teamed up to win the men's pairs event in a time of 2:54:26.
"Steve had a really good bike which moved us up," said Gregoris, who won the men's pairs title with Brian Solmes last year.
"An excellent paddle got us a little more distance, too, and he had a really good run."
Gregoris, who tackled the two water events, said he found conditions "perfect" and the water calm.
The men's fours event was won by the Patriots — Derek Reed, Ulf Kleppe, Mike Derks and Paddy Walsh — in a time of 2:33:46. Reed and Walsh were part of the winning men's fours team last year.
Weather conditions Sunday morning were picture-perfect with almost no wind, sunny skies and temperatures in the low 20Cs.
In contrast, competitors had to endure a temperature of 30C one year ago.
The Beaton Classic is part of the Sudbury Fitness Challenge series of events.