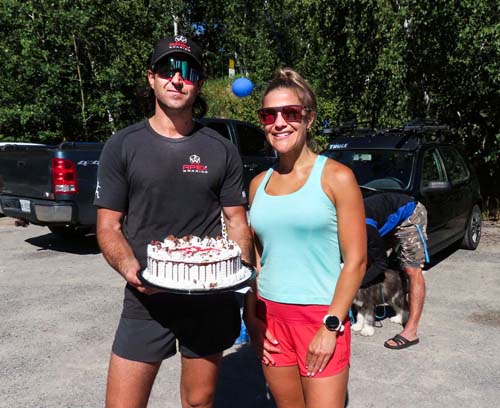 Marc Cayen and Lindsay Kolari after 44.46km
Monday September 5th
Holliday Monday long, long run!
I'll be celebrating my 43rd birthday with (hopefully) 43 kms of running. I'll be doing 3 loops Incase anyone wants to join. All loops start and finish at Laurentian university track.
1st loop will be at 6am and heading to the conservation area to complete the 10km red loop around Laurentian lake. It will be a sunrise run and dark to start the run so bring a headlamp. This should take about 1 1/2 hours at most.
2nd loop will be around Nephawin lake (Ramsey, Paris, Regent, Loaches with the Martindale extension) leaving the track at 7:45am and returning an hour later completing the 11km loop.
3rd loop, again leaving from the Laurentian track, will go around Ramsey lake. We'll leave at 9am and return by 11am to complete the 21km loop.
Come join me (us) for 1, 2 or all 3 loops.