---
Laurentian Track: Ottawa Winter National Results
January 18, 2020, Ottawa, ON
"Gareau and Wallingford bring home medals as Laurentian Indoor Track Team kicks off 2020 Season in Ottawa"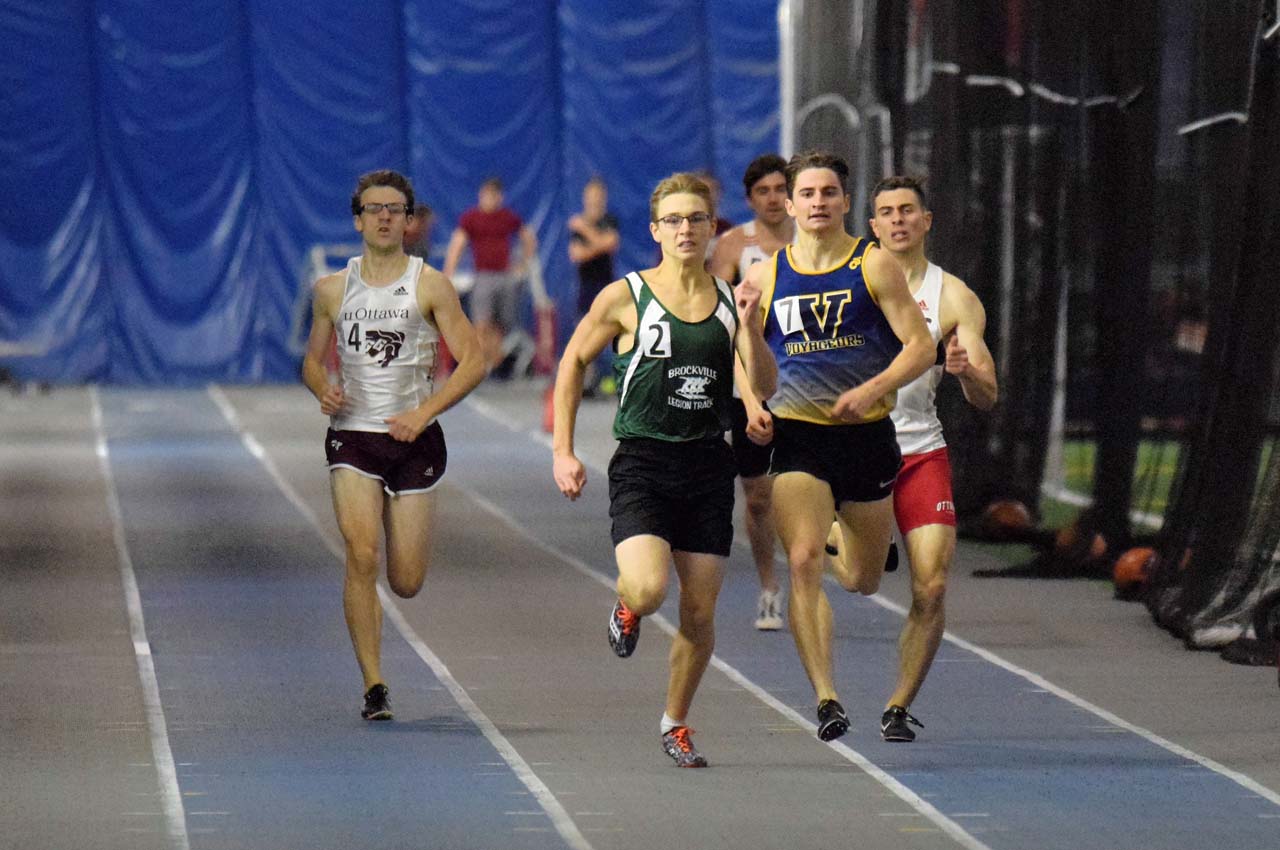 Eric Gareau (#7)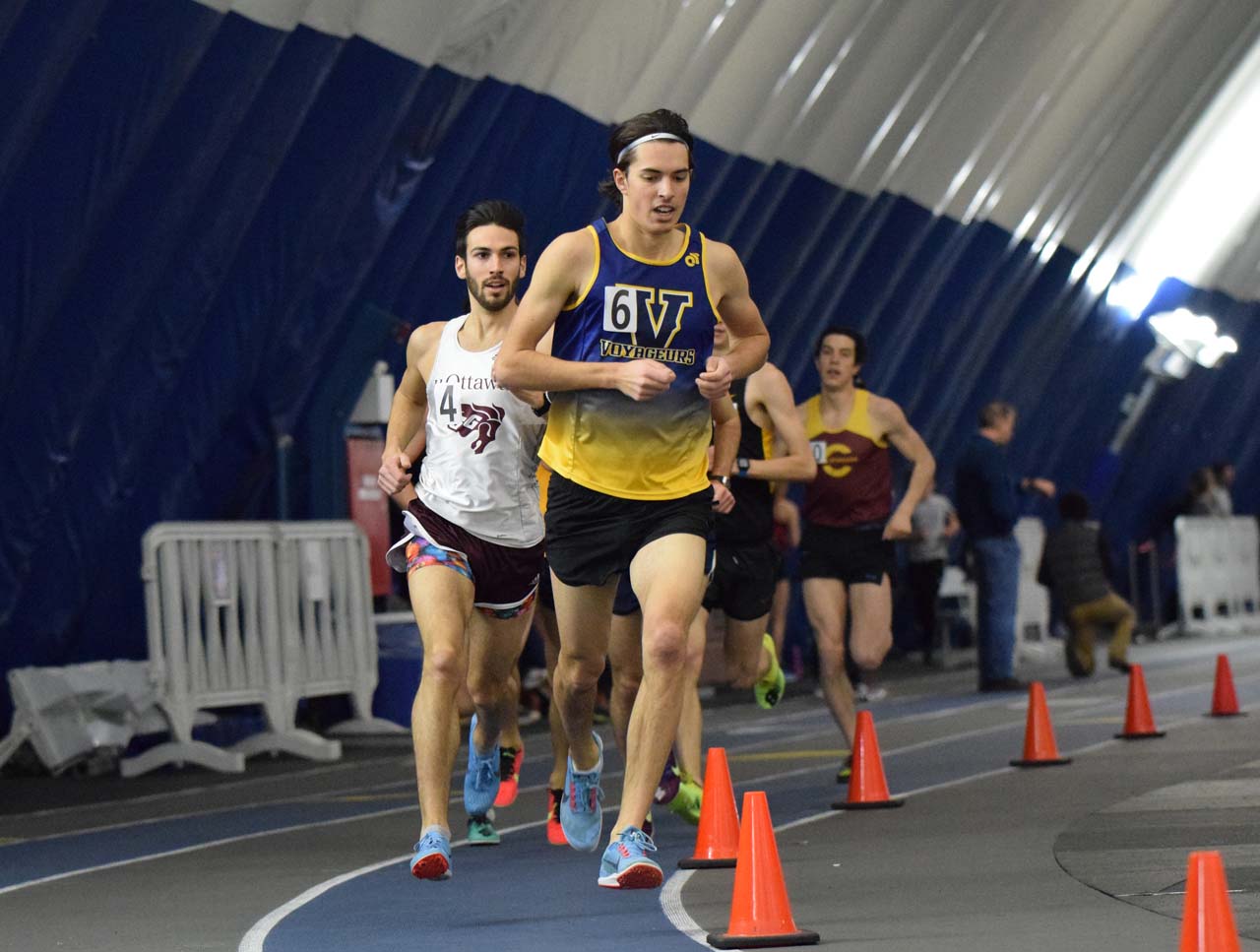 Keon Wallingford (#6)
Laurentian University's Indoor Track team competed at the Ottawa Winter National this weekend and came home with two medals, 13 Top-10 finishes and nine OUA Championship qualifying marks.
The men's team was led by Eric Gareau and rookie Keon Wallingford. Gareau (2nd year Forensics, London) won silver in the men's 1000m (2:31.09), placed 5th in the 1500m (4:02.67) and 7th in the 800m (1:59.56). Wallingford (1st year Criminology, North Bay) ran a huge 14 second personal best in the men's 3000m, winning bronze in a time of 8:40.83.
Additional top 10 performances on the men's side included Liam Passi (4th year Actuarial Sciences and Economics, Sudbury) placing 7th in the 1500m (4:03.16) and Caleb Beland (4th year Kinesiology) placing 8th in the 1500m (4:03.96).
Top 10 performances on the women's side included Natasha Mayer (4th year Health Promotion, Sudbury) placing 7th in the 300m (42.70) and 10th in the 600m (1:41.85); Christina Robert (1st year Kinesiology, Sudbury) placing 9th in the 60m (8.03) and Erin Hansel (3rd year Forensics, North Bay) placing 10th in the 800m.
"Eric had a solid two days of competition to open up his season this weekend" commented Darren Jermyn, Associate Head Coach. "His large base of training this past summer and excellent cross-country season have provided him with the aerobic base he needs to run well indoors. He'll now focus on improving his top-end speed as we get further into our schedule."
Regarding Wallingford's breakthrough performance, Jermyn commented, "We knew following his past few practices that something special could happen for Keon this weekend and he definitely didn't disappoint. He is on track to being ready to compete for both Team Canada at the Pan-Am U20 Cross-Country Championships at the end of February in Victoria and for Laurentian throughout the indoor track season."
The Laurentian Indoor Track team will next compete as a full squad at the York Open, on Jan 31st and Feb 1st
Complete Laurentian Results:
Women's 60m
Christina Robert – 8.03 – 9th (OUA Standard)
Hannah Merjavec – 8.28 (OUA Standard)
Janelle Robichaud – 9.34 – Personal Best
Men's 60m
Alexandre Noël de Tilly – 7.49
Anthony Olowu – 7.63 - PB
Ebube Esinnah – 8.15
Women's 300m
Natasha Mayer – 42.70 (7th)
Men's 300m
Alexandre Noël de Tilly – 38.19 (32nd) - PB
Ali El Sahli 40.00 (47th) - PB
Women's 600m
Natasha Mayer – 1:41.85 (10th)
Men's 600m
Justin Graenert – 1:22.39 (11th) – OUA Standard
Liam Pedersen – 1:23.55 (13th) – OUA Standard
Women's 800m
Erin Hansel – 2:21.56 (10th)
Men's 800m
Eric Gareau – 1:59.56 (7th)
Women's 1000m
Ashley Valentini – 3:26.40 (10th)
Men's 1000m
Eric Gareau – 2:31.09 (2nd) OUA Standard
Ali El Sahli – 2:49.85 (14th) - PB
Ryan Vincent – 2:49.92 (15th) - PB
Women's 1500m
Sarah Thackery – 5:14.94 (11th) - PB
Meghan Sippel – 5:16.09 (12th)
Men's 1500m
Eric Gareau – 4:02.67 (5th) – OUA Standard
Liam Passi – 4:03.16 (7th) – OUA Standard
Caleb Beland – 4:03.96 (8th) – OUA Standard, PB
Women's 3000m
Kelsey Lefebvre – 11:51.64 (13th) - PB
Angela Mozzon – 12:20.66 (14th) – PB
Men's 3000m
Keon Wallingford – 8:40.83 (3rd) – PB, OUA Standard
Dylan Brown – 8:58.86 (7th)
Nick Lambert – 9:17.97 (11th) - PB
Women's 4 X 200m Relay
Laurentian – 1:53.77 (5th)

Photos Attached (Credit to Adam Kalab)