| | | |
| --- | --- | --- |
| | | |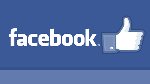 Hello Everyone, October 17, 2019
In this Issue:
Sudbury Fitness Challenge Turkey Gobbler
Brigid Kosgei Wins the Chicago Marathon in World Record Time
Kipchoge breaks two-hour marathon mark
Upcoming Events October 20 Wiky 10k. Oct 27 Walk/Run for Hope
Running Room Run Club Update:
Track North News Marauder/Bayfront Open Cross Country Meet

Sudbury Fitness Challenge Turkey Gobbler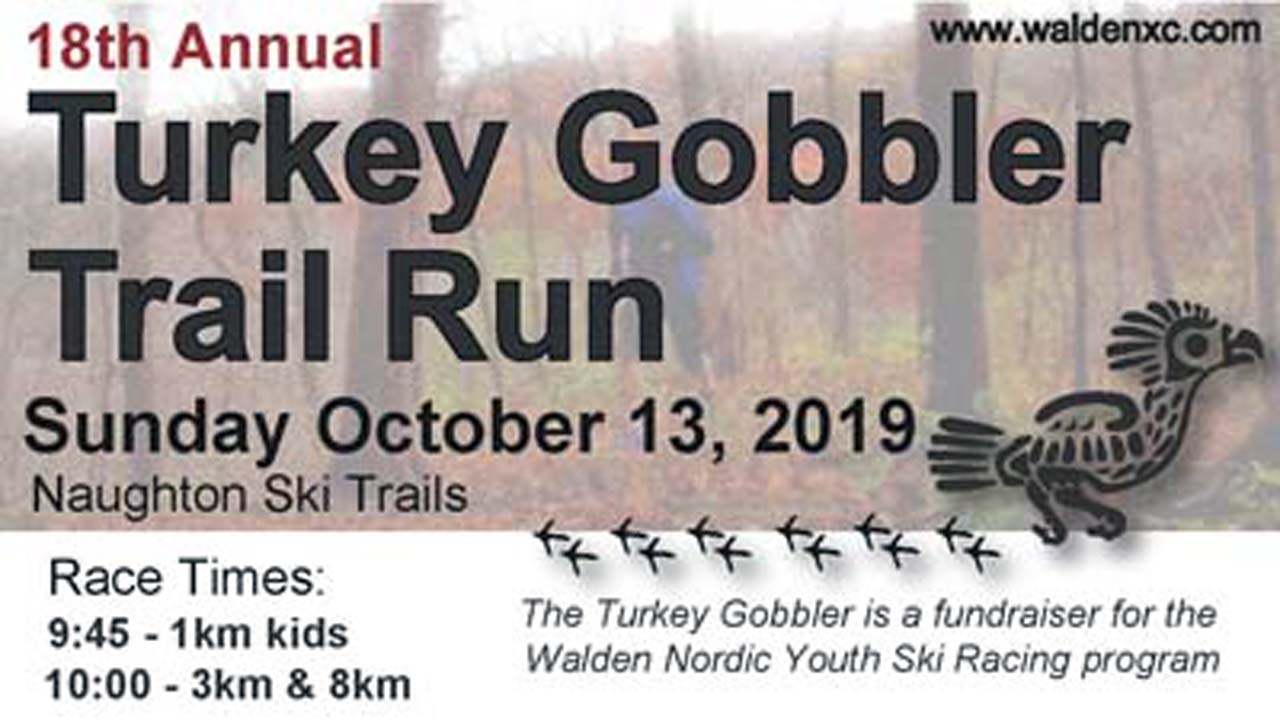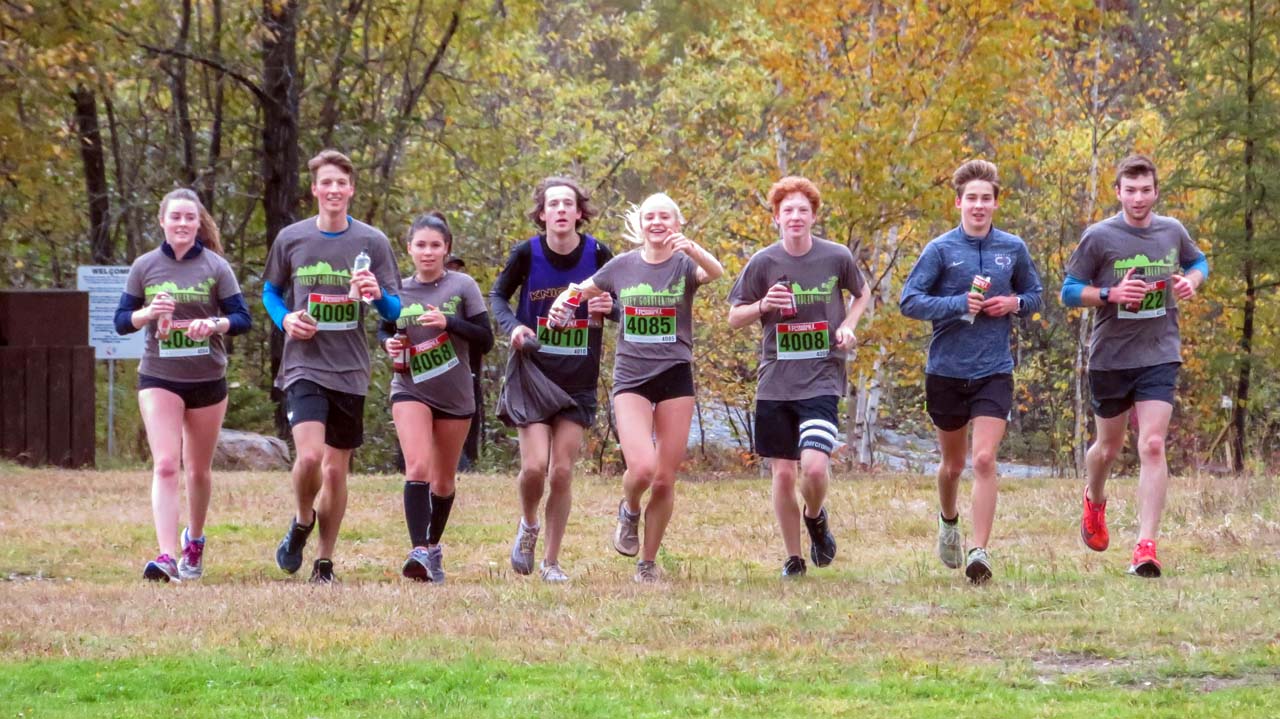 It was a busy day in Naughton on Sunday when 272 participants lined up in the 1k, 3k or 8k trail run. This was the final event in the Sudbury Fitness Challenge so the possibility of less than ideal weather did not deter the determined. While wind and rain was in the air running conditions remained very favourable for most of the events. It did get a little wetter during the final minutes of the 8k but nobody complained.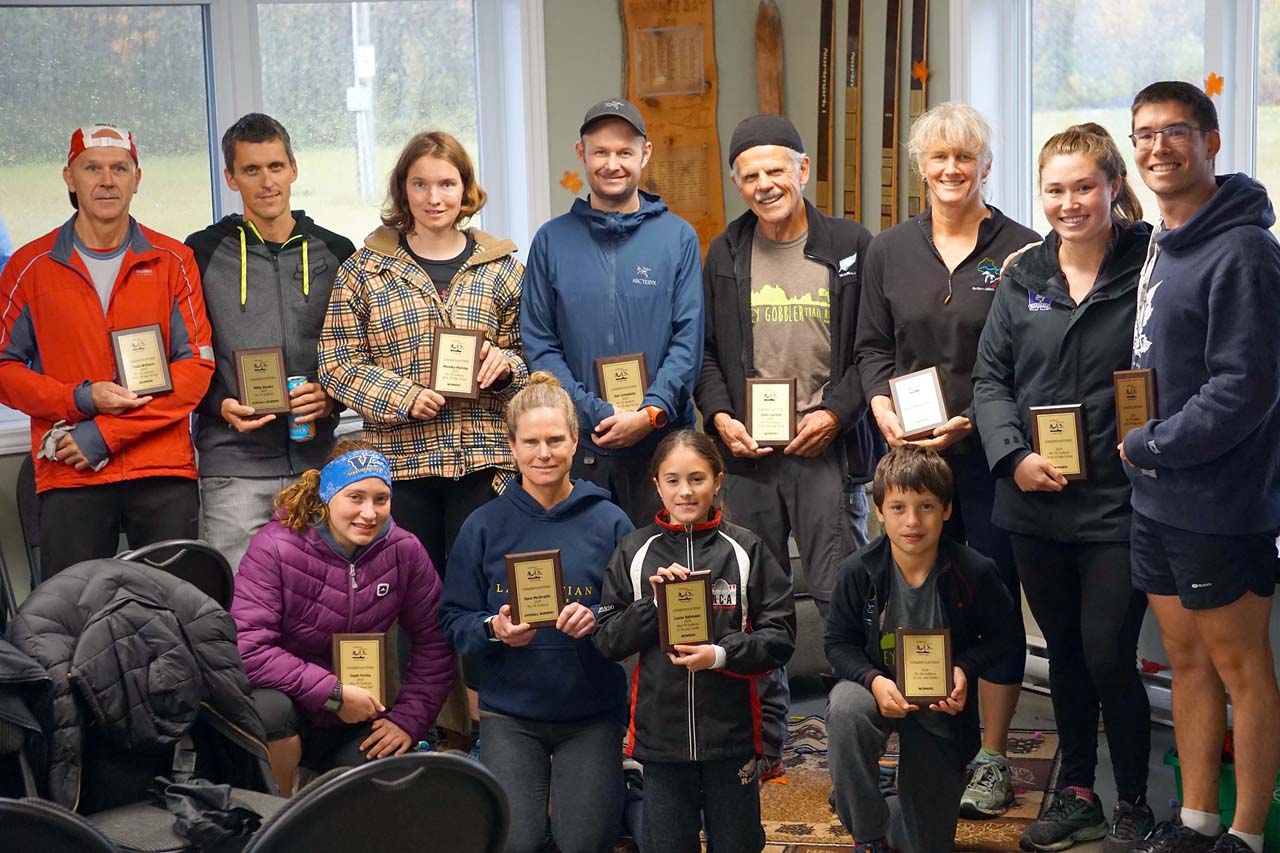 Sudbury Fitness Challenge Winners 2019
Sara McIlraith was overall Female Fitness winner and Mike Banks took the Male honours.
Email: BeatonClassic@hotmail.ca
Phone: 705-692-3261
Brigid Kosgei Wins the Chicago Marathon in World Record Time
She goes under Paula Radcliffe's 16-year-old mark.
By SARAH LORGE BUTLER
OCT 13, 2019
---
Brigid Kosgei of Kenya made history today at the Chicago Marathon, setting a world record of 2:14:04.
She smashed Paula Radcliffe's mark of 2:15:25 from the London Marathon in 2003. Ababel Yeshaneh of Ethiopia, who before today had a personal best of 2:24:02 from Tokyo in March, was second in 2:20:51, nearly 7 minutes behind Kosgei. Gelete Burka of Ethiopia was third in 2:20:55.
She passed the halfway mark in 1:06:59, and observers wondered if her early opening miles would be her downfall in the later stages of the race. But she ran almost perfectly even splits, clocking 1:07:05 for the second half.
With two dedicated pacers ahead of her, Kosgei went out in a torrid first 5K of 15:28, which projects to a 2:10 marathon. Her pacers slowed the tempo slightly after that, but Kosgei was still well ahead of world record pace. By 10K, she had a 32-second gap on her nearest pursuer.
Kosgei said that faster times were possible—for her and for other women.
"It's amazing for me," she said. "I never believed that time. But I've seen 2:10 is possible for a lady to run if they are sure. During training, you must focus everything."
During her buildup to Chicago, she was focused on improving her best time (previously 2:18:20 from London where she won in April) and training for 2:15.
"Today I run 2:14:04," she said. "I'm still focusing to reduce my time again if it's possible, if my body could be good, I could reduce a little bit."
When asked what she would say to people who are skeptical of her performance, given some high profile doping suspensions by Kenyan women in recent years, she distanced herself. About doping, me I do not know about it, those people," she said. "It is far from me. It is different where we train. Me, I don't know about those doping. I say each and every person can run clean. And you must work hard."
The conditions were perfect for a record run, with temperatures around 40 degrees and light winds. With the two pacers ahead of her, Kosgei said she was protected from the breezes.
She made a last-minute decision to wear the same Nike shoes that pacers for Eliud Kipchoge of Kenya wore on Saturday in his event where he broke two hours for a marathon. Kenyans now own the men's and women's marathon world records. (Kipchoge's official record was at Berlin last year, where he ran 2:01:39.) "I appreciate what position I become and the record, which I break today," she said. "My brother, Kipchoge, I was happy for him again. I hope Kenya now, they are happy. They have a woman and a man who are the record holders."
The 25-year-old earns $100,000 for the win and $75,000 for breaking the Chicago course record, which was 2:17:18, also held by Radcliffe.
Kipchoge breaks two-hour marathon mark
It may not have been official, and it may have used some unusual aids to get there, but regardless of how he did it, Kenya's Eliud Kipchoge ran 42.2 kilometers in less than two hours.
By Bob Weeks TSN
Most of us couldn't run 200 meters at the pace Kipchoge maintained for one hour, 59 minutes and 40 seconds.
---
It may not have been official, and it may have used some unusual aids to get there, but regardless of how he did it, a man ran 42.2 kilometers in less than two hours.
Kenya's Eliud Kipchoge broke the marathon barrier on a run in Vienna, Austria Saturday morning, accomplishing something no one had thought possible just a few years ago.
Think about what he did for a moment – he ran at a pace of 2:50 per kilometer 42 times. Or, to put it in terms the average human might be able to understand, it would be running around the track at your local school 104 times, each lap taking no more than 68 seconds.
Most of us couldn't run 200 meters at the pace Kipchoge maintained for one hour, 59 minutes and 40 seconds.
"Today we went to the moon and came back to earth," the 34-year-old wrote on Twitter. "I am at a loss for words for all the support I have received from all over the world."
As he came to the finish line, assured that he was going to break the mark, the Olympic gold medalist and world record holder pointed at people in the crowd, pumped his chest twice and clapped his hand. A wide smile broke out on his face and he raced into the arms of his wife before a throng of people embraced him. Perhaps most remarkable of all, he didn't even look tired.
Kipchoge established the record at a run set up precisely to try and break the mark. The INEOS 1:59 Challenge came two years after a similar attempt co-ordinated by Nike. At that time, Kipchoge finished 26 seconds over the two-hour mark.
This time around, organizers took many of the same tactics used in the first attempt and added a few wrinkles. Kipchoge was helped along the way by a phalanx of 41 pacers who rotated throughout the run. There was also a car ahead of the runner, shining a laser on the road to indicate the pace he had to maintain. And once again, he wore a special pair of Nike shoes designed to give him every advantage.
The first attempt was done on a racetrack in Monza, Italy with very few fans. This time the crowd lined every part of the route, cheering the Kenyan on which likely buoyed him along.
Add it all up and it led to a record-breaking performance on par with Roger Bannister running the first mile in under four minutes. The time won't sit as the official world record as it wasn't done in open competition. No matter – Kipchoge still has that mark of 2:01:39.
While the time was stunning, top runners had a sense that the record might fall.
"Honestly, I wasn't too surprised," said Reid Coolsaet, one of Canada's top marathoners and a two-time Olympian. "He only, well maybe I shouldn't say only, but he only had to run 26 seconds faster which is a second per mile so it seemed well within reach. This time he had the advantage of knowing he only had to take off a little bit."
In a post-race interview, Kipchoge said that he believed breaking the mark might lead to more sub-two hour runs, much as Bannister's achievement in the mile opened the doors in that distance.
While Coolsaet agreed that the effect could be similar, he felt that it would still be a difficult time to run in an official event.
"I think it will have that sort of effect, but I don't think the floodgates will open," said at 40-year-old who will toe the line at next week's Scotiabank Toronto Waterfront Marathon. "It's just so much harder to find pacers in the marathon and you can only race the marathon two or maybe three times a year."
The record is stunning and many are still trying to grasp the full weight of the achievement. Does it hold up even though it was done in a manner that gave Kipchoge every advantage?
"One of my friends asked me, is this gimmicky or truly amazing?" stated Coolsaet. "I said it was both."
With the two-hour barrier now broken, the future of the marathon could be exciting to watch.
Upcoming Local Events
10k Championships on beautiful Manitoulin Island Plus 10k Walk
We have the 10 km Slower Runner Division for beginner runners and walkers.
Sponsored by the Wikwemikong Health Centre Diabetes Program this Race Starts at 10:00 a.m. Kaboni
10k Run Starts at 10:50 a.m.
Registration: 8:30 a.m. to 10:15 a.m. – Wasse Abin Pontiac School
Entry Fee: $20 for Adults $10 for Students
Shuttle service is available.
Info: (705) 859-3164
October 27, 2019
MOVE Kivi Park Fitness Series: 5th Annual Cancer Centre Walk/Run for Hope
Sunday, October 27th at Kivi Park
All routes run through scenic trails at Kivi Park and this year there may be a treat along the way! Don't forget your Hallowe'en costumes!
REGISTRATION: 10:00 a.m.
RACES START: 11:00 a.m.
-1km (Kids) Free - 3km (Kids $5), 5km and 10km Adults $35
Raise $100 or more in pledges and we will waive your registration!
100% of the monies raised will support the Northeast Cancer Centre for patient care, equipment and research!
visit www.ncfsudbury.com – Click on Cancer Centre Walk Run for Hope
| | |
| --- | --- |
| | |
---
Store News

Good afternoon Sudbury Runners and Walkers,

We have FREE run club Wednesday nights at 6pm and Sunday mornings at 8:30am.
| | |
| --- | --- |
| | Track North News - by Dick Moss |

Marauder/Bayfront Open Cross Country Meet
Hamilton, 10/11/19
---
The Laurentian University women's and men's cross-country running teams competed at the Marauder Bayfront Open in Hamilton's Bayfront Park on the weekend, returning with an individual all-star performance and 5th and 8th place team finishes, respectively.
Over 200 runners from 13 schools participated in the event, held on the course that will host the OUA championships in two weeks.

The Laurentian men's squad was led by Eric Gareau, who finished 13th and was named a Bayfront All-Star. His time over the 8km course was 24:45. He was followed by Liam Passi, who was 21st in 25:14; rookie Keon Wallingford who was 24th in 25:22; rookie Chase Canty who was 46th in 26:00 and rookie Maurice Graenert, who completed the scoring by finishing 62nd in 26:23. Displacers were Caleb Beland and Dylan Brown who were 72nd and 79th in 26:39 and 26:56 respectively.
The men scored a total of 141 points for a 5th-place finish with a top-five average time of 25:32.

Individual Results - Laurentian Men (8.2km)
13. Eric Gareau, 24:45
21. Liam Passi, 25:14
24. Keon Wallingford, 25:22
46. Chase Canty, 26:00
62. Maurice Graenert, 26:23
72. Caleb Beland, 26:39
79. Dylan Brown, 26:56
87. Nick Lambert, 27:23
95. Justin Graenert, 27:49
101. Ryan Vincent, 28:26
109. Cameron Date, 29:46
113. Hayden Ring, 30:51
Team Results - Men
McMaster, 24 points
Western, 55
Windsor, 57
Toronto, 104
Laurentian, 141
Waterloo, 183
Laurier, 196
Brock, 251
Nipissing, 267
Ryerson, York, Trent, Lakehead – incomplete teams
The women's squad was led by Meghan Sippel, who placed 61st with a time of 33:18 over the 8km course. She was followed by rookie Ashley Valentine in 69th with a time of 33:56; Kelsey Lefebvre who was 79th in 35:04; Angela Mozzon who finished 83rd in 35:39; and Miranda Boudreau who was 88th in 36:41.
The women scored a total of 243 points for 8th place with a top-five average time of 34:55.
Individual Results - Laurentian Women (8 km)
61. Meghan Sippel, 33:18
69. Ashley Valentini, 33:56
79. Kelsey Lefebvre, 35:04
83. Angela Mozzon, 35:39
88. Miranda Boudreau, 36:41
Team Results - Women
Western, 54 points
Toronto, 65
McMaster, 83
Waterloo, 99
Windsor, 111
Laurier, 131
Nipissing, 202
Laurentian, 243
The teams' next competition is the OUA Championship on Sat October 26.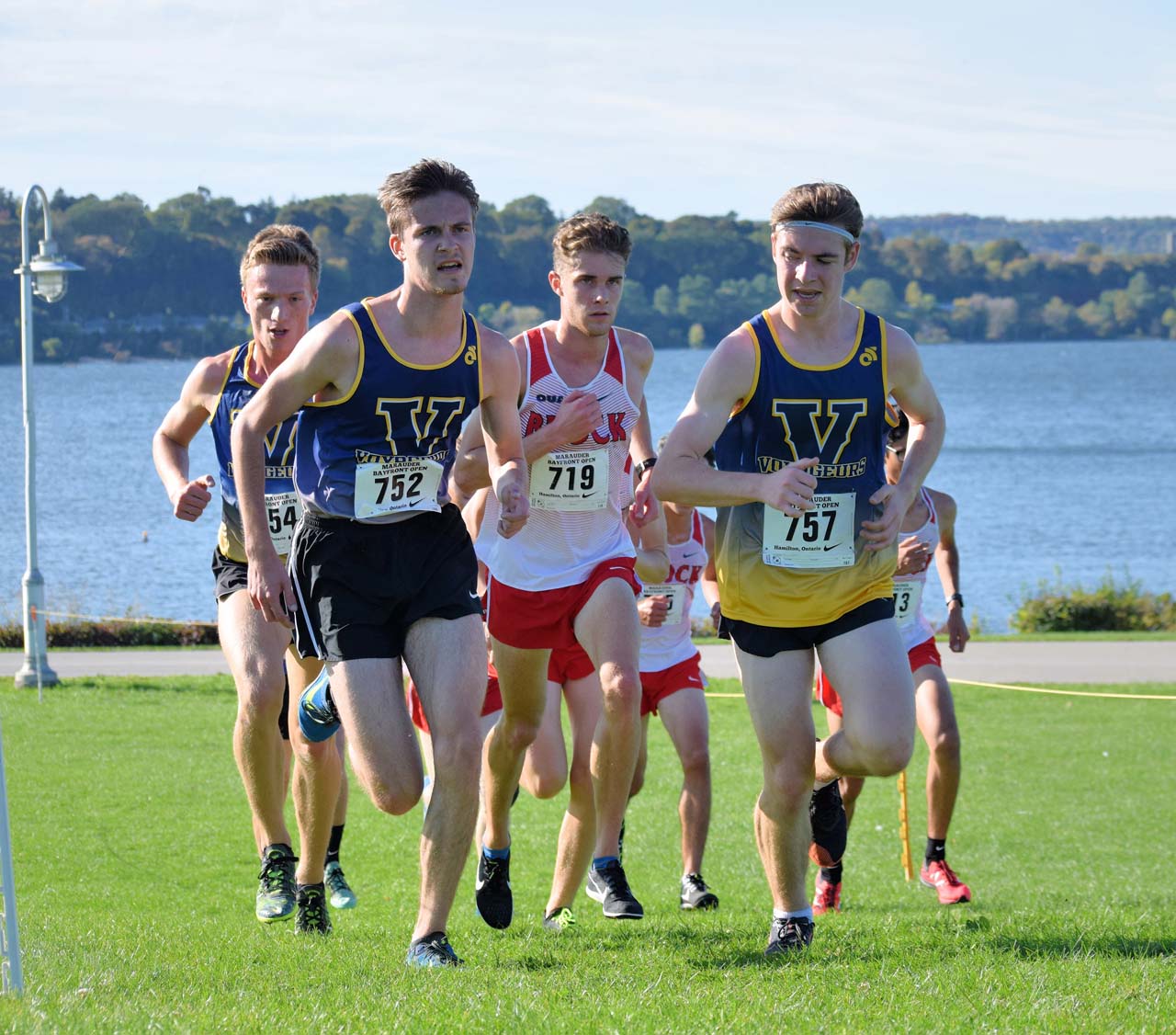 "Nick_Justin_Ryan.jpg:" (Left to Right): Nick Lambert (#54), Justin Graenert (#752), Ryan Vincent (#757)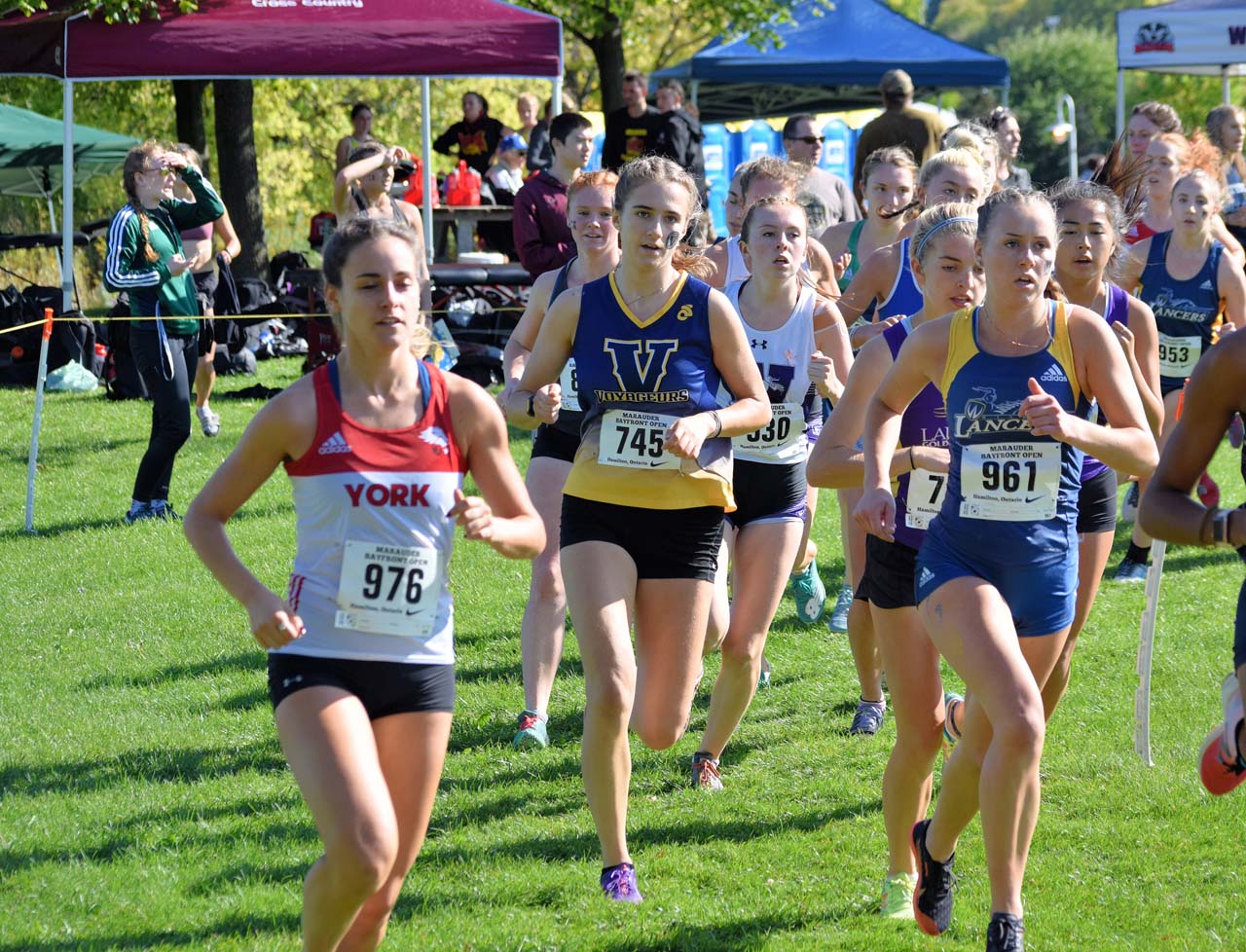 "Ashley Valentini.jpg:"" (#745) (Photo Attribution – Adam Kalab)
Full Results: http://sportmadesimple.com/results/Marauder/index.html
Dick Moss, Head Coach
Laurentian XC/Track Team
c/o Coach Moss <pedigest@cyberbeach.net>
Web: http://laurentianxctrack.com
Facebook: https://www.facebook.com/groups/laurentianxctrack/
Twitter: https://twitter.com/@luxctrack
Instagram: https://www.instagram.com/laurentianxctrack/
For information call me.
Vincent Perdue
vtperdue@cyberbeach.net
Proud sponsor of the Sudbury Rocks!!! Race-Run-Walk for the Health of it
HOME | ABOUT US | CONTACT | ARCHIVES | CLUBS | EVENTS | PHOTOS | RACE RESULTS | LINKS | DISCUSSION