| | | |
| --- | --- | --- |
| | | |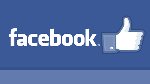 Hello Everyone, August 15, 2019
In this Issue:
Aug 10 Sudbury Camino
Aug 11 Beaton Classic
Fitness Challenge Points after 6 Events
Welch keeps the boat straight and true
Upcoming Events Sep 8 Ramsey Tour
Running Room Run Club Update:
Track North News
Sudbury Camino 2019
Saturday, August 10th, 2019
THE CHALLENGE
Inspired by the famous El Camino De Santiago pilgrimage routes, the Sudbury Camino offers an on-foot exploration of urban and wilderness trails along the Sudbury portion of the Great Trail.

This unique challenge has continued to grow in numbers and distance each year, and 2019 is no exception. What started as a 21km journey has now transformed into a 30km hiking adventure which begins at the Kinsmen Sports Complex and finishes at Moonlight Beach. The Sudbury Camino can be completed in segments as well!

Our first few SudburyCamino hikers of the day, or should I say runners, left Hillfield Trail in Lively at 8 am, and reached the Downtown Market by 9:30 am!

The rest of us followed at a respectable distance, some running, most walking, truly enjoying the experience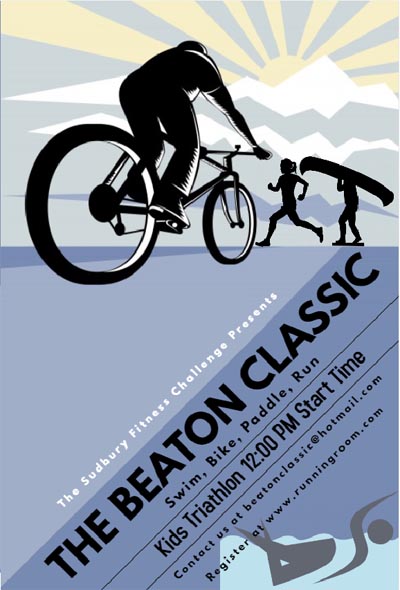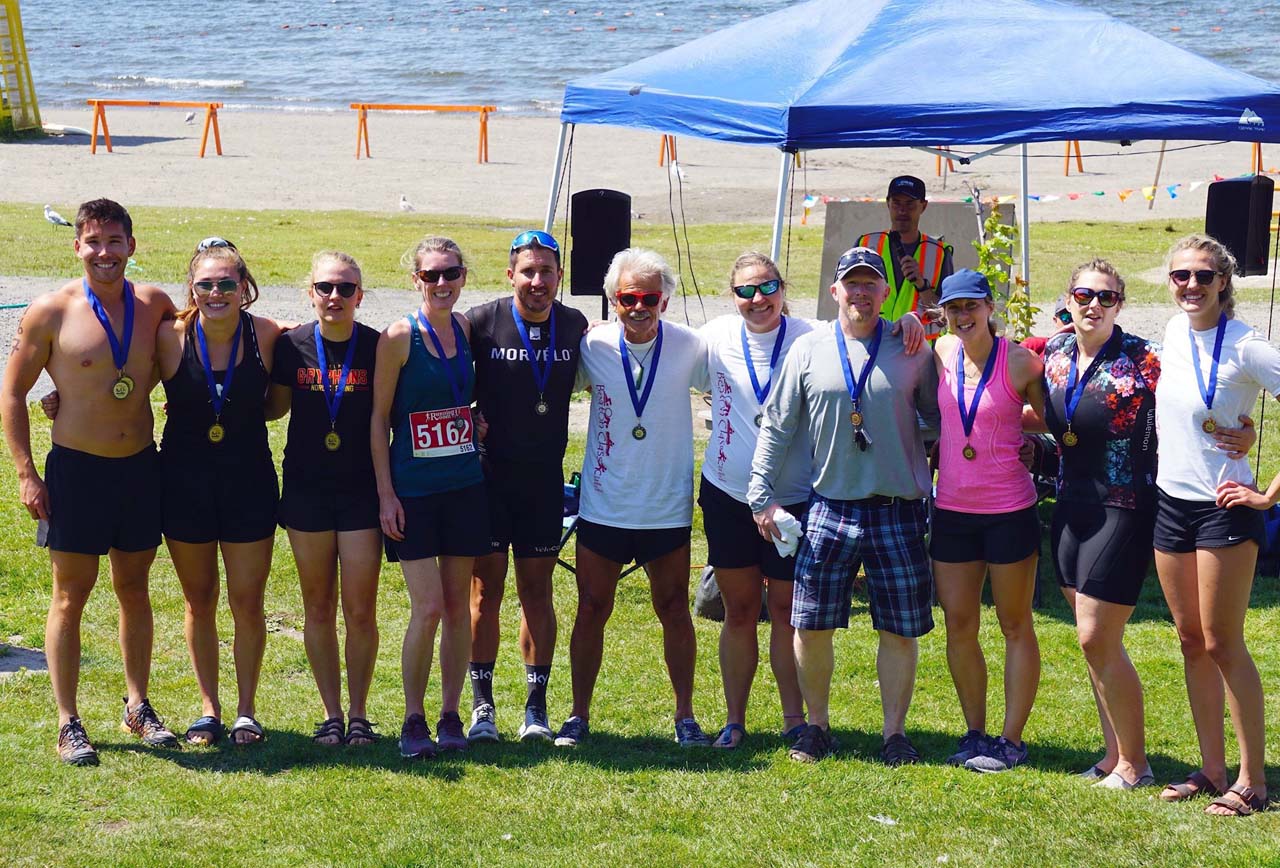 The annual Beaton Classic rocked the beauty shores of Ramsey Lake once again in sunny Sudbury this a.m.! Kudos to tireless organizer Neil Phipps and his fabulous gang of volunteers for staging, yet again, one of the funnest events around! The huge smiles of all involved tell the tale of challenges met and friendships made/rekindled...see ya all again next year! Cheers mates. john larmer
Categories:
Solo: All four events. Male and female categories.
Doubles: Male, female and mixed categories. If mixed, female must do at least two events.
Fours: One event each. If mixed, must be at least two events done by a female. Can be a team of three
---
Beaton Classic produces new storylines
Randy Pascal For The Sudbury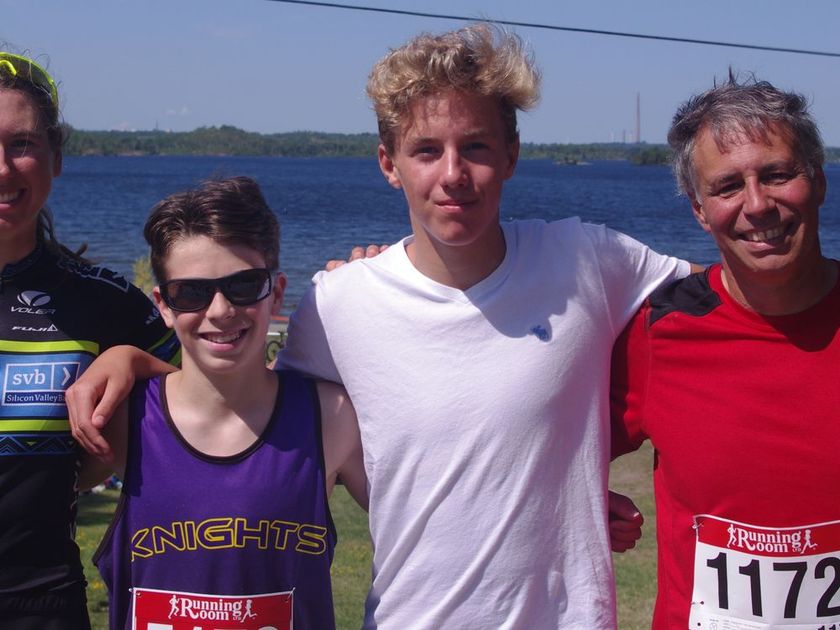 Emily Marcolini (left), Kaeden Ward, James Bertrim and Rob Gregoris ae winners of this year's Beaton Classic. Randy Pascal
---
Pretty much each and every August, the Beaton Classic allows us the opportunity to catch up with quadrathlon regulars. The likes of Clinton Lahnalampi, Sara McIlraith, Kerry Abols, John Larmer and Donna Smrek are among a good solid handful of race regulars, the folks that we pencil in to the starting lineup a year or so in advance.
Yet for as much as an event like this annual local tradition is built around a core of these fitness foundation folks, part of the anticipation of the gathering lies in learning the stories of those who can not yet lay claim to forming the essence of the fibre and fabric of the Beaton Classic. That takes time.bIt seems virtually a given that the next generation will form a quadrant of the crew that fills the void.
At this point, Kaeden Ward is likely far more well-known as being the son of Lo-Ellen teacher Colin Ward, one of those gentlemen who could easily have been included in the previously noted grouping, completing the Beaton on a solo basis for the umpteenth time on Sunday. Young Kaeden, however, is ready to carve out a name of his own.
The soon-to-be high-school freshman teamed with long-time friend and accomplished swimmer James Bertrim, and race veterans and elite individual leg competitors Rob Gregoris and Emily Marcolini to finish first overall, covering the course in 2:02:16, a couple of minutes ahead of the team of Kelly Hotta, Allison Caswell, Jordan Hotta and Pascal Renard.
Though his team held an advantage of almost 10 minutes heading into the run, Ward was anything but confident knowing there was an experienced marathoner on his tail, with still 7.5 kilometres ahead for the young man who turns 14 this week. "I was worried because Pascal is really fast and I didn't feel great," said Ward. "I was focused on just trying to run through it and run fast enough that they didn't catch me. I was happy that I had a decent distance (lead), but I wasn't sure how much I was going to fall apart at the end."
Yet another participant in the DQ Kids Duathlon not all that long ago, Kate McIlraith was tackling the cycling leg for the fifth or sixth time in her career, missing out on last year's race due to work commitments. By now, the 19-year-old, third-year environmental biology major at the University of Guelph is keenly aware of the unique attributes of the roadways that she must navigate before tagging off with her team paddler, Jayde Hurley. "I think it's gotten even bumpier, which I didn't think was possible," she said with a laugh. "But I like that they changed the route. Instead of coming past the train tracks three times, they turned us around up top, which makes it easier."
Joining forces with Julie Falvo (swimmer) and her boyfriend, Justin Leale (runner), McIlraith was quite confident to leave the canoe leg in the capable hands of Hurley, a fellow Lo-Ellen Park Knight, who is likely more well-known for her athletic accomplishments in Nordic ski, track and field and cross-country running. "She's really strong with her upper body, so I knew that she would be good there," said McIlraith. "And she's done a bit of paddling with one of her friends. They did the canoe marathon together."
This is often how teams come together. It's certainly a similar story to that of Kim Brouzes (swim), Peter Ledingham (cycle), Matt Luoma (paddle) and Mikael Maki (run). The quartet was taking part in the Beaton for the third straight time, with Ledingham jumping in to cover for regular Julie Luoma, unable to commit the time, unfortunately, this year. "We do it for fun, it's something to look forward to at the end of the summer," said Maki, explaining the rationale for a team comprised who folks who slide into the 40-49 age bracket. "We were just talking about doing it, I don't know if there was any one thing that was the catalyst. We just decided to do something different." Posting an extremely respectable time of 2:17:21 in finishing second in the men's fours division, Maki and company mixed in elements of competitiveness with a weekend warrior mindset. "You try and improve on your time, each year," he said. "Your first year, you're not really sure how you're going to do. "Each of us looks at how we do within our leg. I would say that today, the swim was the hardest, partially because they had to do the 800-m run at the end, and also because there was a crosswind with the swim."
Of course, the 17 brave souls who completed the Beaton on a solo basis (four women, 13 men) would likely provide the best assessment of the toughest leg of the course, given their inability to duck even one of the four disciplines.
A native of Smooth Rock Falls, Stacey Trottier entered the Beaton for the very first time this year, joined by her husband, Mitch, though this might represent the natural evolution of the impressive athleticism for the parents of two (seven- and nine-year-old boys). "I've been doing triathlons and the timing worked out this year, and we decided to do the Beaton, throwing in the paddling," noted the 42-year-old woman who bested her husband in the swim and the run, but had to defer on overall family bragging rights, crossing the line a short distance back of her training partner (2:42:49 vs 2:31:35). "I did a lot of triathlons in my 20s and then I stopped, for about 10 years, when I had my kids," said Trottier. "We've been back into it for a few years now, but I just started paddling last week. I had a week with my canoe to try and figure things out, but it was awesome."
In fact, it might only be a matter of time before the Trottiers are as much an integral part of the Beaton as those noted at the outset. "I definitely need to practise more on the paddling, but I'm definitely coming back next year."
"I thought it was so much fun."
---
Following are the top finishers for the various categories, as well as a complete list of all soloists who completed the race:
Pairs Division
Female Pairs - 1st - Genna Howard/Jill Tworo; 2nd - Donna Smrek/Mariane Larose
Men's Pairs - 1st - Kelly Thompson/Sean Thompson; 2nd - Gary Norvall/Rusty Hopper; 3rd - Miguel Alvarez/Henri Lefebvre
Mixed Pairs - 1st - Katie Reid/Charlie Reid; 2nd - Richard Campbell/Ghislaine Goudreau
Fours Division
Four Men - 1st - James Bertrim/Emily Marcolini/Rob Gregoris/Kaeden Ward
Four Men - 2nd - Kim Brouzes/Peter Ledingham/Matt Luoma/Mikael Maki
Four Men - 3rd - Jeff Lilley/Dean Basso/Alain Gauthier/Brad Smith
Four Mixed - 1st - Kelly Hotta/Allison Caswell/Jordan Hotta/Pascal Renard
Four Mixed - 2nd - Tamara Flannigan/Charles Dumas/John Larmer/Bridget Schulte-Hostedde
Four Mixed - 3rd - Alex Langlois/Suzanne Halet/Andre Stewart/Amanda Robitaille
Female Soloists
1st - Sara McIlraith - 2:21:22
2nd - Monika Haring - 2:39:09
3rd - Stacey Trottier - 2:42:49
4th - Kimberly Larkman - 3:35:54
Male Soloists
1st - Clinton Lahnalampi - 2:19:07
2nd - Joe Lonsdale - 2:21:40
3rd - Kerry Abols - 2:22:20
4th - Mike Banks - 2:24:59
5th - Todd Withers - 2:25:43
6th - Dan Whalen - 2:30:12
7th - Mitch Trottier - 2:31:35
8th - Colin Ward - 2:31:56
9th - Marc Larochelle - 2:36:20
10th - Michael Nawalaniec - 2:45:38
11th - Nico Maxitas - 2:45:44
12th - Scott Hopkins - 2:54:44
13th - Mark Kuhlberg - 2:55:07
DQ Kids Duathlon
Female Under 10 - Piper Bachiu
Female Over 10 - Lucia Salmaso
Male Under 10 - Eden Abols
Male Over 10 - Nicholas Gauthier
Neil's dedication to the Sudbury Fitness Challenge and the Beaton
by Sara McIlraith
Neil Phipps

"Was that last year or the year before that you won the Beaton outright?", Neil asked me as we were recapping this year's adventures. While I didn't remember doing that (which made Neil sad that I didn't remember), it prompted me to reflect on the past 10 years of racing the Beaton.

Neil introduced me to the world of multisport. My first ever 'triathlon' was not a tri at all, but the very special quadrathlon that is the Beaton. Neil and I competed together that year. I was terrified, but you couldn't wipe the smile off Neil's face as he raced through all four legs. Neil grew up in the Beaton's heydays, and some of his favourite stories are about suffering on the Beaton. The Beaton shaped who he is, it developed his love of endurance sport.

My first Beaton was Neil's last as a racer. He took over as race director the following year. "If I don't do it, the Beaton is going to die", Neil says every year when he is in the depths of race planning panic. He loves the Beaton so much, he gives up being able to race to ensure it continues.

I am incredibly grateful to Neil for introducing me to endurance sport, and the Beaton. I know there are many others out there that have 'grown' into endurance athletes because of Neil's dedication to the Sudbury Fitness Challenge and the Beaton. Neil, you truly are making a difference.

Maybe the fitness challenge family will rally together next year, and let you once again compete in the race you have so lovingly built over that past 10 years. Time to start looking for your own fast canoe :).

That Sudbury Sports Guy: Welch keeps the boat straight and true
Randy Pascal For The Sudbury Star
---
Dan Welch of Sudbury has become an international steersman.

Supplied photo JPG, SU

With a lifetime of volunteerism to his credit, Dan Welch is not likely to steer you wrong.

And in the eyes of many folks involved with the Northern Water Sports Centre, that makes him pretty darn invaluable.

Born in Chapleau but blessed with strong family ties to Sudbury, Welch drifted quite naturally to a highly active lifestyle. His father was both a long-distance runner and boxer, an all-around athlete in his high-school days, and Dan only partially inherited the paternal genetics.

"I was never a great athlete," stated the second eldest of six kids in the family. "Everything I did, I had to work at."

That said, he did do everything. Football, basketball, track, swimming, volleyball, ski and a propensity for the great outdoors were all part of the mix.

If Welch is now gifted with a wonderful ability to ensure that even in the toughest of conditions, dragon boats under his guidance maintain a straight, steady path, the same could not be said of his pursuit of academia and career, both of which meandered their way, with twists and turns throughout his young adulthood.

A checkered history, in the words of Welch himself.

Which was not a bad thing, not a bad thing at all, as it opened the doors to some pretty incredible life adventures. Working for the province in the downtown core of Sudbury, about a decade or so removed from his high-school days at Lasalle Secondary, Welch would almost stumble upon the lifetime friendships that emanated from the Sudbury Masters Running Club.

"One of the guys that I had played football with had put on some weight and wanted to run," recalled Welch. "He knew about this group of guys that ran at the Sudbury Arena. I went to the arena, Dick never showed up, but I ran there for 35 years."

What started as simply a chance to build a little physical activity into his daily routine would culminate with no less than five marathon performances for Welch, including the prestigious Boston Marathon in 2011. "The group of fellows that were there was really welcoming and encouraging," he said. "It was a real de-stressor for work, and it kept me fit."
As had been his nature, even dating back to his time at Lasalle, Welch would do far more than just compete. In the blink of an eye, he was a race day volunteer mainstay at countless events in Sudbury, helping to launch what has become the highly successful Sudbury Masters Ramsey Tour, a fundraiser that has, over time, contributed tens of thousands of dollars to post-secondary varsity cross-country runners at both Cambrian College and Laurentian University.
"Because running kept me fit, I could ski, both cross-country and downhill, and I played pick up basketball, and quit in my 60s," suggested the 72-year-old athlete."
Though the bulk of his involvement in water sports would occur largely over the course of the past two decades, Welch was hardly starting from scratch.
"As a kid, my dad taught me to paddle," he said. "We were always gone fishing, canoeing, doing something. I was about 55 when the dragon boat stuff started happening."
Referring to it as "dragon boat stuff" might not quite do justice to the level of involvement Welch would enjoy on the water. "I was retiring, so I started paddling in the (Sudbury Dragon Boat) Festival," he said. "I wanted a little more than a community team, so I started a competitive team with the canoe club."
His interest grew quickly, as he attended festivals across the province, striking up conversations with fellow paddlers. "Someone suggested I try out for the national over 50 team," said Welch. "I was 58 and I wanted to stay fit and I wanted to travel, so this was a perfect fit for me."
Surviving the rigorous testing and training of this team, the proud Sudburian would remain a stalwart with a team that navigated their way as an undefeated entry through four sets of world championships. "We never lost a heat, never lost a race."
Though his paddling abilities got him a spot on the team, it was not where Welch would ultimately make his mark. "We were in Australia, in Penrith," he recounted. "They had mountains at one end of the course, and when winds would come over, you would get whitecaps on the course. The person who was steering for us could not handle the boat."
"I had steered all the time in Sudbury and Lake Ramsey was great training with whitecaps," Welch added. "You can go out on Ramsey Lake, as calm as can be, and be in the middle of the lake and the wind comes up. You've got to be able to handle the boat."
In the process, an international steersman was born.
In fact, with not a lick of race experience, as steersman, in the more challenging 2000m event that involves sharp turns around buoys, Welch would lead his crew to victory. "I learned a lot of strategy really quickly in the 2000 metre," he confessed. "A steersman can make a world of difference, not so much in the straight races, but definitely in the 2000m."
It's been quite the balancing act for Welch since those first few years following the Y2K scare.
Sitting at times as a member of the board of directors of the Northern Water Sports Centre, the Sudbury Canoe Club and the Sudbury Dragon Boat Festival, Welch was also able to squeeze in a few years as head coach of the SCC sprint canoe crew.
He speaks glowingly about the work that was done to bring the NWSC to life, the end product that he adores. "I'm so proud of this building," said Welch. "It's a beautiful facility. When I joined the canoe club, when back when, there were 60 members, and that was it. Now there are over 500 members. It's family-friendly now – we've changed the culture of the club."
Stop by for a visit, some time.
It's not like Dan Welch will steer you wrong.
Upcoming Local Events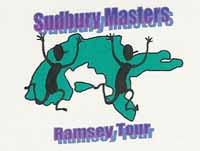 5k & 21.1 k Roadraces
The SudburyMasters Continental Insulation Ramsey Tour Sunday, September 8 at Laurentian University at 10:00 am.

5 km and a 1/2 marathon.

Register on-line here through the Running Room
| | |
| --- | --- |
| | |
---
Store News

Good afternoon Sudbury Runner's and Walker's,

We have FREE run club Wednesday nights at 6pm and Sunday mornings at 8:30am.
| | |
| --- | --- |
| | Track North News - by Dick Moss |
Dick Moss, Head Coach
Laurentian XC/Track Team
c/o Coach Moss <pedigest@cyberbeach.net>
Web: http://laurentianxctrack.com
Facebook: https://www.facebook.com/groups/laurentianxctrack/
Twitter: https://twitter.com/@luxctrack
Instagram: https://www.instagram.com/laurentianxctrack/
For information call me.
Vincent Perdue
vtperdue@cyberbeach.net
Proud sponsor of the Sudbury Rocks!!! Race-Run-Walk for the Health of it
HOME | ABOUT US | CONTACT | ARCHIVES | CLUBS | EVENTS | PHOTOS | RACE RESULTS | LINKS | DISCUSSION