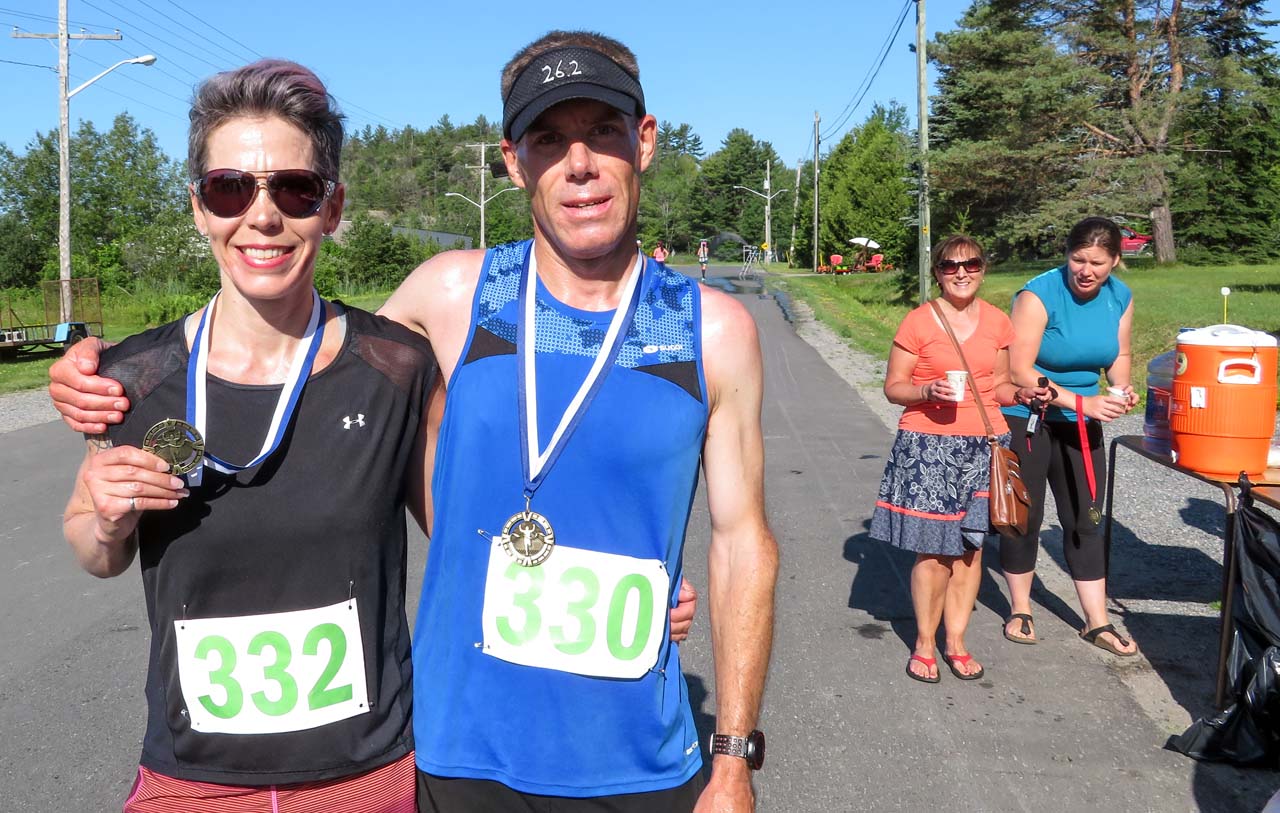 Record times for Lindsay and Ryan and an outright win for Lindsay in the Massey Marathon
Tricia wins the Spanish River Half Marathon. Son Josh comes 3rd in the 10k

Eric Leishman wins Chutes 10k

Congratulations go out to all who participated in friendly Massey's events on Sunday. Conditions proved excellent for a morning in July. Both humidity and temperature were well under control allowing runners to explore their limits if desired.

Special mentions go out to a few locals who excelled in their events.

In the marathon Lindsay Moreau-Verlaan came first overall female in the marathon breaking her record in the process finishing in 306:15. Ryan Marsaw also stepped up placing a strong 3rd overall and bettering his personal best by a few minutes finishing in 3:03:43.

Tricia Grynspan took on the half marathon and not only won in style but got a personal best as well finishing in 1:40:22. Her son Josh pulled off a fast third overall in 1:26:03. You can see where he inherited his speed and will power.

It was no surprise to anyone when Eric Leishman won the 10k. He has been the best local distance runner for some time now and is a formidable player on the national stage. He finished in 32:28.... and then ran 16k pacing our 2 local marathoners.

Amy Crawford took first place female overall in the 5k finishing in 20:22.

A big THANKS to the event organizers and all volunteers and supporters for staging a great event. All runs went well and pancakes with real maple syrup and sausages were a proper sign off to the day.

See you next year.
---
Massey Marathon 2019 - A long overdue personal best
by Ryan Marsaw
I had only one real goal for the 2019 Friendly Massey Marathon: To run a
personal best time. For almost six years my time of 3 hours, 9 minutes, 38
seconds stood as my fastest marathon, and the only race that was run in under 3
hours, 10 minutes. For someone who has run most of his marathons in the same
3:10-3:14 range for nine years, you'd think that he'd have peaked at the
distance. However, I knew, somewhere in the back of my mind, that I was
capable of lowering that marathon personal best. This line of thinking usually
takes place at the end of summer, right around the time of the Ramsey Tour half
marathon in September. For the past two years I'd managed to lower my half
marathon PB at the Ramsey Tour, yet my marathon times had remained relatively
stagnant.
I figured that I just needed the right race, one with the essential ingredients
for a successful outcome: weather, pacing, fitness.
Apart from some tweaking of my diet, my training for Massey was nothing out of
the ordinary. I concentrated mainly on acclimatizing myself to the hot weather
in case of a hot race day, a little extra mileage and recovery. Fortunately,
the hip pain I experienced during my training for the SudburyROCKS!! marathon
earlier in the year was not even a factor during my training for the Massey
race. I was confident in my fitness level at that point, so if there was ever
a time to attempt a long-awaited PB in the marathon, it was now.
As far as pacing's concerned, I lucked out yet again. My favourite racing
partner, Lindsay Moreau-Verlaan, registered for the Massey marathon a few days
earlier with the goal of running a personal best: under 3 hours, 10 minutes.
With the two of us racing together, and with favourable weather, I was fairly
certain that we'd reach our goals together.
From the moment we crossed the start mats, I had a strong suspicion that this
was going to be a fast race. Unlike for last year's Massey race, the weather
was almost perfect this time around. It reminded me somewhat of racing in the
fall. Two club runners from Oakville, Chris Watson and Troy Cox, took the lead
immediately and I knew that they were more than likely going to finish 1-2.
Lindsay and I ran together in fifth and sixth position, trying hard not to go
too fast. Our first three kilometre splits were right on goal pace, but when
we saw the half marathoners coming at us in the opposite direction in the 4 km
kilometre, the adrenaline kicked in and our pace increased significantly over
the next 3 kilometres. Boy, is it ever hard to run intelligently for the first
5 km of the Massey marathon!
We finally settled down at the 6 km point and focused our attention on the
runner in fourth spot. I found out a little later in the race that he's a
local runner from Garson by the name of Rob Savoie. Rob was running a
well-paced race, and I figured that running as a trio would take some pressure
off. Just before one of the major turnaround points, Lindsay eased ahead and I
stayed back, running with Rob for a bit before rejoining Lindsay at about 15
km. Our little group of three ran together for another 3 km or so. At the 18
km point, Eric Leishman, fresh off his win at the Massey 10K race earlier in
the morning, decided to do pacing duties for us. At first I thought he'd run
until halfway, but lucky for us Eric would end up as pace setter for the rest
of race: 24 kilometres.
We caught up with the then-third place runner near the halfway point, so at
21.1 km there were five of us, including Eric. The quick pace was beginning to
take its toll. Shortly after 23 km one of our pack dropped back, and a few
kilometres later it was only Lindsay and me contending for third place in the
race. At the last major turnaround, Lindsay unfortunately had to slow down,
and for the next 7 kilometres it was just me and Eric, trying to get me to the
finish line at a pace that was about 10 seconds per kilometre faster than any
other marathon I'd ever run. With a few hundred metres to go, and with the
finishers' chute in sight, I sprinted for the finish line and crossed the mat
in 3:03:43, a 6-minute personal best. Lindsay crossed the mat less than three
minutes later for a huge personal best herself.
Once again, the organizers and volunteers did an amazing job at the Massey
races. It was so cute seeing all the kids handing out the water and sports
drinks at the aid stations, and the pancakes that I ate after the race never
tasted sweeter than they did that morning! Huge props to Eric Leishman for
winning the 10K event, and for running with me for a lot longer than I thought
he would.
Special congratulations to Lindsay for getting her well-deserved PB in the
marathon.
I will definitely be back to race Massey next year.
Ryan