| | | |
| --- | --- | --- |
| | | |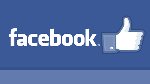 Hello Everyone, October 18, 2018
In this Issue:
SUDBURYROCKS!!! MARATHON ANNOUNCES NEW PARTNERSHIP
Rotary Park Fun Run/Walk
Wineglass Weekend with Donna Smrek
Marchons Courrons Trécesson 2018 by Lindsay Richan
The Importance of Embracing Easy Days
Rocks!! Outdoors
Upcoming Events Wiky 10k and Grab the Wheel 5k (all this month)
Running Room Run Club Update:
Track North News Marauder Bayfront Open Cross Country Meet 10/12/18
SUDBURYROCKS!!! MARATHON ANNOUNCES NEW PARTNERSHIP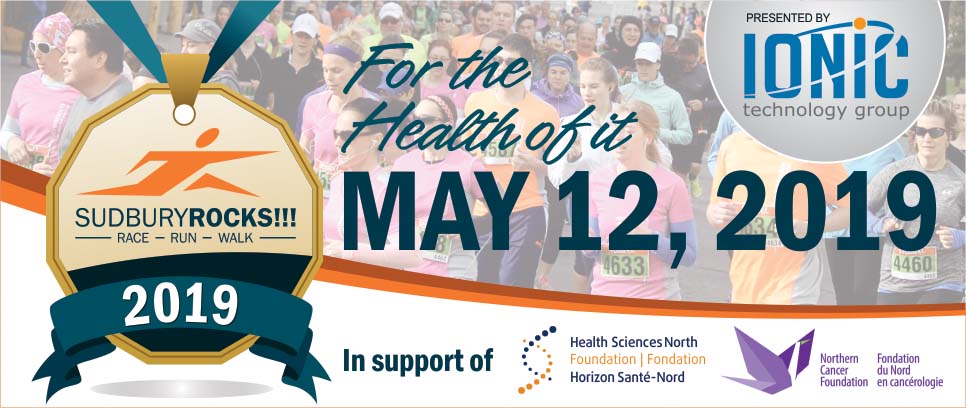 ---
October 11, 2018 For Immediate Release
"SUDBURYROCKS!!! MARATHON ANNOUNCES NEW PARTNERSHIP WITH HEALTH SCIENCES NORTH FOUNDATION AND NORTHERN CANCER FOUNDATION"
SUDBURY, ON – At Health Sciences North this morning, the SudburyROCKS!!! Marathon Committee announced that the 2019 race would be supporting local health care by benefiting both Health Sciences North Foundation and the Northern Cancer Foundation.
"It is our absolute pleasure to welcome Health Sciences North Foundation and the Northern Cancer Foundation as the beneficiaries of the 2019 SudburyROCKS!!! Marathon." says Brent Walker, Race Director SudburyROCKS!!! Marathon, "we have so many local partners and sponsors so it made sense for us to give back on a local level as well. We're thrilled to be supporting healthcare in our back yard."
Over the last 12 years SudburyROCKS!!! Marathon has proven itself to be one of northeastern Ontario's most popular races and is Sudbury's only Boston Marathon qualifier.
Last year's race alone saw over 1,500 runners and walkers take part.
"We are excited to be partnering with SudburyROCKS!!! Marathon in the spirit of enhancing the health and well-being of the people who live in our community," says Mary Lou Hussak, President and CEO, Health Sciences North Foundation. "As one of the beneficiaries, funds raised will go towards the purchase of priority equipment needs supporting quality patient care."
"It's such an honour for us to be involved with such an important race. The SudburyROCKS!!! Marathon is the premier race in our area and we couldn't be more excited to be working with Health Sciences North Foundation to make this year's race the best ever!" says Tannys Laughren, Executive Director, Northern Cancer Foundation.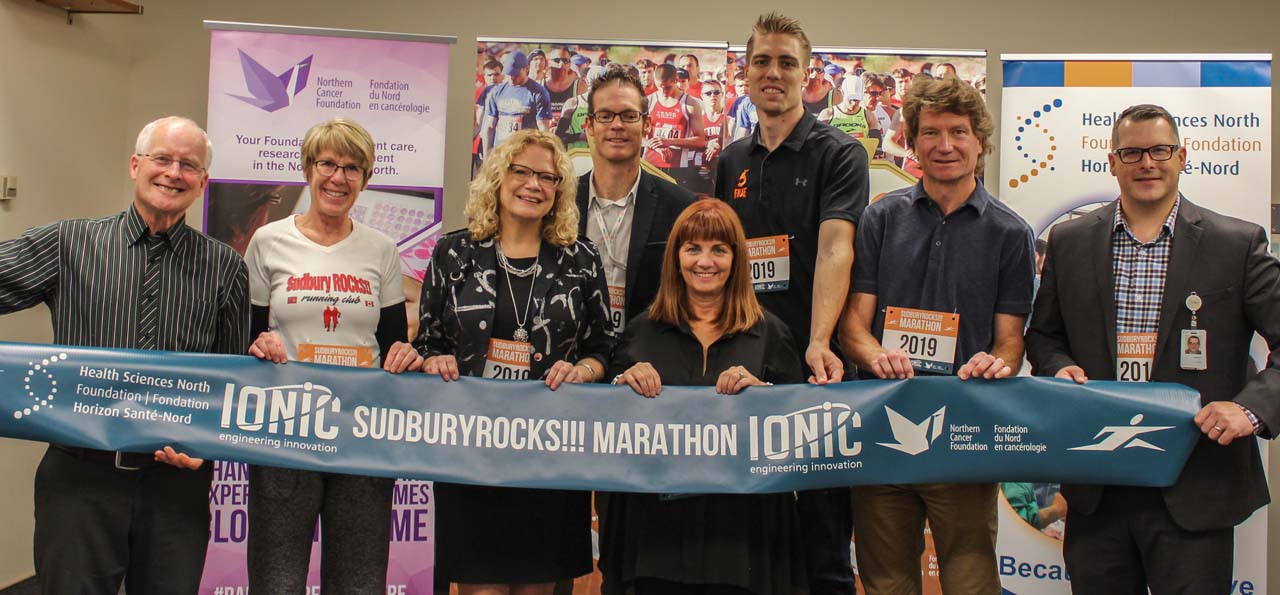 Left to right:
Vince Perdue, Sheila Lada, Mary Lou Hussak, Darren Jermyn, Tannys Laughren, Logan Stutz, Brent Walker and Jason Turnbull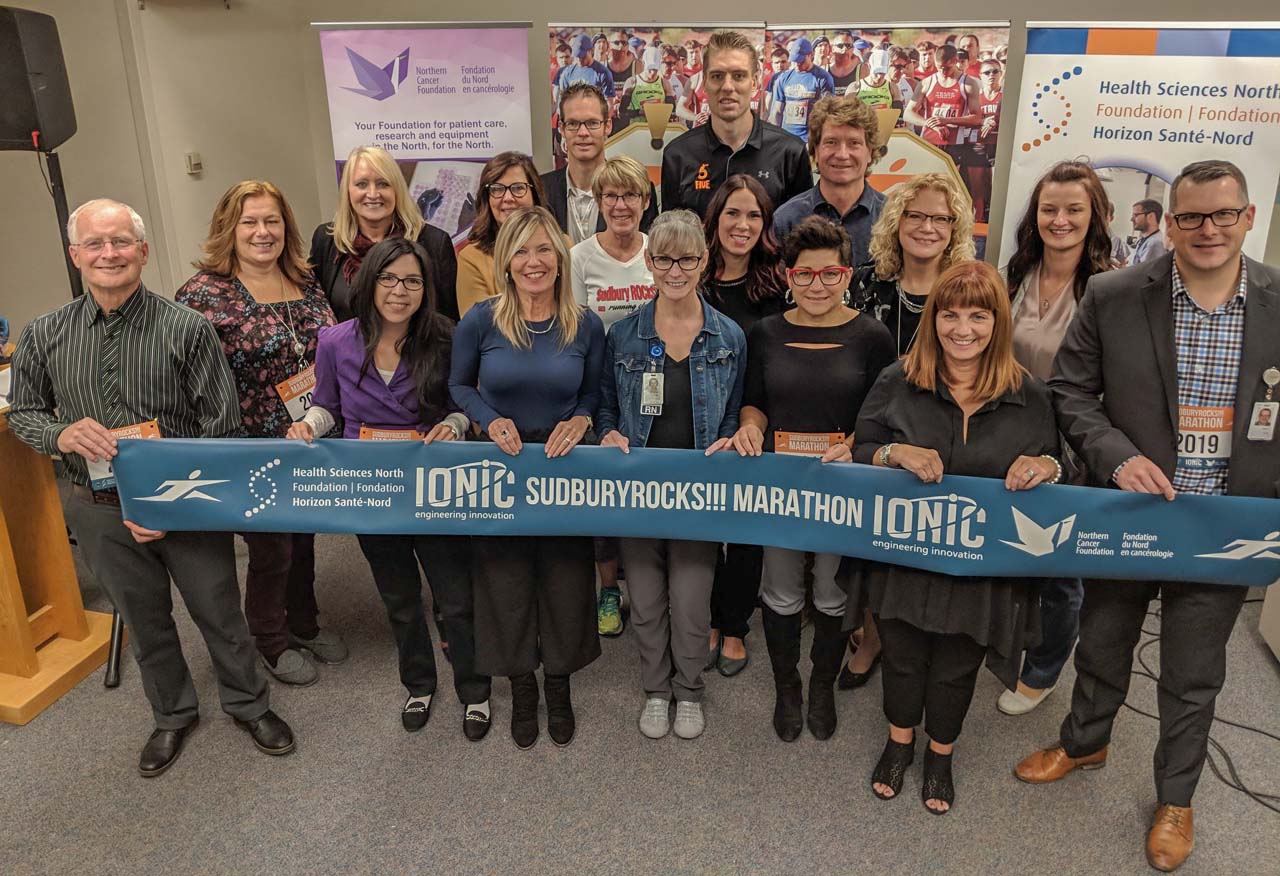 Organizers and sponsors of the SudburyRocks Race Run Walk Marathon gather for a group photo after a press conference on Oct. 11 announcing new partnerships and beneficiaries.
---
New name, same game: Sudbury Rocks!!! names new beneficiaries
HSN Foundation and Northern Cancer Foundation join forces for 2019 event 18
by: Arron Pickard
The Sudbury Rocks Marathon will return in 2019, with the usual venue and organized by the usual suspects, but there are a few significant changes.
Since 2004, the marathon has raised more than $600,000 for Diabetes Canada. Now, participants will be raising funds for two new beneficiaries — the Health Sciences North Foundation and the Northern Cancer Foundation.
Vince Perdue, promotions director for the marathon, said the group has had a very positive experience with Diabetes Canada, but they felt they were missing a local aspect to the fundraising.
"Several years ago, we talked about finding a good local partner that would be valuable for us and the community," Perdue said at a press conference to announce the new partnerships. "Our race has always been about fitness in the community. My first thought was Health Sciences North, and through those discussions, we also thought about the Northern Cancer Foundation, and we started the ball rolling."
Both foundations do tremendous work to improve the health of Sudburians. For the cancer foundation, it's something that has touched just about everyone's lives.
"In our running club alone, we've had two members die from cancer, and five who currently have cancer, so that is a natural fit," Perdue said. "Also, both foundations have lots of experience with fundraisers and events, and we really use our partners to help run Sudbury Rocks. Without their help, it would be very difficult to put on this event, so it's a winning combination."
Organizers haven't defined a fundraising goal for this year, but they want it to be the best year ever, Perdue said.
"We really want to take a step forward, and we have a team that is really excited about it," he said. "I'm happy with having 1,500 to 2,000 people participating, but even bigger would be great. It's more important to have people's feet on the ground, because it means more people are getting more fit as a result."
Now named the Sudbury Rocks!!! Race Run Walk Marathon For the Health of It, it happens May 12, 2019 in downtown Sudbury. The event is open to all ages and offers a one-kilometre kids event for youth 12 and under, where they all receive a medal just for finishing.
There will also be a five-km, 10-km, half marathon, a full marathon (Sudbury's only qualifier for the Boston Marathon), as well as a marathon relay for groups of up to eight people.
The start line will be adjacent to the Tom Davies Square courtyard on Minto Street, and because it takes place on Mother's Day, all ladies who cross the finish line will get a little something extra for their participation.
Prizes are up for grabs for first, second and third place in the solo paid races.
Darren Jermyn, associate vice-president, health promotion, HSN and a running advocate, said there are a lot of people who train really hard for this event, and organizers are very excited about that, but it's really about the community, and to bring that together with these two new partners is even more exciting.
"This partnership can only lead to positive outcomes for everyone involved," Jermyn said.
For more information, visit sudburyrocksmarathon.com.
I am so excited on so many levels! I love this event and I am so excited to be a part of it this year. If you know me - you know the number of years that I have ran in this event and now I get to help plan it - whoot whoot!
Elizabeth Schweyer - Northern Cancer Foundation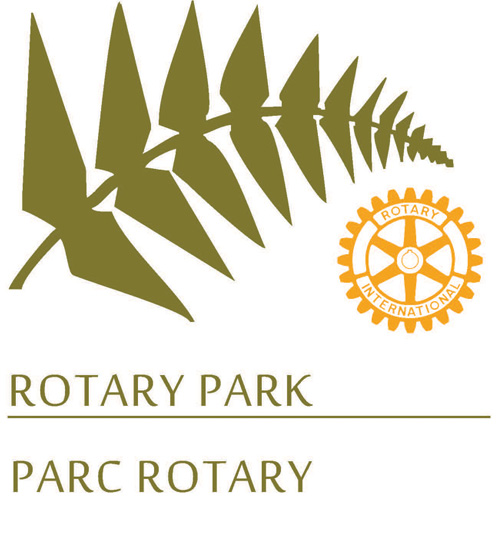 Rotary Fun Run / Walk 2018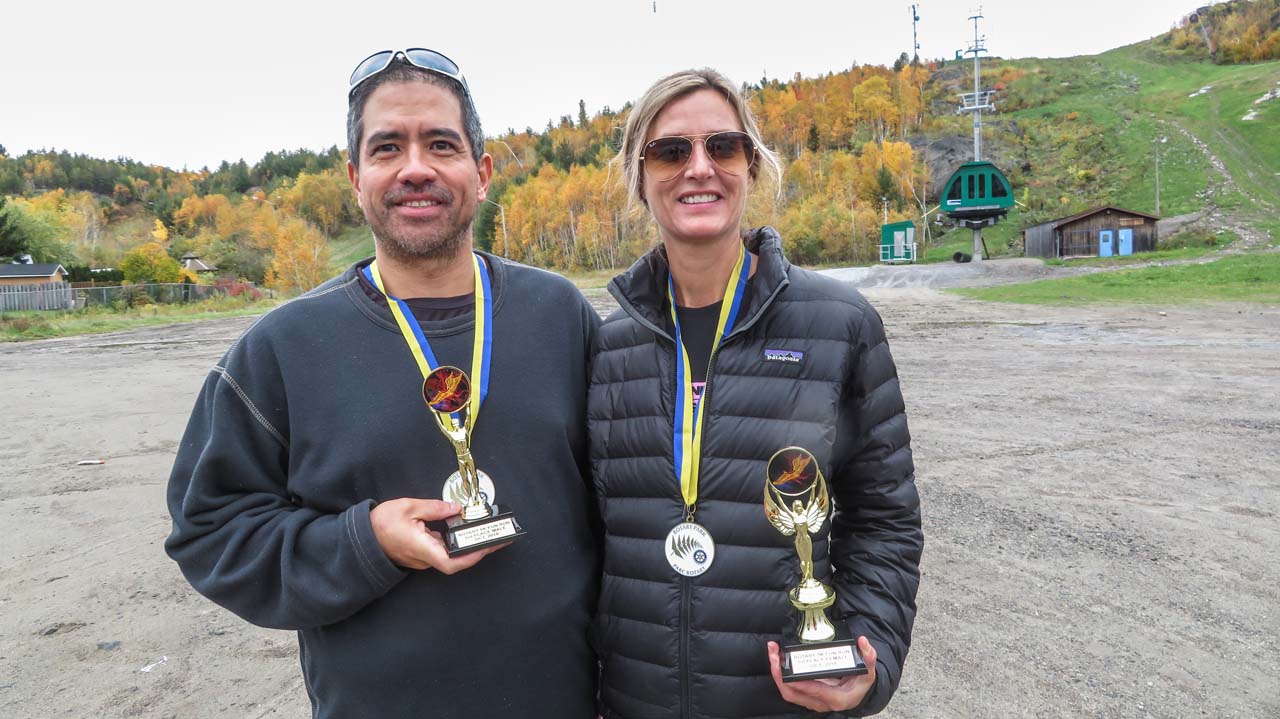 Rocks Win at Rotary Park
Congratulations to all who came out for the annual Rotary Park Fun Run/Walk. Lots of little ones and a bunch of adults took to the trails to help highlight one of the many great trails we have right in the middle of the city. For those not in the know, the Rotary Park Trail is by the Adanac Ski hill.
There was a pre run breakfast for all comers and then the runs got under way.
The Kids 1k went first. A course deviation had them actually negotiating an extra 500m. No problem as all were up to the task.
The 5k was the premier event with trophies up for grabs for the top 3 male and females. ALL participants in both events received special Rotary Park medals.
Rotary Club Sunriser president Kris Cacciotti was first across the finish line handling the course distance (actually 4.7km) in 20:41. Rocks!! member Tricia Grynspan came 2nd overall and first overall female in a time of 21:30. Her training partner and Rocks!! member Henry Wong was 3rd male overall in 22:30.
It was great to see a whole busload of international students come out to help marshal the course. And kudos to Steve and the Rotary Club for hosting the event.
Wineglass Weekend
by Donna Smrek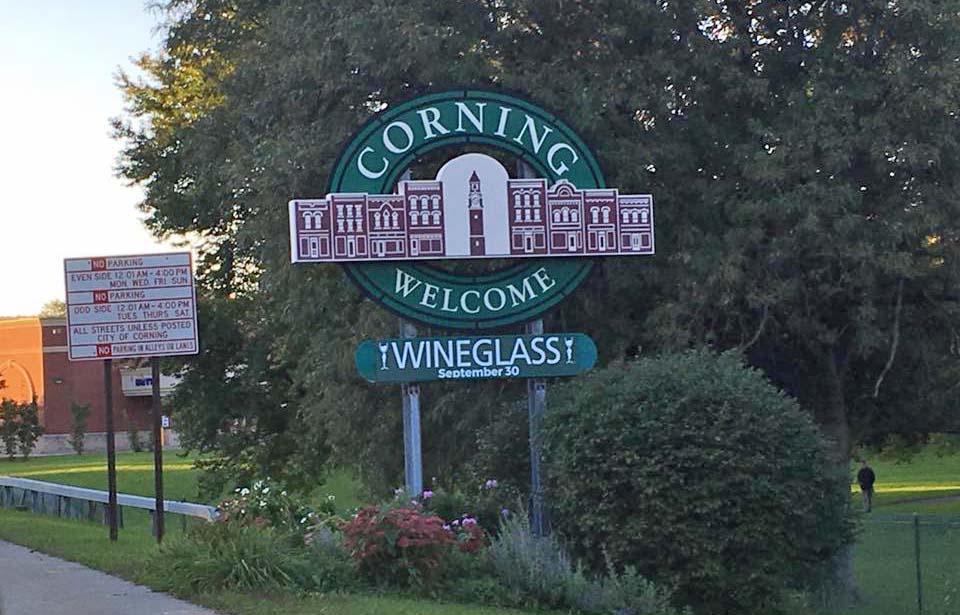 When you run the marathon, you run against the distance, not against the other runners and not against the time. ~ Haile Gebrselassie
---
It sounded so harmless, a net downhill run,
So we travelled to Corning, to 'get 'er done'
We visited the town and drove the trail we would travel.
Picked up our race kit and wine glass, oh that's where it unraveled!

The sites were amazing, grand hills and rivered dales.
Quite happy to avoid last year's Niagara gales.
As the fog ascended we saw mountainous views,
And our radios informed us of the impending rain news ;(

Around each bend was a brand-new site,
the point to point course was laid out just right.
You could feel the pull of the downward slope, a first half completed before the mind went to 'nope'.
The meadows and rivers and horses and cows, became your answers to why, what, where and hows?
It's measured in miles, 26.2, so getting to single digits wasn't too hard to do.
Nine to go, not so fast, that's 14 in metric,
Your brain and body duel while your mind works the math trick.

The crowds were plenty, they were not thinned by a drizzle,
Which was a true blessing as my energy started to fizzle.
At 25 miles, only a cow for f*@ing company, I swore it was my last after one too many.

Get me to 26 and I'll crawl through my grimace,
Long gone is the courage to start, I need a miracle to finish.

FINISH…. I can see it, the long street of glory.
YAHOO there it is, what a feeling!! True story!!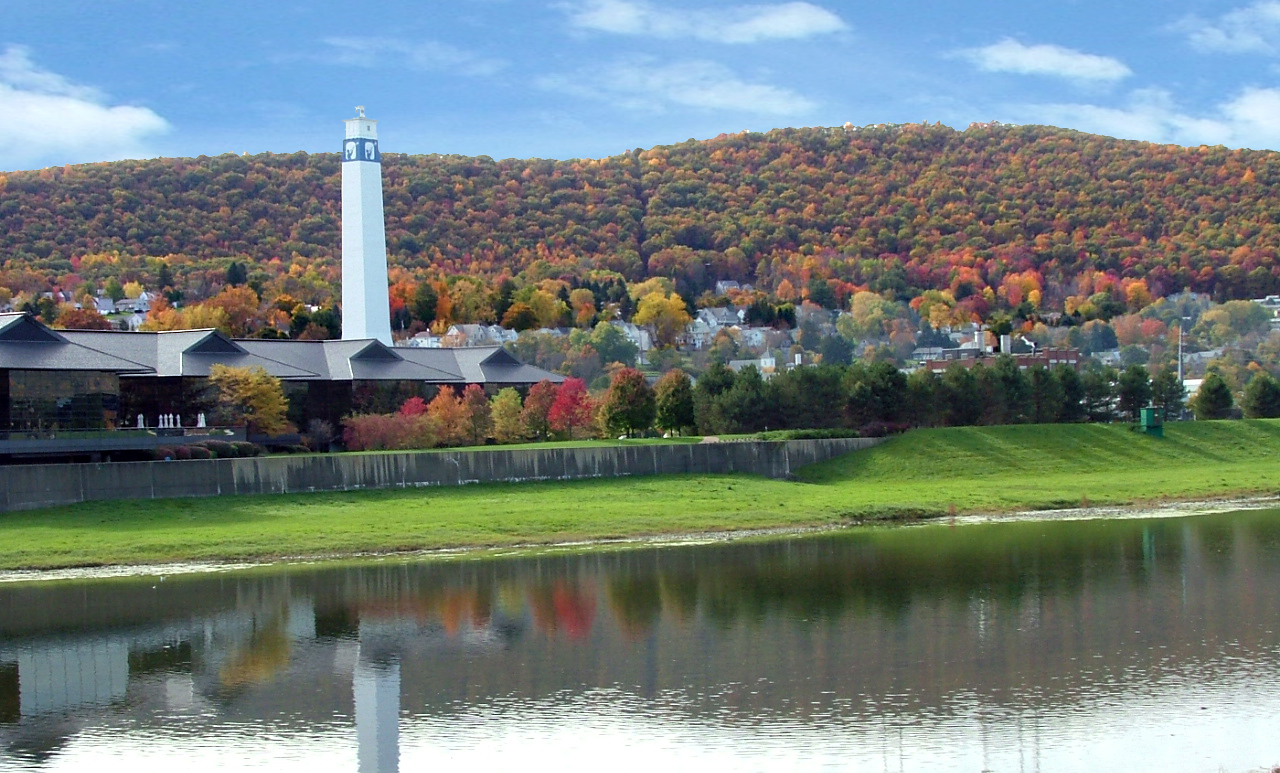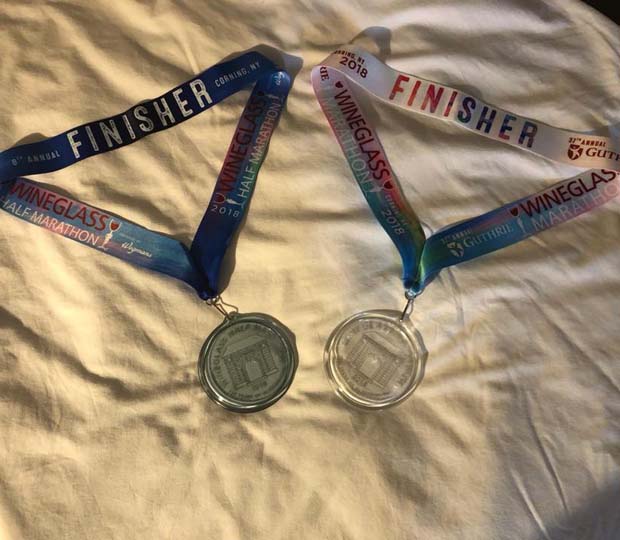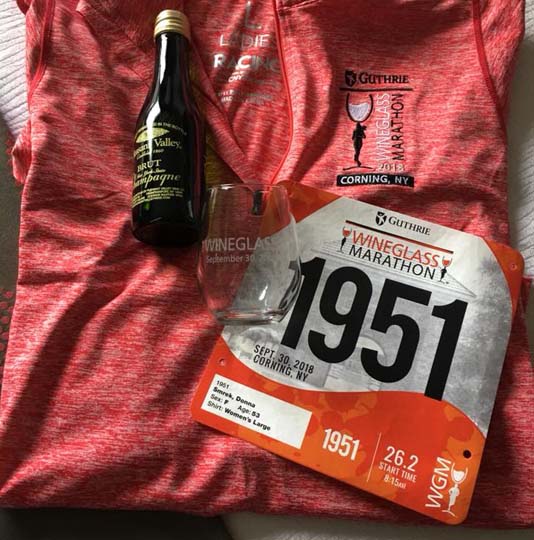 Marchons Courrons Trécesson 2018
Lindsay Richan
---
Special Note: One day after this article was prepared I received terrible news. Lindsay has been involved in a very serious automobile accident and has incurred multiple injuries. She is hospital in Montreal and will be undergoing surgery tomorrow. Flowers have been sent.
If you would like to send a note her address is:
Lindsay Richan
2ieme stage, ICU 290, room 12
Hopital Du Sacre-Coeur
5400 Boul. Gouin Ouest
Montreal, QC H4J 1C5
514 338 2222
---



This is my third year running this race which holds a very special place in my heart.

It's an amazingly well organized free race to promote people to get out and move! The race is located in northern Quebec, close to Amos.

I finished a 15 "day" night-shift in Chapleau Ontario, leaving myself 1 day to switch back to day-shift and attempt the run. I signed up for the 20km which is two loops around lac Beauchamp, consisting mainly of road running with 3km of gravel, sand and single-track trails. My goal other than to stay awake was to keep it at least under 5min/km. Running temperatures were perfect and I exceeded my personal expectation (1:35:10; 4:45min/km pace) which made me quite happy… and based on my race photos I could have pushed it a little more (no face of pain)!

Marchons Courrons Trécesson 2018 (http://www.mctrecesson.org/)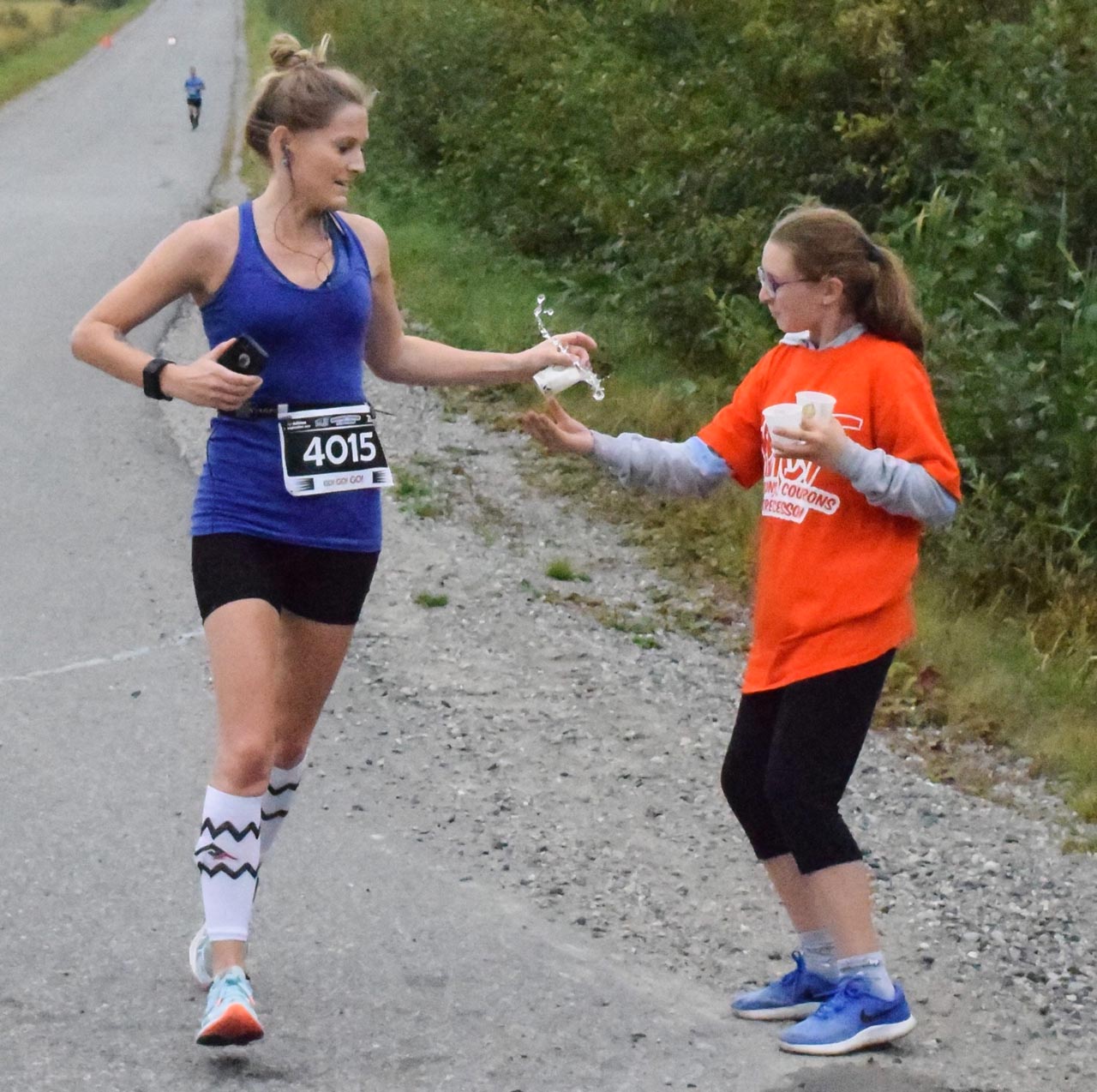 The Importance of Embracing Easy Days
David Roche
The most important days for reaching your long-term potential might be the ones that are the least exciting to upload to Strava. Easy means easy . . . truly, honestly easy. That probably requires you to leave your ego at the door when you set off on your run, and it might mean that your daily run is slower than your followers. And that's okay. Embracing easy days might be the most important thing you can do for your long-term speed and health.
"Woah, woah, woah, stop right there!" I can imagine someone saying (including younger versions of ourselves). "Isn't the goal to push until your body is in a gelatinous puddle on the side of the trail? That's what the pros do, right?"
Wrong. The goal is to make easier efforts faster over time, which requires a strategic, limited use of harder work. In other terminology, running training is designed to improve running economy, making faster paces take less energy. Go too hard, too often, and you'll be left thinking that your potential is way lower than it actually is.
This week, we'll talk about your everyday training run. Next week, we'll talk about workouts, where the same principle applies. By rethinking what constitutes a "good" run, you can make every run way better over time.
As coaches, we tell our athletes that the most important runs each week are the easy days, which usually account for at least 80% of total training time (with variance based on background and goals). That seems counterintuitive. Those days get fewer kudos, after all (unless you have a really good photo and caption). Behind that counterintuitive message lies many of the physiological principles that makes a runner faster over time.
1. Easy running spurs aerobic development
The key word here is "angiogenesis." Angiogenesis is the process of capillary growth, largely occurring from functional demands, like those from running, which spurs vascular endothelial growth factor (VEGF) production. Capillaries transport oxygen and help remove waste products, so the more, the merrier.
Here's the catch. Multiple recent studies confirm an element of training theory that has been around since the 1960s: more intense exercise may actually curtail aerobic development via impaired angiogenesis. In addition, enzymatic activity that is spurred by easy aerobic efforts can run directly into a brick wall with too-hard training. If this were an episode of MTV Cribs, when we get to the room with easy running, we'd wink at the camera and say, "This is where the magic happens."
2. Easy running recruits slowtwitch muscle fibers
Endurance running is a slowtwitch sport. That doesn't sound sexy at all, we get it. You probably won't message your Bumble match, "Baby, I'm more slowtwitch than the rest." But if your match is a physiologist, it might work.
Slowtwitch muscle fibers have more capillaries, process oxygen more efficiently, and generate more sustainable force than their fast-twitch counterparts. Fast-twitch fibers are broken down into two subgroups: Type IIa intermediate fibers and Type IIx pure power fibers. Endurance runners want to be as ST and FT IIa as possible relative to their genetic predispositions.
An ingenious recent study showed how aerobic exercise can help you shake what yo momma gave ya more efficiently. In the study, identical twins took separate paths, with one doing a few decades of endurance exercise, and one living the couch potato life. The endurance twin had 55% greater expression of ST muscle fibers, lower bodyfat, higher aerobic capacity, saved more on their car insurance, etc. Low-level aerobic activity can raise our genetic ceiling over long time horizons. Go too hard, and you're recruiting those rapidly fatiguing FT fibers. And fatiguing rapidly is bad for performance, for running races and Bumble matches alike.
3. Easy running improves running economy
Running economy is a catch-all term that incorporates dozens of physiological variables, most of which are improved or supported by higher-volume aerobic training. More is not always better, but it usually is. As Quenton Cassidy learned in the book Once a Runner, it's all about the Trial of Miles.
Running more supports aerobic, neuromuscular, biomechanical, and musculoskeletal adaptations that make running easier over time. To run more, your everyday effort needs to be easy to avoid injury and burnout. No one wins anything with fast easy days unless the local MRI office provides a punch-card where you get every 5th image free.
Most runners will get faster just by increasing mileage while doing faster strides (as written about in last week's article here: https://www.strava.com/athletes/1733803/posts/2951648). If you run too fast on easy days, you'll develop less aerobically even if you don't get injured, stagnating after the short-term rewards are exhausted.
So what does easy running actually mean? For the purposes of this article, we don't need to get too far into the weeds. It should be conversational (able to rap a verse from a new Eminem single), lower heart rate (usually aerobic threshold or below), and relaxed (no urge to stop). Or, to put it another way, ask yourself this question:
Does your easy run impress your Strava followers?
If the answer is "yes," you are probably going too fast. Start your runs slow, with the option to pick up the pace in the 2nd half if you feel perfect, but never forcing it. Embrace the slow, embrace the strides, and you'll find yourself laying the foundation to reach your true, long-term potential.
-Coaches David & Megan
Rocks!! Outdoors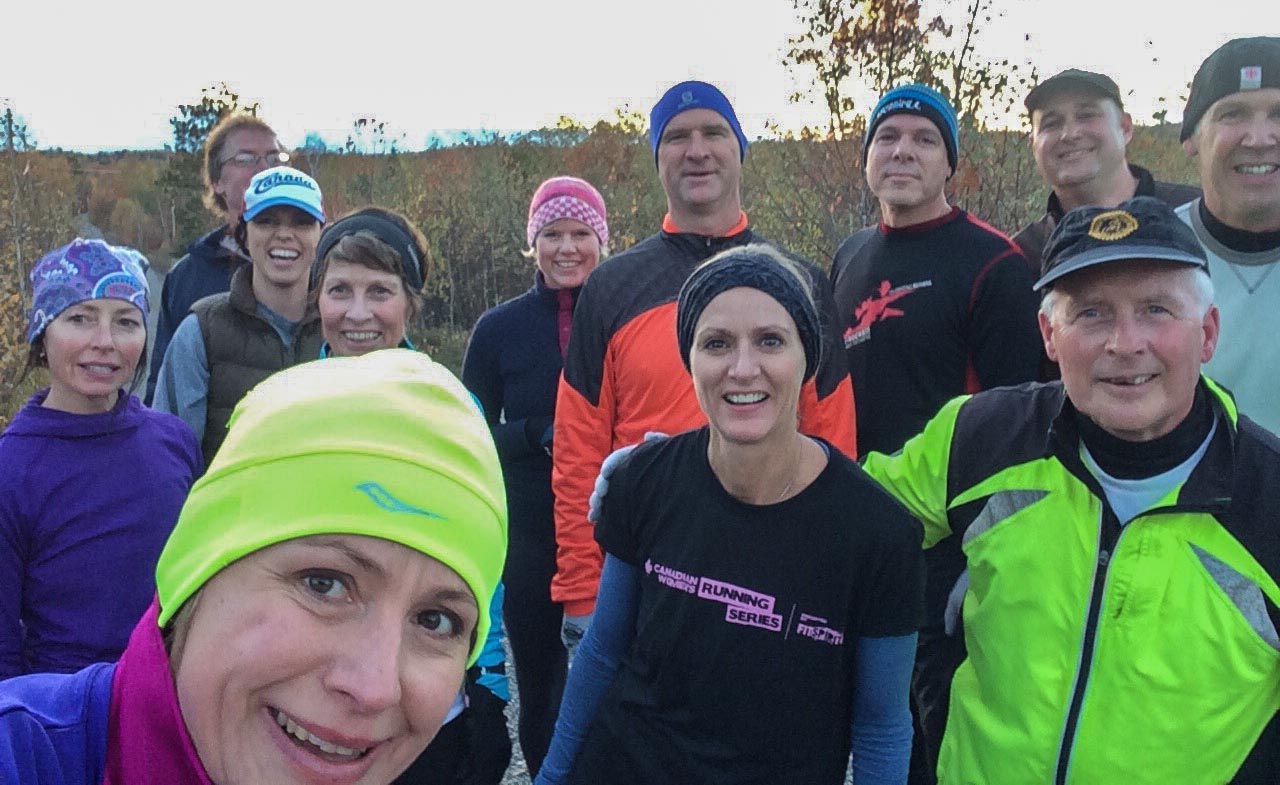 Upcoming Local Events
10k Championships on beautiful Manitoulin Island Plus 10k Walk
We have the 10 km Slower Runner Division for beginner runners and walkers.
Sponsored by the Wikwemikong Health Centre Diabetes Program this Race Starts at 10:00 a.m. Kaboni
10 Run Starts at 10:50 a.m.
Registration: 8:30 a.m. to 10:15 a.m. – Wasse Abin Pontiac School
Entry Fee: $20 for Adults $10 for Students
Shuttle service is available.
Info: (705) 859-3164
| | |
| --- | --- |
| | |
---
Store News

Good afternoon Sudbury Runner's and Walker's,

See you all at Run Club tonight 6pm

Cheers,

your Sudbury Staff

We have FREE run club Wednesday nights at 6pm and Sunday mornings at 8:30am.
| | |
| --- | --- |
| | Track North News - by Dick Moss |
Marauder Bayfront Open Cross Country Meet
Bayfront Park, Hamilton, 10/12/18
---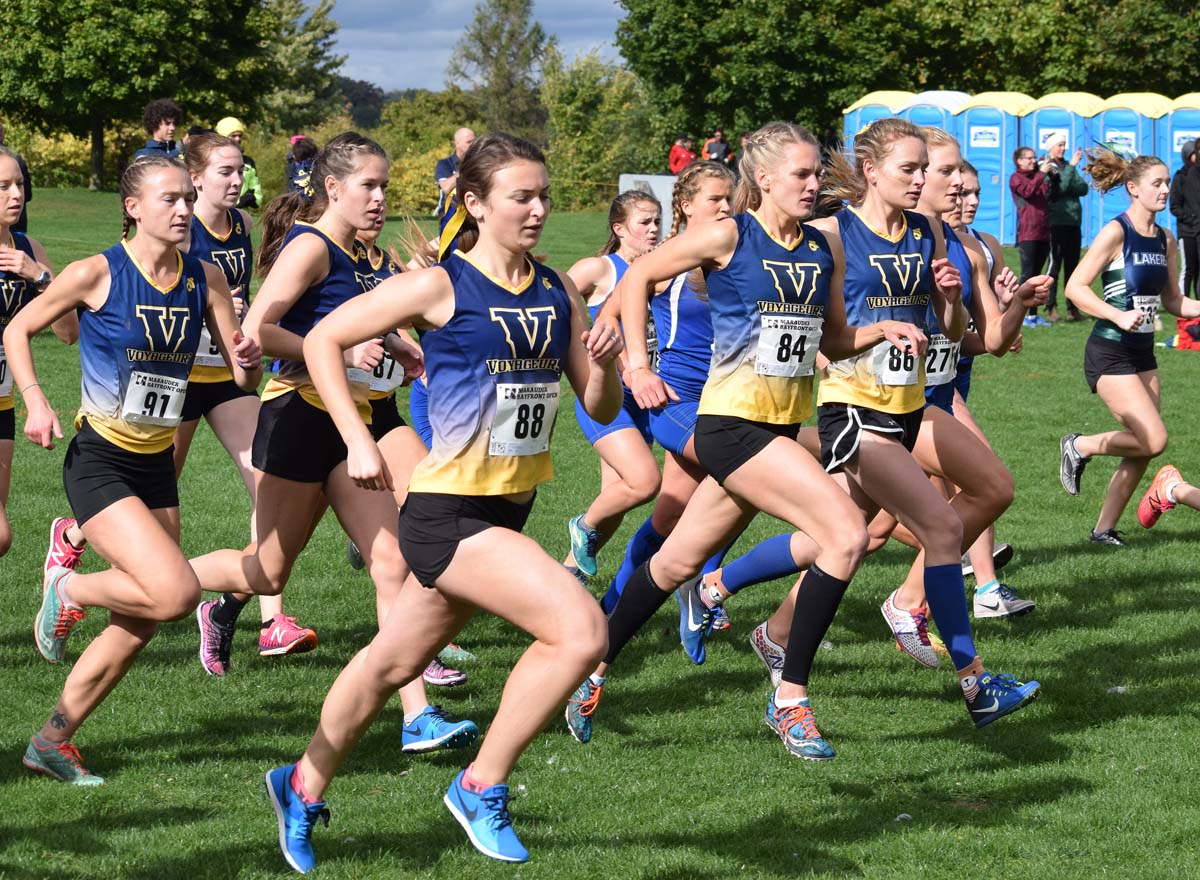 The Laurentian university women's and men's cross-country running teams competed at the Marauder Bayfront Open in Hamilton's Bayfront Park on the weekend, returning with 5th and 8th place finishes, respectively.
Over 300 runners from 13 schools competed, including out-of-province teams from Dalhousie and the University of Saskatchewan.
The women's squad was led by Jenny Bottomley, who placed 17th over the 8km course in a time 30:17. She was followed by Megan Crocker who placed 20th in a time of 30:31; Nicole Rich who was 30th in 31:04; Breanne Steven who was 48th in 31:54 and rookie, Pascale Gendron, who was 49th in 31:55. Displacers were Jessie Nusselder who was 56th in 32:16 and Megan Sippel, who was 79th in 33:03.
The women scored a total of 134 points for fifth place with a top-five average time of 31:08 over the 8km course.
"This was our final regular-season meet, and our first test over the 8km championship distance," said head coach, Dick Moss." It was a fine performance, overall, with good starting tactics and some gutsy running over the final 3km."
Individual Results - Laurentian Women (8km)
17, Jenny Bottomley, 30:17
20, Megan Crocker, 30:31
30, Nicole Rich, 31:04
48, Breanne Steven, 31:54
49, Pascale Gendron, 31:55
56, Jessie Nusselder, 32:16
79, Megan Sippel, 33:03
80, Sarah Thackeray, 33:07
105, Amanda Boudreau, 35:17
Team Results - Women
1. Dalhousie, 56 points
2. Western, 75
3. McMaster, 91
4. Toronto, 97
5. Laurentian, 134
6. Laurier, 186
7. Queen's, 187
8. Saskatchewan, 207
9. Waterloo, 222
10. Lakehead, 243
11. Windsor, 250
12. Nipissing, 337
13. Ryerson, 382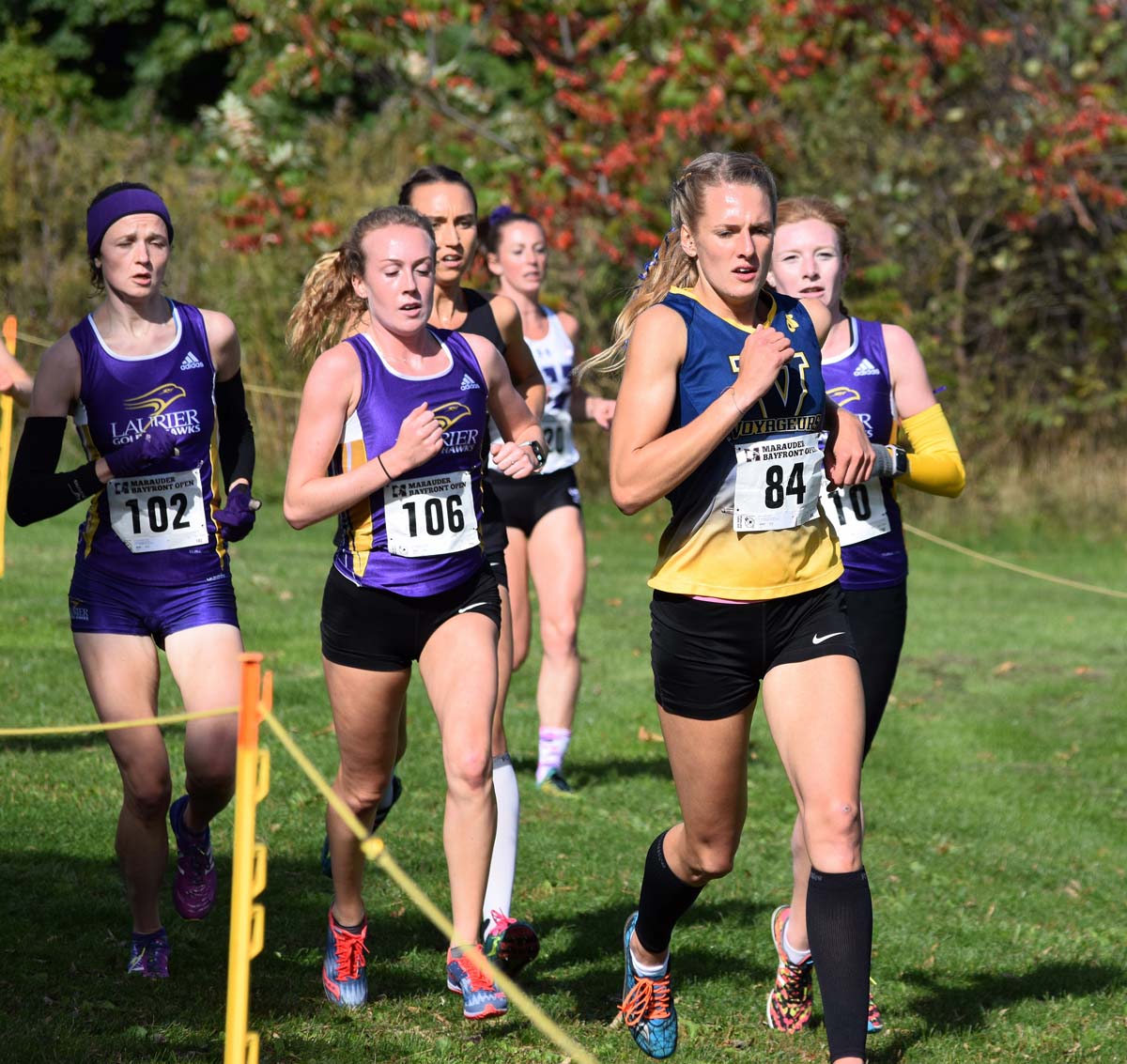 Jenny Bottomley
---
The men's team was again led by 2nd year runner, Paul Sagriff, who cracked the top-10 with a 9th place finish in a time of 25:13 over the 8km course. He was followed by rookie, Eric Gareau, who placed 30th in a time of 26:03; Dylan McKevitt, who was 65th in 26:36; Alexandre Fishbein-Ouimette who was 107th in 28:04 and Jarod Milford, who was 114th in 28:29. Mika Muinonen was the displacer, finishing 128th with a time of 29:40.
The men scored a total of 225 points for eighth place with a top-five average time of 26:53 over the 8km course.
"Liam Passi and Caleb Beland have some aches and pains, so we held them out of the race. We want to make sure they're healthy for the OUA championships in two weeks," said Associate Head Coach, Darren Jermyn. "I'm confident we'll be ready to go for the OUA's"
The team's next competition is the OUA championships on October 27th on the Thames Valley golf course in London.
Individual Results - Laurentian Men (8km)
9, Paul Sagriff, 25:13
30, Eric Gareau, 26:03
65, Dylan McKevitt, 26:36
107, Alexandre Fishbein -Ouimette, 28:04
114, Jarod Milford, 28:29
128, Mika Muinonen, 29:40
Team Results - Men
1. McMaster, 36
2. Western, 65
3. Windsor, 75
4. Toronto, 118
5. Dalhousie, 146
6. Guelph, 160
7. Lakehead, 178
8. Laurentian, 225
9. Waterloo, 232
10. Laurier, 249
11. Brock, 306
Dick Moss, Head Coach
Laurentian XC/Track Team
c/o Coach Moss <pedigest@cyberbeach.net>
Web: http://laurentianxctrack.com
Facebook: https://www.facebook.com/groups/laurentianxctrack/
Twitter: https://twitter.com/@luxctrack
Instagram: https://www.instagram.com/laurentianxctrack/
For information call me.
Vincent Perdue
341 Fourth Ave, Sudbury On. P3B-3R9
705-560-0424
vt perdue@cyberbeach.net
Proud sponsor of the Sudbury Rocks!!! Race, Run or Walk for Diabetes
HOME | ABOUT US | CONTACT | ARCHIVES | CLUBS | EVENTS | PHOTOS | RACE RESULTS | LINKS | DISCUSSION

All photos images and content copyright Sudbury Rocks!!