| | | |
| --- | --- | --- |
| | | |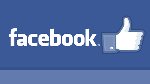 Hello Everyone, September 27, 2018
In this Issue:
Locals in Killarney
Army Run 2018
Laurentian University X-C Challenge and Rumble on the Rock
Moustgaard's Run in Washington
Rocks!! at Laurentian Trails Sep 26
Upcoming Events Sep 30 Run for the Cure, Oct 7 Turkey Gobbler Trail Run
Running Room Run Club Update:
Track North News Bill Salter/Western International Cross Country Meet
Thames Valley Golf Course, London, ON, 9/22/18

Locals in Killarney
September 23, 2018
Half Marathon start

---

Joanna L. Cox: Ran my first 5k race today for the Killarney Fall Classic in 36 minutes and didn't walk once. I never thought I could run that long without stopping being as I've recently started the 'Learn To Run Clinic' at the running room and were not that far in to it. I have to say thank you to Eric, Mike, Vince, and my running partners for supporting me in achieving this goal.
It also helps to have lofty goals, a great playlist and pace-maker (Justine) running in front of me.
This goal has been achieved !!! at Killarney Mountain Lodge.

Approximately 50 runners took part in 3 runs at the 3rd annual Killarney Mountain Lodge Fall Classic. Participants had the option of running 5k, 10k or a half marathon. The 5k and 10k are within the town limits. The half marathon extends out the highway and into the Killarney Park boundaries before returning to town and the finish at the Killarney Lodge lighthouse.

Conditions proved favourable as starting temperatures were about 11 deg. under overcast skies. It did get colder during the events but most runners were well warmed by that time.

Local athletes, Eric Leishman and Sara McIlraith won the half marathon. Unfortunately there are no official times as there was an error at the half turnaround and runners were treated to a bit of extra distance. It's rumoured Eric clocked 30k and still won handily. His watch indicated a 1:11 time at the 21.1k mark.

The organizers experienced a few challenges in putting on the run. Hopefully all can be resolved in future runs at the lodge. The location is excellent for an event. It's scenic, relatively flat running and close to home.

Looking forward to the 2019 Fall Classic. We hope to be there.
September 23, 2018
Army Run 2018
Tornado aftermath: Ottawa police get RCMP backup for Army Run security
JON WILLING Updated: September 23, 2018
---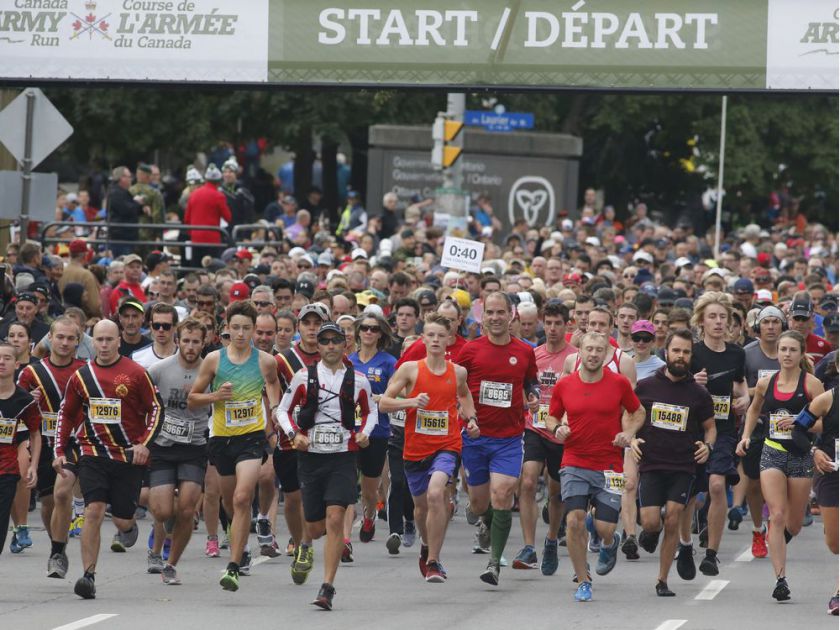 Runners leave the start of the 10k Army Run in Ottawa on Sunday, September 23, 2018. PATRICK DOYLE / OTT
---
The Canada Army Run went off without a hitch Sunday as thousands descended on downtown Ottawa to pound the pavement under the security of Ottawa police and RCMP.
As half-marathoners raised their arms in celebration while crossing the finish line, Ottawa Police Staff Sgt. Kevin Kennedy, who with other officers was monitoring the event at the police command post, said everything was normal on the security front.
Runners weren't used to seeing Mounties and RCMP patrol vehicles on the race routes, but they were there, and city police and Mounties walked side-by-side around city hall, watching over the crowds.
Ottawa police and city officials had been assessing how they could continue providing a safe race event when resources were needed across the region during storm recovery operations.
"Because we've got so many other things going on, because of the tornado, we're allocating resources to different areas and we wanted to make to sure this (event) continued without going down in numbers (of police)," Kennedy said.
Kennedy declined to say how many city police officers and RCMP officers were working at the Army Run, but police don't usually talk about how many officers are assigned to events.
There were no reported incidents on the race route or around Ottawa City Hall. "It's been a good event," Kennedy said.
It might have been a bit surreal for city emergency management staff working this weekend. Runners and their families enjoyed Army Run festivities in and around city hall while the storm response nerve centre on the first floor of the building was filled with staff quarterbacking recovery operations.
More than 20,000 people registered for the Army Run events, which included five- and 10-kilometre races plus the half-marathon.
It was the first Army Run as race director for Major Dave Tischhauser. He was impressed by the support from the municipality during a difficult weekend.
"I have to hand it to the City of Ottawa and the mayor. They managed the situation," Tischhauser said as the races wound up. "They were able to make sure we had enough resources to go around. They wanted to make sure everything was covered."
Race organizers took seriously the impact of a major event on the city's emergency operations resources, he said.
"That's something we have to look really deeply at," Tischhauser said. "When an event of that magnitude happens, you have to ask what we can do to help."
As it turned out, the event was another huge success, helped by perfect running weather.
"It is definitely not an ordinary race, and there aren't ordinary stories out there," Tischhauser said.
---
Lynnn Stubbings writes:

Ken & I & thousands of runners had perfect running weather in Ottawa this morning for the 26.1 km Commander's Challenge road race. Hard to believe that only two days ago Ottawa faced devastating winds that left the city with widespread destruction and power outages. The Canada Army Run in support of our troops happened with many troops participating and volunteering. The pre-race dinner on Saturday night was quickly changed to an outdoors event at the War Museum provided by troops from Petawawa using two of their mobile kitchens because of no power inside. Amazing people and event!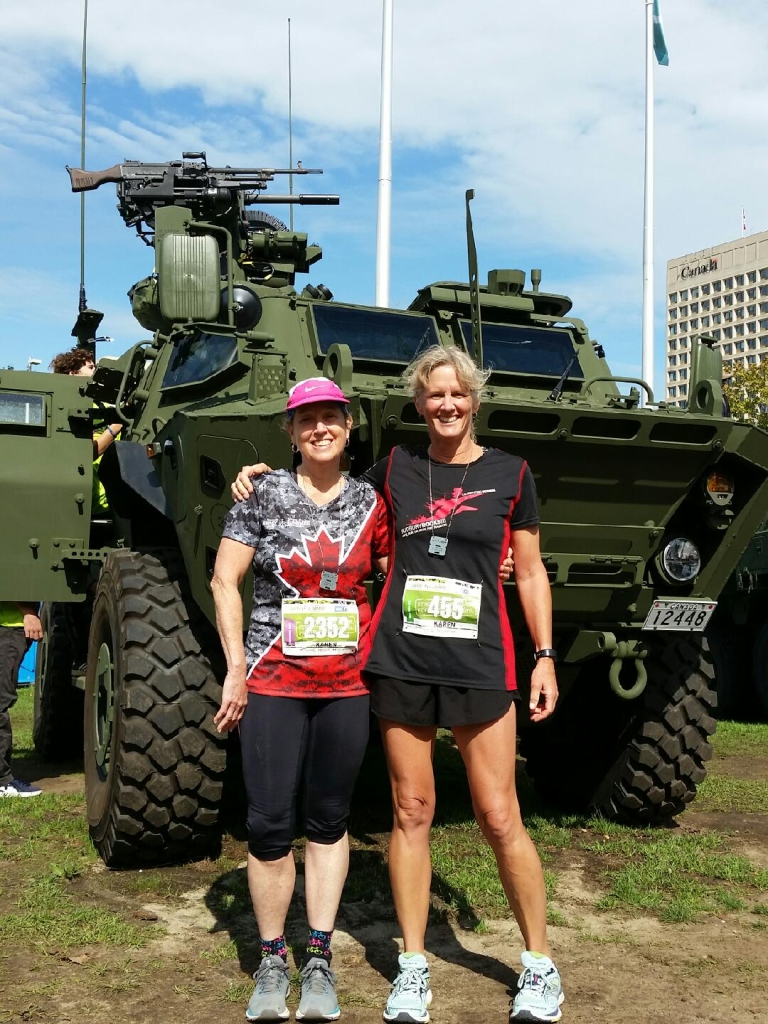 Sudbury Half Marathoners Karen Renout and Karen Broughton
2018 10th Annual Laurentian University Elementary School X-C Running Challenge
and Rumble on the Rock High School X-C Race
Date: Tuesday, September 25th, 2018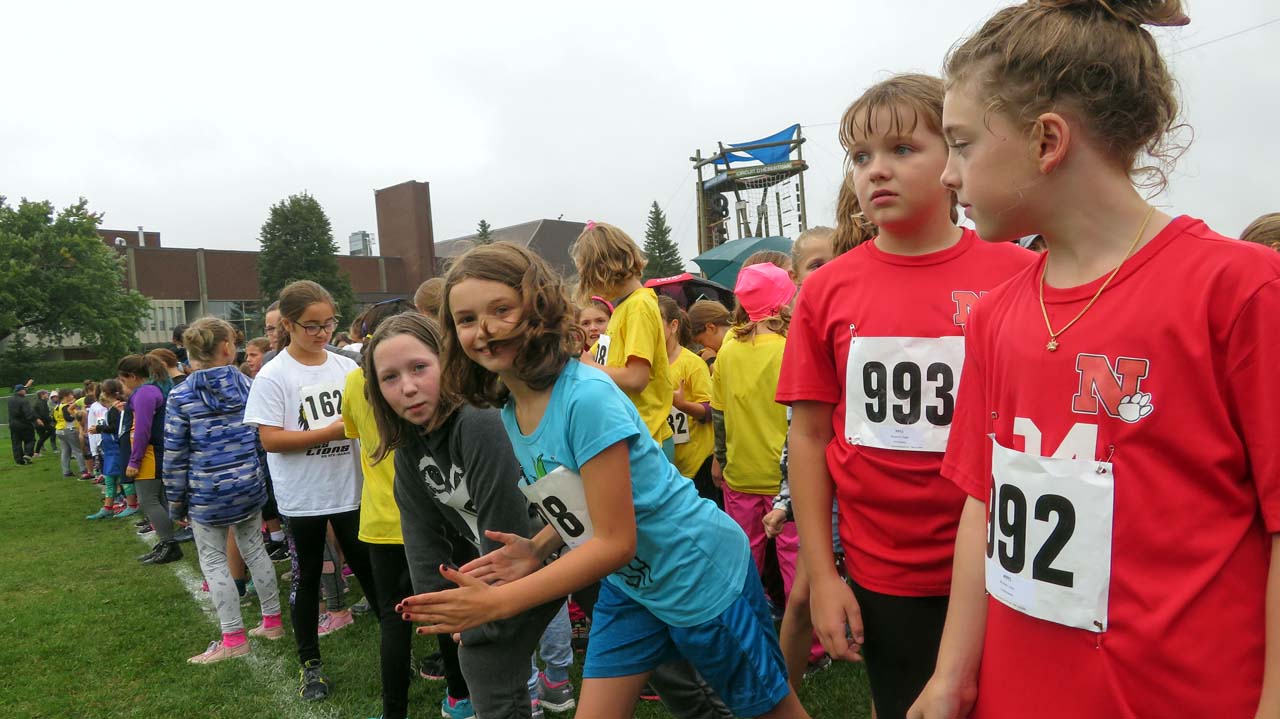 ---
Approximately 1875 elementary school students and 400 secondary school students took part in the 2018 Elementary School Challenge and Rumble on the Rock at Lurentian University. Mild conditions and rain that mostly held off contributed to a very exciting competition. Kudos to Darren Jermyn, Dick Moss and a flock of volunteers for making the event a great success and show piece for Northern Ontario.
---
Rain holds off for thousands of elementary runners
2018-09-26
by Randy Pascal

If space permitted, it would be wonderful to be able to list out the names of each and every one of the elementary students who participated in the 10th Annual L.U. Cross Country Challenge on Tuesday.
Truth be told, all 1800+ (more than 2300 athletes, if you include the afternoon high school runners) should be understandably proud of simply putting in the effort to partake in this physical activity that might well be the largest single gathering of young athletes, during the year, in the city.
Inevitably, however, our focus shifts to those near the front of their respective races. Looking back over the past decade, there are countless examples of youngsters who have continued to progress through high school and beyond, the 2011 event (for example) featuring four race winners who now strut their stuff in the OUA varsity ranks: Jaclyn Groom, Jacxsen Cress, Myla McCormick and Noah LaPierre.
There are other examples where the elementary sports scene might have been the very pinnacle of the athletic accomplishments of some of these pre-teen talents. The reality is that we just don't know how the top-end harriers in grades three to eight will evolve over time. Still, it should be fun to follow.
Eleven year old Lucia Salmaso of Félix Ricard is already a known commodity within the adult running circles in Sudbury, posting very impressive 5 km times, in spite of her youth. In that sense, her victory in the grade 5/6 girls competition was hardly a shock. Salmaso has competed in 10 km distances and began triathlon training this summer with the local Triple Threat group. She also has a clear race strategy in mind long before the gun ever sounds. "I start by sprinting and I make sure I am in front of the pack," she said. "Then I give myself a pace and I keep that pace. If I hear people breathing hard or stomping feet, then I pick it up a little bit so that I keep myself in front of the pack. At the end, there's usually a specific time when I do a full sprint. Today, I started sprinting at the second big pole (behind the far stands)."
Just days shy of his tenth birthday, St James grade five multi sport athlete Caleb Mead was not nearly as certain of a top of the standings finish. "I thought I was going to finish fifth," he conceded, after the race. "When I was in grade three for the grade 3/4 boys race, I finished sixth, so I thought I would be around there, because there would be the same runners and stuff." One of the most gifted snipers on his Sudbury Rockhounds' lacrosse team, and an avid hockey player to boot, Mead took a very different approach to his race than did Salmaso. "I like to get near the front, but not first, because then you get out of breath and a bunch of people pass you," he said. "I was around fifth going off the grass." "Then I passed the first two guys and I passed another person, but then it took me a while to pass the other guy. About halfway through the race, I was up front for the rest of the time."
Nine year old Lorelai vanDrunen set the tone for the high flyers, capturing the first race of the day, the grade four student at Ecole catholique Jean-Paul II comfortably ahead of the grade 3/4 girls field. "I had an idea that I might be in the top ten, because last year was my first chance and I got 11th place," explained vanDrunen. "The reason I was going so far ahead is because I have lots of stamina, because we go mountain biking a lot at my house." And once the race is underway, the talkative young lady taps into a motivational technique in helping to keep her mind occupied. "I usually sing a little song in my head," said vanDrunen. "One of my dad's favourite songs is "Forever Young", so I started singing that. It helps me remember my dad while I am running."
Grade 3/4 race champion Carson Jewitt (MacLeod Public School) wasn't about to do any singing. Simply avoiding exhaustion was plenty enough to focus on for the first time partipant in the Challenge. "I started and I was kind of like in third," said Jewitt. "My friend who is on my hockey team (Sudbury Minor Atom "AA" Wolves), Dominic D'Angelo, he was just in front of me, so me and him passed the kid who was in first. We were tied for two minutes and then we went down this hill and I saw all of the MacLeod kids watching me, so then I just ran my hardest." "I got the lead by a little bit," Jewitt continued. "I kept going farther and farther and farther and I didn't think I could do it, because I was out of breath. I thought I was going to be swept away." In the end, Jewitt and D'Angelo were sandwiched around second place finisher Blake Chenier from Jean-Paul II.
The North Bay Legion Track Club was front and center in the girls 7/8 race, sweeping the top three positions as Kate Pauli (12:01) and twins Michelle Pilon (12:23) and Mia Pilon (12:38) showed the way. The top local competitor was previous race winner Kelly Clark of Ste Marie (12:43), just ahead of the Lo-Ellen tandem of Syla Swords and Sophia Oomen.
The Nickel City Hockey Association must be doing something right when it comes to the off-ice training for the bantam hockey talent. A trio of Sons dominated the podium in the boys grade 7/8 event, with Valley View Public School twins Carson and Kohen Crane grabbing first and third place respectively, and long-time teammate Alex Pharand (Alliance St-Joseph) squeezing directly in between the two.
Following is a breakdown of the top ten in each of the six elementary races that were contested on Tuesday:
Girls - Grade 3/4
1st - Lorelai vanDrunen (Jean Paul II) - 9:00
2nd - Adrielle Charette (St Denis) - 9:12
3rd - Megan Pineau (R.L. Beattie) - 9:12
4th - Reece Chaumont (Holy Cross) - 9:18
5th - Brianne Portelance (St Augustin) - 9:24
6th - Alexa Labrecque (St Denis) - 9:30
7th - Alissa Timusk (R.L. Beattie) - 9:32
8th - Emilie Valade (Jean Paul II) - 9:43
9th - Abbeygale Dagostino (St Augustin) - 9:43
10th - Abby D'Aloisio (MacLeod) - 9:44
Boys - Grade 3/4
1st - Carson Jewitt (MacLeod) - 8:11
2nd - Blake Chenier (Jean Paul II) - 8:20
3rd - Dominic D'Angelo (Holy Cross) - 8:25
4th - Kyle Buckland (St Augustin) - 8:26
5th - Maxime Belzile (Hélène Gravel) - 8:29
6th - Lex Gorval (Alliance St Joseph) - 8:30
7th - Tyler Huffman (Alliance St Joseph) - 8:32
8th - Benjamin Lamarche (St Paul) - 8:34
9th - Robert Landry (Hélène Gravel) - 8:36
10th - Rory Paquette (MacLeod) - 8:43
Girls - Grade 5/6
1st - Lucia Salmaso (Félix Ricard) - 8:04
2nd - Elsa Blum (St James) - 8:13
3rd - Monique Fitzmaurice (R.L. Beattie) - 8:15
4th - Savannah Swords (R.L. Beattie) - 8:30
5th - Kalia Pharand (Alliance St Joseph) - 8:50
6th - Gracie Dale (R.L. Beattie) - 8:51
7th - Iris Maskevich (St Francis) - 8:52
8th - Gabrielle Gallagher (Jean Paul II) - 8:52
9th - Mackenzie Coufal (St James) - 9:03
10th - Gabrielle Foreshew (Ste Marie) - 9:06
Boys - Grade 5/6
1st - Caleb Mead (St James) - 7:31
2nd - Adam Urso (Holy Trinity) - 7:42
3rd - Hudson Crowder (R.L. Beattie) - 7:46
4th - Liam Nootchtai (St James) - 7:51
5th - Sullivan Smith (Holy Cross) - 7:56
6th - Mason Walker (Holy Trinity) - 8:00
7th - Bryson Villeneuve (Notre Dame) - 8:03
8th - Anthony Bertrand (St Anne) - 8:11
9th - Lyle Gorval (Alliance St Joseph) - 8:13
10th - Max Portelance (St Augustin) - 8:14
Girls - Grade 7/8
1st - Kate Pauli (NBLTC) - 12:01
2nd - Michelle Pilon (NBLTC) - 12:23
3rd - Mia Pilon (NBLTC) - 12:38
4th - Kelly Clark (Ste Marie) - 12:43
5th - Syla Swords (R.L. Beattie) - 12:49
6th - Sophia Oomen (Lo-Ellen) - 12:50
7th - Addison Davis (Franco Nord) - 13:17
8th - Gabby Alexander (Lo-Ellen) - 13:20
9th - Mikayla Fabbro (Lo-Ellen) - 13:26
10th - Kelsey Adams (Roland Michener) - 13:27
Boys - Grade 7/8
1st - Carson Crane (Valley View) - 10:50
2nd - Alex Pharand (Alliance St Joseph) - 11:06
3rd - Kohen Crane (Valley View) - 11:17
4th - Kaedan Ward (Lo-Ellen) - 11:25
5th - Abdallah Koulbou (Lo-Ellen) - 11:31
6th - Adam Chebbi (Lo-Ellen) - 11:35
7th - Braydon Ethier-Perras (Valley View) - 11:54
8th - Noah Lachance (Découverte) - 11:59
9th - Nolan Kuhlberg (Lo-Ellen) - 11:59
10th - Blake Rosener (St Charles) - 12:00
Moustgaard's Run in Washington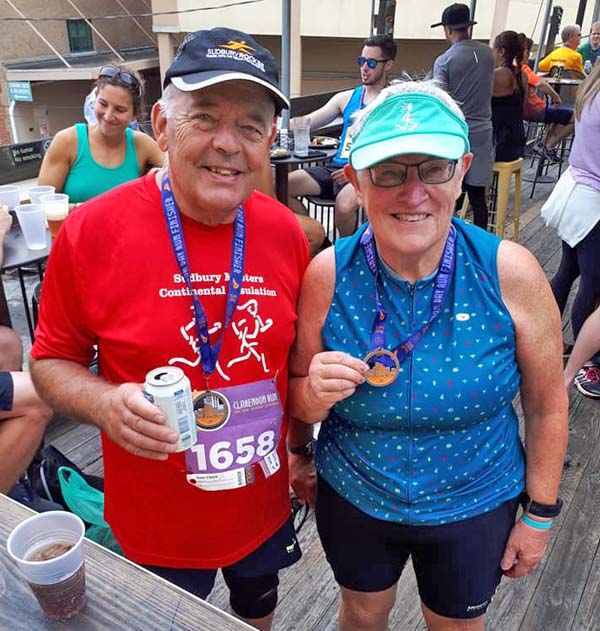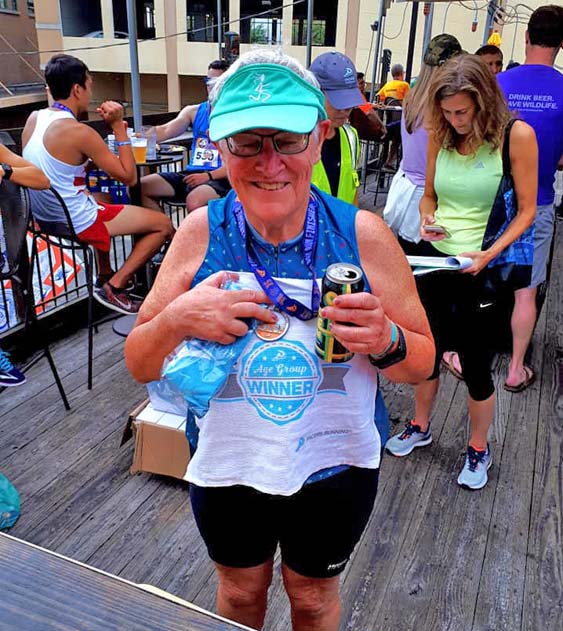 Got it done in hot humid conditions. They ran out of medals, but I was second in my age group and kind young woman gave me hers!
Maureen and Louis Moustgaard
Rocks!! at Laurentian Trails Sep 26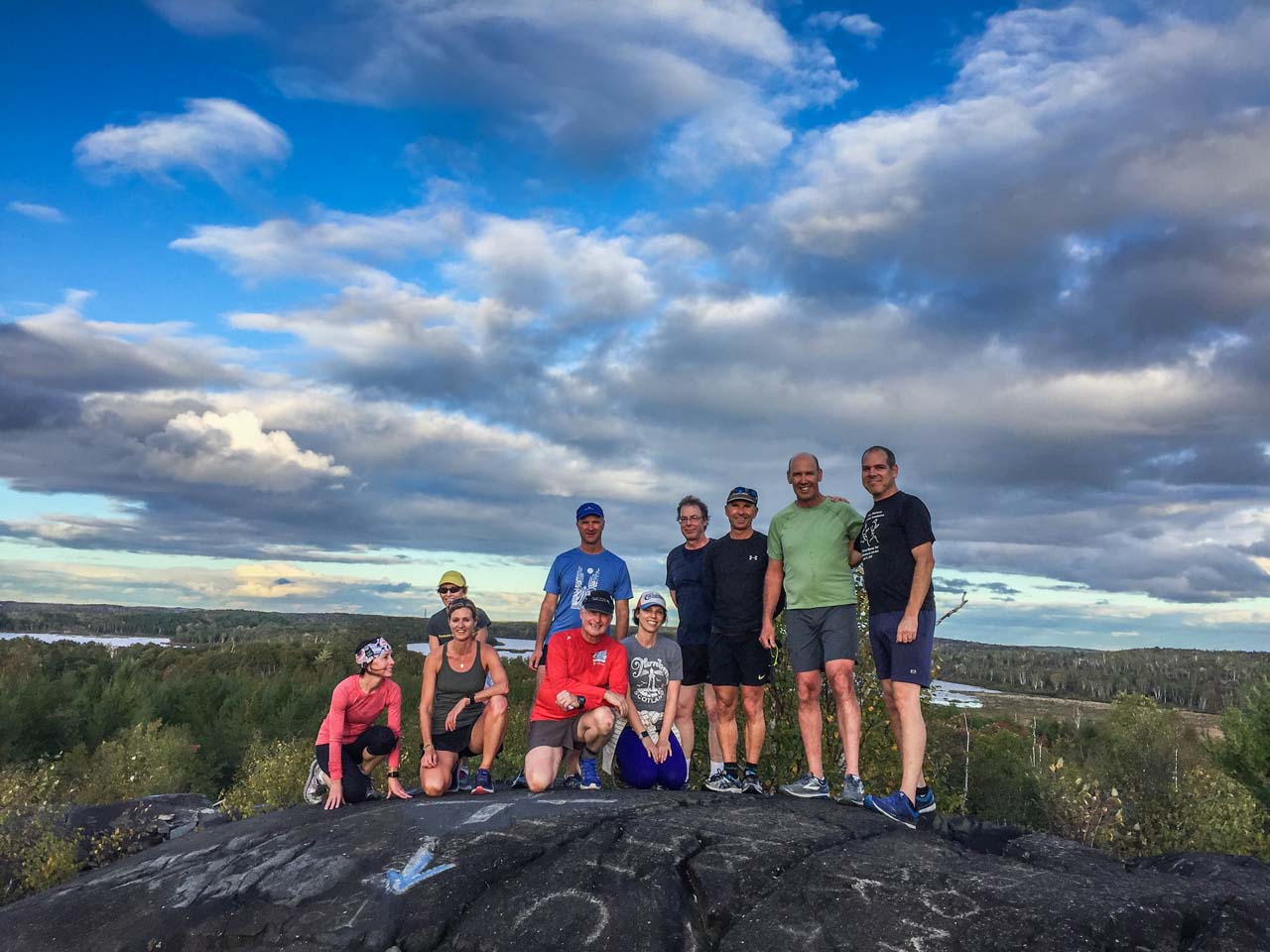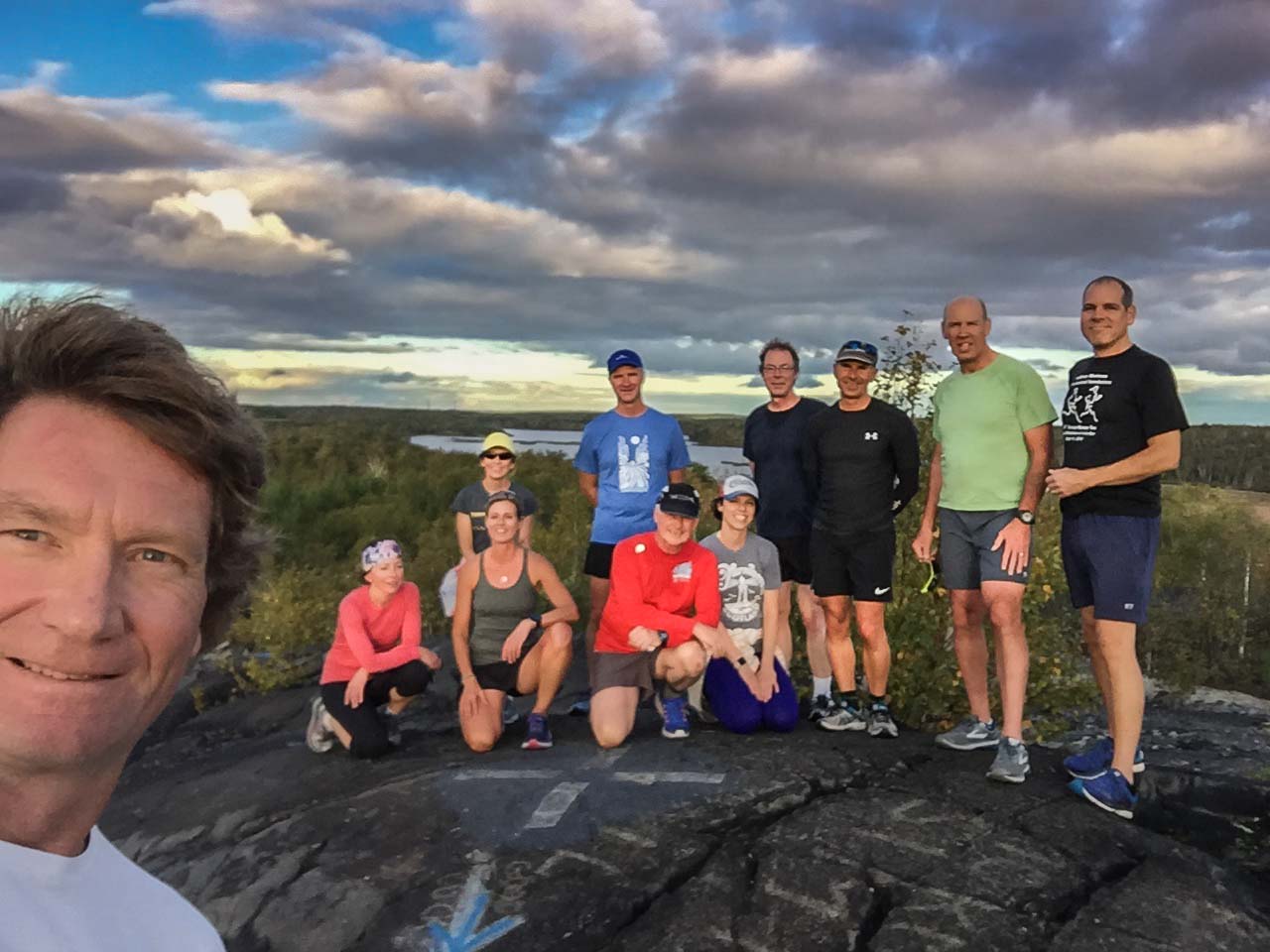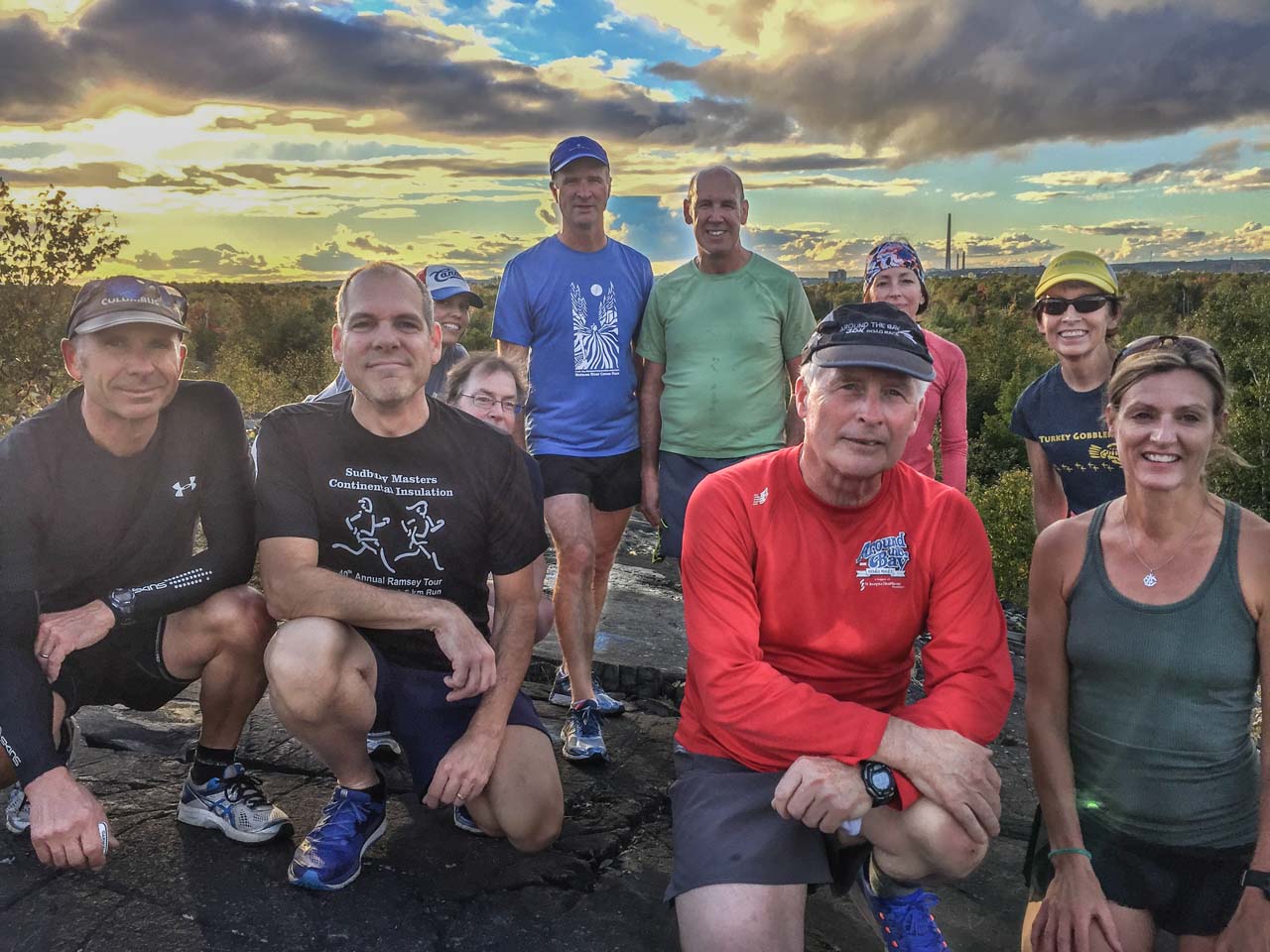 Photos by Brent Walker
Upcoming Local Events
September 30, 2018
Welcome to CIBC Run for the Cure in Sudbury
---
We invite you to run or walk with us on Sunday, September 30, 2018 for the CIBC Run for the Cure in Sudbury. Whether it's your first time, or you've participated for years, we look forward to having you join the movement! Help make this year's event inspirational and memorable, all while you help the Canadian Cancer Society create a future without breast cancer.
---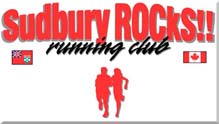 Hello ladies and gents,
I have registered Sudbury Rocks!! Running Club as a team for Run for the Cure.
Please join my team and tell your friends and family.
Register with the team (SudburyRocks!! Running Club) at the following link:
https://secure3.convio.net/cbcf/site/TRR/1804991590
Select 'Ontario' in 'Select Province/Territory'
Select 'Sudbury' in 'Select Run Location'
Click 'Register'
Click 'Join A Team'
Type 'SudburyRocks!! Running Club' under Team Name
Click 'Join' on your team profile
Thank you, Lise Perdue
| | |
| --- | --- |
| | |
---
Store News

Good afternoon Sudbury Runner's and Walker's,

See you all at Run Club tonight 6pm

Cheers,

your Sudbury Staff

We have FREE run club Wednesday nights at 6pm and Sunday mornings at 8:30am.
| | |
| --- | --- |
| | Track North News - by Dick Moss |
Bill Salter/Western International Cross Country Meet
Thames Valley Golf Course, London, ON, 9/22/18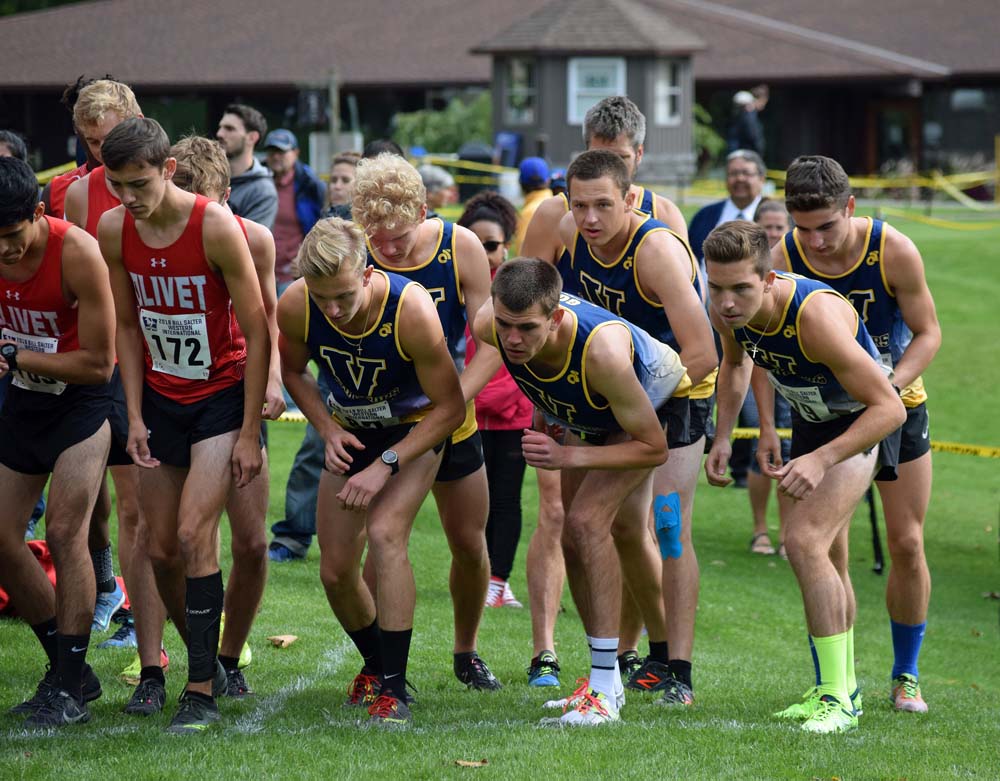 Photos Adam Kalab
1. Men_Start_use: Front Row, Right to Left: Caleb Beland, Paul Sagriff, Liam Passi. 2nd Row, Right to Left: Eric Gareau, Jarod Milford, Alexandre Fishbein-Ouimette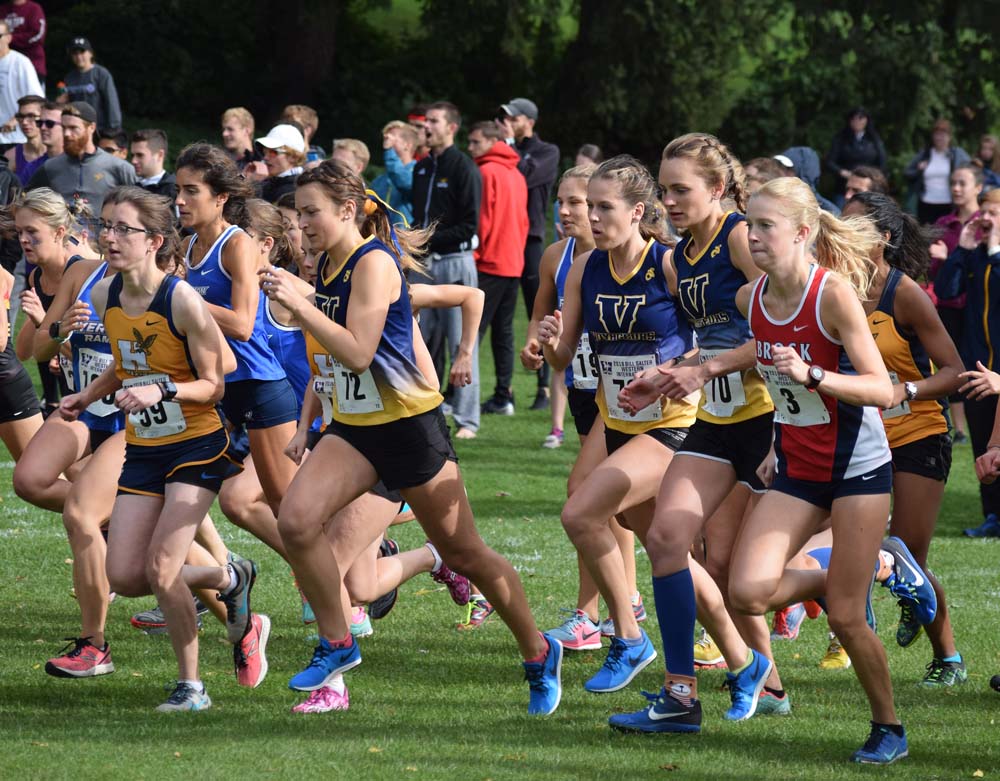 2. Women_Start1: Left to Right: Jessie Nusselder (#72), Nicole Rich, Megan Crocker (#70).
All Photos: https://bit.ly/2O2F24t
The Laurentian University women's and men's cross-country running teams competed at the Bill Salter/Western International on the weekend, returning with a 5th and 8th place finishes, respectively.
The women's squad was led by Megan Crocker, who placed 22nd with a time of 22:38 over the 6km course. She was closely followed by Nicole Rich, who was 25th in 22:50; Breanne Steven who had a breakthrough race finishing 31st in 23:03; Jessie Nusselder who finished 35th with a 23:13; and rookie Sarah Thackery who finished 59th with a 23:55. Displacers were Meghan Sippel, who finished 74th in 24:56 and Miranda Boudreau who was 89th in 25:46.
The women scored a total of 138 points for fifth place, just 2 points behind 4th place Laurier.
"This was a good race for us," said coach, Dick Moss. "We held three runners out of this race because of summer injuries. But most of the girls who ran improved over last year's time, and we not only matched last year's 5th place finish, we were 22 points better."
Individual Results - Laurentian Women
22, Megan Crocker, 22:38
25, Nicole Rich, 22:50
31, Breanne Steven, 23:03
35, Jessie Nusselder, 23:13
59, Sarah Thackery, 23:55
74, Meghan Sippel, 24:56
89, Miranda Boudreau, 25:46
Team Results - Women
1 Guelph Gryphons, 39
2 Queen's Gaels, 58
3 Western Mustangs, 68
4 Laurier Golden Hawks, 136
5 Laurentian Voyageurs, 138
6 Toronto Varsity Blues, 151
7 McMaster Marauders, 197
8 Windsor Lancers, 231
9 Waterloo Warriors, 256
10 Fanshawe Falcons, 257
11 Nipissing Lakers, 308
12 Ryerson Rams, 342
13 Sheridan Bruins, 343
14 Olivet Comets (Michigan), 404
The men's team was led by Paul Sagriff, who placed 30th with a time of 25:09 over the 8km course. He was followed by Liam Passi, who placed 46th in 25:32, rookie Eric Gareau who was 55th in 25:45; Caleb Beland who placed 69th in 26:03 and rookie Alexandre Fishbein-Ouimette who rounded out the scoring in 110th with a time of 27:18. Jarod Milford was the displacer, placing 131st in 27:53. Veteran Dylan McKevitt was held out for injury reasons.
"This was a significant improvement for us, both in terms of average time and team place," said coach, Darren Jermyn. "We were 10th last year with 293 points, and 8th this year with 225 points.
Most of the guys ran personal bests over 8km and our two rookies, Eric Gareau and Alexandre Fishbein-Ouimette raced very well. We continue to move in the right direction."
The next race for both teams is next weekend at the Mike Woods/Geneseo Invitational in Letchworth State Park, New York.
Individual Results - Laurentian Men
30, Paul Sagriff, 25:09
46, Liam Passi, 25:32
55, Eric Gareau, 25:45
69, Caleb Beland, 26:03
110, Alexandre Fishbein-Ouimette, 27:18
131, Jarod Milford, 27:53
Team Results - Men
1 Guelph Gryphons, 34 points
2 McMaster Marauders, 50
3 Queen's Gaels, 80
4 Western Mustangs, 118
5 Toronto Varsity Blues, 140
6 Eastern Michigan Eagles, 142
7 Windsor Lancers, 181
8 Laurentian Voyageurs, 225
9 Laurier Golden Hawks, 253
10 Brock Badgers, 311
11 Nipissing Lakers, 356
12 Waterloo Warriors, 360
13 Humber Hawks, 401
14 Sheridan Bruins, 407
15 Olivet Comets [Mich], 407
--


Dick Moss, Head Coach
Laurentian XC/Track Team
c/o Coach Moss <pedigest@cyberbeach.net>
Web: http://laurentianxctrack.com
Facebook: https://www.facebook.com/groups/laurentianxctrack/
Twitter: https://twitter.com/@luxctrack
Instagram: https://www.instagram.com/laurentianxctrack/
For information call me.
Vincent Perdue
341 Fourth Ave, Sudbury On. P3B-3R9
705-560-0424
vt perdue@cyberbeach.net
Proud sponsor of the Sudbury Rocks!!! Race, Run or Walk for Diabetes
HOME | ABOUT US | CONTACT | ARCHIVES | CLUBS | EVENTS | PHOTOS | RACE RESULTS | LINKS | DISCUSSION

All photos images and content copyright Sudbury Rocks!!