| | | |
| --- | --- | --- |
| | | |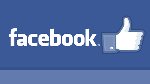 Hello Everyone, September 20, 2018
In this Issue:
Kenyan Sets World Record at Berlin Marathon
Locals Compete in the 2018 Barrelman
Terry Fox run goes in Sudbury
Tons of training does the trick for triathlete Kelly Thompson
Shell Shocked in Dublin
Finlandia Trail Run Series #4 Photos
Upcoming Events Sep 23 Killarney Mountain Lodge Fall Classic, Sep 30 Run for the Cure, Oct 7 Turkey Gobbler Trail Run
Running Room Run Club Update:
Track North News

Kenyan Sets World Record at Berlin Marathon
Eliud Kipchoge completes marathon in 2:01:39, beating the record by more than a full minute
Kipchoge, 33, celebrates winning the Berlin Marathon. He also is the reigning Olympic champion in the marathon. PHOTO: FABRIZIO BENSCH/REUTERS

---

By Sara Germano
Sept. 16, 2018 6:41 a.m. ET
BERLIN—Eliud Kipchoge shattered the world record in the Berlin Marathon on Sunday by more than a full minute, running 2:01:39 to establish the Kenyan athlete as one of the best distance runners in history.

Kipchoge, 33, is the reigning Olympic champion in the marathon and has run the fastest recorded time over 26.2 miles—a blistering 2 hours and 25 seconds— as part of a Nike-sponsored marketing event last year that wasn't a ratified race. He has been virtually unbeatable at the distance, winning 10 of 11 marathons he has entered.

But the official world record—until Sunday, 2:02:57—had eluded Kipchoge for years, despite several attempts in London and here in Berlin, where he was hindered last year by dismal weather and in 2015 by malfunctioning sneakers.

Sunday's performance was perhaps one of Kipchoge's most dominant. He crossed the halfway mark in 61 minutes and 6 seconds, more than half a minute under world-record pace. Kipchoge accelerated the pace in the second half, clocking in at 60 minutes, 33 seconds. He finished the back end of the race entirely on his own because the last of his appointed pace setters—athletes in striped kits who run a fixed pace just ahead of Kipchoge—dropped out by the 25 kilometer mark, unusually early for a world-record attempt. It wasn't immediately clear why the pacers dropped out so early.

Kipchoge was coy about his goals for the Berlin marathon, saying he merely wanted to set "a personal best." Prior to this weekend, his personal record for the distance was 2 hours, 3 minutes and 5 seconds, a gasp away from fellow Kenyan Dennis Kimetto's world record set in Berlin in 2014. Kimetto congratulated Kipchoge in a tweet, saying, "Fantastic run, you're an example for each and every runner on this world."

The race re-affirms Berlin as the fastest marathon course in the world, as the world record has now been broken seven times here since the turn of the century.

Also Sunday, Gladys Cherono of Kenya won the women's race of the Berlin Marathon in 2:18:11.
Locals Compete in the 2018 Barrelman
Competitors in the Niagara Falls Barrelman Triathlon start their swim in the waters of Welland International Flatwater Centre Sunday morning. The swim portion of the event, and part of the bike, were held in Welland and Wainfleet before moving on to finish with the run portion in Niagara Falls. - Dave Johnson,The Welland Tribune

---

Locals in the 2018 Barrelman

| | | | | | | | | | |
| --- | --- | --- | --- | --- | --- | --- | --- | --- | --- |
| BIB | NAME | CATEGORY | RANK | GENDER PLACE | CAT. PLACE | SWIM | BIKE | RUN | FINISH |
| 139 | Joe LONSDALE | M35-39 | 109 | 82 | 18 | 0:38:19 | 2:53:12 | 1:57:10 | 5:35:36 |
| 528 | Sara MCILRAITH | F45-49 | 129 | 32 | 6 | 0:35:37 | 3:02:03 | 1:55:25 | 5:39:39 |
| 417 | Stepfanie JOHNSTON | F30-34 | 398 | 115 | 14 | 0:49:00 | 3:06:50 | 2:51:59 | 6:59:15 |

---

Sara McIlraith at the Barrelman

528

Sara MCILRAITH
F45-49
129
32
6
0:35:37
3:02:03
1:55:25
5:39:39.2
SPLIT NAME
SPLIT DISTANCE
SPLIT TIME
PACE
DISTANCE
RACE TIME
OVERALL (/685)
GENDER (/271)
CATEGORY (/54)
TIME OF DAY
SWIM
2 km
00:35:36
1:46/100m
2 km
00:35:36
84
21
3
9:17:37
BIKE 1
58 km
01:54:19
30.44km/h
58 km
02:32:43
145
35
7
11:14:43
BIKE 2
32 km
01:07:44
28.35km/h
90 km
03:40:27
254
57
10
12:22:27
BIKE
90 km
03:02:03
29.66km/h
90 km
03:40:27
254
57
10
12:22:27
RUN 1
5 km
00:24:00
4:47/km
5 km
04:08:14
210
46
9
12:50:14
RUN 2
5.5 km
00:31:58
5:48/km
10.5 km
04:40:11
175
39
9
13:22:11
RUN 3
5.5 km
00:26:56
4:53/km
16 km
05:07:06
153
36
7
13:49:06
RUN 4
5 km
00:32:34
6:30/km
21 km
05:39:40
132
32
6
14:21:40
RUN
21 km
01:55:25
5:29/km
21 km
05:39:39
132
32
6
14:21:40
FINISH
05:39:39
131
32
6
14:21:40

---

Sara McIlraith with the new TT Bike

---

Putting Myself Out There – Barrelman Half Ironman

by Sara McIlraith

Recently a running friend of mine congratulated me on a race I had just completed. One of her comments surprised me, "you never have a bad race, it's amazing". Pondering why she thought this, as I have definitely had many bad races, I considered maybe this perception was because we don't usually talk about our 'bad races'. We athletes happily talk to anyone willing to listen when we achieve a PB, but we usually quietly hang our head in disappointment when things go badly (at least I do). With my head hanging just a bit, I decided to share my story from this weekend's not so successful race. I believe that the tough races are the ones that teach you important lessons, as long as you are open to listening.

In 2017, I jumped into my first half ironman distance triathlon just 3 weeks before the race. I had little time to ramp up my training distances – especially on the bike. My goal was simple - to finish, which I accomplished, even PBing on my bike and swim. In December I decided to sign up again, and upped my expectations beyond just completing. I trained hard all summer - many 100k rides, a new TT bike, double digit swim kms every week, some solid half marathon training runs, double sport training days almost every day and 5 great triathlon races under my belt, I felt well trained.

When you race something this long, successfully balancing speed and effort is critical. Mistakes will always come back on you. Throw weather into the mix, and that balance is even harder to find. Another factor in maintaining this balance is fuel. Read any intro article on distance triathlons, and you will learn they actually have 4 components to them – swim/bike/run/fuel. Someone my size will burn about 4000 calories in a half ironman! That requires some serious fueling.

Race morning weather was, as it has been for every one of my tri races this year, very hot and humid. I told myself that I had raced and trained in this weather all summer, so I should be okay. I went through my fueling plan in my head, knowing that the heat would increase the need for electrolytes. Hopefully I can sustain my planned paces to achieve my goals without overtaxing my system.

Sweat was pouring off me as I stood on the start line in my wetsuit, already looking to the run with dread. I held back a bit on the swim, trying to preserve energy so that I could sway the balance a bit on the bike and run. I transitioned to the bike cleanly, and settled into the pace I hoped to hold for about 3 hours of riding. The winds were up a bit, eating away at any energy stores I had. Fueling is always a challenge for me. I rarely fuel in training, and have a tough time getting in calories. I tried to sip on my large supply of extra strong grossly warm ELoad, but it left me gagging. I forced down the Cliff Blocks at regular intervals, and downed a couple bottles of water. Water seemed to be the only thing I wanted. As the kms ticked on, it was getting really hard to keep my goal speed up. Even when we finally turned north out of the wind for the last 12k, I couldn't push my pace. That's when I started to really get concerned.

Finally reaching T2, I got my feet out of my shoes and attempted my flying dismount. I practice dismounts endlessly, and have never had a disastrous one - until now. My right leg was so cramped that it clipped my back water bottle when I tried to reach it around. I slid into the dismount line on my side, thankful I was actually 'dismounted' when I crossed. Embarrassed, I picked myself up and hobbled to my run gear, quite distraught that my cramped up foot was barely able to land on the ground. I threw on my running shoes, grabbed my fuel, and eased into the run.

My run goal was to hang on to 5min/km pace. Thankfully my foot loosened up quickly, and the pace felt very manageable over the first 5k. I even resisted the urge to pick it up. I then climbed up a steep hill, away from any cooling effect of the river, and started to bake in the oppressive mid-day heat. My legs started to yell at me, the pace now feeling hard to maintain. My breathing was easy, but my legs wouldn't turn over. I usually gauge my effort by breathing, but it was the legs failing me today. I resorted to running and walking, setting mini goals for how long I could run before I walked. I felt like I was cooking on the inside and my legs were barely holding me up, and I was overdoing it on water consumption. I'd definitely lost my balance of speed/effort/fueling, I was short-circuiting!

I did finish, but without the joy and satisfaction I felt last year. My personal goals were not reached, and I felt disappointed and really sick. I walked over to the splash pad strategically placed beside the finish line and let the cold water pour over me. With my internal body temperature finally coming down, I started to digest my day. It was definitely a day to learn from. Never underestimate the impacts of heat and humidity, and you simply cannot perform at your best without a lot of fuel over that long a race.

Neil encouraged me to look at my results. I was actually quite surprised to see how I compared to my fellow age groupers. My placing improved significantly from last year. This left me slightly optimistic that my hard training all summer actually did show improvements. I won't call this race a 'failure', but I will call it a learning opportunity. Now on to planning for next year.

Terry Fox run goes in Sudbury
Keith Dempsey For The Sudbury
Published on: September 17, 2018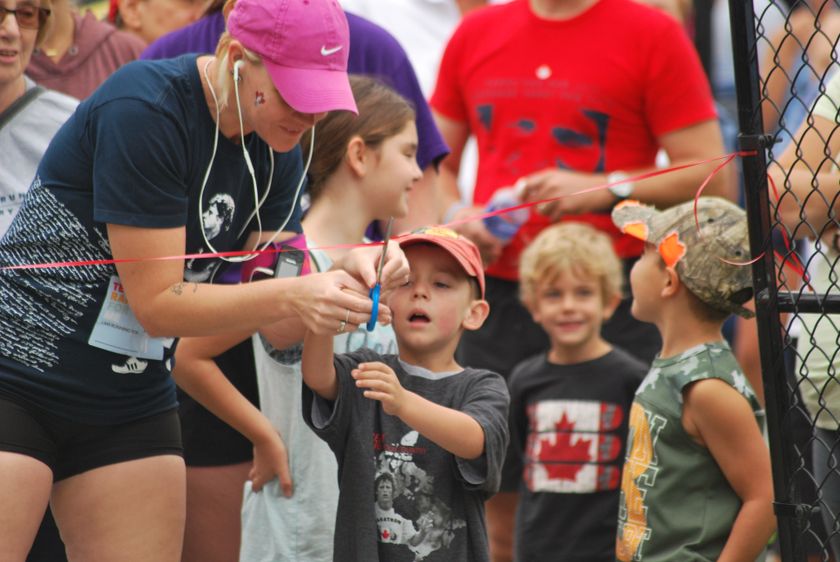 This young participant cuts the ribbon to start the Terry Fox Run on Sunday. Keith Dempsey/For The Sudbury Star
Runners took part in the 38 annual Terry Fox Run in Sudbury on Sunday.
The Terry Fox Run is an annual non-competitive charity event held in numerous regions around the world. Proceeds go towards the Terry Fox Foundation.
Tons of training does the trick for triathlete Kelly Thompson
2018-09-17
by Randy Pascal
---
Kelly in the 2018 Beaton Classic

Many a runner, cyclist and swimmer have worked their way over the world of triathlons upon realization that they might not possess elite potential within any one individual component of this multi-faceted discipline.

Easier to perhaps remain competitive by being very good at each of the three elements of the triathlon than worry about trying to be absolutely great in either the pool, on the bike, or in the run.

Eighteen year old Sudbury native Kelly Thompson takes that notion, arguably, one step further, laying claim to not necessarily even being all that good, initially, in any one sector of the triathlon. Not that this has stopped him from finishing first, overall, this past summer, at both the Heart of Gold Triathlon in Timmins, as well as the North Bay Triathlon, one week earlier.

Of course, sharing the wealth, as an athlete, comes quite naturally for the youngest of four children in the family. On the side, he mixes in a little baseball – Thompson actually cracked the roster of the inaugural Laurentian Voyageurs team this fall – as well as graduating from Lo-Ellen Park Secondary School as a distinguished member of the ultra-successful nordic ski team during his time as a Knight.

If all of this seems a bit much for a young man who has succeeded through hard work probably more than any other single factor, Thompson would likely agree. "I chose to swim a little later than all of my siblings, around eight or nine, and got into it because my sister (Kasey) was really good at it," said the first year Sport and Physical Education major.

"I didn't start racing until I was ten or eleven – I was scared of racing," he added with a laugh. "I didn't get any provincial standard times until I was thirteen." With baseball keeping him busy during the summer months, Thompson made his first leap into the world of triathlons before starting high school, with absolutely no visions of grandeur at all.
In August of 2014, the young man tackled the St Joseph Island Triathlon. "I wasn't very strong at all," he said. "I got beat by a lot of people. I wasn't even thinking about being competitive back then, I was just thinking about doing it for fun. That was before I even thought about running cross country at Lo-Ellen, which changed everything."
That it did.
There is a remarkable symmetry when one looks at the progress that Thompson has made, almost regardless of which athletic endeavour he undertakes. "In midgets (grade nine), I was 30th at NOSSA in cross-country," he said. "Then I was fourth in the city in grade ten."
"In grade nine, I didn't know how to do nordic ski at all. I went from 140th (OFSAA) in grade nine to 50th in grade ten. That's when I kind of realized that if I just kept at it, things would start to work."
That path was also being mirrored when it came to his involvement in triathlons. Though Thompson has never seen himself as a top end swimming talent, there was no disputing the hours and hours of training that he had garnered as a member of the Sudbury Laurentian Swim Club.
"I definitely changed over time," he acknowledged. "I used to be just the "swimmer". I used to try and build a lead off the swim and just try and survive the rest. But my cycling speed has really improved the last two years, since I joined the Sudbury Cycling Club. I worked on being more aerodynamic on the bike, being able to hold higher numbers (pace) for the whole duration of the event."
"Cycling is a weird sport," Thompson added. "The more you cycle, almost regardless of what pace, at least I find, you improve. As long as you put in the hours, you improve, no matter how fast you are going." Truth be told, it seems like this ultra devoted athlete never stops going.
Realizing the strides he was making, Thompson affiliate with coach Michael Nawaleniec and the Sudbury Triple Threat Triathlon Club a couple of years ago. In the meantime, even his off-season regimen was more than just a little busy, developing into a top notch nordic skier along the way. It seemed that once this snowball of training got rolling, it picked up steam continuously, regardless of the sport or venue the teenager would tackle.
This past spring, he would compete at the OFSSA swim championships, entered in the Open category, facing those swim devotees still training six to seven days a week, despite the fact that Thompson had backed out of the club scene early in his high school career. Seeded 32nd coming into the 50m freestyle, Thompson placed fifth in the preliminary heats, settling for eighth in the final.
"I didn't even think I would make it to "B" final," he confessed. "But the OFSAA ski championships were the week before, so the fitness was there. It was a pretty big week in my life, actually." By now, there was no denying that the combined sporting model was producing rewards for the 2017 champion of the Timmins triathlon.
"This year was a lot faster in Timmins," said Thompson. Completing his swim in 10:22, the local triathlete held a 30-second lead entering the bike segment, figuring he could simply settle in and cruise to victory as he had done comfortably one year earlier.
"Someone (Michael Hay) flew by me on the bike with two to three kilometers to go. I had no idea who it was. I got out of the transition a little faster, but he was about 15 metres behind me for the whole five kms. I thought he was waiting to strike, so I ran my fastest five kms in a triathlon by like a minute and a half. I was just running scared."
If modest expectations were evident in almost every early sporting venture that Thompson would attempt, such is clearly no longer the case. His dreams, these days, are inching closer to reality. "Eventually, I want to get into the Ironman, the long stuff, that's my goal," he said. "But I don't have a deadline for the goal."
And as he knows better than most, time is his ally.
Shell shocked in Dublin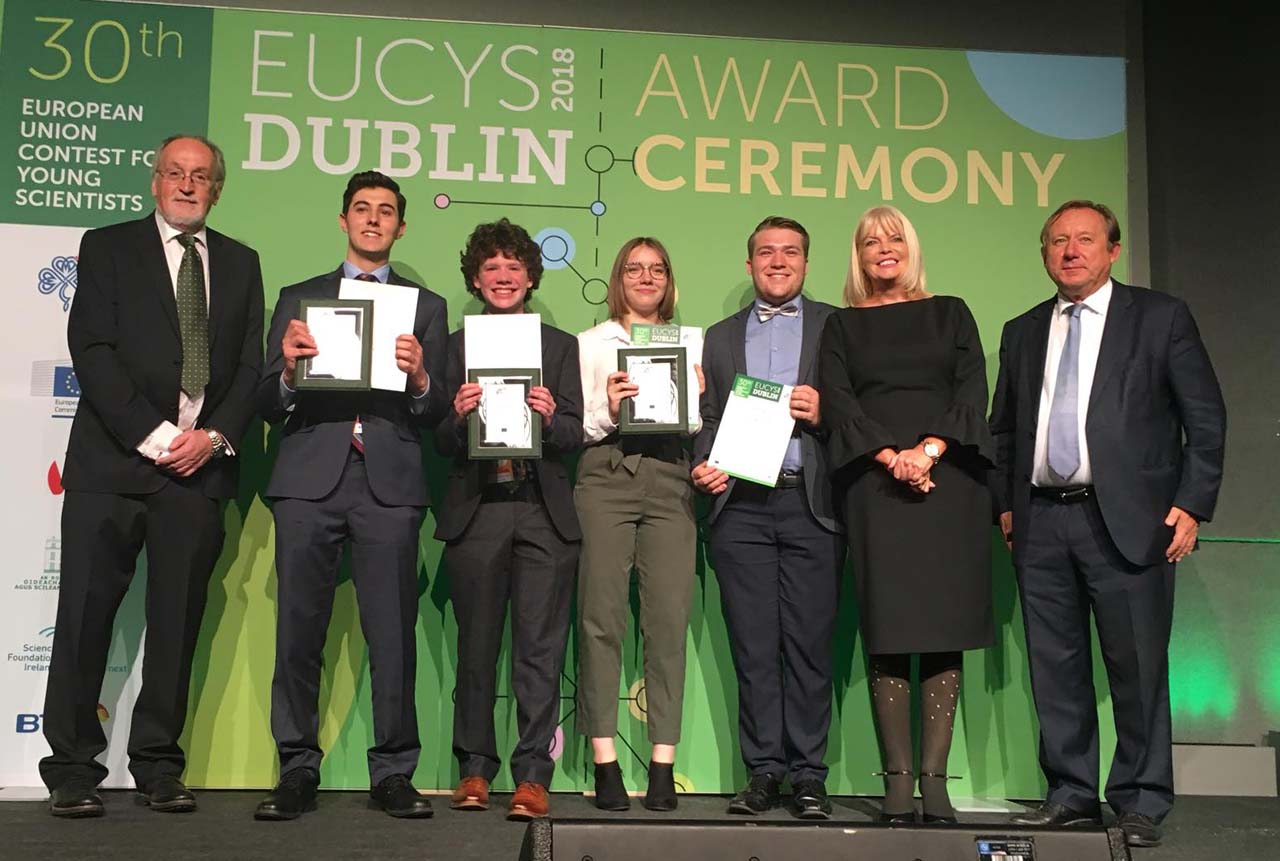 Rocks!! member Steve Matusch writes:
"We're a little shell shocked over here in Dublin. Bren just won (one of 3) first place prizes at the European Union science fair(EUCYS)! This is a competition for the 100ish winners of the national science fairs from around the world. It's like winning a gold medal at the sci/tech nerd Olympics" (Brendon is 3rd from the left).
Brendon recently took up running as a way to keep his abundant energy levels in check. His Ramsey Tour 5k time indicates energy to spare.
42 5730 Matusch, Brendon M14 Unattached 21:01
NEWS 18 September 2018 Dublin, Ireland Research and Innovation
30th EU Contest for Young Scientists: and the winner is…
This year's European Union's top prizes for young scientists were awarded to siblings Adrian Fleck and Anna Amelie Fleck from Germany for "FleckProtec – Body Protection Made From Starch", Nicolas Fedrigo from Canada for "Improving Spinal Fusions: Redesigning the Pedicle Probe to Prevent Vertebral Breaches", and Brendon Matusch from Canada for "Development of a Level 2 Autonomous Vehicle Using Convolutional Neural Networks and Reinforcement Learning". The winning young scientists will receive €7000 for each of the three outstanding projects.
The three second prizes and three third prizes were awarded to projects from France, Estonia, Portugal, Georgia, South Korea, China. A detailed list is available online.
The winners were among 135 promising young scientists aged 14 to 20 from 38 countries and the European schools. They presented a total of 88 projects at the 30th edition of the EU Contest for Young Scientists over the last few days in Dublin, Ireland, in the hope of impressing an international jury. All the winners shared a total of €57.500 in prize money, as well as other prizes such as science trips.
Full article: https://ec.europa.eu/info/news/30th-eu-contest-young-scientists-and-winner-2018-sep-18_en
September 19, 2018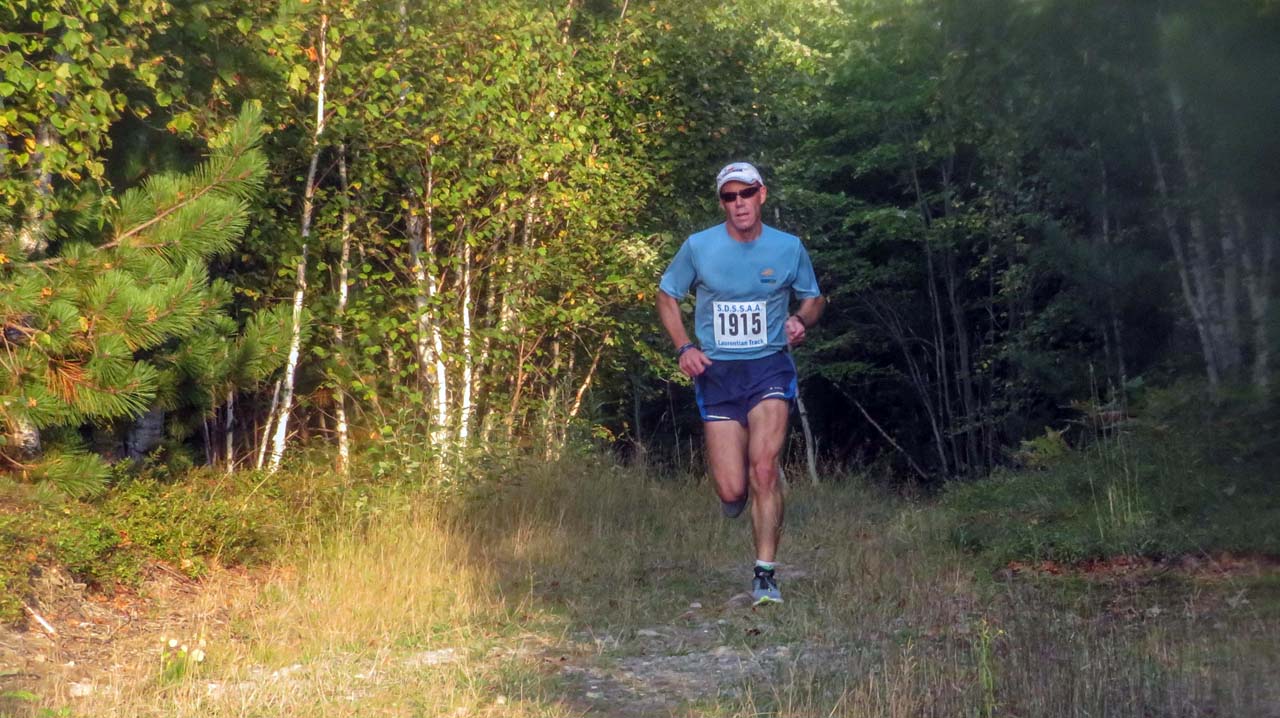 Ryan Marsaw leads the 8k group
Upcoming Local Events
September 23, 2018
Killarney Mountain Lodge Fall Classic 2018
Race Times
5k : Sunday September 23, 2018 @ 9:00 A.M.
10k : Sunday September 23, 2018 @ 8:30 A.M.
Half Marathon : Sunday September 23, 2018 @ 8:00 A.M.
Contact Information
For more information please contact Kelly McAree
Email: gm@killarney.com
Phone: 705-287-2242
September 30, 2018
Welcome to CIBC Run for the Cure in Sudbury
---
We invite you to run or walk with us on Sunday, September 30, 2018 for the CIBC Run for the Cure in Sudbury. Whether it's your first time, or you've participated for years, we look forward to having you join the movement! Help make this year's event inspirational and memorable, all while you help the Canadian Cancer Society create a future without breast cancer.
---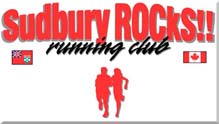 Hello ladies and gents,
I have registered Sudbury Rocks!! Running Club as a team for Run for the Cure.
Please join my team and tell your friends and family.
Register with the team (SudburyRocks!! Running Club) at the following link:
https://secure3.convio.net/cbcf/site/TRR/1804991590
Select 'Ontario' in 'Select Province/Territory'
Select 'Sudbury' in 'Select Run Location'
Click 'Register'
Click 'Join A Team'
Type 'SudburyRocks!! Running Club' under Team Name
Click 'Join' on your team profile
Thank you, Lise Perdue
| | |
| --- | --- |
| | |
---
Store News

Good afternoon Sudbury Runner's and Walker's,

See you all at Run Club tonight 6pm

Cheers,

your Sudbury Staff

We have FREE run club Wednesday nights at 6pm and Sunday mornings at 8:30am.
| | |
| --- | --- |
| | Track North News - by Dick Moss |
For information call me.
Vincent Perdue
341 Fourth Ave, Sudbury On. P3B-3R9
705-560-0424
vt perdue@cyberbeach.net
Proud sponsor of the Sudbury Rocks!!! Race, Run or Walk for Diabetes
HOME | ABOUT US | CONTACT | ARCHIVES | CLUBS | EVENTS | PHOTOS | RACE RESULTS | LINKS | DISCUSSION

All photos images and content copyright Sudbury Rocks!!