Triathlon 101: Trust Your Training – and your Daughter
by Sara McIlraith
Kate is not a swimmer. She has fought a deep fear of having her head under water for years. With the help of Lawrie Oliphant last summer, she made big strides getting comfortable in the lake. Her motivation to swim was lead by wanting to start racing triathlons. This spring Kate came home from university and asked me if I wanted to race Guelph Lake in June as she had signed up. She even pushed me to get into the pool to start swim training and to get my butt out on the bike. I normally wait until early June to start swimming when I can get into the lakes without suffering an ice cream headache, and reluctantly switch out a run for a bike each week sometime in late May.
The 'early' start to triathlon season was a new experience for us both. I really enjoy having Kate as a training partner, and I think we are motivating each other to do the activities that aren't our first love (biking for me, running for her). Getting into the pool and out on the roads a lot more and a lot earlier has been great. I am actually enjoying balancing all 3 sports relatively equally instead of fitting in a swim and a bike when I can. We both headed to Guelph this weekend wanting to see if our training was working.
I signed up for the Olympic distance (1.5k swim/40k bike/10k run). My goal was to push my limits but stay in control. There is nothing worse than starting the run completely gassed, which is always the case for me. I was really hopeful that all my bike and swim training would help. I felt strong on the swim, and came out of the water faster than expected. Heading out on the bike, I tried to keep my effort balanced. The course had lots of rolling terraine, and I was so surprised to find that I was passing everyone on the climbs. I am not a strong climber on the bike, but I decided to go with it, and hammered the climbs, hoping that I wasn't sabotaging my legs for the run. Thankful for a smooth bike and transition, I threw on the running shoes and tried to run by effort. I kept an eye on my pace each km, and was encouraged by a pretty consistent 4:30 pace. Even more exciting was that my legs didn't feel like 1000 lbs of dead weight. I finished spent but not blown up, feeling so grateful to Kate for motivating me to train early and to put my trust in it.
Kate raced a few hours later in the Try a Tri. She looked confident and calm in her wetsuit at the starting line. Her plan was to hang back and start the swim behind the crowd, to avoid her anticipated panic. The starting cannon (yes a cannon) blew, and she took off right in the middle of the pack. Neil and I were nervous, scanning the sea of white caps for her. We spotted a few swimmers back stroking and a few others heading off course, but couldn't tell if Kate was one of them. We headed to the swim exit, and with Neil scanning the back of the pack, I spotted Kate already running out of the water pulling off the wetsuit like a pro. I had a hard time holding back my enthusiasm. We ran to transition and she was effortless switching to bike mode, and masterfully executed a flying mount. The bike is her strongest sport, and I hoped a good bike would give her the confidence to get through the run. I breathed a sigh of relief when I saw her flying into the bike dismount. A lightning fast transition to the run and she was off looking really strong. Only 2.5k to go, I knew she would do it. There is nothing more rewarding than seeing your daughter complete a very big goal she set for herself. I wiped back the tears as I watched her cross the finish line.
A very successful day for both of us. Our success wasn't achieved by hoping, it was absolutely the result of training. So, get out there and train hard, and just as importantly, trust your training. (this means you Jordan)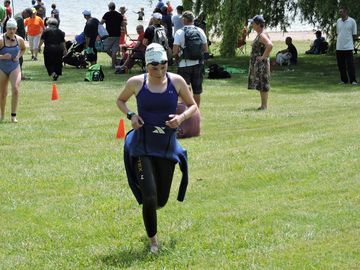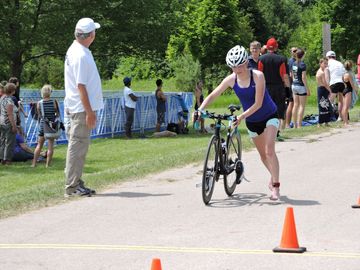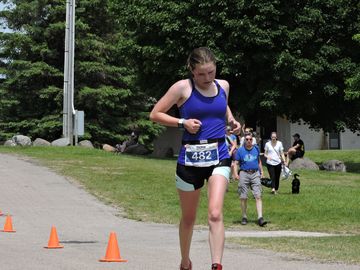 Kate swim, bike and run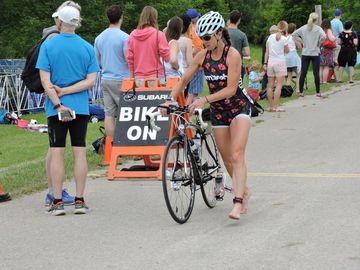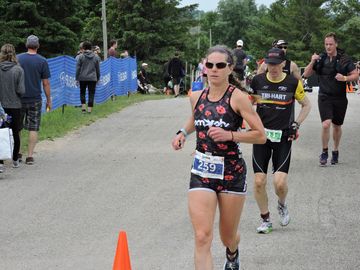 Sara bike and run
---