---
Nearly everyone knows the marathon is 26 miles, 385 yards long. But why the random distance?
Surely everyone knows by now that there's a royal wedding—you've heard of Prince Harry and Meghan Markle?—taking place tomorrow at England's Windsor Castle, about 22 miles west of downtown London.
Few realize, however, that the very same Windsor Castle is responsible for the marathon's now-classic distance. It was the starting point for the 1908 London Olympic Marathon.
Prior to the London Olympics, marathon races, beginning with the first marathon at the inaugural modern Olympics of 1896, covered approximately 40 kilometers (25 miles). This was the distance from the Plains of Marathon to the Panathinaiko Stadium in downtown Greece that Pheidippides covered in 490 B.C. while carrying word that Athens had defeated the invading Persians. According to legend—and Pheidippides himself was likely a mythical artifact—he collapsed and died after delivering the good news.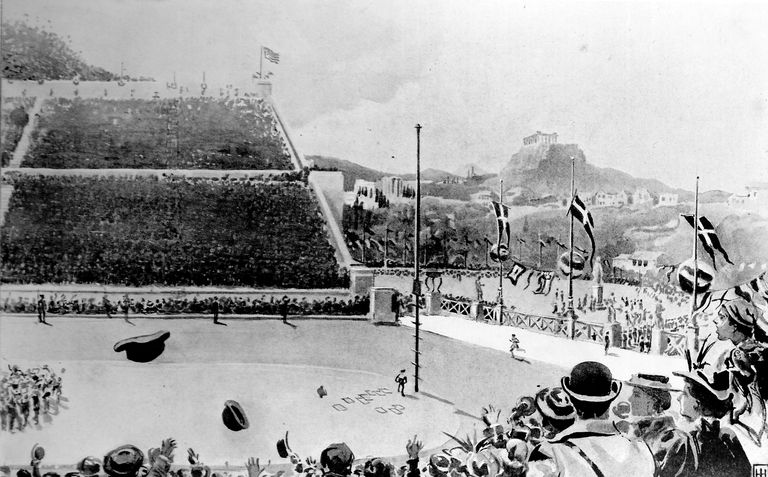 Subsequent Olympic cities—Paris, 1900; St. Louis, 1904—followed suit in selecting the length of their marathon courses, though no one bothered to micro-measure them. Similarly, early versions of the Boston Marathon, run continuously since 1897, started in Ashland, not Hopkinton. The course measured about 24.5 miles.
According to some stories, the 1908 Olympic course was extended to Windsor Castle—26 miles, 385 yards from the Royal Box in White City Stadium—because the Royal Family wanted several young princes and princesses to see the valiant marathon runners. It seems more likely that London Olympic organizers had always wanted a Windsor Castle start, and eventually succeeded.
While the 1908 London Olympic Marathon established the now-traditional race distance, this distance wasn't ratified and made official until 1921. Beginning with the 1924 Paris Olympics, all Olympic marathons and other official marathons have covered 26 miles, 385 yards (42 kilometers, 195 meters).
The British Royal Family also played a role in last month's London Marathon on April 22. The marathon was started by 92-year-old Queen Elizabeth. She stood on the lawn in front of Windsor Castle's Round Tower, and at 10 a.m. depressed a button that sounded horns at the London Marathon start line in Greenwich Park.