| | | |
| --- | --- | --- |
| | | |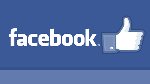 Hello Everyone, April 19, 2018
In this Issue:
Boston Marathon 2018
Terry Fox marathon of Hope Celebration
These kids are ready to rock at Sudbury Rocks
Rocks Winter Outdoor Action
Upcoming Events: April 22 Unbreakable Spring Open and May 13 SudburyRocks!!!
Running Room Run Club Update:
Track North News

---
2018 Boston Marathon Finishers

Boston experienced snow flurries yesterday, but thousands of determined athletes still took to the historic Boston Marathon course on Monday morning to run the 122nd annual 26.2-mile route from Hopkinton to Copley Square. The elite men's and women's fields led the way through whipping headwinds and persistent rain, starting with the mobility impaired division, which launched this year's race at 8:40 a.m.
At Women's Running, we always focus more on the women's division than the men's, but this year we were not alone. The American elite women's field in particular has garnered more attention than usual throughout the last year, due largely to the record-setting American woman debut at the marathon distance by Jordan Hasay at the 2017 Boston Marathon and Shalane Flanagan's victory at the New York City Marathon last November. With competitors like Hasay, Flanagan, Desiree Linden, Molly Huddle and American marathon record holder for women Deena Kastor stacking the field, the running community's excitement leading up to the race was palpable—and when Hasay withdrew from the race last night, the competition between the elites only tightened.
When six-time Boston Marathoner Desiree Linden raced to victory more than four minutes ahead of second-place finisher Sarah Sellers, finish line spectators and reporters in the media center a block away nearly burst with excitement for the first American woman to win in 33 years.

Professional Women
Desiree Linden (USA) (2:29:54)
Sarah Sellers (USA) (2:44:05)
Krista Duchene (CAN) (2:44:20)
Rachel Hyland (USA) (2:44:29)
Nicole Dimercurio (USA) (2:45:52)
Shalane Flanagan (USA) (2:46:31)
Kimi Reed (USA) (2:46:47)
Edna Kiplagat (KEN) (2:47:14)
Hiroko Yoshitomi (JPN) (2:48:31)
Joanna Thompson (USA) (2:48:31)

Professional Men
Yuki Kwauchi (JPN) (2:15:58)
Geoffrey Kirui (KEN) (2:18:21)
Shadrack Biwott (USA) (2:18:32)
Tyler Pennel (USA) (2:18:57)
Andrew Bumbalough (USA) (2:19:52)
Scott Smith (USA) (2:21:47)
Abdi Nageeye (NED) (2:23:16)
Elkanah Kibet (USA) (2:23:37)
Reid Coolsaet (CAN) (2:25:02)
Daniel Vassallo (USA) (2:27:50)

Wheelchair Division—Women
Tatyana McFadden (USA) (2:04:39)
Susannah Scaroni (USA) (2:20:01)
Sandra Graf (SUI) (2:26:32)
Aline Dos Rocha (BRA) (2:31:18)
Arielle Rausin (USA) (2:32:24)
Vanessa Cristina De Souza (BRA) (2:57:31)

Wheelchair Division—Men
Marcel Hug (SUI) (1:39:41)
Ernst Van Dyk (RSA) (1:40:23)
Daniel Romanchuk (USA) (1:43:53)
Patrick Monahan (IRL) (1:47:14)
Masazumi Soejima (JPN) (1:47:15)
Joshua Cassidy (CAN) (1:49:57)
Takashi Yoshida (JPN) (1:51:41)
Krige Schabort (USA) (1:55:41)
Ryota Yoshida (JPN) (1:57:20)
Jordi Madera Jimenez (ESP) (1:58:24)
---
Desiree Linden 1st American Woman to Win Since '85
---
For the first time since 1985, an American woman has won the Boston Marathon.
Desiree Linden captured the victory Monday with an unofficial time of 2:39:54. Linden is the first American woman since Lisa Larsen Weidenbach to cross the finish line first at marathoning's preeminent race.
She battled treacherous conditions, highlighted by rain and cold temperatures, to pull away from the field for a relatively easy win.
"I don't have the right words. I'm thrilled. It's supposed to be hard," Linden said afterward, per the race's Twitter account.
Sarah Sellers finished more than four minutes behind in second place.
Of course, not all of Linden's slowish time was the result of the weather. In a fun sign of solidarity, Linden stopped with teammate Shalane Flanagan early in the race when she used a restroom on the track.
"Honestly at mile 2, 3, 4 I didn't feel like I was gonna even make it to the finish line," Linden said, via Roxanna Scott of USA Today. "I told her [Flanagan] in the race, I said if there's anything I can do to help you out, let me know because I might just drop out.
"When you work together, you never know what's going to happen," Linden said. "Helping her helped me and kind of got my legs back from there."
Linden is the 16th American woman to win the marathon, though the race has been dominated by other nations in recent years. The race winner had come from Kenya or Ethiopia for the last decade.
Mamitu Daska of Ethiopia led for more than half of the race but faded down the stretch. Linden took her lead in the 21st mile, passing Daska and then Gladys Chesir of Kenya. Seven different American women finished in the top 10.

---

.

Japan's Yuki Kawauchi Wins Men's Race
---

Japan's Yuki Kawauchi won a rainy and cold men's Boston Marathon on Monday with a time of 2:15:58.
"For me, these are the best conditions possible," Kawauchi said of the whipping winds, chilly temperatures and rain, per the event's Twitter account.
Kawauchi became the first Japanese man to win the event since Toshihiko Seko in 1987, per Jill Martin of CNN.com. It was his fourth victory this year alone, according to Malika Andrews of the New York Times.
Kawauchi never seemed bothered by the wintry conditions, perhaps because he's suffered through adverse weather before. As Chris Chavez of Sports Illustrated noted: "People forget he ran 2:18:59 in temperatures below five degrees in January. Gotta love the guts."
Kawauchi, who has now won five consecutive marathons, didn't undersell the achievement.
"This is the greatest day of my life," he said through tears, per the AFP. "This is Boston. This is the greatest race in the world."
It was a historic day at the Boston Marathon as Desiree Linden became the first American woman to win the event since 1985.
"I love this city, this race, this course. It's storybook. I'm thrilled to be here and to get it done," Linden said, per the AFP. "This is a race the entire city cares about. Even on a day like today when it's pretty miserable, the people show up and embrace the race."
---
---

Sudbury in Boston
| | | | |
| --- | --- | --- | --- |
| Iserhoff, Kaylie (CAN) | Dagostino, Chantal (CAN) | Nadjiwon, Jody (CAN) | Auchinleck, Martha (CAN) |
| Place Overall 6739 | Place Overall 12474 | Place Overall 13952 | Place Overall 16535 |
| Place Gender 1336 | Place Gender 4197 | Place Gender 5015 | Place Gender 6519 |
| Place Division 1148 | Place Division 698 | Place Division 496 | Place Division 173 |
| BIB | BIB | BIB | BIB |
| 16210 | 16888 | 29631 | 24317 |
| HALF | HALF | HALF | HALF |
| 1:44:26 | 1:49:26 | 1:50:03 | 1:52:17 |
| Finish Net | Finish Net | Finish Net | Finish Net |
| 3:25:43 | 3:46:38 | 3:52:02 | 4:03:19 |
| Finish Gun | Finish Gun | Finish Gun | Finish Gun |
| 3:26:06 | 3:49:49 | 3:55:11 | 4:39:03 |
Kaylie done photo

Kaylie finish line


Kaylie: My time in Boston was phenomenal

I don't believe it hit me until Friday, the morning of my departure, just exactly what I was going to do. My 2018 got off to a rocky start, and Boston was intended to be a distraction.


I started running again about two years ago after a 3 year hiatus. I had been told I'd never run again, and believed it. I started back with a 5km, then Ramsay tour, then I felt brave enough to start running with Sudbury Rocks in January 2017. I found myself running with a welcoming, supportive group who had done it all, and made it look achievable and fun.

I made it to Boston because of the great running community, work family, family, and friends that I have. I never thought I'd want to run marathons, let alone chase down time goals. Without the encouragement and support of those around me, I wouldn't have made it to Boston. Friday morning I felt overcome with gratitude for all those that helped me to get there.


My time in Boston was phenomenal. I had very few expectations, having started training on March 11th. (I've already been asked to share said plan, although I must say a lot of it is unconventional.) I walked too much, taking in a game at Fenway, Bruins vs Leafs game at TD Garden, and a walking tour of Beacon Hill, Public Garden, and the Charles River Esplanade with local Bret Clancy, who has some pretty phenomenal photos of Boston available in print or canvas form at http://BretClancy.Etsy.com. I had a few too many beverages on Friday and Saturday night while making friends with the locals and catching up with fellow Sudbury runner Jody Nadjiwon and her niece Jayden. Ate too much, but I was going to be running a marathon!


It was a very relaxed time leading up to the race, with my only expectation being that I finish. The weather forecast was brutal, nobody was certain how to dress, I hadn't done nearly enough training, and was hoping for a miracle that I'd pull off a 3:40. I had so little expectation that at 7km a girl asked for one of my GU gels because she had lost hers, and I gladly gave one up.


I don't know if it was the relaxed attitude I had about the whole thing, but I got out there and I felt amazing. The crowds (although apparently smaller than previous years) had me smiling for the first 24 miles until it wasn't fun anymore. The atmosphere, the music, the offerings of dry sock, gloves, licorices, bacon, beer, gin and tonics, pudding shots-I couldn't help but to smile! My quads were hurting something fierce before the halfway point, as I had been warned they would. But I reasoned that if my legs hurt and nothing else, keep going. At 30km I still hadn't hit the wall, so decided to let it rip. I had no expectations, but thought I had more in me. I finished with a chip time of 3:25:43, about 20 seconds faster than my previous personal best.


After the race, while trying to make my way back to my room, my feet were cramping heavily while I was walking through the mall. A complete stranger, who was waiting for her husband to finish racing, took my shoes off for me and massaged my feet. That one act pretty much sums up Boston on marathon weekend. Everyone was just so kind, welcoming, and extremely proud and excited for you. I didn't pay for a single drink Monday night!


Everyone should get after all the things they think they can't do. They might surprise themselves. And even if they don't, they're sure to have some great experiences and meet some great people along the way.

---
Chantal post run photo


Chantal: Pre and Post Story (edited)

Sunday April 15: Tomorrow will be my 3rd time running the Boston Marathon. I trained over the past 4 months with at least 1200 km in -40 weather, windy condition, and some light rain with cold weather! Tomorrow I will line up in Hopkinton at 10:50 to run this historic marathon in weather that will test my physical , my physiological and my determination to try and finish under 3:52!
When people ask me why I train in miserable weather it is to train my body to accept any condition that race day will throw at you. We all dream of warmer temperature and dry but it is not a guarantee!
I am proud to be surrounded by my amazing husband who is always there for me , my sister " Gregoire Nadia" who I will run part of the race with and all of you at home following me and hoping I get an amazing result.
Inspiring others through my actions is something I believe in. I am so proud of all of you who are going out for your daily runs and pursuing goals no matter what.

Monday April 16 post race recap!
I am very happy with my pb of 3:46:38! Boston 2019 hope for a faster finish.
I spent most of my day Saturday trying to get down to the right gear according the weather I never raced in before! I ran with my winter legging with my short on top of it for easy access to my gels. Used my Brooks compression socks for extra coverage on my calf with my Saucony freedom ( super light shoes and kick dry). then on top I wore my t-shirt, with long sleeve merino wool and my winter jacket on top of that!
I managed to stay mostly dry until getting into my coral with 3 min before the race started. I used the stryd power race and was very focused on keeping everything slow at the beginning and picking up the pace after 5-6 klm into the race!
At times it was mentally tough because of the rain and windy conditions. This time around I kept pushing and not once did I stop for a break. I was determined to finish this one - a personal best of 3:46:38!

I am very impressed with what the stryd power racing did to almost give me a qualifying time. I think if weather conditions would of been on my side it would of allowed me to push at the end.
At the end of the race I told myself even if I like summer weather at this point I do better in rain! All runners want the perfect race but if you chase a perfect race you will end up disappointed because you can train as much as you want but weather always has the last word of the day!
Now I will take a week off with lots of biking in my garage and get ready for another marathon to requalify for Boston 2019!
---
Canada's Krista Duchene takes 3rd in the 2018 Boston Marathon


Krista DuChene on her historic Boston Marathon finish
By Krista DuChene - April 17, 2018

You know when you create this crazy story in your mind that race conditions will be so bad that it will work to your favour and you will get a podium finish at the Boston Marathon?
Terry Fox Marathon of Hope 2018
---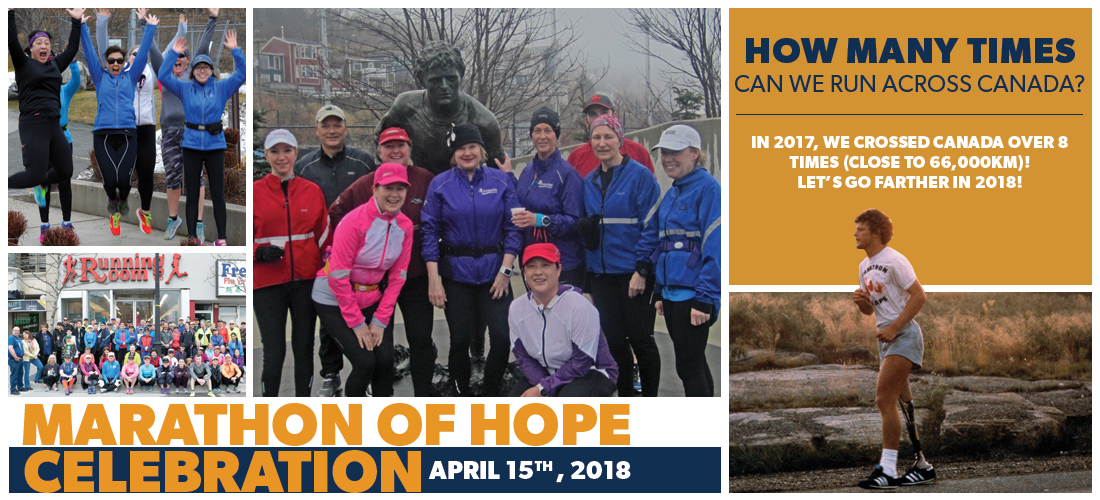 ---


April 1980, Terry Fox started his iconic cross-Country run.

Terry's wish was that we all come together as a nation to help keep his dream alive. Your participation in this very special event will help us do just that.
.

---
Sudbury Running Room`s Celebration of Hope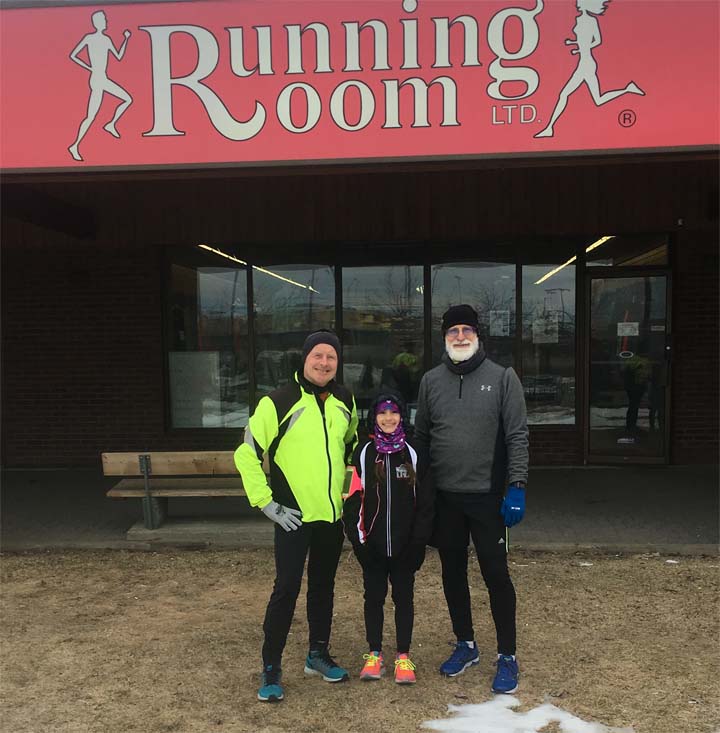 Terry Fox Running Group Vince, Lucia and Steve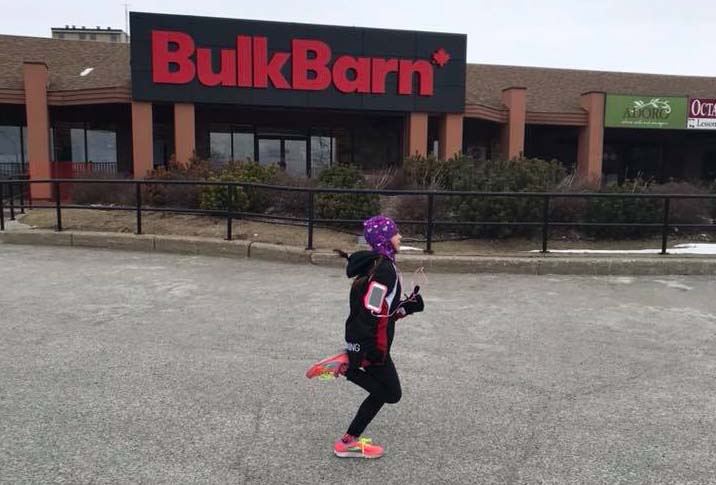 Lucia Salmaso finishing 10+k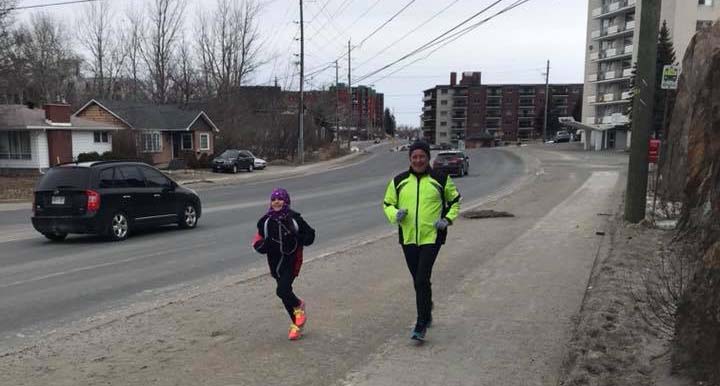 Lucia and Vince Perdue
---
Marathon of Hope in Moncton with Mary Lou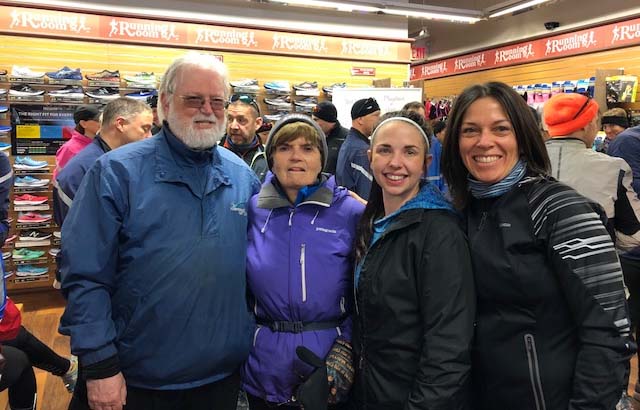 I was in Moncton, New Brunswick this past weekend and participated in the Terry Fox Marathon of
Hope event at the Running Room there with my daughter, brother-in-law and niece in-law and about
40 runners. We were greeted with warmth as is typical of hospitality at different Running Rooms. The
event there was run along the River Trail – the Petitcodiac River – an amazing trail of more than 20 km
of relatively flat sand and gravel trail. It is a runner's and walker's delight. The trail is marked out
every kilometer and the scenery is lovely – saw ducks, geese, pheasants etc along with beautiful trees,
bushes etc and, of course, the river as the tide comes in and out. There was also a lovely tribute in the
form of bronze statutes to the three mounties who were killed several years ago by a gunman. There
was also a tribute to Irish families who settled in the region – many familiar surnames could be found.
If you are ever in the city of Moncton, be sure to schedule a run or walk along the River Trail. Like
Sudbury, people greet you as you pass them on the trail with a smile and a hello.
Mary Lou Trowell
---
John Stanton interviews Fred Fox before the Terry Fox Marathon of Hope Celebration


By John Stanton - March 14, 2018
It was 1982, the whole country was mesmerized and inspired by a young Canadian, named Terry Fox. My two sons and I laced up to run the Terry Fox 10K in Edmonton to show our support for Terry's vision to find a cure and provide care for cancer victims. The fact that Terry was an amazing visionary, tenacious fundraiser, brilliant speaker and motivator was only eclipsed by the amazing athletic accomplishment of running a marathon each and every day, day after day. He did so on an archaic prosthetic, by today's standards. This feat so inspired and motivated us all to help continue his dream. Running a 10K was frail and pale compared to Terry's athleticism!
One of the foundations of the Running Room—and of races across Canada—is they all create a win for some charitable cause in the community. This too was started by Terry Fox. Terry was first an athlete and an amazing Canadian who would be proud of how Canada and the world have mobilized his dream. Canada as a country will be forever indebted to Terry Fox and the Fox family.
John caught up with Fred Fox, Terry's brother, ahead of the Marathon of Hope celebration on April 15, 2018. Read the full interview at the link below.
http://irun.ca/index.php/john-stanton-interviews-fred-fox-before-the-terry-fox-marathon-of-hope-celebration/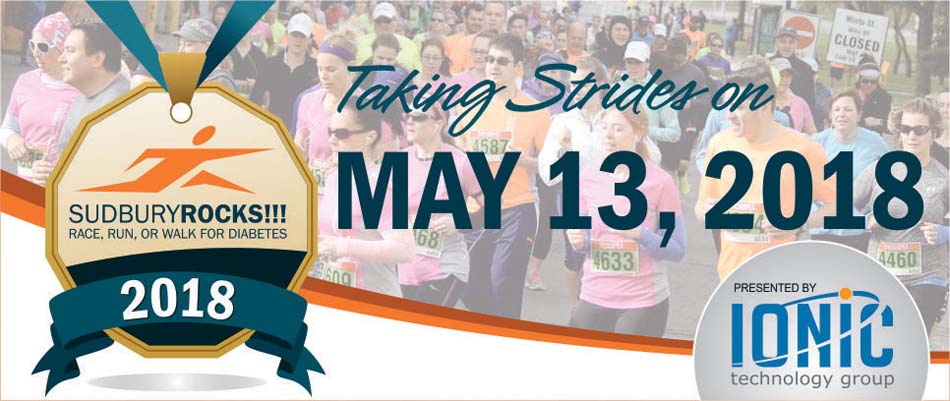 These kids are ready to rock at Sudbury Rocks, are you?
Sudbury Rocks!!! Marathon now open for registration, grade 1 Churchill class signs up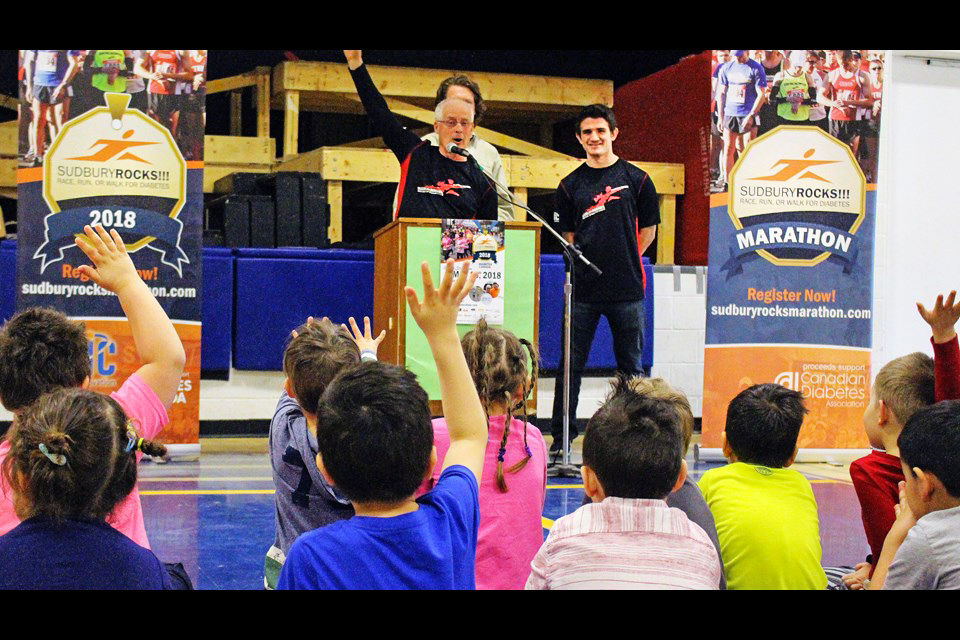 Sudbury Rocks committee member Vince Perdue rouses excitement amongst the students at Churchill Public School, who will be participating in the 1 k.m. run set to take place on May 13, 2018. (Allana McDougall/Sudbury.com)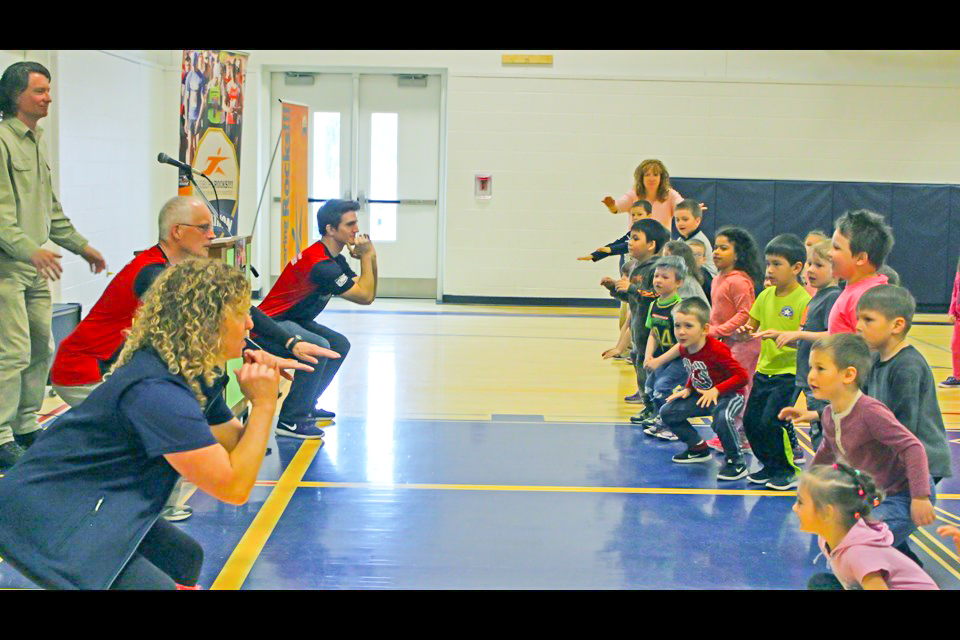 Churchill Public School students are training in their school gym for the 1km event that is part of the Sudbury Rocks Marathon. (Allana McDougall/Sudbury.com)
---
It's time to bust out of this long winter, Greater Sudbury. The kids at Churchill Public School are ready to rock -- and it's time for you to get ready, too.

Gathering in the school's gym to hear a presentation from Diabetes Canada and Sudbury Rocks!!! Race, Run, Walk for Diabetes, Churchill Public School is one of the first to sign up for Sudbury's largest running event. Registration officially opened and fundraising has begun.
As always, there are many ways to participate; the plethora of races and walks offered by Sudbury Rocks makes the event unique within the province. Whether you'd rather run as a team, or hit the pavement solo for the full Boston qualifier race, here are the eight events you could take part in this Mother's Day which falls on Sunday, May 13 this year:

-CIS SudburyROCKS!!! Marathon Walk - 6 a.m.
-CIS SudburyROCKS!!! Marathon Run – 7:55 a.m.
-SudburyRocks!!! 8 Person Marathon Relay Run -7:55 a.m.
-The PERDUE Family Half Marathon Run/Walk - 7:55 a.m.
-SudburyROCKS!!! 1K Kids Run - 8:05 a.m.
-Continental Insulation 10K Run/Walk - 8:35 a.m.
-SudburyROCKS!!! 5k Run/Walk - 9 a.m.
-Vale Celebrity Challenge Run - 9 a.m.

Proceeds from the Sudbury Rocks!!! Race, Run, Walk for Diabetes will go to Diabetes Canada. "It's important to support an event such because it helps to raise awareness and gain awareness of the effort to find a cure for diabetes," said David McKillop, who works in community engagement with Diabetes Canada. "I believe that a strong community is what unites people. If we can get that healthy lifestyle message out there we will take a step toward ending the disease."

Sudbury Rocks 2018 will mark 13 years that the event has made its run through the streets of Nickel City. Having only 100 runners in 2004, to 500 in 2005, Sudbury Rocks!!! has now become Sudbury's largest annual running event, with approximately 2000 participants running and walking in the last few years. "Our goal was to provide an avenue for people to have an easy way to get fit. Running may not be an easy way to get fit, but we provide something for everybody," said Sudbury Rocks!!! committee member Vince Perdue. "You can walk every event, we have something for the kids, a 1km, 5km, 10km, half-marathon, full marathon and even a relay in the full marathon. If you want to be part of a full marathon but can't run it yourself, gather 7 of your friends and run it in a relay."
Are you ready to rock? Sign up online here.
Electronic Registration closes on May 9 at midnight. Sign up is still available at our Expo on May 12.
We look forward to seeing you on race day!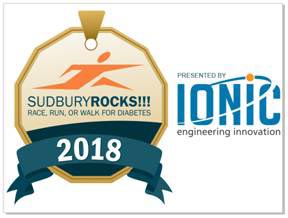 ---
WE NEED YOUR HELP!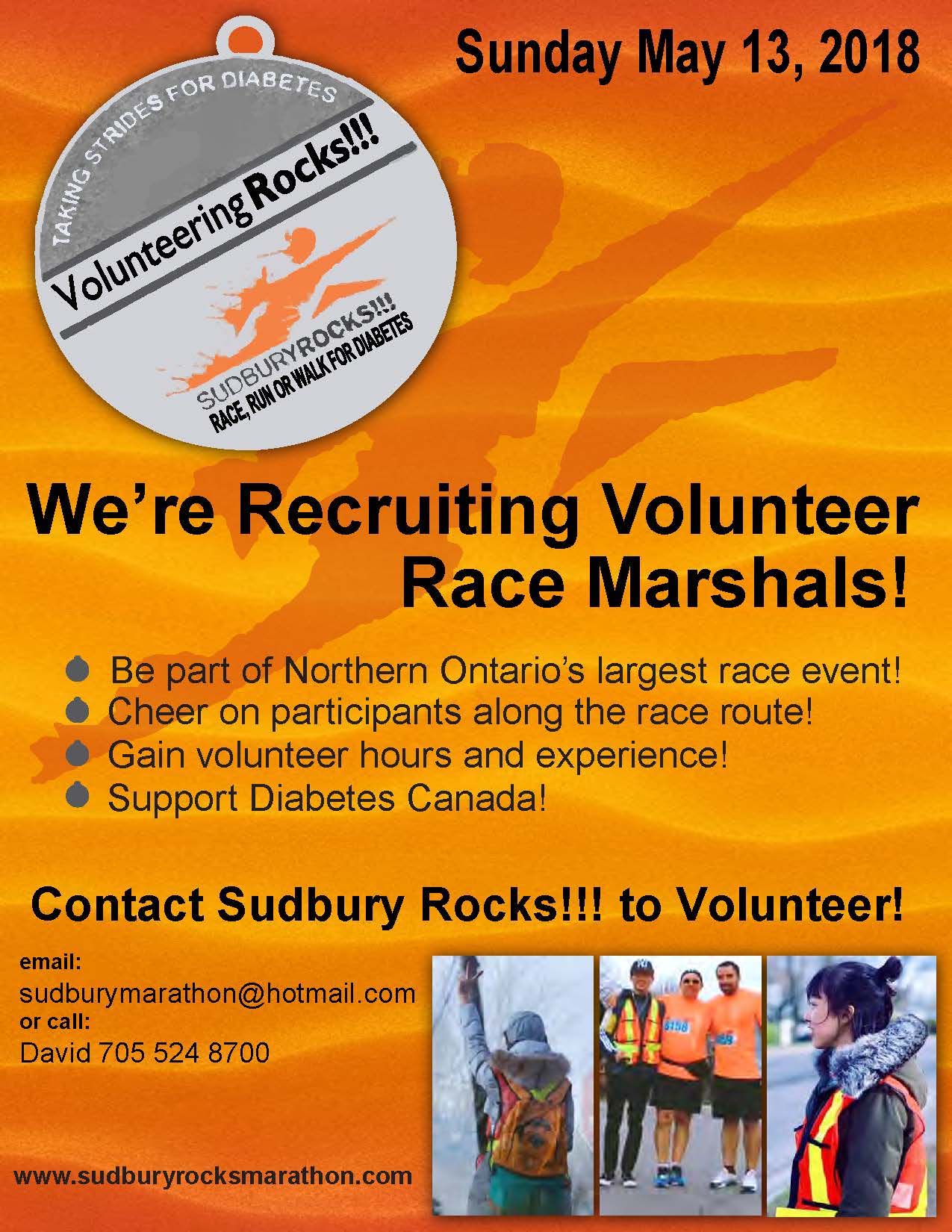 Rocks!! Winter Outdoor Action
April 18, 2018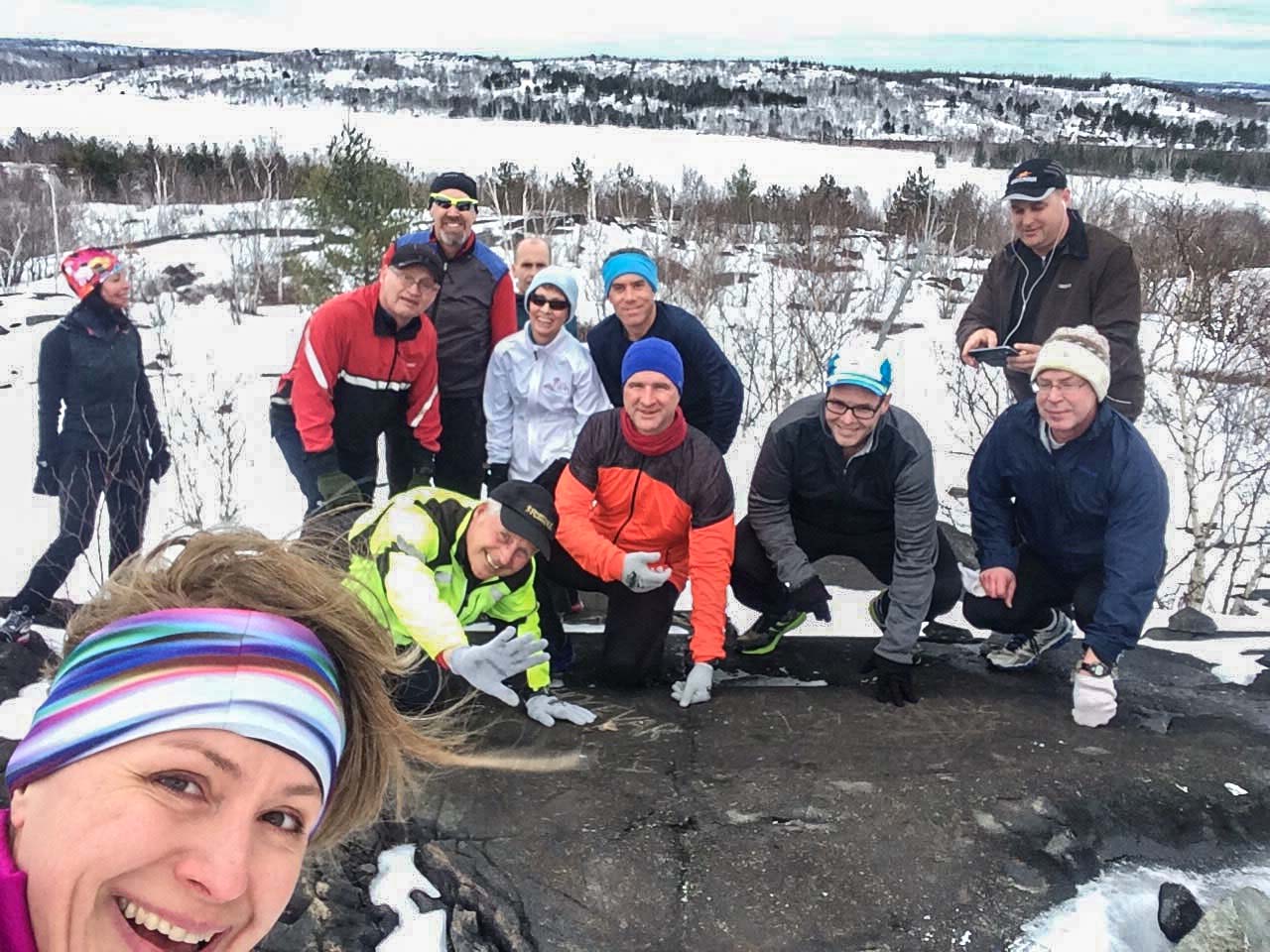 Upcoming Local Events
April 22, 2018
1km Kids Run and 5km Walk/Run
Rotary Park Trails
| | |
| --- | --- |
| | |
---
Store News

Congrats to all the runners that braved the Boston Marathon yesterday. Those were some of the toughest conditions I've ever seen. A special shoutout to one of our run clubbers that had a fantastic run. Kaylie Iserhoff running a time of 3:25:43 under the conditions was a wonderful great job.

See everyone Wednesday for Run Club 6pm

Happy Trails,

Eric, Erich, Cassandra, Ania, Caleb, Sam


Training Program News
The next round of clinics are coming up starting with the
10km clinic starting Tuesday April 24th at 6pm
Women's only clinic set to start Saturday April 28th 2018 at 10:30am
Followed by the Learn to Run and 5km on Monday April 30th at 6pm
The Half marathon clinic is starting its 18 week program Thursday April 26th Followed by the Marathon Clinic Friday April 27th for a fall Half and Marathon respectively.

We have FREE run club Wednesday nights at 6pm and Sunday mornings at 8:30am.
| | |
| --- | --- |
| | Track North News - by Dick Moss |
For information call me.
Vincent Perdue
341 Fourth Ave, Sudbury On. P3B-3R9
705-560-0424
vt perdue@cyberbeach.net
Proud sponsor of the Sudbury Rocks!!! Race, Run or Walk for Diabetes
HOME | ABOUT US | CONTACT | ARCHIVES | CLUBS | EVENTS | PHOTOS | RACE RESULTS | LINKS | DISCUSSION

All photos images and content copyright Sudbury Rocks!!