---
There's an arms race going on in the running world. In the past couple of years, nearly every major shoe brand has moved away from relying solely on EVA – ethylene-vinyl acetate – the shock-absorbing polymer that has been the go-to midsole material since the 1970s. EVA is still used in many models (and in a slew of other applications that must be soft yet springy, including pool noodles and flip flops). But its deficiencies have become well known: it loses its snap and bounce after a few hundred kilometres of pounding, leaving the runner feeling like their shoes are "dead."
Adidas has had massive success with their Boost midsole, made of little pellets of thermoplastic polyurethane (a.k.a. TPU), discovered by accident by the chemical company BASF and offered up to their German counterparts after they realized that a melted version made for one resilient chunk of foam. Similarly, Adidas's sibling company Reebok has made a recent hard charge back into the running world with their Floatride foam. New Balance also scored a huge hit with Fresh Foam, which allows them to "tune" the chunk of the midsole material at different densities in order for it to perform in specific ways for a variety of athletic applications. Saucony's Everun is another softer, tougher innovation. Even Nike, who previously invented Lunarlon a decade ago from spinning rubber and EVA together, clearly felt the competition from these new foams. In 2017, they launched ZoomX (in their Breaking2 shoes) and this month they're rolling out React; you guessed it: it's softer, more reactive and lasts longer than EVA.
And now its Under Armour's turn to unveil their significant midsole innovation.
You're going to hear a lot about HOVR for the next few weeks and months. This new line of running shoes are also what Under Armour is calling their new midsole technology. The company have gone all in with running in the past couple of years, and HOVR is positioned to be UA's signature technology innovation, with a massive marketing push amplifying it. In fact, it's the single biggest marketing effort the company has ever launched. Sorry Tom Brady, your line of UA sleepwear is nice, but not that nice.
Dave Dombrow, UA's chief design officer, helmed HOVR, telling us that the idea began a few years ago with the search for a midsole material that would perform just as well on the 100th run as it did out of the box. The idea must have been compelling, as Dombrow had initially left UA in 2016 to move over to rival Nike, but reversed course and returned to become their frontman for all upcoming shoe designs, seeing HOVR to its fruition and beyond.
Dombrow and his design team worked with Dow, one of the biggest chemical companies in the world (now, to concoct an entirely new formula for running shoes. "We were looking for something that didn't break down and didn't have that compression-set problem," Dombrow said during an in-depth conversation in December at the Running Event in Austin, Texas.
HOVR is inflused with Olefin, wax-like synthetic material, which is incredible strong and resilient. The first two shoes to get the HOVR midsole technology are also fittingly new to the UA running lineup: the Phantom and the Sonic.
The Phantom is all about comfort. It has a knit bootie construction and stylish ankle cuff. It's delivers a soft, plush ride, probably due to the HOVR midsole, which is used throughout this model. The Phantom is geared towards easy runs, and it looks beautiful, so it will no doubt become a hit as an athleisure piece as well.
The Sonic is that snappier, slightly firmer everyday trainer and longer distance racer that hardcore runners will enjoy. It employs a three-quarter coverage of HOVR midsole material, and also has a ridiculously breathable knit upper.
Under Armour's running shoes are a little different for a few reasons. The first being that they have "Connected" versions of their shoes, meaning that there's a chip in the midsole which can communicate with MapMyRun to indicate running data that you'd otherwise get from a GPS watch. Dombrow's design team have also approached some of the details of these shoes differently. One nice touch is in the insole, or, rather, that there isn't one. Instead, the soft, smooth bed of the shoe, where your foot sits, is made from cycling chamois material. "It's actually built in an apparel factory," Bombrow points out.
Expect to see HOVR in more Under Armour running shoe models in the months (and years to come).
---
So, What about Nike
The new Nike running shoe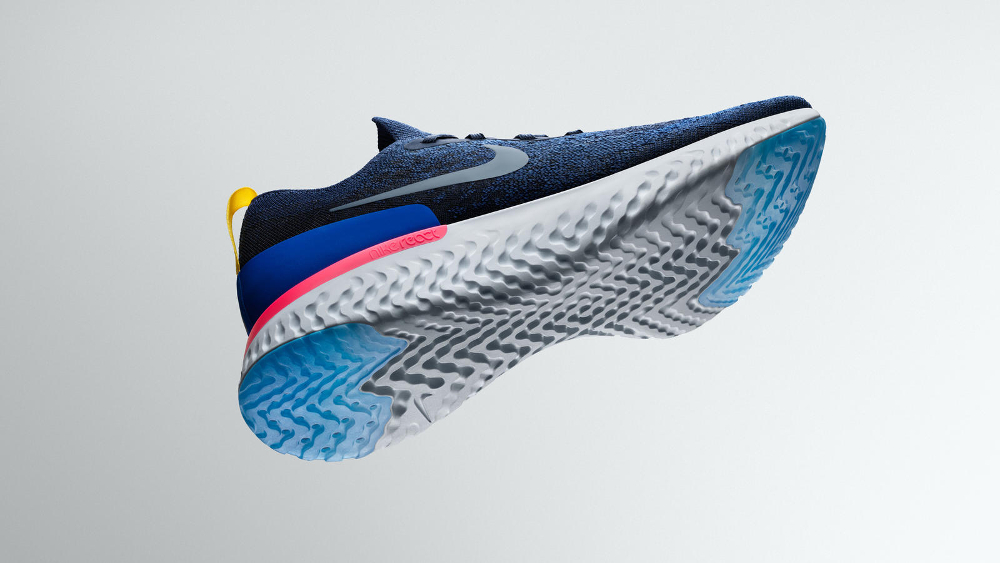 What the new Nike running shoe, the Epic React Flyknit, is all about
The Nike Epic React Flyknit is the brand's latest shoe for runners and the brand claims that it's light, durable, well-cushioned and offers high energy return on each step. The announcement comes after a year in which Nike released the Vaporfly 4%, an unusual-looking, max-cushioned racing flat. The difference with the Epic React Flyknit – React is the name of the midsole technology – is that it's targeted for runners of all levels rather than just those looking to run fast.

Below are takeaways of the new shoe.
Tested through and through
Testers, from elite athletes to recreational runners, put in a combined 27,000 kilometres in the Epic React Flyknit, which has been in the works for three years. The React foam went through 400 rounds of various chemistry testing stages in the lab, too.

Nike fooled Galen Rupp
The 2016 Olympic bronze medallist and 2017 Chicago Marathon champion was given a new pair of Epic React Flyknit and a pair with 500K already run in them. After going for a run with both of the shoes in the opposite stages of their life expectancy, Rupp, who regularly trains at the Nike headquarters with the Oregon Project, couldn't tell the difference in the blind test.

RIP Lunarlon
Lunarlon has long been the cushioning technology used in Nike running shoes. "It [Lunarlon] will eventually be phased out," Holts says. React foam is far more resilient than Lunarlon, Holts says. Runners may know the Lunarlon technology from a number of the brand's trainers and racing flats including the LunarEpic, LunarGlide and LunarRacer, among other lines.

Heel lip
One of the more defining visual features of the Epic React Flyknit is that the cushioning extends past the perimeter of the heel. Holts says it's because Nike tried to fit as much cushioning as possible in the shoe and that the Nike Internationalist served in part as inspiration for the look.
13 per cent
According to Nike, the Epic React Flyknit offers 13 per cent more energy return (less energy wasted at each foot strike) than Lunarlon, the foam technology used in many versions of the previous Nike running footwear.

You can run long in the Epic React Flyknit
Like the Pegasus, Nike's most famous and oldest running shoe, or other Nike trainers, the Epic React Flyknit is versatile enough to go long, or short, depending on your day's training. Nike says testers ran upwards of 24K in the new shoe.

Full customization
For the first time, Nike is using computational design in the creation of the Epic React Flyknit. Each shoe's React foam is specific to its size, down to half fits. "We can take thousands of data points from the lab and it spits out an algorithm of the geometry," Holts says. This means that the energy return will be the same across all sizes.
React is not actually new
React foam exists in Nike basketball footwear already including in the React Hyperdunk 2017 Flyknit and Jordan Super.Fly 2017. The Epic React Flyknit is the first running shoe to feature the technology, which comprises the entirety of the midsole.