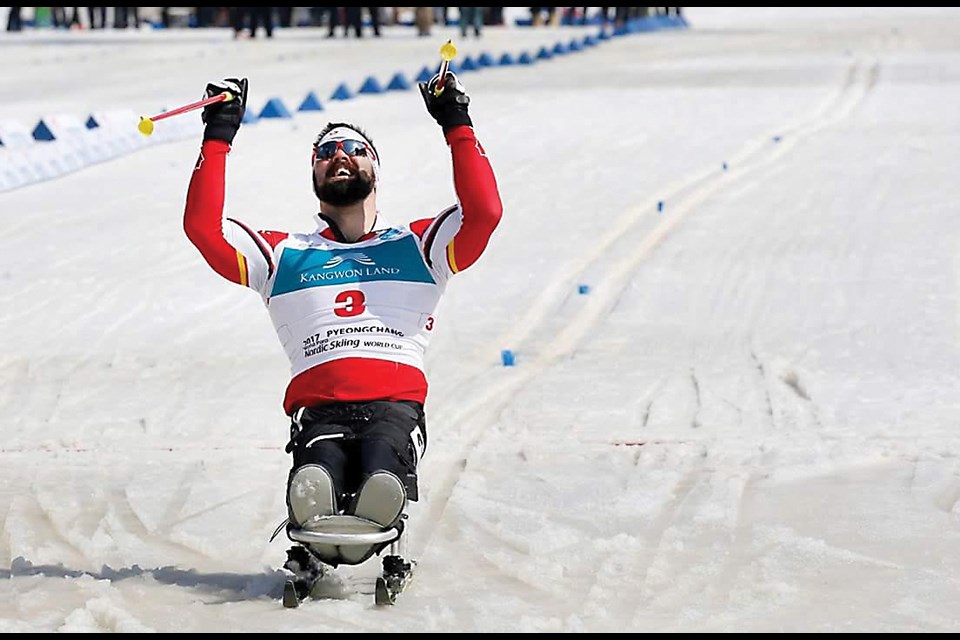 from Marley Cameron:
What a great ending to a whirlwind of a week! My incredible husband, Collin Cameron, took home Canada's first ever medal in mens sitting-biathlon and I couldn't be prouder!
It was such an amazing race to watch...my cheeks hurt from smiling and literally thought I as going to pass out! Can't wait to see what else he has up his sleeves for the 2018 Paralympic Games
---
Canada's Collin Cameron (Sudbury, Ont.) made Canadian history in his Paralympic Games debut. The 29-year-old is the first Canadian man to ever win a medal in Para nordic sit skiing taking bronze in the 7.5-kilometre men's sitting biathlon on Saturday, March 10, 2018 in Pyeongchang, South Korea. Courtesy of Canadian Paralympic Commitee

The 29-year-old Cameron sent a shot of adrenalin through the entire Canadian Para-Nordic team ranks in the morning when he captured the first biathlon medal in his three-year career.

The former sledge hockey player from Sudbury etched his name into the history books as the first Canadian male ever to reach the Paralympic biathlon podium in the sit-ski classification with a thrilling bronze-medal finish in his 7.5-kilometre race, posting a time of 23:59.0.

"This is crazy. I didn't expect this today," laughed Cameron. "I felt really great getting down on the matt (shooting) and was in position every time. It got me on the podium today, and it is absolutely crazy."

Cameron was flirting with the leaders in a nail-biter of a race while heading into the range for the final time.
"When I was coming into the range for the second time, I heard on John's [Jaques, coach] radio when he bent down to give me my rifle that I was in third, and I missed that shot. I took a breadth and got the rest – then I just went for it. Coming up that final hill, the whole team was just screaming at me and I went as hard as I could."
Cameron finished just 9.3 seconds behind the golden pace set by American Daniel Cnossen who clocked-in at 23:49.7 (0+1). He was just 2.4 seconds behind the silver-medallist from Belarus – Dzmitry Loban who finished at 23:57.0 (1+0).
"Everything came together today, and I don't know why. I think just the build up through the season. I was progressively getting snappier and faster, and all the work John spent with me in Sudbury. We focused on race procedure and that paid dividends today. It is such a fun course here."
He certainly has had his share of fun in Korea.
The first of his two podium finishes on the IPC World Cup also came in PyeongChang one year ago when he won a cross-country skiing sprint race. His only other international podium came earlier this year – also in a cross-country skiing sprint race – when he claimed the bronze in Germany.
"I always considered cross country skiing my priority, but biathlon is a lot of fun too. I love the aspect of having two different races. It is a lot of fun and I like the challenge," added Cameron, who is one of the most respected athletes on the international race scene. "I just hope the entire team can take some of this awesome momentum we are building for the rest of the week."
The cross-country sit-skiing races are slated for Sunday.
Supplied by the Canadian Paralympic Committee