| | | |
| --- | --- | --- |
| | | |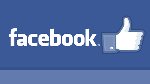 Hello Everyone, February 15, 2018
In this Issue:
Sudbury Fitness Challenge Sofie Manarin Ski Loppet
Randy Pascal at the Olympics
Nordic Knights share winning feeling
Sudbury's Collin Cameron Nominated to the Paralympic Team
Cambrian Athletics: Graduate shows you can return
Rocks Winter Outdoor Action
Upcoming Events: Hypo Half
Running Room Run Club Update:
Track North News

February 11, 2018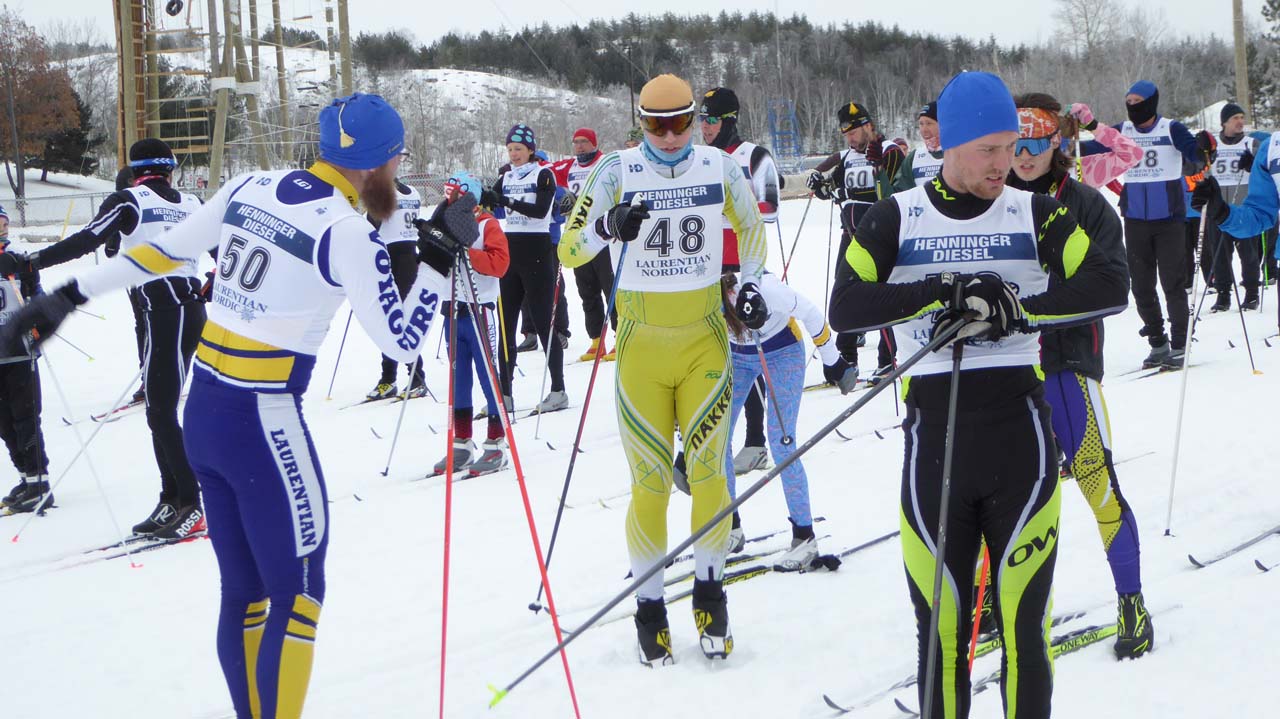 2018 Sofie's Loppet Start Corral
The events are on Sunday. Para nordic 1.5km - stadium and shed. 5km - gully, shed, wall, extension, 1 lap. 16km - gully, shed, wall, sophies, extension, two laps, 24km - 3laps. All races start on the field and all races conclude with one lap of the stadium.
Randy Pascal at the Olympics
February 13, 2018
(We missed his professional coverage at Sofie's Loppet. Our loss was PyeongChang's gain)
---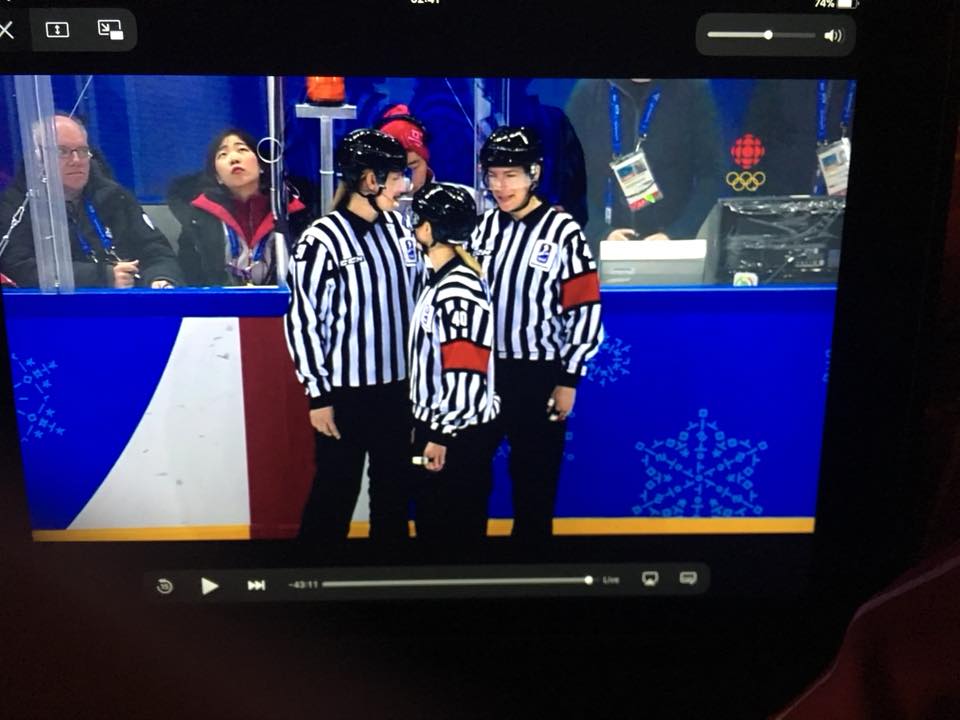 Randy writes on February 14

So we are now into tournament grind mode. For four of the next five days, I am scorekeeping three games a day at Kwandong (have already worked seven of the first eight). I have Canada vs USA (W), Canada vs Switzerland (M) - i am told there might be a nice little CBC surprise for the folks back home if u tune into that one., and Sweden vs Finland (M). So days right now involve leaving resort at 9:15 am, at rink for three games until 11:15 pm, and back to resort to get enough sleep to do it all over again the next day. Looking forward to off day on the 19th...only one game on 16th so heading out to take a few more lakeside pics...things are going very well....lots of great feedback
Nordic Knights share winning feeling
Thursday, February 8, 2018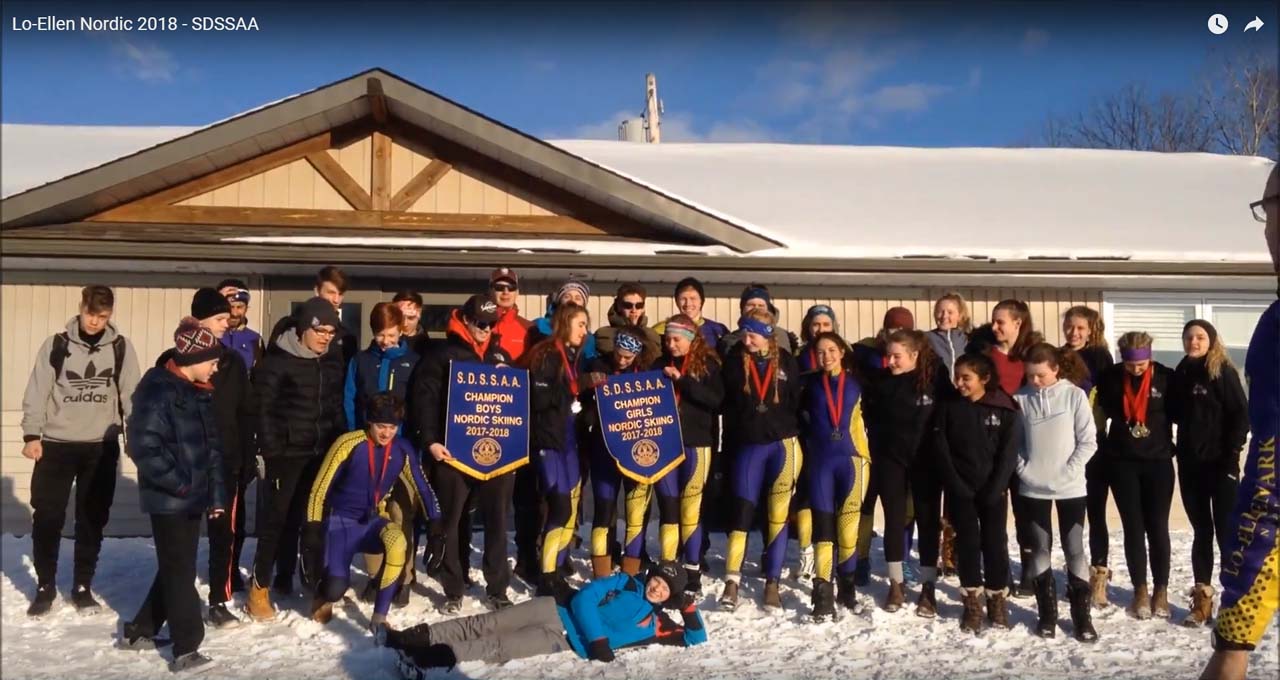 ---
Josh Tillson rarely feels as good as he does with a pair or poles in his hands and cross-country skis strapped to his feet. So even when the 17-year-old Lo-Ellen Park student woke with a sore throat Thursday morning, he wasn't about to skip the SDSSAA Nordic championships, held at the Naughton Trails. "Definitely not," Tillson said with a laugh. "It's too much fun."
The 12th-grader has suffered from depression, but finds that physical activity, and Nordic skiing in particular, did wonders for his mental wellness. "Getting out there and pushing myself to my limits, it really feels good. It makes me feel great, makes me want to talk, makes me want to share my story. When I go out there and I've got the endorphins pumping and I'm working my butt off and I'm training hard, it just feels great. "Right now, I'm on top of the world."
Not only did Tillson finish first in the senior boys race, but he got to share the winning feeling with his teammates. The Lo-Ellen boys swept the first seven spots in senior boys and dominated in senior girls, junior boys and junior girls, as well.
Shortly after finishing his run, Tillson embraced Kelly Thompson, his teammate, close friend and the third-place finisher in the senior boys division. Together, Tillson explained, they hope to lead Lo-Ellen to an even better finish than in 2017, when the Knights hauled in four medals at the OFSAA championships. "We have a really strong team," Tillson said. "Kelly and I are in Grade 12 this year, we're the two seniors on the team, and every year we grind it out and we usually get those high-up ribbons, so we're really excited this year, because we have two Grade 11s who are really fast." Those are Cameron Boland and Lucas Mrozewski, who rounded out the senior boys top four on Thursday. "To have them on the team and giving us a chance of being on the podium, that's really exciting," Tillson said.
Thompson recalled when he and Tillson started out at Lo-Ellen, two in a group of only eight skiers. On Thursday, more than 40 racers represented the south-end school. "A lot of the talent coming up, they used to ski when they were little, like Jackrabbits, but never got into the racing scene," Thompson said. "But now that we're all in high school, the team is looking really strong and I think it's going to be a good season."
Coached by Colin Ward, Sara McIlraith, Neil Phipps, Ryan Lafreniere, Vanessa Catto and Lance Patry, the squad has nearly doubled in size since 2016-17, but remains a close-knit group. "It's easy to go fast when all your friends are going fast, because you don't want to be the last one out there," Thompson said. "We're all just pushing each other to be the best that we can."
Several are still fairly new to the sport, but some, like senior girls champion Jayde Hurley, have proven to be quick studies. Though a longtime athlete, cross-country runner and hockey player, she only started skiing in December 2016. "At first, I was really bad," the 16-year-old laughed. "First practice, I just fell again and again and again. It was really fun with the team, though, so I just decided to keep trying and it got a lot easier, because the coaches are really great and they helped me work on one thing at a time. Last year, it was just about building that way and then this year, I knew I was going to do OK."
Thursday's event was an important step toward for the NOSSA Nordic championships, to be held at Laurentian University next Tuesday, then the OFSAA meet, also on the Laurentian trails Feb. 22-23. "I want to be ready for OFSAA," Hurley said. "Every race I do, I have to pretend it's OFSAA, so I can be ready when I get there and not freak out. For the team, it's really big, because we're strong and we're trying really hard to build for OFSAA. Our coaches are going for the overall banner and thinking if we can do well now, go out to NOSSA and do well there, we can be ready to compete at OFSAA."
Coach Ward stressed the importance of Lo-Ellen's coach-by-committee approach to any success on the provincial stage. "The best performances we can put together at OFSAA, that is the goal," Ward said. We'll see if we can do something comparable to, and in some places maybe exceed what we did last year. "We've got a great group of athletes who are obviously keen on this and we had a wonderful time last year, then we grew so much this year, because the word was out. And we've got a great team of coaches, filling the different roles and without those coaches, and without those coaches, it wouldn't be possible to have the team where they are right now."
For full results from Thursday's championships, visit sdssaa.rainbowschools.ca.
bleeson@postmedia.com
Twitter: @ben_leeson

Cross Country Canada Nominates Medal Winning Line-up of Athletes to PyeongChang 2018 Canadian Paralympic Team
(Sudbury's Collin Cameron Nominated to the Paralympic Team)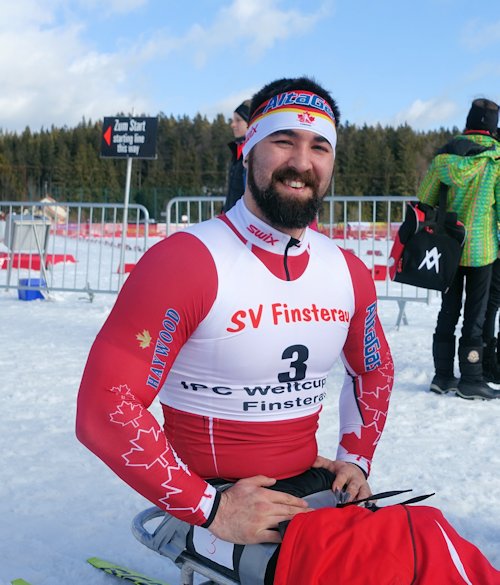 ---
Collin Writes:
Officially nominated to the Canadian Paralympic Team! So honoured to be representing Canada in South Korea next month at my first Paralympics. Thank you to everyone that has helped me reach this dream!
---
February 12, 2018 OFFICIAL PRESS RELEASE

CANMORE, Alta. (February 12, 2018) – Canada is planning to send a high-powered group of cross-country skiers and biathletes to the start line in PyeongChang with a focus on contributing to the nation's medal count at the 2018 Paralympic Winter Games, Cross Country Ski de Fond Canada announced on Monday.

A total of 14 of the nation's best Para-Nordic skiers and biathletes, 10 men and four women, have been nominated for selection to don the maple leaf race suit next month in PyeongChang. The 12 athletes and two guides will include a group of Paralympic, World Championship and World Cup medal winners led by 13-time Paralympic medallist Brian McKeever (Canmore, Alta.) along with his guides Graham Nishikawa (Whitehorse, YK), and Russell Kennedy (Canmore, Alta.). Kennedy is also representing Canada at the Olympics this week for the first time in his career.

Two other Paralympic medallists, Chris Klebl (Canmore, Alta.), and Mark Arendz (Hartsville, P.E.I.) are also returning to Canada's Paralympic Team with a focus on skiing back onto the podium. Klebl captured a gold medal in the men's 10-kilometre sit ski event in Sochi 2014, while Arendz celebrated two podium finishes in biathlon.

"This is a well-balanced team of veterans and rookies, and an exciting time within the team as we have never had this type of depth. I look forward to seeing everyone achieve their goals at the Games, whether it is celebrating personal bests or medals," said Arendz. "Personally, my focus is on the key factors I have control over that will drive performance. It is all about the preparation because the athlete who is best prepared is the one who achieves success. I get very excited to be a part of the Games and to see the power that sport can bring to the world."

They will be joined by a stellar group of international medallists including: second-time Paralympian Brittany Hudak (Prince Albert, Sask.); along with Collin Cameron (Sudbury, Ont.); and Emily Young (North Vancouver) who are making their first trip to the Paralympic Games.

"Being named to the Paralympic team is truly an honour," said Young, a former wrestler, who joined the team at the beginning of this quadrennial where she has developed into a medal contender. "I never expected myself to end up in a winter sport, and to have found myself amongst such an amazing team, I couldn't be prouder to be wearing the maple leaf with them on our suits. I've had a lot of catching up to do these last three years, but it has been worth every second."

Two rising stars in Canada's Para-Nordic circles, 16-year-old Natalie Wilkie (Salmon Arm, B.C.); and Derek Zaplotinsky (Smokey Lake, Alta.) will be keen to make their mark in PyeongChang. Rounding out the team will be Yves Bourque (Bécancour, Que.); Sébastien Fortier (Quebec City, Que.); Ethan Hess (Pemberton, B.C.); and Paralympic basketball star Cindy Ouellet (Quebec City) who will hit the start line for the first time at a Winter Games.

"This is an experienced group of athletes who have delivered under the most intense pressure at major international competitions, and are on a mission for medals in PyeongChang," said Mike Edwards, Para-Nordic high-performance director, Cross Country Ski de Fond Canada. "Depth is critical to mounting a podium attack, and we have a nice blend of veterans and NextGen athletes capable of putting the maple leaf on the Paralympic podium at the nordic venue."

"I would like to offer my heartfelt congratulations to the athletes who are now part of Team Canada for the 2018 PyeongChang Paralympic Winter Games," said the Honourable Kirsty Duncan, Minister of Science and Minister of Sport and Persons with Disabilities. "Canada has performed admirably in the past in the Para-Nordic event, and I think we can expect more great things from the athletes named to Team Canada today. I know for a fact that I, and all of Canada, will be rooting for them!"

NOMINATED PARA-NORDIC SKIERS AND BIATHLETES:

Mark Arendz Hartsville, PEI
Yves Bourque Becancour, QC
Collin Cameron Sudbury, ON
Sebastien Fortier Quebec City, QC
Ethan Hess Pemberton, BC
Brittany Hudak Prince Albert, SK
Russell Kennedy (GUIDE) Canmore, AB
Christopher Klebl Canmore, AB
Brian McKeever Canmore, AB
Graham Nishikawa (GUIDE) Whitehorse, YK
Cindy Ouellet Quebec City, QC
Natalie Wilkie Salmon Arm, BC
Emily Young North Vancouver, BC
Derek Zaplotinsky Smokey Lake, AB


The 14 athletes have been nominated for selection to the Canadian Paralympic Committee and will be subject to a final review. The Canadian Paralympic Committee will officially announce the Canadian Paralympic Team later this month.

CCC is the governing body of cross-country skiing in Canada, which is the nation's optimal winter sport and recreational activity with more than one million Canadians participating annually. Its 55,000 members include athletes, coaches, officials and skiers of all ages and abilities, including those on Canada's National Ski Teams and Para-Nordic Ski Teams. With the support of its valued corporate partners – Haywood Securities Inc., AltaGas, Mackenzie Investments, Swix and Lanctôt Sports– along with the Government of Canada, Canadian Olympic Committee, Canadian Paralympic Committee, Own the Podium and B2ten, CCC develops Olympic, Paralympic and world champions. For more information on CCC, please visit us at www.cccski.com.
Cambrian Athletics: Graduate shows you can return
By Randy Pascal, For The Sudbury Star
Tuesday, February 13, 2018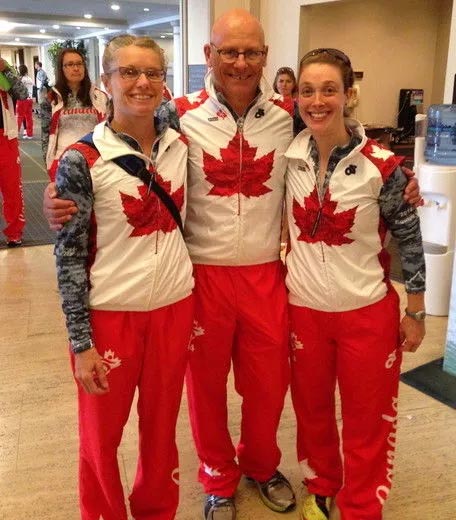 Amanda Kosmerly/For The Sudbury Star From left: Amanda Kosmerly, Lawrie Oliphant and Julie Rathwell all finished in the top 40 at the World Triathlon Championships in Edmonton.
---
Athletic participation has always remained the constant for Amanda Kosmerly.
As a youngster, it seemed only natural. Any opportunity to run, to swim, to play made for a good day. By the time she first attended Cambrian College in 1992, at the age of 21, Kosmerly had already been introduced to the triathlon scene, as well, courtesy of Ron Beaudette.
Kosmerly, however, was far more than simply a participant in sport. She excelled at it. Making her OCAA debut in 1992, she ran to a silver medal, upgrading to gold a year later, with the Cambrian Golden Shield women's crew capturing the aggregate team banner for both years as well.
"I loved this experience," Kosmerly reminisced during a recent return to Sudbury. "The tri-season would end and the college cross-country season started up. I think my best memories of running cross country for Cambrian was being part of a team. Up until then, most of my running had been individual based. But in college, every runner counted and we had just enough to make a team."
By the time that Kosmerly returned to Cambrian roughly a decade later, intent on pursuing a degree in nursing, the world around her had changed. She and husband Greg had expanded the family notably, with children Hayden, Tayte and Shaylin all in the mix. It's tough to maintain a rigid training regimen all while chasing three young toddlers around the house all day long.
"It was a lot tougher coming back once you have a family of your own, and I was pretty much out of shape when I started," noted Kosmerly at the 2006 Cambrian Varsity Athletic banquet, the season in which she was named Female Athlete of the Year at the college.
With more than 10 years of separation, Kosmerly reclaimed the gold medal that she had first earned before the new millennium, enjoying a much different perspective on a first place finish that came after her 30th birthday.
"Running for Cambrian was a test of time management skills when I returned for a second education," said Kosmerly. "Not only was it a challenging program, but I now had three young children. I was very motivated to do well in school. But I must have been crazy to add cross country to my already overflowing plate. I managed to train between classes, and then I would give my books to a friend so that I could run home after class."
Far more than any other particular accomplishment during the "Kosmerly - The Sequel" return to the OCAA cross-country ranks, the very driven athlete walked away with a whole new awareness of exactly what was possible, given one's beliefs. "Being in Cambrian really taught me that I could accomplish anything that I put my mind to," she said.
"Over the course of those years, I grew stronger, both academically and athletically. I am still competing in triathlons, cross-country skiing, open water swimming and bike races."
No great surprise there. In a very fortunate merging of lifestyles, the Kosmerly clan would enjoy the opportunity to move to British Columbia for work almost 10 years ago.
There may not be another area of the country that truly embraces general fitness in the manner that is seen in so many pockets of the west coast. It was the perfect setting for Kosmerly to remain committed to a lifestyle that is very much at the core of the person that she is. "Over the last decade, I got back into triathlon and have really enjoyed competed in the sprint distances," she noted.
Morphing slightly to take part in the World Aquathlon Championships in Penticton (1-km swim plus a 5-km run), Kosmerly finished second in her age group. "I felt so proud to stand up on the podium with the Canadian flag," she said. "I had worked very hard coming back from an injury (a fall during a ski loppet caused a second concussion that took some time to overcome). I was grateful for being able to compete."
Looking forward, Kosmerly maintains that she is less about setting one or two particularly large goals, but prefers the option of targeting several smaller ones along the way. "I'm competing at the Sovereign Lake Loppet in a few weeks, and managed to get a bucket list goal as well as I'm entered in the Alcatraz - Shark Fest open water swim (3 km) in San Francisco in June."
More than anything else, however, Kosmerly takes pride in trying to provide an entry level for others who might wish to pursue a similar path in athletics.
"My biggest accomplishment, I believe, has not been an award or placing, but has been to motivate and teach many people to try and challenge themselves to participate in one of my favourite sports, or even just try an event."
Cambrian Athletics run Tuesdays during the school season.
February 7, 2018
Rocks!! Winter Outdoor Action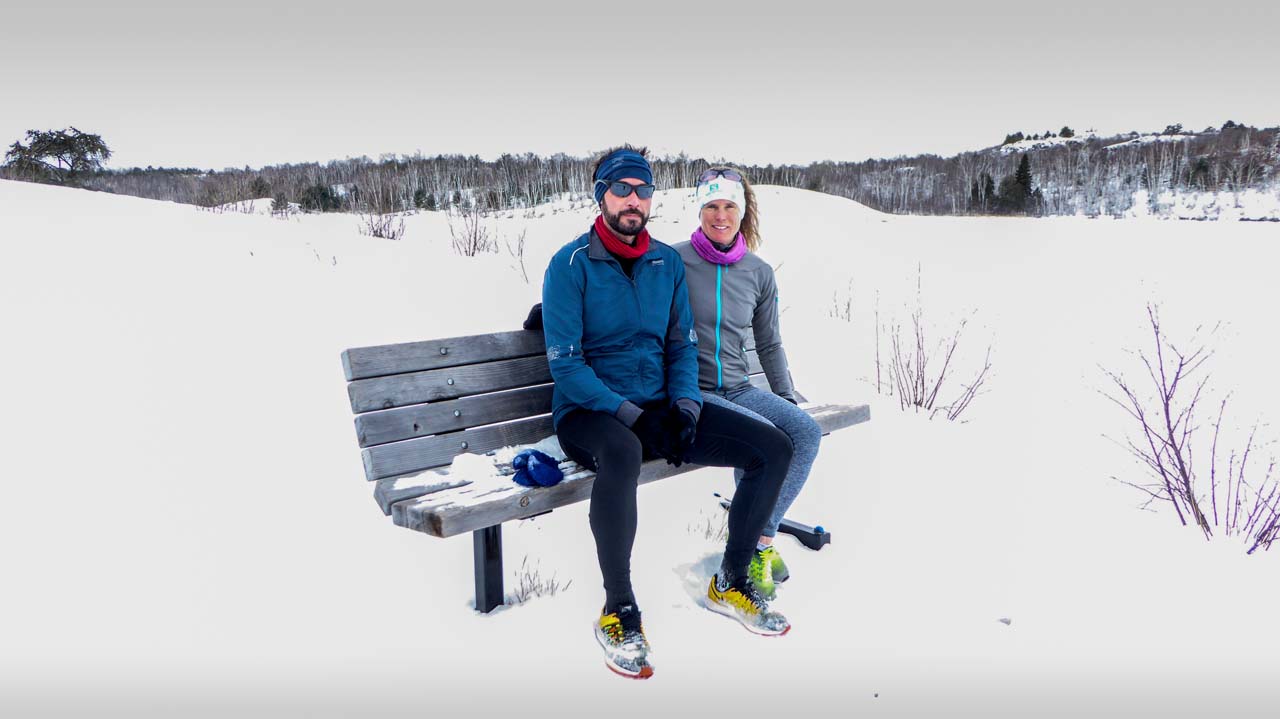 Steve and Sara on Laurentian Lake Trail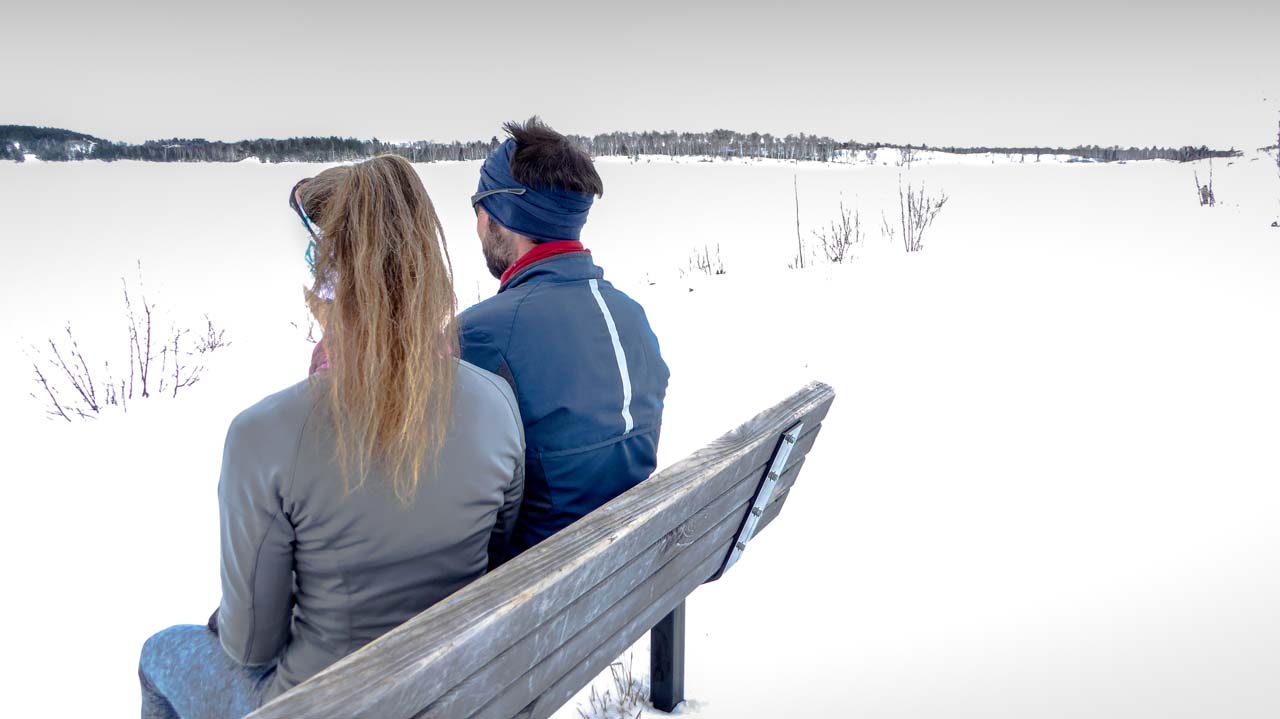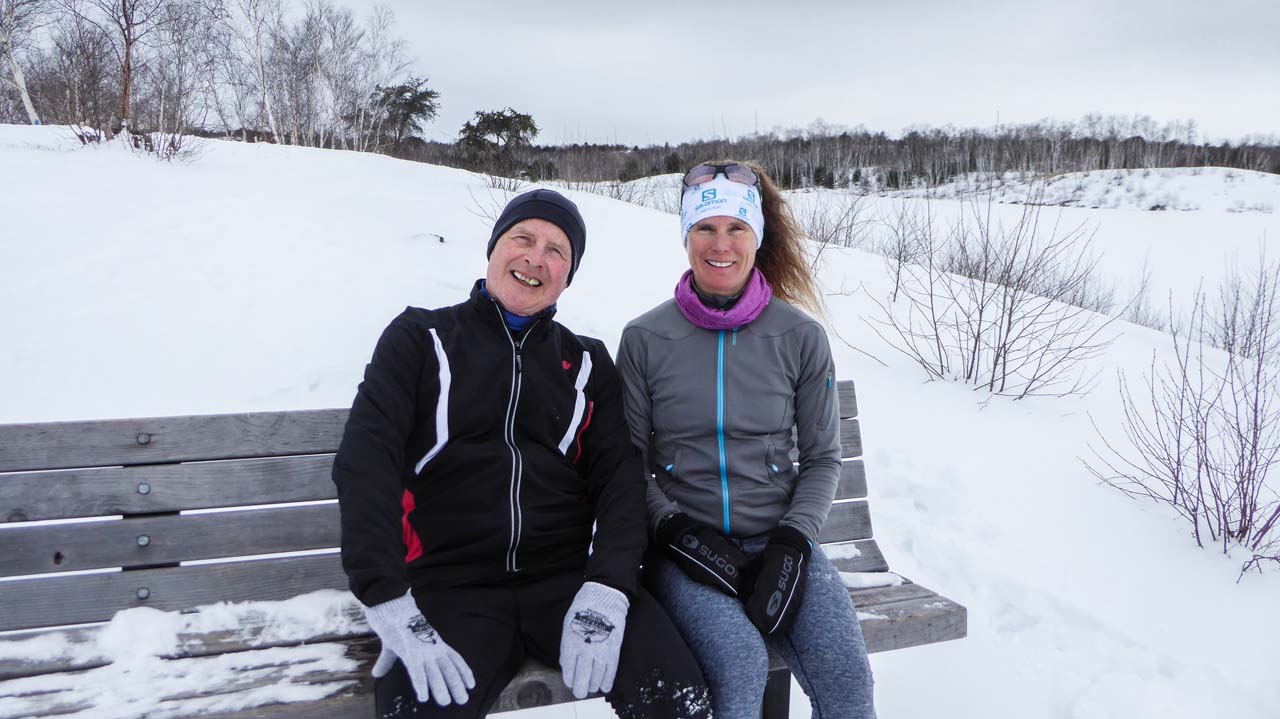 Vince and Sara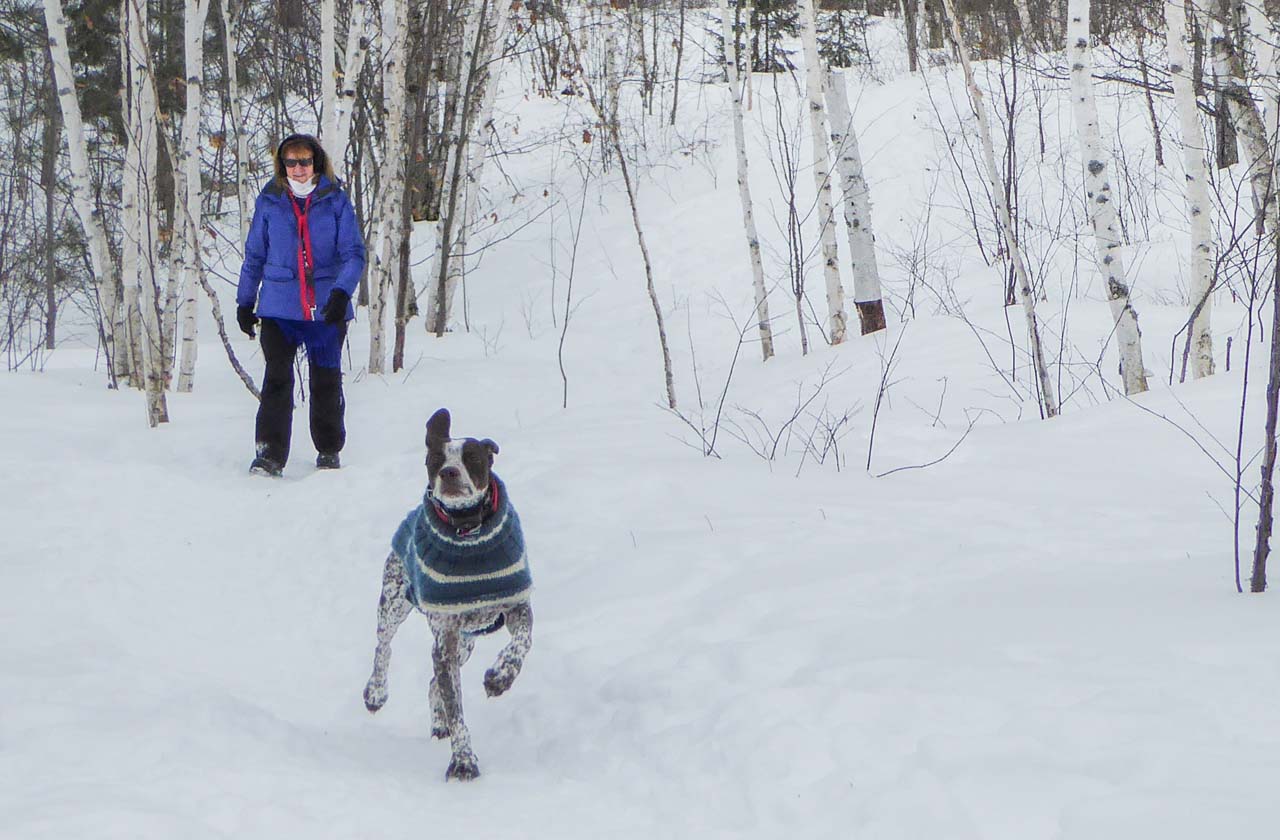 Friends on the Trail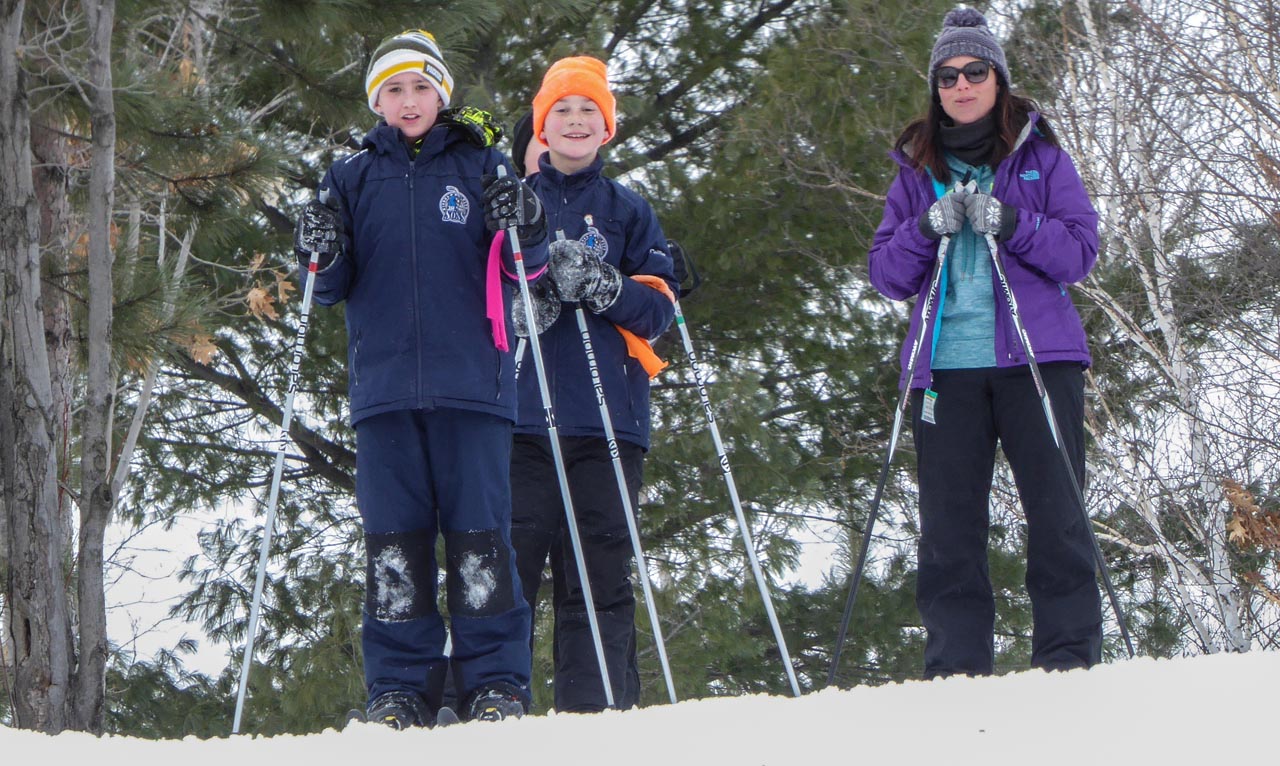 Crossing the Ski Trail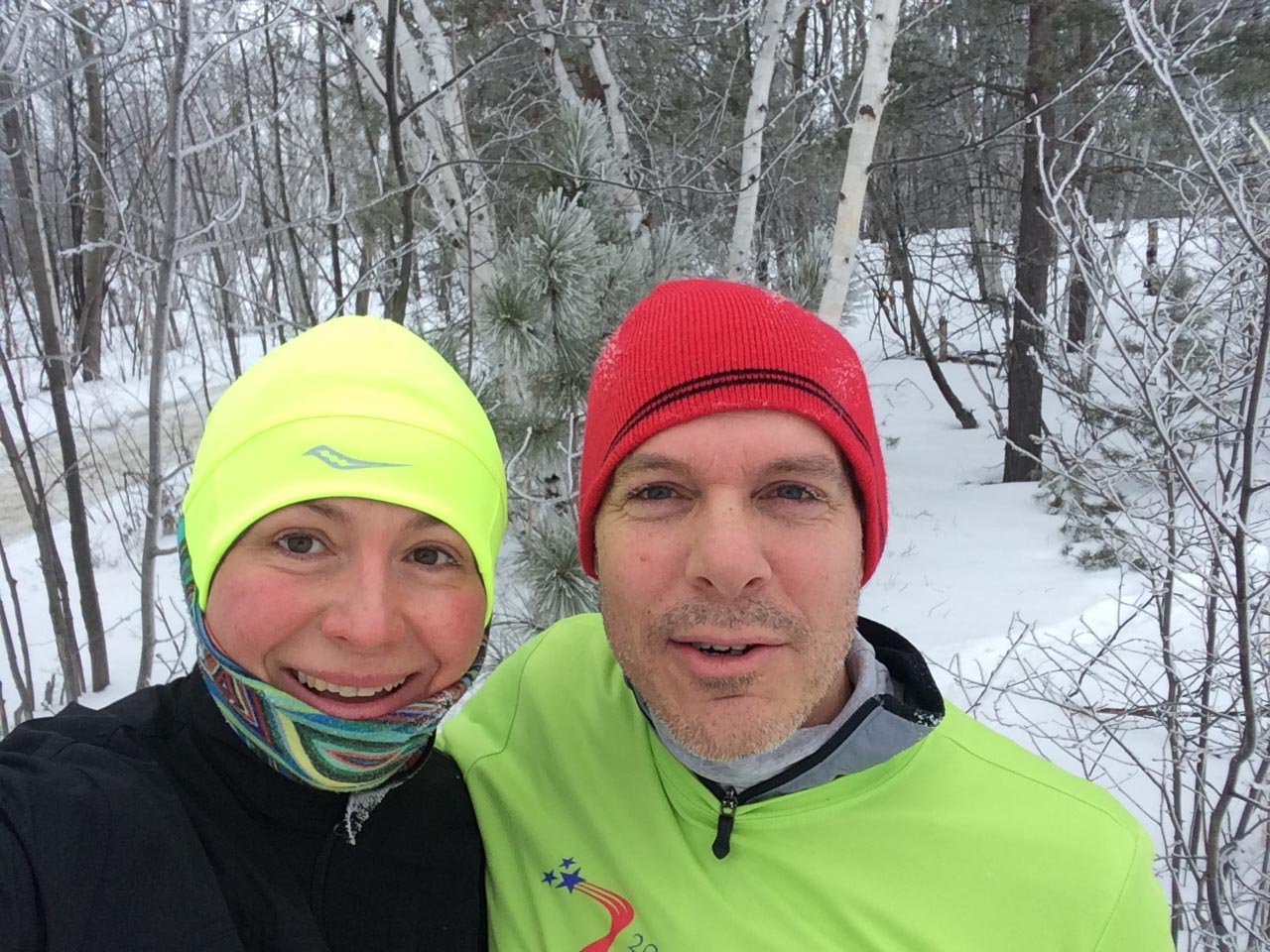 Ania and Tim at Bell Park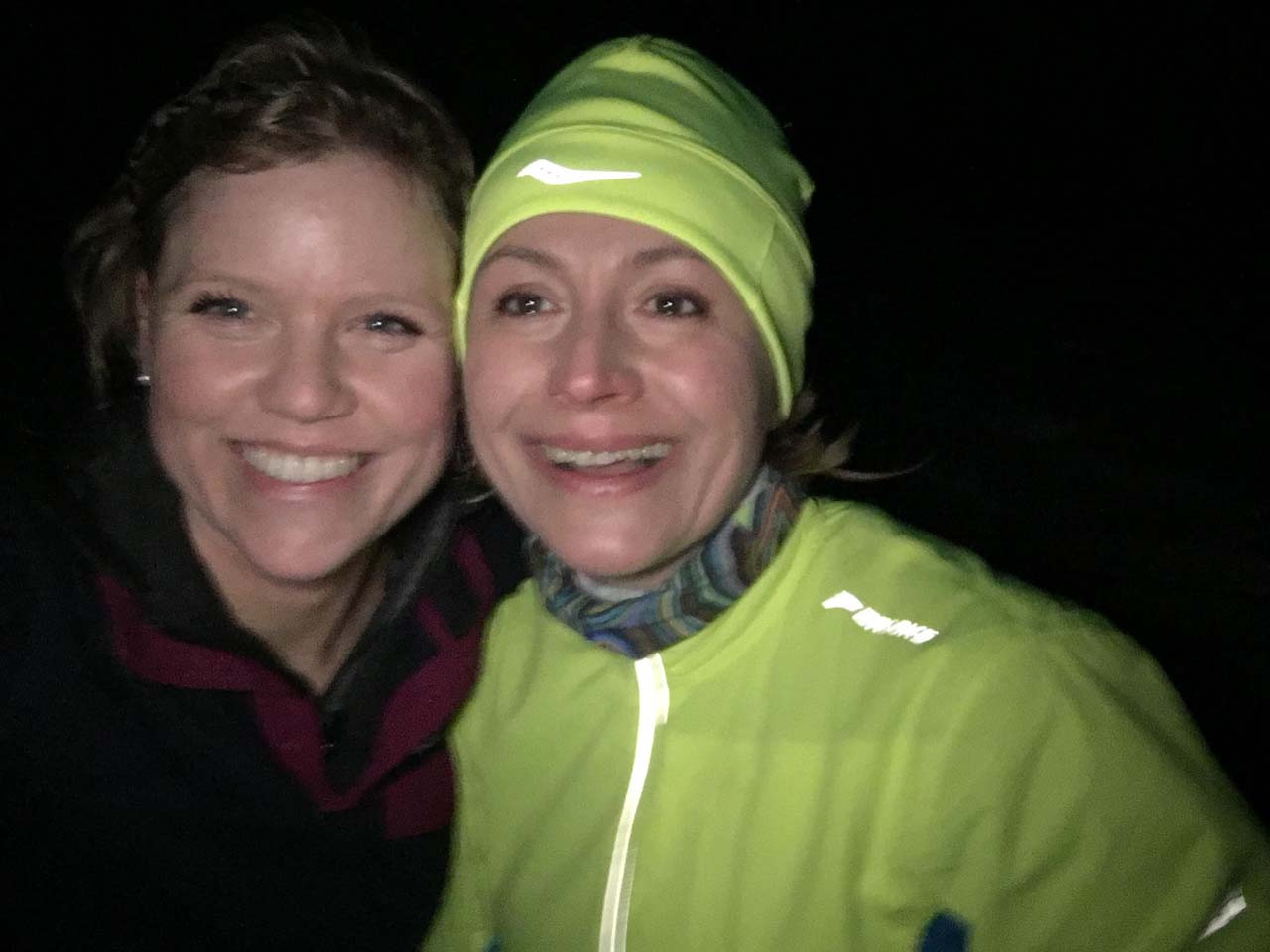 Friede and Ania on Laurentian Trails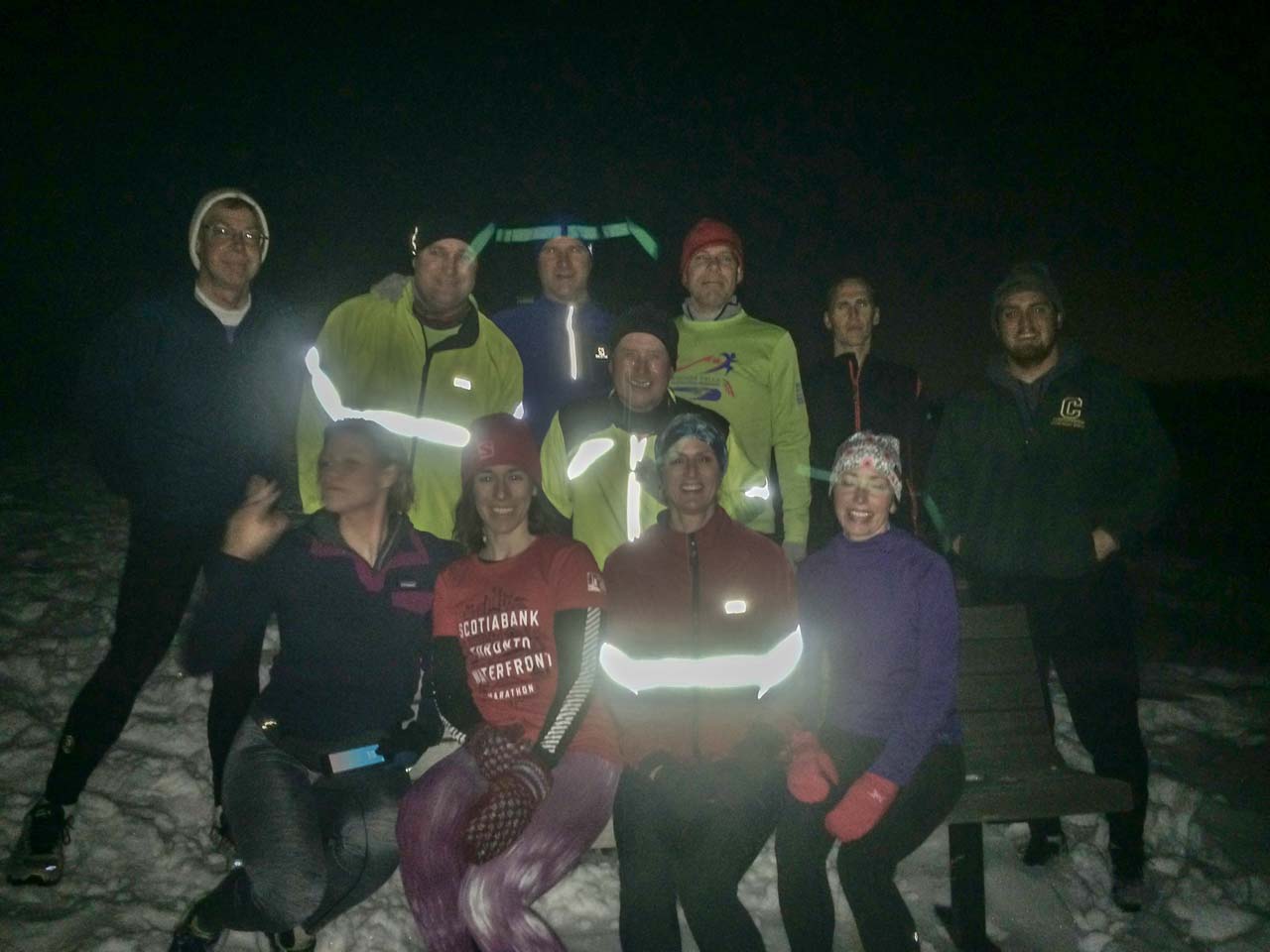 Simeks Trail at Laurentian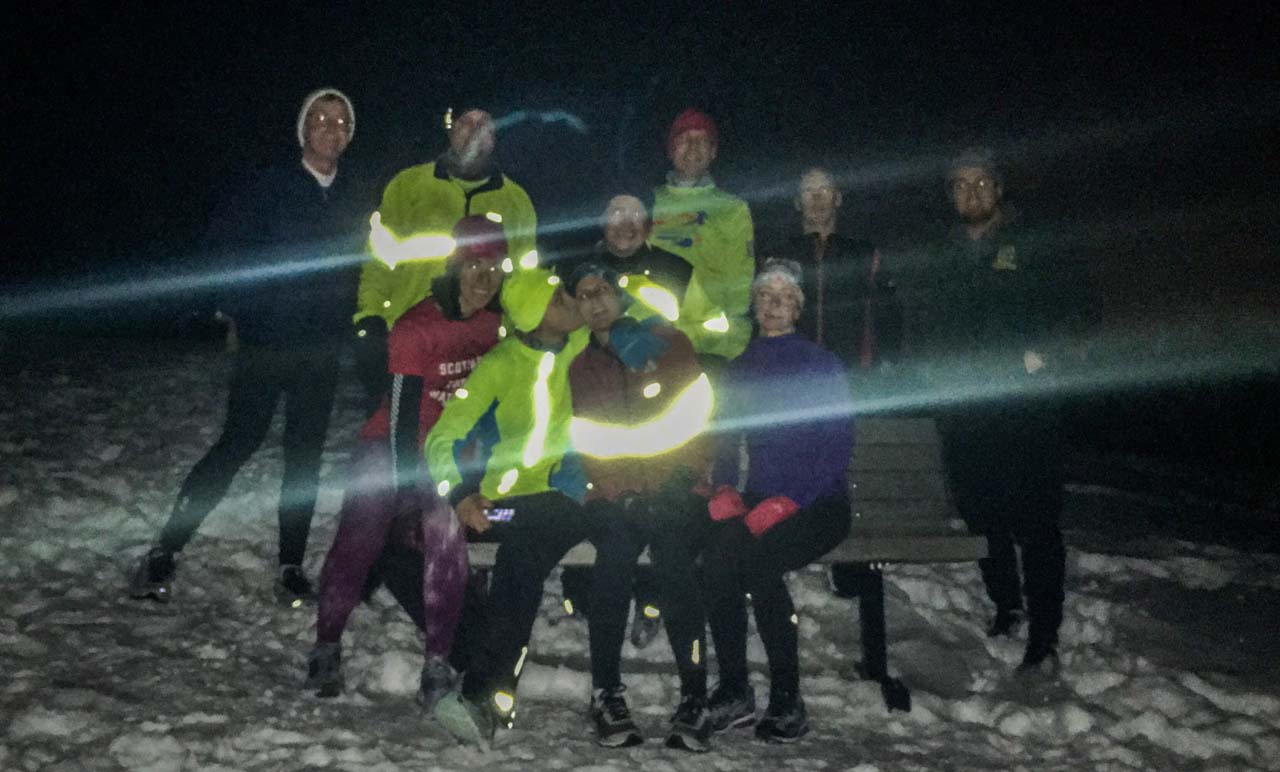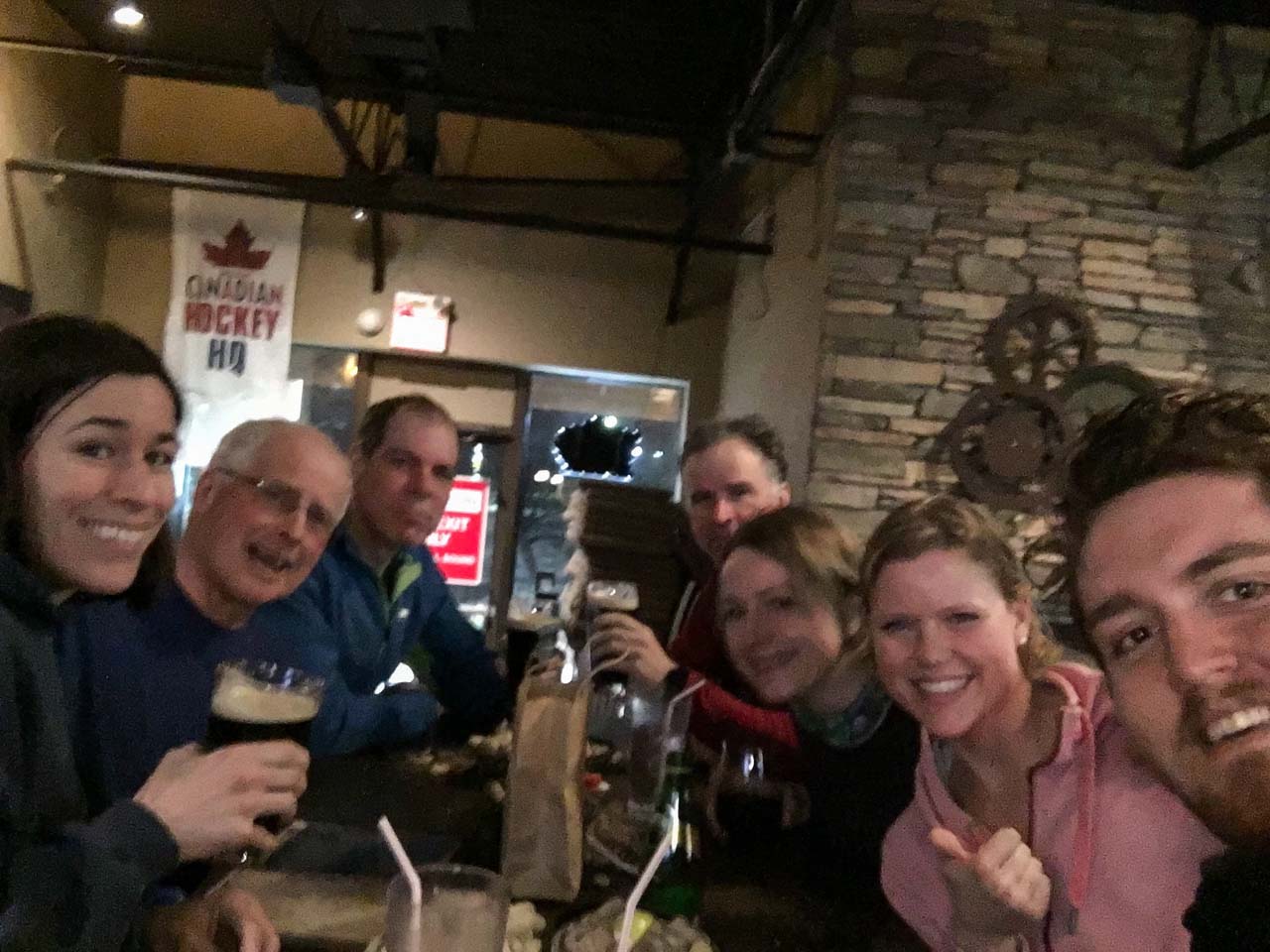 After Run
Upcoming Local Events
SUDBURY
February 18th, 2018
Half Marathon, 10km and 5km Races
RACE LOCATION
Sudbury Running Room - View Map
Cedar Pointe Plaza
117-1984 Regent St
Sudbury, ON P3E 5S1
RACE TIME
9:00 a.m.
Event Information and Registration
| | |
| --- | --- |
| | |
---
Store News


STORE NEWS


Good afternoon Sudbury Runners and Walkers,

Yes Hypo race weekend is finally here and looks to be shaping up well with everyone get there registration in order. Online Registration ends Friday at midnight there is in store registration Saturday as well as race kit pickup from 9:30am to 6pm and a VIP event where Runner's and Walkers recieve 25% off everything except electronics where you recieve 10%.

Race day Sunday February 18th all races start at 9am so be here a bit early and to follow the race runners and walkers are invited to Buzzy Browne's for a post run brunch. See everyone Saturday for racekit pickup and of course Sunday for the race.

Still time to sign-up online before Friday cutoff at www.hypothermichalf.com/register-s15001

See all Wednesday for Run Club at 6pm :)

Eric, Erich, Ania, Cassandra, Sam, Caleb

We have FREE run club Wednesday nights at 6pm and Sunday mornings at 8:30am.
| | |
| --- | --- |
| | Track North News - by Dick Moss |
For information call me.
Vincent Perdue
341 Fourth Ave, Sudbury On. P3B-3R9
705-560-0424
vt perdue@cyberbeach.net
Proud sponsor of the Sudbury Rocks!!! Race, Run or Walk for Diabetes
HOME | ABOUT US | CONTACT | ARCHIVES | CLUBS | EVENTS | PHOTOS | RACE RESULTS | LINKS | DISCUSSION

All photos images and content copyright Sudbury Rocks!!