---
The Laurentian indoor track team competed at the York University Indoor Track Meet this weekend, returning with two medals, one OUA qualifying standard, one school record and seven personal-best performances.
The women's 1500m was notable, with Heidi Tuszkiewicz placing 2nd with a 4-second personal best time of 4:38.51. Nicole Rich also set a 4-second personal best, 4:49.48, to qualify for the OUA Championships, and Megan Crocker set a 6-second season best time of 4:44.05 to place 6th.
The women's 4 x 800m relay team placed 1st with a school record time of 9:37.52, shattering the old record by over 23 seconds.
In all, personal best times were run by Danielle Roy, Esther Nabatanzi, Heidi Tuszkiewicz, Nicole Rich, Kelsey Lefebvre, Jarod Milford and the 4 x 800m relay.
Over 600 athletes from twelve universities competed, including Brock, Guelph, Laurier, McMaster, RMC, Ryerson, Toronto, Waterloo, Windsor, Laurentian, York and Alberta's MacEwan University. Open athletes from 43 track clubs were also involved.
"Many of our runners have already qualified for the OUA's," said head coach, Dick Moss. "So, their goal in this meet was to improve their times and set personal bests. We did a lot of good work today."
The Laurentian track team's next event is the Carleton Last Chance Meet in two weeks, followed by the OUA championships the week after.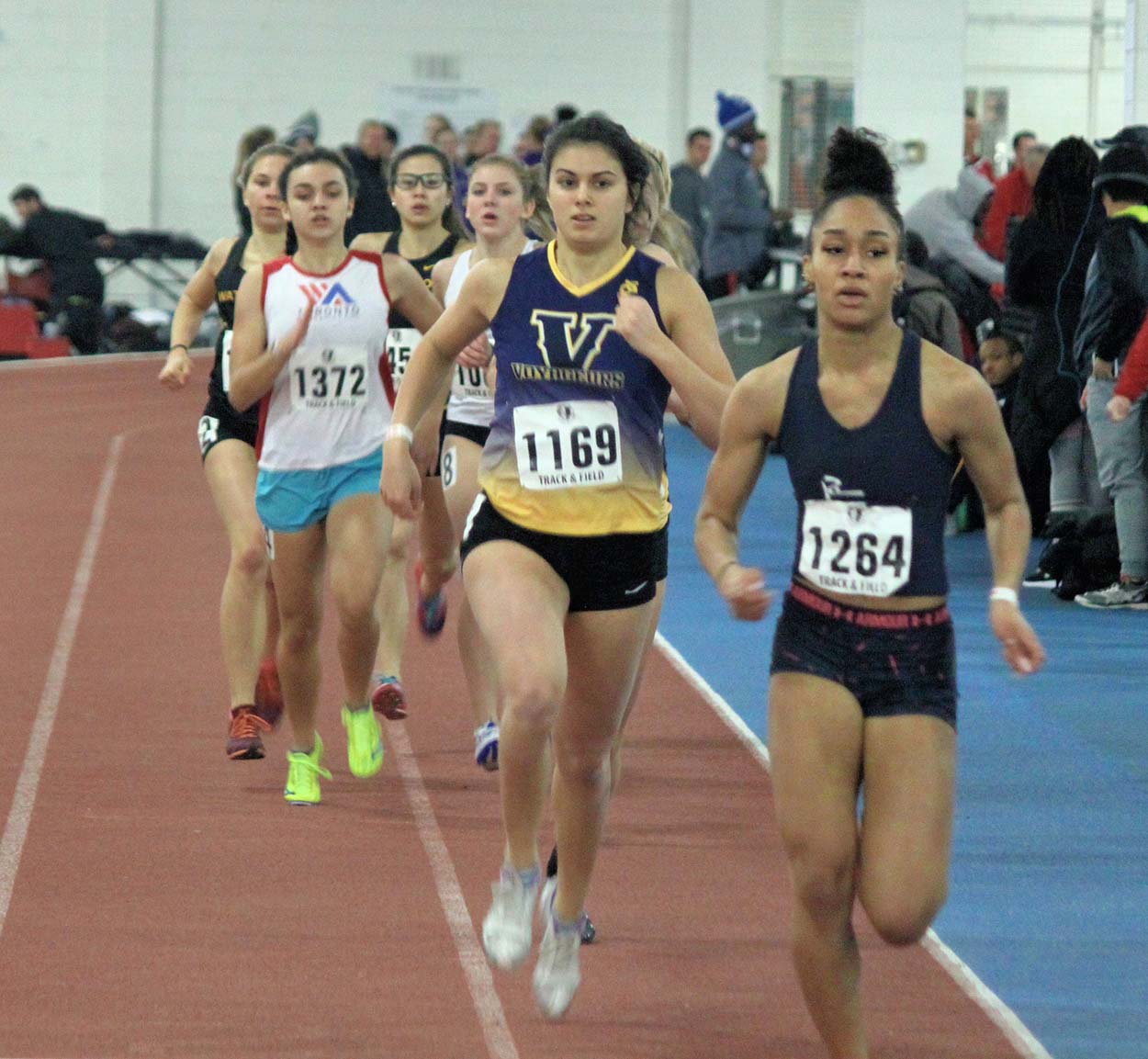 "Natasha Mayer1" (Natasha Mayer in the 600m - #1169)
Check out Heidi Tuszkiewicz' Vlog of the York Open trip! Tons of fun! Great job, Heidi!!
https://www.youtube.com/watch?v=bBxRCVTLfwI&t=8s
Results - Laurentian
WOMEN
Women's 60m
27. Hannah Merjavec, 8.12
31. Danielle Roy, 8.16 (Season PB)
42. Kirsten Crowe, 8.30 (OUA Standard)
74. Esther Nabatanzi, 9.28
Women's 300m
30. Kirsten Crowe, 42.89
31. Natasha Mayer, 42.91
66. Esther Nabatanzi, 50.79 (PB)
Women's 600m
13. Natasha Mayer, 1:41.48 (PB)
Women's 1500m
2. Heidi Tuszkiewicz, 4:38.51 (PB)
6. Megan Crocker, 4:44.05
9. Nicole Rich, 4:49.48 (PB - OUA Standard)
12. Jenny Bottomley, 4:54.63
13. Jessie Nusselder, 4:54.63
24. Lindsay Robinson, 5:11.58
32. Lyndsay Greasley, 5:29.67
33. Kelsey Lefebvre, 5:36.23
Women's 3000m
5. Lyndsay Greasley, 11:48
6. Kelsey Lefebvre, 11:58 (PB)
Women's 4 x 200m
6. Laurentian, 1:47.55 (Season PB)
(Hannah Merjavec, Kirsten Crowe, Danielle Roy, Natasha Mayer)
Women's 4 x 800m
1. Laurentian "A" Team, 9:35.72 (School Record - Previous Record was 9:59.64)
Heidi Tuszkiewicz, Nicole Rich, Jenny Bottomley, Megan Crocker
2. Laurentian "B" Team, 10:50.28
Breanne Steven, Lindsay Robinson, Lyndsay Greasley, Kelsey Lefebvre
MEN
Men's 60m
50. Skyler Savage-Perreault, 7.38
56. Eric Roque, 7.41 (Season PB)
Men's 300m
71. Ali El Sahli, 41.10
Men's 600m
21. Michael Petta, 1:29.30
Men's 1000m
14. Liam Pedersen, 2:40.71
21. Nick Orshinsky, 2:52.13
25. Walker Houghton, 2:56.73
Men's 1500m
16. Caleb Beland, 4:11.64 (Indoor PB)
29. Jarod Milford, 4:27.91
Men's 3000m
5. Caleb Beland, 9:10.92
14. Jarod Milford, 9:59.53 (PB)
Official Results: http://bit.ly/2GJABW0
Dick Moss, Head Coach
Laurentian XC/Track Team
c/o Coach Moss <pedigest@cyberbeach.net>
Web: http://laurentianxctrack.com
Facebook: https://www.facebook.com/groups/laurentianxctrack/
Twitter: https://twitter.com/@luxctrack
Instagram: https://www.instagram.com/laurentianxctrack/