Hello Everyone, May 8, 2008
In this Issue:
SudburyRocks!!! Race, Run or Walk for Diabetes a SUCCESS
Sudbury Fitness Challenge Moves to New Website
Upcoming Local Events
Running Room Update -
Track North News -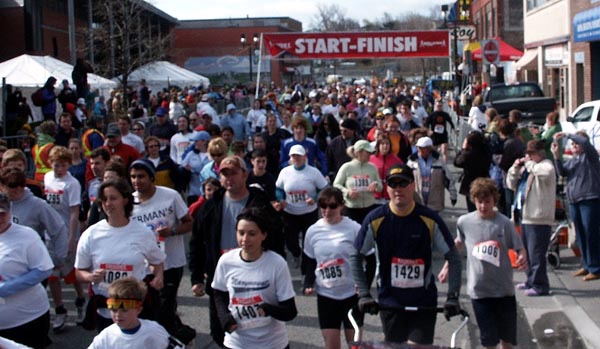 Congratulations to participants and thank you to all who helped make this year's SUDBURYROCKS!!! Race, Run or Walk for Diabetes a huge success. Including the Free Kids 1k, our numbers approached close to 1400 participants - up over 300 from last year. Check All Event Results Here.

Note: Medals and awards not already claimed can be picked up at the Sudbury Running Room (phone 705-523-4664).

A note from Steve Matusch, our Race Director:

Well, as I sit here at my desk, bleary eyed and feeling very much like I've actually RUN a marathon, I'm going to do my best to send out a huge thanks to everybody who made the SudburyRocks!!! Race/Run Walk for Diabetes such a huge success yesterday. All of the feedback that I got universally complemented how well organized the event was. And it truly was. This year, everything flowed much, much more smoothly. It seemed like everybody knew what had to be done, there was very little confusion and the whole thing rolled out and rolled up with a minimum of fuss and frustration!

#1 Our pledges and donations will be in excess of $50,000. That alone is a very worthy accomplishment! We can all be proud of that!

#2 Our 5K event has really taken hold – almost doubling from last year's participation to approximately 450 paid registrants. That's huge, because this is where we can really reach out to the wider community and bring them into the event. A special congratulations to the CDA in what they've done here. I'm sure this will continue to build next year. The celebrity challenge was great from the perspective of bringing some excitement and enthusiasm to the event.

#3 The pasta dinner and expo were utterly professional, well executed and well attended – with quality that equals any of the bigger events.

#4 All aspects of the execution were head and shoulders above last year. There was very little firefighting, very little confusion, and it had a sense of "routine" to it. It was wonderful!!!! The course rolled out and up smoothly, the marshals and volunteers went out came back smoothly, the registration and timing was executed flawlessly, and the venue was professional looking and well organized.

#5 Again, participation is up – overall it looks like about 20-25%!!! Our numbers increased in 5K, 10K AND Half Marathon. The marathon suffered a bit, but that's a nut that we'll crack yet!

A huge thanks to everybody. In the coming days I'm going to write up some personal thanks to the other groups, but first I wanted to get a thanks and congrats out to you guys. It was a wonderful event!

Steve
Runners Comments:
My First Marathon - by Laura Haapamaki-Anderson

I decided to write my race report the day after my first marathon while the pain in my legs/back/lungs is still abundant and the experiences of yesterday are still fresh in my mind.
I started out a great race on a set pace by Vince. Michelle and I hit the pavement with our feet running, our hearts pounding and our faces smiling. We conversed and laughed about how easy and simple our starting pace was. By around 8km, my pacer, Steve, caught up to us (oops, a little early Steve!!), and now I knew the race was on. Steve commented that we were going a little slow and that there wasn't a margin for error if we run out of juice towards the end. We picked up the pace by mere seconds, but by 20km, I had an inkling that I wouldn't be able to keep this up for another 22km. By the 23km marker I decided that my goals of qualifying needed to be readjusted. Now it was just about finishing. Michelle was feeling good, so Steve told her to keep going, and he stayed back with me to get me to the finish line. Shortly after I started to feel a pain in the back of my knee and it radiated up my leg. I knew instantly that a previous hamstring injury was coming back. It didn't take long until I was forced to limp along. 5km later, I finally had the mental drive to just dig deep and run through it. Not sure now if that was a good idea, as the back of my knee is swollen to the size of a small grapefruit. After that, we took it by every two kilometres, walking through the water stations trying to prevent me from getting further dehydrated. We kept the pace strong between stations and maybe picked up a bit of lost time. With only two kilometres to go, I noticed that we could possibly make it under the 3:50 mark, so I dug as deep as I could, and sprinted…well maybe not sprinted, but that's how it felt…all the way to the finish line. I was sure that we crossed at 3:49, but looking at my time last night, I noticed it was 3:50. A little disappointed, but even more reason to go redeem myself at the next marathon. All in all it was a fantastic experience. I had two great running partners and definitely wouldn't have done as well without them. I now look forward to Massey, as my goal will be, and will not change, to get my qualifying time for Boston. As I tie up my running shoes and head out the door, I will see you on the roads…


Laura Haapamaki-Anderson

The Beginning - by Michelle Belanger

Sometime between post-race Accelerade popsicles and soaking my feet in Epson Salt, I happily thought about training and wanted to THANK YOU SO MUCH for all your advice and support as I built toward my first marathon. Words from you and the Rocks (especially Diane) echoed in my ears through the race. My mind stayed positive; my legs (mostly...) felt strong.

I learned a lot at 35 and 38km; and a lot more at 42km... I know I have lots left in me, so I guess this means that the countdown is on for the next one...

This is just the beginning.

Happy trails,
Michelle

P.S. You might need to bring earplugs next time we meet since you might not be spared the play by play. See you this week...


AND THANK YOU TO ALL THE ROCKS VOLUNTEERS AND OTHER RUNNERS! IT WAS SUCH A GREAT RACE AND POSITIVE DAY!

Marathon a Hit - by Ken Stubbings

The Sudbury Rocks Marathon was a hit again this year. The organizers hard work was visible. Thanks to all. I heard many good comments from other runners. I keep mentioning this event to other southern Ontario runners. I see I need to push them a little more to make the trip to the north. Please do not get too discouraged on the low numbers for the marathon. It will come with time.

The course was well laid out; no mistaking where to go. The volunteers were excellent. The pasta supper and guest speaker were good. I like the fenced area at the finish. It makes the event more professional. The massage area was well used. The only negative feedback was the sport drink tasted a little off. Oh ya, and you Sudburians need to learn what flat is. Flat is like the Lakeshore Blvd. in Toronto. The Rocks Marathon is NOT flat. It is, well, rolling to put it nicely.

My personal run went very well. I like the "chase" portion of the event. It does however make a lonely start and run for some people. I finally caught the leader in my age group between 40 and 41 km. I felt comfortably exhausted at the end and nicely stiff today.

A special thanks to Lise and Vince for putting Lynn and I up for the weekend. It was good to see you fellow Rocks again.

Ken Stubbings
Author: kaybee
Date: 2007-05-07

Did the Sudbury Rocks full marathon yesterday. This was it's second year and it is still a relatively small event. At times it felt a bit lonely out there but I could always see someone ahead or behind.

I have to say, though, that it was a great experience. It was very well organized. Four of us went up from Ottawa to do the marathon and we were all very impressed - from the race expo/kit pick up to the pasta dinner to the race itself. The roads were a bit rough in places and you had to watch your footing but it was extremely well-marked (I have never seen so many pylons!), well-marshalled/policed and well-manned from the water station point of view. Lots of porta-potties (although I didn't need to use one).

Many many thanks to the organizers and numerous volunteers. Everyone was so friendly. There weren't many spectators except at the half way/finish line (double loop) and the volunteers never failed to cheer you on as you went by. I would definitely do this or one of the other races at this event again!

10th Marathon at the Rocks!!! - by Suzanne Dionne

This was my 10th marathon in less than 10yrs and my second one in Sudbury. Only because Vince always said I could run a marathon (no problem!!!).

Again the Sudbury Marathon is the best organized I've ever seen and the best volunteers so thanks to all of you for being there for all the runners.


I had the unfortunate timing of someone who could not outrun the train on the second loop. That is not anyone's fault but it was at least a five minute stretch for me and was it very difficult to refocus. Also the police were not stopping the traffic at the lights unless you requested it on the second loop. (After 1:00 pm the trains were given right of way and the Police were directed to begin maximizing traffic flow) By this time I was definitely slower but not walking "yet". After 39km I did think I had legs made of lead. They felt so heavy that I thought there was something wrong with them. I never had that happen before. I did commence a 1 minute trot and walk so at least it helped to get me to run the last km.

It was a great experience and I love the way you all make it happen.

Thank you Lise for the great hospitality and to the rest of my family for the great support and believing in the sport and participating. And Congratulations to everyone for doing so well in all your personal races. Keep at it.

Sudbury Rocks!! - by Lise Perdue

The organizers of the Sudbury Rocks!!! Race, Run or Walk for Diabetes have once again pulled a class act. Well done.

Thank you to your warm hearted volunteers. It is a pleasure to go around the course twice just to thank these people for dedicating so much of their time and to hear their wonderful words of encouragement.

Congratulations to all participants and thank you to our immediate family who traveled from both northern and southern Ontario to participate…from my 10 year old niece to my 77 year old mother. CONGRATULATIONS Eric on finishing your first half with flying colors, Suzanne on completing your 10th marathon and Ken on finishing 6th in the marathon and catching some prize money. It makes me proud to be related to such a motivated bunch.

Keep up the excellent work. Your hard work and long hours have definitely made this race a success.

Lise
| | |
| --- | --- |
| | Sudbury Fitness Challenge Moves to New Website |
"A Community Challenge Renewed"
That 's the motto of the new Sudbury Fitness Challenge Organization. They would like to invite all fitness buffs to check out the new website and then take part in some of the series of athletic events they host in the City.
Their goal is to promote the value of an active and healthy lifestyle through participation in physical activity.
The Sudbury Fitness Challenge is a series of six athletic events that take place each year in the City of Greater Sudbury region. The Sudbury Fitness Challenge consists of the following events:
Sofie Manarin Nickel Loppet
Mountain Bike Tour
Canoe Marathon
Ian McCloy Island Swim
Beaton Classic and Youth Triathlon
Walden Turkey Gobbler and Nature Walk
For all Fitness Challenge information, please check out their website
| | |
| --- | --- |
| | Run Club Update |
Hello there!

Before anything else, a very BIG congratulations to all those who walked or ran this past Sunday! The race weekend was a huge success because of each and every one of you. A huge pat on the back to the Sudbury Rocks! organizing team as well as the countless volunteers who put on such a great race. If you haven't seen your results (or if you want to see where your buddies finished), all race times can be found at www.sudburyrocks.ca .

Don't forget Sunday June 8th! Our practice run will be replaced by a gambler's dream - a Poker run! We will be having both a 5k and a 10k distance to help celebrate the graduation of our clinics.

Summer race season is definitely upon us! We have a ton of upcoming races to mention;

Ready to race this summer?

To start off on May 31st at Cedar Springs Health Rackets and Sportsclub we are hosting the first Cedar Springs Pharmacy Summer Sizzle 5k and 8k run plus 2k relay. Barbeque and great technical shirts and prizes. www.vrpro.ca

July 1st Karmel Sakran Canada Day 5k race, Paradiso restaurant downtown Burlington. www.vrpro.ca

July 20th, The Burlington International Games Race presented by Karmel Sakran 5k race Tansley Woods www.vrpro.ca

Eaton Downtown Dash 5k and 10k on Thursday July 24th at 7:00pm at Holy Rosary Church Pine and Pearl www.vrpro.ca


Join the Team ... Take the Challenge, the Toronto Challenge on Sunday June 8, 2008. 5k run and walks start and end at Metro Hall in downtown Toronto at 9:30 a.m. Family event suitable for all ages and levels with prizes and post race barbeque is part of Ontario Timex Road Race Series. www.toronto.ca/challenge 416 392 8911 or register on-line at http://www.events.running! room.com/site/?raceId=3361

Run, walk or pledge in support of the Oakville-Trafalgar Memorial Hospital. Participate or volunteer in the 12th Annual OTMH Classic on Sunday, June 15. Celebrate Father's Day while making a difference in your community, visit http://www.events.runningroom.com/site/?raceId=3757 for more information.

Don't forget to drop by the store to check out our upcoming clinics! As always, we have a free practice run and walk this Wednesday at 6 pm and Sunday at 8:30 am; come on out and have some fun this summer walking and running in a group!

happy trails,

from your Running Room crew




| | |
| --- | --- |
| | Track North News - by Dick Moss |
RESULTS - FOREST CITY/MUSTANG HIGH SCHOOL OPEN
London, 4/26/08
Some super results from the London high school meet. See below.
MIDGET GIRLS
Alannah MacLean (Lo-Ellen)
400m, 1st, 61.38 (PB)
200, 2nd, 27.44
JUNIOR GIRLS

Serena San Cartier (Lo-Ellen)
200m, 1st, 27.47
80mH, 2nd, 12.69
Grace Thomson (Lockerby)
80mH, 3rd, 12.84
100m, 4th, 14.18
SENIOR GIRLS
Emma Tallman (Manitoulin)
800m, 1st, 2:27.6
400m, 2nd, 62.11
Tianna Deck (Lockerby)
TJ, 1st, 10.54
LJ, 3rd, 4.85
100m, 6th, 13.70
SENIOR BOYS
Eric Roque (aka Snax) (Notre Dame)
100m, 3rd, 11.76
MIDGET BOYS
Jeremy Cooper (Assiginack Central El Schol)
1500m, 1st, 4:28.3
3000m, 1st, 9:32.2
For information call me.
Vincent Perdue
341 Fourth Ave, Sudbury On. P3B-3R9
705-560-0424
vtperdue@cyberbeach.net
HOME | ABOUT US | CONTACT | ARCHIVES | CLUBS | EVENTS | PHOTOS | RACE RESULTS | LINKS | DISCUSSION

All photos images and content copyright Sudbury Rocks!!

All Web site Graphic Design by Steve Villeneuve