On January 15th, 2005, in the gentle mist of the African dawn, a group of intrepid and strong-willed men and women, including our own Rock!! - Martin Parnell, began a journey of both body and soul as they pedaled toward a bold new frontier of cycling adventure. The group travelled from Cairo in Egypt to Capetown in South Africa covering 11, 500 kilometres taking 121 days to complete the trek. On Sunday, May 15 the epic tour concluded when they biked into Capetown.
Martin Parnell graciously accepted the task of providing progress reports as he biked through the Dark Continent and all his notes are included below. I also tracked his progress on the map at the page bottom as he meandered through Egypt, Sudan, Ethiopia, Kenya, Tanzania, Malawi, Zambia, Botswana, Namibia and South Africa.
Congratulations Martin and all your team members!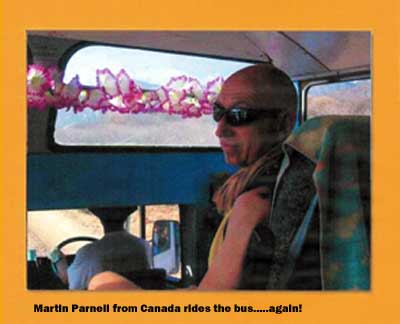 ---
Hi Vince,
Well, I made it to Cape Town. We arrived at 1.00pm on Sunday May 15th on a bright but cool afternoon. This is the update for the final days. Many thanks for posting these ramblings and if anyone has any comments or questions feel free to email me at mjparnell@shaw.ca.
All the best, Martin.
May 8th (Day 114) Sunday
A rest day but I still woke up at 6.00am. The sun was rising on the mountains and I got a great shot through the mesh of the tent. Went for breakfast and enjoyed an excellent buffet. Heard afterwards there was a bit of trouble when the management said that several of our group didn't pay. The consequence of this was that all meals for the rest of the day had to be paid up front, what a pain. There's no Internet at this place so the group were forced to relax. Some went for hikes; some cleaned their bikes (weird!), I started reading a Si Fi book, "Blind Lake", about lobster type people, interesting. In the late afternoon I decided to head down the valley and see if I could get some good sun set shots. Tomorrow the big push starts with seven days of riding before we hit Cape Town.

May 9th (Day 115) Monday
Daily stats: 133km, 7hr 10min, 9699km to date
Bike: Needs a clean
The ride out of Ai Ais is a 10km climb on a dirt road through large boulder outcrops and a desert landscape. The morning is cool but not freezing and the morning sun highlights the pinks and salmon hews in the rocks. I turn right and start towards the South African boarder. The gravel road ends and I'm back on the pavement. The road then picks up the Orange River and I'm heading towards my last boarder crossing in Africa. Get my Namibian exit stamp over to the South African post, 10min later all done, no fuss. But where are my buddy's? the illegal money changers? Well there's no business here for those little devils because the Namibian Dollar and South African Rand are tied together, one for one. I see the yellow arrow and off I go for a 5km ride down a bad dirt road. 10km later I arrive at the "Fiddlers Creek" our camp site for the night. Spend the evening talking to Alan (Canada) about cooking, he is a culinary expert and I tell him I'm pretty good with the "Four Ingredie nt" cookbook.
May 10th (Day 116) Tuesday
Daily stats: 83km (me), 133km (tot), 3hr 45min, 9782km to date
Bike: Going strong
I really don't feel like riding out the 10km on the terrible dirt road so I make a strategic decision to take Betsy to the lunch stop and ride from there. The only problem with this is that I'm using up some of my "Betsy travel credits" as Bike Mechanic Ewald calls them. I still want to reach my 10,000km target so I must be careful. The "Breakfast Club" (Andre, Ed and I) meet and enjoy our jungle muslix then into the truck and we're on our way. Our final destination today is the town of Springbok over 130km away. We're on the bikes by 9.00am and reach the town by noon. Time to do a little business; ATM for some Rand (Note: Don't bring Travellers Cheques to Africa they're a waste of time. Use the old $US and plastic.), the infamous Internet and a KFC lunch, finger licking good! Time to head for camp. I don't have a clue where it is but spot Alan (Canada) and Ed (other England) heading out of town. I hook up behind them and we're on our way, sort of. The camp is meant to be 2k m away but 10km later still no sign. We turn around and fortunately Tour Leader Randy comes by and give us a lift back to the site (Note: must write down directions).
May 11th (Day 117) Wednesday
Daily stats: 121km, 5hr 27min, 9903km to date
Bike: Max speed 59.6km per hr !
Feeling very unmotivated today. I'm kind of fed up with cycling but must keep going to at least get to my 10,000km goal. In fact I think I'll do 10,001 km and then put my bike on top of Betsy and truck it in to Cape Town. I plod along to lunch and drag it out as long as I can. We're heading to the town of Garies and I see a bunch of bikes at a gas station. In I go and see the usual suspects there; Andre, Ed and Pat. Time for an excellent Magnum ice cream and a coke. We have an in depth discussion on which we prefer, Pepsi or Coke then back on the road. A 10km down hill takes us into the town of Garies and the Municipal campsite. Big day tomorrow, according to Stefan (Germany) the human odometer, I'm 97km away from 10,000km.

May 12th (Day 118) Thursday
Daily stats: 150km, 6hr 29min, 10,053km to date
Bike: Another day, no flats
At 12.59pm on Thursday May 12th at km 97 I hit the 10,000km mark on my bike. But let's start at the beginning. At 6.00am, getting out of the tent all I could see was fog. It had rained a couple of time during the night but now it was just a heavy mist. I was on the road by 7.20am and headed towards the town of Bitterfontein. The landscape and mist reminded me of Dartmoor in Devon. Over the years I had done several hikes on the Moors and one of them, the "Ten Tors" event, had been held in similar weather. A group of us had hiked for two days and at one point got lost (go figure!). Back to the bike. Bitterfontien is 10km before the lunch truck so Ed and I decide to have second breakfast, "Farmers feast", excellent. I have lunch then the count down begins; 9998, 9999, and finally 10,000km. Ed and Giles (England) are there, pictures are taken and hands shaken. We celebrate with strawberry power bars and peanuts, then on our way again. No sign of Betsy so I keep going. After 150 km I hit the town of Vanrhynsdorp, tonight's camping spot.
May 13th (Day119) Friday
Daily stats: 80km (me), 150km (tot), 4hr 19min, 10,133km to date
Bike: Resting on Betsy
Little known fact #31: In Dutch the term "Schwalbe" is used when a football player takes a dive in the penalty area; they say he took a "Schwalbe"!
As I was sleeping I dreamt that rain was falling on me. It wasn't a dream. I jumped out of my sleeping bag and quickly put on my flysheet. It rained several more times during the night and by morning every thing was soaked inside and out. Bundled up in my jacket and running pants I head off into the mist. The drizzle is steady and I head South then West towards the coast. I spot two bikes at a BP station and pull in. Andre and Franziska (Switzerland) are having coffee, great idea. Back on the bike I'm dead slow and my mind is wandering. I think about how to end the diary and come up with the "Tour by Numbers", 1 Gary Fisher bike, 2 "Big Crashes", 3 bruised ribs etc. Must do some more work on it. Reach Betsy and I'm bushed, round the corner who do I see Andre and Ed. We all get on the truck and head for Eland Baai, our campsite for the night. Eland Baai is on the Atlantic Ocean and after I put my tent up I head into the water for a swim; bloody freezing! During the rest of th e afternoon I walk the beach and take photos. Tomorrow a coastal run of 145km to another beach campsite.
May 14th (Day 120) Saturday
Daily stats: 110km (me), 150km (tot), 6hr 24min, 10243km to date
Bike: First flat with the Schwalbe's!
Today Andre, Ed and I agreed to ride the last race stage as a team. I knew things would not go as planned when Ed discovered that he had a flat even before he started. We got away at 7.50am and headed south from Elands Baai along the coast. The first 10km was a bone shaking dirt road then pavement. 10km's on we saw a sign "Draaihoek Lodge", Good Food, and in we went. The place was brand new with a huge thatched ceiling. A fire was burning in the hearth and we were brought hot coffee right away. One hour later we had finished a full breakfast and were ready for a snooze in front of the blazing logs. Unfortunately the bikes would not ride themselves so off we trudged. We pushed it for another 20km and spotted a café, why not, just a quick stop. Third breakfast was ice cream and chocolate sauce. By now the day was slipping away and as we ploughed on we saw Betsy coming back towards us. Determined to complete the ride we sent her off. Afternoon turned to late afternoon and a sto p for a coke turned into a flat tire, unbelievable. We saw a pick up truck and got a lift arriving at the camp site in the dark Being the last night on the road several TV crew's were doing interviews of the riders. Tomorrow the end.
May 15th (Day 121) Sunday
Daily stats: 90km, 3hr 59min, 10,333km to the end
Bike: Flat in the morning but finished well
Last meeting of the "Breakfast Club", then on the road. Andre, Ed and I rode together and did one final coke stop along the way. The wind was behind us and we made good time for the 70km to the outskirts of Cape Town. From an EnGen gas station we rode in convey the final 20km to Mouille Point, a park on the waterfront. The day was cool but bright and as we pulled into the park there were hundreds of people cheering us in. I crossed the finish line, end of the Tour D'Afrique, Cairo to Cape Town. Lots of handshakes, hugs and photo's. As for the race, Kim (Denmark) won with Marteen (South Africa) second and Stefan (Switzerland) third. After an hour Colin, Pat and myself headed off to the Lion's Head hotel a couple km's down the road. Phoned Sue and had a great chat, I'll be in England on Saturday. The wrap up meal is at the "Ferry Man's" restaurant on the waterfront, many speeches and an excellent slide show. Clips included Lazlo Badd and the bungee jump. So there it is, I surv
ived, no permanent damage and a great T-shirt.
So for all of you who love statistics (and who doesn't!) here is the Tour by Numbers:
1 Gary Fisher bike, 2 "Big Crashes", 3 bruised ribs, 4 months on the road, 5 times I cleaned my bike (really!), 5hr 41min per day average time in the saddle (21 equivalent days total, owch!), 6 Hyenas at the back of the 4th green at the Addis Ababa golf club, 9 Nationalities on tour, 10 countries visited, 11 silver charms for my Grand Daughter Autumn, 12lbs lost, 14 jars of Marmite, 16 rolls of toilet paper, 20.4km per hr average speed across Africa, 22 Malaria pills, 28th in the race, 33 flat tires, 34 participants from Cairo, 50C hottest day, 71.2 km per hr max speed, 94 days of porridge, 111m bungee jump, 334 post cards, 833 photo's, 1549km's in Betsy, 1578km's Lands End to John O Groats, 4000yrs old Boabob tree, 7746km's across Canada, 10,333km's ridden by yours truly, 11,882km's ridden by the EFI 'ers and uncountable yells, cheers and waves from the children across the continent of Africa.
---
May 10, 2005
I've just cycled into Springbok in North Western South Africa. Five days to go before we reach Cape Town. Here's what happened.
May 1st (Day 107) Sunday
Daily stats: 90km (me), 150km (total), 4hr 42min, 8932km to date
Bike: New tires are fantastic
Didn't get much sleep last night, we're camped next to a Shell gas station and the 24hr station shop seem to be the local hang out. The final straw was at 5.30am when a car was revving it's engine to the max. It appears the driver had passed out in the car at the pumps with the engine on and her foot on the accelerator. It was time to move out. Today we're heading to Windhoek (Windy Corner) the capital of Namibia. Ed (England), Andre (Holland) and I take Betsy to the lunch stop and ride on from there. The landscape is rolling and we make good time to the outskirts of town. I find an Internet shop (states "Biggest in Africa")and spend the afternoon emailing Sue, Kris, Pete and the log. By the time I leave the sun is setting and I'm not sure where the camp site is. I vaguely remember Tour Leader Randy's instructions and with some help from several locals I end up at the "Aurbursch camp site" in the dark. Tomorrow a rest day. Clean the bike or a round of golf?
May 2nd (Day 108) Monday
Looks like a good day for golf. William (Holland), Andre and I cycle down the road to the Windhoek Golf and Country Club and book in for a 9.40am tee off. While we wait we go to the driving range and hit a bucket of balls. As we're practiceing, the tee off marshall comes over and says that we can't play because we don't have socks and are wearing sandles. I explain that we've cycled from Cairo and didn't bring our full golf attire. This plea falls on deaf eyes and out the door we go. Move to Plan B. We go to the mall and see Clint Eastwood's "Million Dollar Baby" then to a brew hause for a Pilsner and apple strodel. Namibia has a strong German influence and Windhoek reflects this. In the evening a group of us goes to "Joe's Beer House" and I order the "Bushman's Platter"; this includes the big five: Ostrich, Zebra, Crocodile, Kudu and Chicken. Excellent. Tomorrow South Africa.
May 3rd (Day 109) Tuesday
Daily stats: 143km, 5hr 56min, 9075km to date
Bike: Love those Schwalbe's !
Big day today, I passed the 9000km mark. Leave the camp site at 7.00am and head South, through rolling hills, away from Windhoek. Lunch is at 75km and in the mid afternoon I spot Marius and Hunney (Holland) at a lay by. Race Director Colin is also there. I pull in and they say congratulations. They had heard about my 9000km and Hunney pulls out a blueberry muffin and cuts it in four, oh the simple things. I continue on my way and see a large sign "Tropic of Capricorn". As I pull in to take a closer look a huge tour bus also pulls over. It's a group of German tourists visiting Namibia. They ask where I've cycled from and find the answer hard to believe. I arrive at bush camp at 2.30pm and Ed, Andre and I decide to visit the farm up the road. We meet Pete Janus and he tells us that his son runs the farm; they have cows, sheep and goats and a small wind mill pumps their water. Back at bush camp my thermarest has destroyed itself from the inside, it's now more like an oblong bal loon.
May 4th (Day 110) Wednesday
Daily stats: 173km, 7hr 42min, 9248km to date
Bike: Did great against a brutal head wind.
The days' riding is dependant on the direction of the wind; tail wind and it's great, head wind and it's tough. As I came out of the bush camp and turned South I knew it was going to be a long day. After 5km, Alan (Canada) joined me and we worked together for 75km drafting each other to save energy. Then along came the Peleton and we both jumped on. For me that lasted about 2km before they headed off into the distance. Lunch came and went and the grind continued. Mid afternoon I came to the town of Marlental and a shop advertising "Ice Cream". In I went. Nine other A'freeks had the same idea and it made a great break. Finally arrived at bush camp at 4.30pm, my legs are killing me, time for a snooze.
May 5th (Day 111) Thursday
Daily stats: 153km, 5hr 44min, 9401km to date
Bike: No problem, tail wind.
Freezing during the night but my 3 season sleeping bag did the job. I rolled up my useless thermarest and put it behind a bush. However that would not be the last I would hear about it! I head off and the landscape becomes flat and scrubby. Andre, Ed and I turn off into the small village Tses and it's fairly depressing. Lots of tin and wood shacks with barb wire fencing all around. We pull up to a building with a coke sign and walk in. It's a large hall and over in a corner behind a barred and meshed counter is a South Africain couple. They've been in town two months and say that there's not much employment for the locals. He was a miner in the diamond fields and has a finger missing. We thank them for the drinks and head back to the road. Camp site tonight is at "Garis Park", the home of an eccentric artist. Along the road into camp are life size puppets, some on bikes, some pushing wheel barrows, interesting. Did a walkabout as the sunset and got some great shots.
May 6th (Day 112) Friday
Daily stats: 85km (me), 155km (Tot), 3hr 46min, 9486km to date
Bike: Kept on rolling even when lost!
According to Tour Leader Randy today is a full day. 20km to Keetmanshoop with shops and Internet then 130km (30km paved, 100km gravel) to the River Canyon Road House. We would then leave at 4.00pm in two trucks to go to the Fish River Canyon for supper. I knew to do all of this was impossible for me so my plan was to do Part A: Keetmanshoop, then ride to the lunch truck and get a lift to the Road House in time for the 4.00pm deadline for Fish River Canyon. Things went well until I missed a turn on to a gravel road after Keetmanshoop. I asked a couple of locals for help and they told me just to continue and look for the sign to Ai Ais, the next big town after the Road house. Finally Betsy drives by and picks me up. There's seven other riders in the truck and we all go to the Road House. We arrive at 3.30pm and straight over to the Fish Creek Canyon. Great view and 550' deep (good for bungee jumping).
May 7th (Day 113) Saturday
Daily stats: 80km, 3hr 55min, 9566km to date
Bike: No problem with gravel roads
Today is a time trial for 20km on gravel roads. I'm tired and don't fancy booting it along dirt roads, all I need is another fall. Ed and I head out early and have breakfast at the "Canyon Lodge", it's great, full buffet. I haven't had juice for ages and guzzled five glasses. Our camp site for today is at a hot springs resort called Ai Ais in the Namibian mountains. The ride is through the Namib desert, lots of sand, small bushes and a few birds. The last 20km into the resort is all down hill but I take it pretty easy as there's lots of sandy spots along the way. I arrive at the resort, put my tent up and go straight to the hot springs. I soak my tired muscles for two hours then supper. There's a poker night tonight but I'm beat. Tomorrow a rest day.
---
May 1, 2005
Arrived in Windhoek (Windy Corner), Namibia this afternoon (Sunday May 1st). Lots of kms covered this week. Here's what happened.
April 25th (Day 101)Monday
Daily stats: 75km (me), 140km (total), 3hr 6min, 8199km to date
Bike: Slow leak in the back tire, will pump up.
Decided to cut the ride in half today so took Betsy to the lunch stop and then headed towards the town of Maun 75kms away. Tomorrow is a rest day so I wanted to get into town and get some business done. Approaching the town I spotted Tour Leader Randy under a tree, we chatted and he gave me directions to the shops downtown. I found a "Post Net" outlet which allowed me to do my emailing to Sue, Kris and my weblog. I also picked up some post cards and stamps. Back on the bike and head out of town, the group is staying at the Sedia hotel and camp site which is 10km from town centre. That evening I chat with African Routes Earl and he says the flight over the Okavanga Delta will go at 4.00pm tomorrow afternoon.
April 26th (Day 102) Tuesday
Headed into town for breakfast at the "Bon Arrivee", a cafe decorated in an airport theme (Maun Airport is next door). I had the "Glasgow Cook up", bacon, sausage and egg, excellent. I had been told that there is a good gift just outside the airport complex, so I go there after breakfast. I find an interesting charm for Autumn, a silver outline of Africa with a Hippo in the middle. I also find a couple of gifts for my nephews Jon and Chris but I can't say what I got because they read the web log. Headed back over to the "Post Net" and some more emailing (must say the connections have been better in the last few weeks). Have some lunch then back to the Sadia. At 3.30pm head over to reception and climb aboard a truck. A group of six of us head to Maun Airport and climb in a Cessna 220. Shal, our pilot, tells us that the Okavanga River flows into the Okavanga Delta and then just disappears into the ground. Over the next hour he shows us the flood plain as it fills the Delta and a number of Elephants, Buffalos and Giraffes. After a good landing back to the Sedia.
April 27th (Day 103) Wednesday
Daily stats:143km, 6hr 30min, 8342km to date.
Bike: Flat in morning to back tire, flat in afternoon to front tire (thorns)
Left Maun and headed South. The road is flat and boring, and 143km later a bush camp so let's talk about my red box. This box contains everything I need for the day to day survival on the Tour D'Afrique. The box is 3' long, 1 1/2' wide and 1 1/2' deep, made of plastic and red. Starting at the top: I have my North Face Road Runner 3 tent, thermarest, poles, ground sheet, sleeping bag, plate (knife, fork, spoon) and Tim Hortons mug. In the middle: my Keen Sandles, Preztl cap lamp, four sets of cycle shirts, shorts, socks; two sets of shorts, shirts for the evening and my Eygptian sharf. On the bottom: medical kit, wash kit, bug spray, mosquitoe netting, bike oil, 16 patched tubes, patch kit, and bike cleaning brush (never used!). Finally I have key documents (passport, ticket back to UK, bank notes from all countries and Autumn's charms), Palm Pilot and diary. So there you have it my life in a box. Each morning I pack my box and take it over to Betsy. There I slide it into a s lot and as I'm riding my daily kms the red box is whisked to the next camp site to start all over again.
April 28th (Day 104) Thursday
Daily stats: 141km, 5hr 40min, 8483 km to date
Bike: Seems to have slow leaks but not sure.
The trek across Botswana continues, where are the people? There's a few donkeys, cows and horses but not a soul around. As I ride my mind wanders. I was chatting with William (Holland) the other day, I was cold and I said I had "Gosse bumps", he said that the saying in Dutch is "Chicken skin", fascinating. The race continues with Kim (Denmark)in a commanding lead, second is Marteen (S Africa) and third is Stefan (Switzerland). I'm in 28th spot and 510 hours behind Kim, I think I've left my move a little late. I can't wait to see Sue, it's been difficult to communicating along the way but her emails have really kept me going during the trip. Tomorrow is a big day, Tour Leader Randy has scheduled a 200 plus km day, oh dear.
April 29th (Day 105) Friday
Daily stats: 208km, 8hr 44min, 8691km to date
Bike: Need to pump up tires every 100km
On a trip like this nick names tend to pop up along the way. Here is a list of the ones I've heard: Batman and Robin, Muffy, Sockies, Pussy, Triple B, The Claw, Sottish Dave, The Pocket Rocket, Chinaman and Blodwin. Mine is Marmite because of my love of the black goo. Today is the longest ride I've ever done. Fortunately the wind was behind us and allowed me to finish in daylight. The ride included a boarder crossing, this time from Botswana to Namibia. There were no illegal money changers any where, I do miss those guys. The campsite was 1km from the crossing with the biggest dung beatles I've ever seen.
April 30th (Day 106) Saturday
Daily stats: 151km, 6hr 59min, 8842km to date
Bike: Another flat! Andre (Holland)leant me a set of Schwable tires
The temp has dropped big time and I'm in my tent in my sleeping bag with a jacket on. First thing I do is check my tires, another flat, put in another tube (will this ever end, flat #30). I leave at 7.05am and head West towards Windhoek. The road travels along the Northern edge of the Kalahari Desert, there's few animals and less people. At km 48 there is an important happening for the EFI group, they've made their 10,000th km. The plan is to have a party however I arrive a little late only to see Sweetness and five riders pulling away. As I get to the chalk mark on the road I meet Pat with half a can of coke, oh well. Get to camp in the tiny hamlet of Witlief and have a beer, then check my tires, another flat, I've had it. Andre see's that I'm about to go postal and gives me a set of the hottest tires on the Tour: Schwables. All the European's and Jack (America) have them and they've only had a hand full of flats between them. I install these babies and go to sleep a happy
man, fingers crossed!
---
April 25, 2005 Update
Its noon on Monday April 25th and I've just cycled into the town of Maun in Northern Botswana. Here are the latest happenings.
April 16th (Day 92) Saturday
Had a bit of a restless night. Got sunburnt on my chest while sitting out by the pool yesterday and am now paying the price. Head to the Acadia mall to do a little more interneting and look around the shops. Feeling tired so I head back to the Chainama resort and plan to have a nap. As I walk through the lobby I notice a large group of people around a large screen TV. I walk around to see what they're watching and there it is, Arsenal vs. Blackburn, FA Cup semi final, no nap for me. I chat to the fellow next to me but he say's he's a Chelsea supporter, seems every ones a Chelsea supporter these days, where were they five years ago? Arsenal wins 3-0, two great goals by Van Persee. The final is on May 21st, the first day I'm back in England. Back in the saddle, tomorrow heading towards Victoria Falls.
April 17th (Day 93) Sunday
Daily stats: 151km, 7hr 4min, 7274km to date
Bike: No problems
Rode out of Lusaka and headed into the Zambian country side. At 103km I pull into the town of Mazabuka. The Shoprite supermarket is closed but at a round a bout I see some bikes on a grass curb. Brian (New Zealand), part of the tandem team, tells me there's pop and ice cream across the road. I get some and bring it back and as I'm enjoying the 99 cone I hear strings being plucked. I look up and see a young fellow, around 10-12, playing a home made banjo. It's all wood including the tuning pins. The boy, whose name is Laslo Badd, then plays a song. I take a photo and a video, he's incredible. We all give him some money and he leaves to go get some ice cream. That evening, at bush camp, Tour Leader Randy tells us that we have a number of options for our day off in Victoria Fall in a couple days time. They include white water rafting and bungee jumping; I will ponder my options.
April 18th (Day 94) Monday
Daily stats: 169km, 7hr 42min, 7443km to date
Bike: No flats
Long day in the saddle. Fairly flat country side and no wind to speak of. Arrive at "Bush Camp" (track by a field) by late afternoon and set up my tent. Ed (England), Andre (Holland) and I decide to do a little exploring and visit the small village we see at the other end of the field. We walk about 500m and meet a man and woman. They welcome us and introduce themselves as Mr and Mrs Zulu. As we chat they give us freshly picked peanuts and ground nuts and we find out the Mr Zulu is a farmer and he grows maize, tobacco, and peanuts. He also has cows, turkeys and chickens. We also find out that there's a Mrs Zulu 2 and Mrs Zulu 3 and there are six boys and seven girls in the family. It's not a village but houses for him, his wives and children and he built them all. He says that Ed could marry one of his daughters and he'd give him 100 arcres. Ed helps one of the daughters hook up a team of oxen and almost gets gauged by one of the horns. The sun is setting so we thank Mr and Mrs Zulu for their hospitality and head back to bush camp. On the way back we meet one of the daughters "Tipperary" and say goodnight.
April 19th (Day 95) Tuesday
Daily stats: 149km, 6hr 24min, 7592km to date
Bike: Air in both tires
After breakfast Ed, Andre and I head back over to see Mr and Mrs Zulu and say goodbye. As I walked into their yard I noticed that the ground had been swept in a circular pattern similar to plastering swirls on ceilings. Mr and Mrs Zulu invited us into their house and we give them a box of power bars as a gift. In their house is a wall of family photo's and on the other side is a china cabinet with a TV in it. There are a number of couch's draped with embroidery that Mrs Zulu had done. I took a number of family photos and wrote down the Zulu's address so I could send them a copy. As we're leaving they gave each of us a wooden stool that Mr Zulu had carved. We said goodbye to them and their family and return to the trucks. A good day of riding and I pull into the Livingstone Wildlife resort. We must decide on our activity for tomorrow. It's down to white water rafting or bungee jumping. I'll sleep on it.
April 20th (Day 96) Wednesday
At breakfast the group is talking about the up coming day and the choice of activity. Dr Marus mentions that there have been incidents of "retina detachment" recorded with bungee jumping. A little later I hear Ed talking about the jump, he seems a bit confessed, and he's telling people about the issue of "rectum detachment", not a pleasant experience. After considering all the plusses and minuses I decide to take the plunge. Pat and I grab a taxi and head down to Victoria Falls. We pass through a Zambian check point and walk for 20min; we see a sign "Welcome to Zimbabwe", have we gone too far? We ask a lady whose name is Nelly and she says yes. We turn around and go back to the bridge. There's another sign "Bungee Jump, sign in at reception". So this is it, I sign up and start getting rigged up with body and leg harnesses. The jump is 111m (300'plus) above the raging Zambezi River with Victoria falls in the background. Mark, a member of the bungee crew tells me to hop over t o the edge of the metal grating with my toes hanging over. He then says to look at the horizon and starts the count down, 5-4-3-2-1 and I'm in mid air. My arms are out by my side and I hear the rush of air past me. For 2 seconds I feel like I'm floating then the cord grabs and every thing spins around. I'm pulled up and check if I still have my eyes and butt, yes all intact. After this excitement I spend the afternoon floating down the Zambezi drinking wine and looking for pink Elephants.
April 21st (Day 97) Thursday
Daily stats: 72km, 2hr 42min, 7664km to date
Bike: Tried its best on the time trial
Today is the time trial and I'm off at 7.40am. I complete the 65km in 2hr 21min, not bad. Kim (Denmark) wins the race in 1hr 52min, very quick. Today is a boarder crossing and I go and get my Zambian exit stamp then down to the river and a short trip across the Zambezi into Botswana. As I approach the Botswana Immigration office several illegal money changers approach me. I'm not happy. I tell them about my experience upon entering Zambia. One seems not bad and I change a few Zambian Kwatcha's for Botswana Pula's. I cycle on 10km and reach the Thebe campsite. In the afternoon about 20 of us go on a 3hr boat trip in the Chobe National Park. It's very peaceful and we see a number of Hippos, Elephants, a baby Crocodile, Kudos (deer), Eagles and many other birds. Back to camp and prepare for the long, flat rides in Botswana.
April 22nd (Day 98) Friday
Daily stats: 154km, 7hr 35min, 7818km to date
Bike: Kept rubber side up
At km 82 at 10.47am a monumentous event took place. That km took my total km's to 7746km, the distance equivalent to crossing Canada from Vancouver, BC to Signal hill, St John's, Newfoundland. It also represents five trips from Lands End to John O'Groats. To celebrate I had a drink of water and a strawberry power bar. Other than that the day was shaping up to be pretty boring. The road is as straight as an arrow, flat as a pancake and as smooth as a baby's bottom (enough clichés). After lunch I see Robin (England) and Leanna (S. Africa) off their bike about 500m ahead. Flat tire? no, I look to my right and there's a bull Elephant washing it self in a water hole. It didn't seem to have a care in the world and it slowly ambled off into the bush. Another bush camp and I grab a brew. The beer trail has moved from "Mosi" in Zambia to "Windhoek" and "St Louis" in Botswana. A little bit of excitement on the Tour today. Ten of the riders got lost and ended up in the Chobe National Park. It's the first time the park had been viewed by a tour group on bikes.
April 23rd (Day 99) Saturday
Daily stats: 141km, 7hr 20min, 7959km to date
Bike: Even riding over glass didn't cause a puncture
No change in riding conditions. Flat and straight. I see another elephant in the bush and this time manage to get several photo's of it. At Nata Lodge there's numerous reports of Elephant sighting including a herd confronting the peleton; Elephants 1, Peleton 0. I pitch my tent (5 paces from Betsy, minimum distance to carry red box) and look around. Have a dip in the pool then a shower and shave, human again. At the rider's meeting Tour Leader Randy tells us about a flight available that will take us over the Okavanga Delta on our day off in Maun. Marteen (S Africa) told me that this area is one of the best for wild life viewing in Africa. I see African Routes Earl and put my name down. Another long day tomorrow.
April 24th (Day 100) Sunday
Daily stats: 165km, 7hr 51min, 8124km to date
Bike: Bike Mechanic Ewald said "Who ever put this bike together did a great job". Nice one Preston.
It's 7.30pm in the evening and as I write in my diary I'm having a cup of tea and enjoying "Ett-Som-Mor" Scottish shortbread biscuits made in South Africa, excellent. Well today was a long day. I made lunch at 11.00am and Betsy is parked by a huge Boabob tree. These trees have massive trunks and can live up to 4000 years old. African Routes Thor tells me to look out for a place called "Planet Boabob" about 40km on. After 10km I see a huge concrete Anteater on the right and a concrete termite hill with a fabricated planet earth on top. It says "Planet Boabob - Kalahari Surf Club". This must be the place. I ride in one km and see a large thatched building. Inside is a group of the riders enjoying cokes and fantas. I order a coke and ice cream with chocolate sauce, yummy. I stay there too long and still have 70km to go. I arrive at bush camp as the sun is setting and get my tent up just before dark. I'm beat. I have supper, write my diary and bed
---
April 15, 2005 Update
I arrived in Lusaka, Zambia this morning. Here's the lastest
April 10th (Day 86) Sunday
Little Known Fact #17: The distance from Lands End to John O'Groats is 1578km.
I just figured out that I've cycled the distance from Land's End to John O'Groats four times in the last three months, ridicules. Had a good breakfast of cereal, omelet and coffee then over to the Internet Post office to email Sue and update the web log. Opening time is 9.00am and Pat and I arrive at five too. Time ticks on and its 9.30am and still not open. I spot a fellow waiting by a rail and ask him if he knows what's going on. He say's he works there but does not have a key. I suggest he phones his boss, but he doesn't have a cell phone. He borrows a phone and makes the call. He tells us that his bosses name is "Memory" (very appropriate) and she'll be along in 10min. One hour later the shop is open (remember Africa Golden Rule #2: Internet cafes are never as good as they seem). Finally I'm on a machine and things zip along. Tomorrow a boarder crossing : Zambia.
April 11th (Day 87) Monday
Daily stats: 156km, 6hr 31min, 6549km to date
Bike: went very well
Tour Leader Randy tells us that the boarder crossing is at 130km so off we go. At 110km I come up to what looks like a tollbooth and blow through, then I hear shouts of "Immigration" and "Stop". I turn around and find the Malawi immigration building but no Zambia. I get my exit visa and I continue. At 130km (just as TLR said) I see a sign for the Zambian boarder however before I pass through I decide to change some Malawi Kwatchas to Zambian Kwatchas, unfortunately the exchange rates are very different. I spot two illegal moneychangers on the side of the road and start to talk about an exchange. I pull out 2000 MK's ($20US) and he says the exchange is 45 to 1, which seems reasonable, he says that's 8000ZK and I say no that's 9000ZK. He counts out the money and I head to the boarder office. As I approach the office I rework the math and realize I've been scammed. (note to self: review 10 times table) I get my visa then return to find the moneychanger. I can't see him but spot his buddy in a France 1998 World Cup T-shirt. I tell him I want my money back and he say's he'll help me. We go over to the spot where the scam took place and he tells me to wait there while he looks for the other man. As he walks away a white car pulls up and he jumps in it and it drives away. I complain to the authorities at the boarder but they say I should have gone to a bank, great. If you can't trust an illegal moneychanger then whom can you trust. They say misery loves company and there were a number of other scams pulled on the riders during the day. Camp site is at the Pine Crest resort in Chapata. At a local supermarket I get a pack of biscuits and some batteries for my cap lamp (re flesh eating spiders).
April 12th (Day 88) Tuesday
Daily stats: 193km, 8hr 37min, 6742km to date
Bike: Went like a dream
Today is "Ironman" distance day. The start times have been pushed back ½ an hour so the wake up horn is now 5.30am, excellent. I'm off at 6.30am and rolling along the open Zambian road. The morning is not too hilly and the road is fringed with tall grass and flowers. Along the way are groups of men chopping down the under growth with machetes. One group I spot is from a prison, they have green coveralls and there are two guards with guns watching the men. I give several of the guys the thumbs up and they wave back. They're probably ex illegal moneychangers who were caught for ripping off tourists. By mid afternoon I've hit the "Century" (100miles) and at 4.05pm pull into bush camp having completed 193km.
April 13th (Day 89) Wednesday
Daily stats: 153km, 7hr 57min, 6895km to date
Felt a little tired on the bike and plodded along in the morning. Spotted a bunch of bikes outside a soda shop and pulled in. Went inside and there on the counter was a plate of Cornish Pasties. I bought one and it was superb, just like the one's I used to eat at Home Park watching the great Plymouth Argyle. I explained to the man the history of the Cornish pasty and he seemed very interested. I bought another for the road and jumped on the bike feeling rejuvenated. Morning melted into afternoon and I was getting more and more fatigued. I saw a sign "Santa's Nest" and knew this was my rest stop. There were several seats under a huge thatched roof and the owner brought me a couple of ice cold orange fanta's. His whole family was there; his wife with a one month old baby and two girls, nine and seven. In the corner of the building was a bamboo mat and I lay down and had a good nap. Finally I reach the end of the race stage and there is Race Director Colin patiently waiting fo r me, yes I'm last. I buy him a beer at the Lugana Resort our camp site for the night. The beer has moved on again from "Kuche, Kuche" in Malawi to "Mosi" in Zambia. Still in Lusaka. Here's some more up dates.
April 14th (Day90) Thursday
Daily stats: 125km, 6hr 26min, 7020km to date
Bike: Smooth as silk, one flat at the end of the day
I head out from the Lugana Bridge River resort up a gravel path to the road. I'm feeling good today but the first 20km are all up hill. At 40km I hear a whistle and see bikes at a building. I get closer and see it's the "Last Hope" soda stop, coke and biscuits. On I go and pass several brush fires along the side of the road. This seems a bit precarious, as just back from the road are mud huts with thatched roofs. After a quick lunch I'm off then a sudden searing pain to my neck; I've been stung. Hoping it's not one of those African Killer bees you read about I zip back to the lunch truck for Nurse Edie to put some ointment on it. She says I'll live. My bike is going very well and I'm feeling good so I decide to make tomorrow a race day, but I must get prepared. At 3.00pm I see the yellow arrow and pull in. The bush camp is a Jehovah's Witness retreat, lots of empty buildings and an open area to camp. I have a slow leak in my back tire so I must fix it and get ready for tomo rrow. At night I take a long exposure photo of my tent, the moon and Sweetness.
April 15th (Day 91) Friday
Daily stats: 103km, 3hr 36min, 7123km to date
Bike: Like a bat out of hell
My plan is to leave early and get away at 6.15am, behind several other riders but ahead of the racers. I'm treating the ride as a half Ironman bike section, 90km non-stop. I've left my Camelbak in my red box and am carrying four energy bars and two water bottles. I'm soon past the riders who set out earlier than me and the bike is flying down the descents and up the short climbs. I reach the lunch truck at 8.30am and blow right by, waving to Thor and Nurse Edie. The second part of the ride goes just as well and I pull in to the Chainama hotel and campsite in Lusaka, Zambia's capital at 9.48am. I'm first to arrive and see Ed and Scottish Dave having a sandwich. They're surprised to see me but all I can do now is wait and see when the racers will come in. The first group comes in at 10.06am; they've picked up over 25mins on me during the 100 plus km, very impressive. I sit around and have a coffee, and then I get a room. After a swim it's off on the usual pilgrimage to find an Internet café. There's a couple of malls down the road and all our prays are answered. I find a shop that sells charms and get my Grand Daughter Autumn a Lion, Giraffe and Monkey. Supper is the perfect mall food, pizza. Tomorrow rest day.
---
April 10, 2005 Update
Am now in the Capital of Malawi, Lilongwe. Five weeks to go and still one third of the mileage to cover. Bike and rider still going strong.
March 29th (Day 74) Tuesday
Daily stats: 0km (me), 140km (total), 0hr 0min, 5424km to date
Bike: Used by one of the PR people, no flats!
After yesterday's adventure I'm on "Sweetness" today. Travel 40km then "Chug, Chug" we're out of diesel. While Ewald in the Land Cruiser heads out to get gas some from "Betsy" I head down a dry river bed and photo numerous brightly coloured butterflies. Soon we're on the road again and heading to the town of Iringa. The road is disgusting and the riders are having a tough time. As we enter the town the heavens open and the rain belts down. I jump out of the truck at an internet and update Sue and the web log of the latest happenings. Camp tonight is a Baptist retreat. Rest day tomorrow.
March 30th (Day 75) Wednesday
There's trouble brewing in the race. At breakfast one of the riders, Mr. X, feels that his closest competitor is writing down false start times. He calls over Race Director Colin to vent his frustrations. Colin suggests he talks to this person himself. Mr. X leaves the table muttering. Four of us grab a cab and head into town. A little more Internet, then lunch at the "Hasty Tasty", very good. I'm walking down the street and see three ladies selling peanuts. I buy ten small packets. I ask to take their picture as a small memento of the exchange. They say no. I offer some chocolate for a picture. They say no. They ask for money. I say no. They ask for chocolate. I say no and so it goes, nothing is simple. Back at the camp I take off the knobby tires and put on the slicks, ready for the pavement for the next month.
March 31st (Day 76) Thursday
Daily stats: 109km, 4hr 45min, 5533km to date
Bike: Two flats but great road
Finally some smooth riding. It's great to be back on pavement and the kilometers fly by. It's a sunny day and the fields of yellow sunflowers stand out against the dark clouds. The ride is interrupted with two flats. Having a close look at the tire on the second flat, Andre and I find three tiny thorns that have been macheteing their way through my inner tubes. Andre and I see the yellow arrow and it's off into another field for "bush" camp. However no "Betsy", this is critical because in "Betsy" is my red box and in the red box is all my worldly possessions. Only one answer had a beer. In Tanzania the top brews are "Kilimanjaro" (any time is Kili time!), "Serengeti", "Safari" and "Castle". I try a Castle stout, very fortifying. It then starts raining again.
April 1st (Day 77) Friday
Daily stats: 140km, 5hr 51min, 5674km to date
Bike: Back tire blew up at 125km mark, walked to camp
Packing a wet tent again, Yuk! I head off and at the top of a hill I see three boys on wooden scooters. I stop and have a closer look. They're something out of the Flintstones. Every thing is wood including the wheels. The kids are great and after taking a picture we share Power bars and peanuts. On I go, the morning is cool but the sun has started to come through the clouds. I ride by a maize field when I hear, in perfect English, "Hello, how are you, welcome". I continue for 50m but then decide to stop and chat. His name is Geremah and we go down through the maize field to a small mud hut. The hut is his sisters' Natalina and she's boiling water on a charcoal fire. They offer me "chi" and I accept. Geremah is a preacher at the local Catholic Church. He has three children and they're at the door looking at this stranger. Then a very old person comes to the door, I can't tell if the person is a man or a women. Geremah calls the person "Grand Father". Grand Father speaks very quickly. He says, "You have come, we've been expecting you". I finish my tea and thank Geremah and his family. More km's to cover. I meet Andre and Ed. Ed points out that my back tire has a bulge in it, not good. I continue. Going down a hill, BANG. No hiss, no flop just BANG. A 5km walk later I'm in camp and Tour leader Randy has given the biggest slick back tire you've ever seen.
April 2nd (Day 78) Saturday
Daily stats: 102km, 4hr 55min, 5776km to date
Bike: NO FLATS
Today we head to the town of Mbeya. My bike has now changed in appearance with a skinny slick on the front and a huge slick on the back. It looks like one of the "Chopper" bikes the kids ride. I had given my bike the nick name "Sugar" after the Gary Fisher model "Sugar plus 4" but now it's moved on to "Sugar Chop". Any way who cares what it looks like as long as I don't get any more flats. The morning is cool and a great day for riding. It's not a long day so several soda stops are in order. I pull into the Stockholm hotel and it starts to rain, I book a room. Tomorrow we cross the boarder into Malawi.
April 3rd (Day 79) Sunday
Daily stats: 125km, 5hr 58min, 5901km to date
Bike: One flat at the end of the day
Tour Leader Randy tells us that there's a brutal climb to start the day but then lots of down hill, ok. He's right the climb is tough but then I'm sweeping down through lush under growth going past small communities. At the bottom of a decent a man is saying "Slowly, slowly", I slow down then hit three of the most viscous speed bumps I have ever encountered. I safely make it over them and see two cyclists brushing themselves off. Henning (S. Africa) and William (Holland) had crashed. Henning had gone down first and William had gone over him. Earlier in the day David Houghton (Canada) had gone down and his injuries would require stitches. I take it a little more carefully for the next few km's. Then I hear "Hello" and see a man gesturing to his mouth. Must want to break bread together. I get off my bike and head up a small path to his hut. I meet his wife and will call them Mr. and Mrs. "Orange" because other than "Hello" they could speak no other English and Mrs. Orange knoc ked oranges off the tree in front of their hut for us to share. I thanked them for their hospitality and headed on. Reached the boarder at mid afternoon: easy crossing and no fee, excellent. We're in Malawi, country #6.Still in Lilongwe, Malawi. Watched the start of the Paris marathon this morning. A few more dispatches.
April 4th (Day 80) Monday
Daily stats: 130km, 6hr 5min, 6030km to date
Bike: One more flat
Little known fact #13: The circumference of the earth is 40,000km.
Day 80, (Phileaus Fogg take note) two third's of the tour completed. Let's summarize. The Trip: I've ridden 60.3% (6030km) of my target (10,000km) distance; have had my bum in the saddle for 307hrs 15min for an average speed of 19.6 km per hr. The Bike: I have a United Nations bike; front inner tube, Andre (Holland); front tire and rear inner tube, Pat (Canada); rear tire, Tour Leader Randy (Canada); handle bar extensions, Ewald (Holland); pump, Earl (America); seat post clamp, Dr Bonnet (France); front wheel pin, Marten (S. Africa) and the rest, Preston (Cochrane, Canada). To date 25 flats (I'm really good at patching tubes). The Body: four bruised ribs, three stitches to left elbow, two big crashes, one cracked helmet and various sores, sickness, infection and fever. However, all on the mend. Long day on the bike but we ended up at the Chitimba Beach resort on Lake Malawi, tomorrow a rest day.
April 5th (Day 81) Tuesday
Didn't get much sleep, several over land groups moved out of the camp ground at 5.00am making loads of noise. Went down to the beach at sunrise and watched the fisherman bring in pails of small fish in their dug out log boats. Spent most of the day waiting around the beach café / bar waiting for meals. Record wait was 3½ hrs for lunch (it actually became an early supper). Nurse Edie took out my stitches from the left elbow, seems to be healing well. Banged my head on the low hanging thatched roof of the café. Didn't think much of it at the time, just a few scratches, but it would come back to haunt me later on. Had a very tasty roast pig meal for supper, the veggies in the group had baked corn.
April 6th (Day 82) Wednesday
Daily stats: 147km, 8hr 26min, 6178km to date
Bike: No flats
As we moved from Tanzania to Malawi so other changes were noted: the currency went from Shillings to Kwacha; for the beer aficionados, the tipple moved from "Kili" and "Serengeti" to "Kuche Kuche" (no kidding) and "Carlsberg". Tour Leader Randy had warned us, the night before, that the morning consisted of a killer climb. He was not wrong. The first 5km took us to the base the climb then we went up 1000m in the next 12km. The view of Lake Malawi was incredible, the lake is 600km long and at it's widest point 100km. The rest of the day was spent riding along a ridge road and making numerous coke and chip stops. I met Henning in the mid afternoon and he was having a rough day. We found a soda stop that had frozen drinks. As we sat outside the shop sucking on the ice we heard children singing in a hall across the road. We ended the day in the town of Mzuzu.
April 7th (Day 83) Thursday
Daily stats: 79km (me), 135km (total), 5hr 10min, 6257km to date
Bike: No flats
Didn't feel great. No motivation. Tried to find a pastry shop I had heard about but no luck. The countryside changed from lush vegetation to pine forests. Passed several timber mills along the side of the road. The locals carry several lengths of the finished lumber on their heads. Took me over 5hr to do 80km, rubbish. Get to the lunch truck and call it a day. While I'm waiting to take "Betsy" to the campsite, Thor, one of the African Routes people shows me a spider that eats flesh. Note to self: get new batteries for cap lamp re. Nighttime toilet trips.
April 8th (Day 84) Friday
Daily stats: 135km, 5hr 27min, 6393km to date
Bike: Went like a bullet
Took three Ibuprofen and felt great. Started with Henning but soon moved ahead. Small hills and a good road for the morning. Made the lunch truck one minute ahead of the racers. After lunch I hooked up with Andre and Ed and took the "Soda trail" the rest of the afternoon. Found a shop that had a cool corner and took a short nap. Got into camp but didn't feel to good. Had a swelling behind my right ear and I went to see Nurse Edie and Dr Robin. He said I had an infection from the scrapes on my head and I had to go on antibiotics. Henning is also having problems from his fall; Dr Robin checked him out and put him on the same medication. I didn't feel hungry so I went to my tent and crawled into my sleeping bag. Rough night.
April 9th (Day 85) Saturday
Daily stats: 0km (me), 100km (total), 6393km to date
Bike: On top of Betsy
Felt rotten after getting up so decided to take Sweetness to Lilongwe. Henning (S. Africa) looks crushed, he's decided not to ride, a very difficult decision for him as it means he's out of the EFI club. Pat's missed a few days due to a cold so we decide to go to the Kimboko camp site, pick up some stuff then find a hotel. At the campsite we meet Arnold (Holland) and he's ready to ride. Arnold had broken his hip back in Ethiopia, gone back to Holland for an operation and is now ready to finish the tour. He shows us the x-ray of his hip with two pins in it. What other race can you break a hip, come back and still be in contention for a stage win, amazing. We meet Taxi Driver Chem and he takes us around the city. Lilongwe is the capital of Malawi and is well laid out. Lots of parks and a good road system. Taxi Driver Chem recommends the Crossroads hotel and we check it out. Very nice. Next to the hotel are a pizza shop, ice cream parlour and Internet café, bingo!
I find another charm for my granddaughter Autumn, this time it's a Cape Buffalo. At 10.00pm I phone my sister Sally in London. She's hosting a girls weekend for my other two sister's Jan and Lou and my fiancée Sue. They've just got in the door and we have a great chat. They say I'm too old for this kind of stuff and should ride the truck more. Sounds like a pretty good idea.
---
March 29, 2005 Update
I've just arrived in Iringa in Southern Tanzania. I'm hanging in there but I'm having to patch everything; clothes, tubes, thermarest and me. Here's some more dispatches:
March 13th (Day 58) Sunday
Daily stats: 100km, 7hr 22min, 4365 km todate
Bike: One flat, went well
Happy Birthday Janny Wanny! 21 today!
Back on the road again. Today was a day of two halfs; heaven and hell! The morning: Several of the group had been woken by Elephants stomping through the camp ground during the night. I missed it all, must have slept well. The morning was cool and riding in the mist felt great. The road was good with a little tail wind and I made great time to lunch. My ribs felt good so onward. The afternoon: Almost immediately the road turned bad. Washboard across the entire width and gravel shoulders. The sun came out and I started to cook. I stopped and huge flies started to attack me. At the 98km mark a sign said "Cool drinks", they weren't. Finally the camp.
March 14th (Day 59) Monday
Daily stats: 44km (me), 85km (total), 4hr 25min, 4409km todate
Bike: Went slow
The ride today was brutal and depressing. Continual washboard with lots of ruts. Ed (England)is one of the sectional riders who was with me as we struggled to the lunch truck. It takes me four and a half hours to do the 44km and I realize I ran my marathons faster than I rode the bike today, pathetic. Andre was already in Betsy and the road got no better as we continued to camp. At camp we're attacked by bees then ants and my ribs hurt, what a whiner!
March 15th (Day 60) Tuesday
Daily stats: 0km (me), 85km (total), 0hr 0min, 4409km todate
Bike: Resting on Betsy Half way through the trip, no turning back now. I have some physical challenges on my rear so I'm taking the day off. In the truck we see Mount Kenya in the distance , the highest peak in Kenya. We continue to camp in the town of Isiolo and I put up my tent (I'm getting better). I talk to Ed (sectional rider just arrived) and he tells me the shocking news: Dirty Den in the Eastenders has been knocked off, go figure.
March 16th (Day 61) Wednesday
Daily stats: 75km, 4hr 19min, 4484km todate
Bike: Performed well, tires facing the wrong way!
Little known fact #7: David Houghton (Canada)was a professional drummer for 9 years and played with the band "Cowboy Junkies". Physically things felt better in the rear department. So off I go. The landscape reminds me of the rolling hills of Devon in England but then I see four Sumoro tribesman with ornate head gear and spears; this isn't Devon. Andre, Ed and I stop at a soda shack and have a coffee and African doughnut. It's trianglar in shape and very sweet, Tim Horton's take note. Camp is at the Sports Arms: Swimming pool, sauna and steam bath. Never been cleaner.
March 17th (Day 62) Thursday
Daily stats: 109km, 5hr 21min, 4593km todate
Bike: Went well, needs cleaning (again!)
Today we cross the Equator. Leave camp and after 2km see big sign "Equator". Tour Leader Randy lines us up for a photo shoot so we oblige. Behind the sign is a row of curio shops; Jumbo's #24, Noak's ark #25, Lion's den #26 and so on. We head off and enjoy the good road. After lunch the road deteriorates and at a bumpy section one of the rides has taken a flip and cut up his face. Later in the evening there's a draw for some prizes and my name is pulled out last; I win a great African mask. I'll send it back to Sue when I get a chance.
March 18th (Day 63) Friday
Daily stats: 103km, 5hr 22min, 4697km todate
Bike: Ripped off a valve while inflating (Preston, defective tube!)
Today we head into Nairobi or "Nairobbery" as we've heared it called. The ride is good and there's a press conference upon our arrival at the Upper Hills camp grounds. I stay in a hotel for my day off and go into a supermarket. It's amazing: rows of food, milk, fruit, chocolate, ice cream. I could live here. Tomorrow the mall!
March 19th (Day 64) Saturday
Back to the Serti mall in Nairobi. First stop is the laundry, pick up at 2.00pm then I pack up the mask that I had won the other night at the camp and send it to Sue, hope it arrives in one piece. Next the Internet, this place is good, high speed and no power outages. A couple hours pounding the keys then to the jewelry shop for a charm for my granddaughter Autumn. I find a silver elephant, excellent. A quick sandwich for lunch then back to the Internet, this could be the last high speed connection 'til Cape Town. I'd promised to send a gift to Mr and Mrs Beyers, the family Kris is staying with and find a mask that will look good on the office wall. This time the package goes to Canada. Pick up the laundry and back to the hotel. Boy these rest days sure fly by.
March 20th (Day 65) Sunday
Daily stats: 161km, 6hr 25min, 4858km to date
Bike: Cleaned by the rain, had a flat
Eleven new people joined the Tour today, nine riders and two PR. Two people left; Paul (Canada) and Este (South Africa). Black clouds over head and as we leave Nairobi in a convoy the heavens open and we get the first of many down pours. It soon ends and we start to dry off. Andre (Holland), Ed (England), Pat (Canada) and I spot a roadside soda spot "Dave's Place" and its time for the mid morning coke. We don't stay long as we can see thunderclouds gathering and lightning on the horizon. For the rest of the day we try to out run the rain but then it hits right after lunch. It belts down and there are torrents of water running down both sides of the road and in several cases across it. The good news is that it's fairly warm and we're not freezing. We arrive at the campsite and it's still raining. The site has some basic rooms and I take one.
March 21st (Day 66) Monday
Daily stats: 80km (me), 120km (total), 4hr 6min, 4938km to date
Bike: Cut tire, pinched tube, knobby on back, slick on front, a real pain
And the rain continued all night, glad I took a room. Today is a boarder crossing : Kenya to Tanzania. We arrive in Namanga, the boarder town and get a stamp to leave Kenya, then across the road to the Tanzanian building, fill out a form, hand over $50 US (hope they spend it on roads!) and we're in. The road sweeps down and I get a great view of Mount Meru the second highest peak in Tanzania behind Mount Kilimanjaro. I'm riding along a flat piece of road when I hear the worst sound a cyclist can hear: hiss, a flat tire. I sit down and have a strawberry power bar when Isaac comes along. He's from the Maasi tribe, is married and has a boy eleven and twin girls nine. He helps me fix the tube and I give him my other strawberry power bar. He saves half for his wife to try. The road starts to climb, I'm at the back of the pack and getting fed up. I meet Andre (Holland) and Ed (England) and they've had enough as well. We flag down a yellow pickup truck and we're on our way. The driver is Danish and runs horse riding safaris. We get to camp in Arusha and I pitch the tent; then rain.
March 22nd (Day 67) Tuesday
For the next two days I've booked a mini safari to the Ngorongoro crater. Most of the riders are going on the trip, some camping and the rest (including me, I've had enough of the rain) in the Wildlife Resort on the rim of the crater. The tour is lead by "Big Fish" from Fun Safari's, however on the first day the "Fun" part was in question. "Big Fish" collected the money; cash and travelers cheques and sent us off in three Land Cruisers with three drivers. Our driver was Siade and as we headed South from Arusha is talked about the area. Three hours later we are at the entrance to the Ngorongoro National Park and ready to go in : problem. They don't accept travelers cheques fro the park entrance fee. We all sit around as the drivers try to sort it out. The lights failing when some sort of deal is worked out. On to the resort, hopefully it'll be more "Fun" tomorrow.
March 23rd (Day 68) Wednesday
Great breakfast: eggs, bacon, french toast and maple syrup. We dash to our Land Cruiser through the rain (resort good decision) and head down the steep rim road into the crater. Again Siade is our driver and our group includes William (Holland), Pat (Canada), Andre (Holland), JJ (Canada) and Christine (Canada). During the next six hours we see an array of wild life: Hippo's wallowing in a lake; herds of zebras and cape buffalos grazing together; three elephant's eating leaves from a tree and a lioness hunting a weak gazelle separated from the herd. We head back mid afternoon and arrive back at the campsite in the early evening. After supper I give a radio interview to CBC Montreal via a cell phone.
March 24th (Day 69) Thursday
Daily stats: 107km, 4hr 28min, 5045km to date
Bike: One flat, fixed rim tape, put knobby on front
Tent soaked and somehow mud crept in between ground sheet and tent bottom, disgusting. Left Arusha in a convoy, sky overcast and cool temps. Road is good and I'm making good time, then: flop, flop, flop flat tire on the back. Patched tube (running low on patches!) and on my way. At lunch I meet two Maasi boys. They were dressing in all black; one had white circles painted on his face the other had white triangles. I asked to photograph them and they asked for money. I said no and they spotted my water bottles. They wanted water for a picture, ok. I learned that this is part of the ritual that the Maasi boys go though to achieve manhood. Arrived at the Lake view campsite and Sweetness was stuck in the mud. We all dug and pushed and eventually with the help of a tractor we pulled her out. Tomorrow dirt roads and it's three days to Dodoma, the Capital of Tanzania.
March 25th (Day 70) Friday
Daily stats: 109km, 7hr 42min, 5154km to date
Bike: Flat after flat, pump broke, tomorrows another day
Left the camp ground and picked my way through the muddy path to the main road. Little did we know what role this muddy path would have on the day's events. The morning is spent riding and repairing flats. Ed (England) gives me a hand and in the early after noon we enter lush rain forest. I see Ed up ahead talking to two women. As I catch up to him I see he's eating what looks like sausages in a creamy gravy. I try some and they taste like potatoes. They're actually baked unripe bananas with goat's livers, very tasty. One lady introduces her self as Monomissie, her sister as Fatima and her mother as "Mother". She give Ed and I "Chi" tea and we're on our way. Great hospitality. Later in the afternoon we stop for a soda and meet "Ironman", he ironing a pair of pant with an iron filling with charcoal. I take a picture and will send it to him. At 107km we pull into a town and see Betsy but no Sweetness. We learn the truck got stuck in the mud on the way out of the campground. Robin (England) speaks Swahili and talks to Peter, the local School Principal. He agrees that we can sleep in the School buildings tonight. Betsy has my red box with all my stuff. Betsy carries the red boxes of the slow riders, Sweetness carries the boxes of the fast riders. Sometimes it pays to be slow!
March 26th (Day 71) Saturday
Daily Stats: 110km, 8hr 3min, 5264km to date
Bike: Three flats, caked with mud
My first 8hr day on the saddle, but it really wasn't that bad. Sweetness had arrived late last night and it had continued to rain during the night. Robin, Ed, Andre and myself went over to see School Principle Peter and thank him for the use on the School. Robin gave him a small donation for the school library and we were on our way. The road was a mud pit but it was loads of fun. I hear "Martin" called out and head over to a shack on the side of the road. Stefan (Germany) and Colin (Canada) are having Chapattis and Chi and I join them. It's warm in the shed but we have to leave. The rest of the day is spent splashing in the mud and soda stops. Tonight it's a bush camp and a number of locals are standing around watching us. One fellow has started a bike cleaning business and I hire him for 200 shillings (20c). I should bring him a long for the rest of the trip.
March 27th (Day 72) Sunday
Daily stats: 117km, 6hr 34min, 5381km
Bike: Washed and cleaned (rain)
Decided to get a fast start today, left at 7.20am. Countryside is still green but now a lot sandier. The road is pretty good and I make good time. No tire problems and I arrive at the outskirts of Dodoma mid afternoon. The road gets worse as we approach the capital but finally turns to pavement. The capital used to be Daris Salam but they moved it to Dodoma to be more central. Trouble is there's nothing around it and the city hasn't been developed yet. Race Director Colin gives us directions to the hotel / camp site but then the heavens open and we take cover under a tree. We wait but it's no good the rain doesn't stop so we push on and get to our destination. I need to dry off and warm up so I book a room.
March 28th (Day 73) Monday
Daily stats: 43km (me), 130km (total), 3hr 17min, 5424km to date
Bike: Pushed it for 10km, pump broke again, 3 flats
The day of the "Big Crash 2". Left Dodoma in a convoy lead by the Tanzanian Cycling Champion (TCC) and had a great ride for 30km. Saw TCC at the side of the road. He raised his had to give a high five. I took my right hand off the handlebar and as I was about to make contact my front wheel dropped into a pothole. The handlebars ripped out of my left hand and down I went. TCC rushed over to apologize but I said it was totally my fault. Scrapes to the left leg and a gash on the left elbow. Again the bike was undamaged (re "Big Crash 1") and I was on my way. Two km up the road a soda stop and some of the riders. Cleaned up the mess and band aided what I could. Back to the bike : flat tire. Changed it and on again. Two km later: flat tire. I'm running out of tubes. Start to pump but pump broken. I'm up a creek without a paddle (or pump). Only solution, push the bike (has it come to this!). As I walk the Dodoma / Iringa road two fellows come along on bikes. Salvation, surely they have a pump. Through sign language I explain what I need and they nod. Yes, they have one but not on them. We have to go to their shop. They indicate that I should get on the back of one bike while the other fellow rides and push's my bike. We must be quite a sight going along the road. Then they via off into a maize field. The fellow riding with me on the back says "shortcut", ok, in for a penny, in for a pound. We weave our way on a path through the maize field, every so often passing a house with women working outside, they just look. At the shop I meet Sylvester, a lad of 18, who speaks good English. They try to fix the tube but no luck. I walk with Sylvester back to the main road and say goodbye. I walk for 10km then flag down a truck. They drive me for 15km when I see Betsy coming towards me. Betsy stops and I load my bike in and thank the truck driver. Finally camp. Dr Paul (Holland) cleans me up and puts three stitches into the gash on the elbow, bush medicine at it's best. I'm riding the truck tomorrow!
---
March 19, 2005 Update
I'm back! After spending almost three weeks in the dark zone (Southern Ethiopia and the lava fields of Northern Kenya ) I'm in Nairobi and at High Speed Internet café in a mall. Things have gone well other than the "Big Crash" (details to follow). Yer Tis.
Feb 28th (Day 45) Monday
Clean the bike or a round of golf at the only course in Ethiopia. Preston at Cochrane Cycle told me you can over clean a bike, so fore! William (Holland) and I pick up our rental clubs and meet our caddies Yonis and Yakamara, two local lads who are doing a mechanical apprenticeship at a college in Addis Ababa. They know the course and help me to a 45 on the front nine and a 49 on the back nine (same nine). One thing that they didn't tell us, and we only found out later, was that there is a family off Hyenas living at the back of the 4th green and the grounds keeper feeds them with scraps of food, interesting. In the afternoon a group of us go into Addis to the biggest market in Africa. The place is nuts, little stalls and back alleys everywhere; here they sell everything from spices to assault weapons. There's even a dung store, top of the line!
March 1st (Day 46) Tuesday
Daily stats: 108km, 4hr 40min, 3640km to date
Bike: Needs cleaning
Headed out of Addis today. We travel in a convoy which gives us some control from the crazy drivers trying to cut us off. Soon we're out in the country and heading to Awasa. The road is fast and the temp is starting to climb. Andre (Holland) and I decide it's time for a soda break and, in a small village, we find a cool, dark room that sells ice-cold cokes. We have one then another. Feeling a little sleepy we grab a nap on a couple of benches. The four locals who are in the room just look on and say nothing. Our campsite is in a large field and in the late afternoon Andre, New Ed (England, just arrived) and I head over to several round huts. We meet a man and ask if we can go into his hut. He says yes. Inside it's dark with rays of light filtering through the reed thatched roof. The hut is cool with the mud bricks providing a barrier to the heat. We meet his wife and she has a baby. On the floor is a stuffed mattress and against the wall is a bedspring. Hanging on the wall i
s a rake with lots of empty bottles. It's very simple. They take us to meet the rest of the family, Grandmother, brothers, sisters and many kids. We say "Salam" (thank you) and head back to our tents for the night.
March 2nd (Day 47) Wednesday
Daily stats: 118km, 4hr 32min, 3759km to date
Bike: Very fast
Good road and the km's just click by. Then I get the urge to help out on the "Great Ethiopian Trench Project". I jump off my bike and walk over to a group of men digging the ditch. I ask for a pick and jump into the hole, one man points to a spot and I start breaking up the ground. The group starts to laugh and clap, I then grab a shovel and toss the earth out. In all it lasts about 10 mins. The guy's are great, we shake hands and I say goodbye. So is established the "Great Ethiopian / Canadian Trench Project".
March 3rd (Day 48) Thursday
Daily stats: 138km, 6hr 44min, 3897km to date
Bike: smooth sailing
The last few days we've been riding through the Great Rift Valley, open country and good roads. We pass through Shashemene, the capital of the Ethiopian Rasta Community. I hear a shout and there's a bunch of bikes outside the "Reggae Juice Bar". The speciality is an avocado, mango, pineapple and sugar cane layered concoction; sumptuous. I meet "Sven", a transplanted Rasta Swede who's been running the juice bar for five years. All along the road there are people; men, women, kids and a term they shout out consistently is "Abba". This is either a greeting or there's a huge following for the Swedish (Sven?) pop group. Supporting this theory is that we often hear the yell "money, money, money", one of their biggest hits in the 70's. There have been several incidents of kids throwing stones at cyclist and this has caused some concern with in the group. However, for every stone, there's been a hundred "hi, hello and welcomes".
March 4th (Day 49) Friday
Daily stats: 112km, 6hr 36min, 4009km to date, Rain and Thunder showers
Bike: Brakes work well
Another stage win for William (Holland) and myself. Today was the "Pastry Stage", Race Director Colin had told the group about a pastry shop that was 25km from the camp site. We were there first and even though this year it's not an official stage, Race Director Colin said that it is under consideration for next year. Again loads of people along the side of the road with lots of questions. I just yell out "Kenya. Martin. 49. Canada" before they have a chance to say anything and this seems to answer 95% of their enquires. I spot a table tennis table at the side of the road and it's time for a little friendly competition. The young lad seems a little surprised when I ask for a game but we're soon into it. The crowd quickly gathers and I've never played in front of so many people. They crowd the table and one of my forehand smashes hits a fellow in the neck, but he takes it in good spirits. The young lad wins 21-7 (probably the under 14 national champ). I must get used to the t
hinner air and paddles covered with electrical tape. Towards the end of the day I'm heading down a hill too fast and two little girls shoot out from behind their Mum's skirt. I slam on the disc brakes (good suggestion Preston) and miss them by inches. Matt (England) was not so luck, he clipped a lady while doing 70km. She was ok but Matt suffered a broken collarbone
March 5th (Day 50) Saturday
Daily stats: 70km (me), 135km (total), 3hr 50min, 4079km to date
Bike:needs a clean
Little known fact # 4 : The Tour D'Canada is a yearly held cycle trip from Vancouver, BC to St Johns, Newfoundland; toal distance 7,746km.
Completed over 4000km and I'm thinking I should set some kind of a distance goal for myself. I was out of the EFI club after day two so I'm going to try for 10,000km by the end of the trip, sort of 87% EFI. After 20km I enter the first big town, as always the under 6's come out in waves and yell "you,you,you", they sound like a flock of baby starlings. Sometimes you can't even see them, you just hear their call from the bushes. The road is rough and getting rougher. The landscape is rolling and at one stage pass through a pine forest. In the next town I spot another table tennis table, payback time. This time I lose 21-17, much closer (probably the under 16 national champ), again big crowd, lots of shouting and cheering. By lunch time I'm done and Andre (Holland) and I jump on the truck. We chat and plan to get T shirts made up saying "I love Betsy" with a picture of the truck on.
March 6th (Day 51) Sunday
We've continued our travels through Southern Ethiopia and have a rest day in the town(?) of Yabello. We're camping at a motel but there's nothing else around except for some straw hut shops. There's only one thing to do in this situation: clean the bike. I strip it down component by component and clean them 'til they sparkle, sort of. There's nothing else to do so we sit around the outdoor patio and chat. I tell William (Holland) that after the "Pastry Stage" the other day I was "sweating like a pig", he said that the saying in Holland is "sweating like an Otter", neither make much sence. In the afternoon a group of us go on a mini safari. We see eaveral "Dick-Dicks" (looks like a cross between a rabbit and a gazzelle), Eygptian Geese and a herd of Zebra's.
March 7th (Day 52) Monday
Daily stats: 130km, 6hr 17min, 4211km to date
Bike: Blindingly clean
As enter week eight of the tour two distinct groups have emerged: The "Racers" and the "Easyriders". The Racers leave every morning at precisely 8.00am, travel in a pack, have perfected the 40sec lunch stop, wear helmets with the pointy end at the back and are members of the EFI (Every F*&%$*& Inch) club. The Easyriders on the other hand leave at any time before 8.00am, carry every thing including the kitchen sink on their bike, have perfected the 40min lunch break and are members of the ETI (Every Trucking Inch) club. The day continues and the sun gets hotter, Andre (Holland) and I stop for cokes and "Engeera", a local dish consisting of a pancake type bread with four sauces, not bad. That evening two Swiss couples arrive at our camp site in Land Crusiers. The vehicles are fully equipped and I take some pictures to show my sister Sally and her boyfriend Martin who are thinking of doing an overland trip through Africa.
March 8th (Day 53) Tuesday
Daily stats: 54km (me), 85km (total), 3hr 10min, 4265km to date
Bike: In great shape even after the accident.
The day of the"Big Crash". It started off as a normal Tour D'Afrique day, I left around 7.30am and toddled along enjoying the scenery. Jack (America) came by around mid morning and said that the racers were a minute back and right he was. As the pack went past I thought that maybe I would join them and get a few "Quick km's" under my belt. The pelaton reached 30km per hr and every thing was going well then suddenly my front wheel lurched 90 degrees to the direction of travel (not good). Next thing I remember I'm hitting the pavement and the back of my helmeted head is smashing into the ground, next I'm lying on my left side with the wind knocked out of me. I lay there checking my legs and arms, they all seem to be working. Jack helps me up. I brush my self off, huge road rash and bruised ribs on my left side. I check my helmet, cracked in three places. I look back down the road and see my bike, then beyond that a brick shaped rock. Jack moved the rock off the road and I get on the bike. I cycle 20km to the lunch truck and nurse Edie applies the peroxide (owch!). No more biking today.So remember Boys and Girls, Mums and Dads, ALWAYS wear your helmet when riding your bike.
March 9th (Day 54) Wednesday
Daily stats: 0km (me) 80km (total), 0hr 0min, 4265km to date
Bike: Sitting on the top of Betsy.
Felt rough this morning, sore ribs and hard to take a deep breath. I climb aboard "Sweetness" (the other truck) and get as comfortable as possible. We crossed the boarder from Ethiopia to Kenya yesterday, hello goes from "Salam" to "Jumbo", Birr turn into Shillings for currency and "St George" turns into "Tusker" beer. I rest and snooze for most of the day. The road is horrible so I didn't miss much.
March 10th (Day 55) Thursday
Daily stats: 0km (me), 85km (total), 0hr 0min, 4265km to date
Bike: Still on top of Betsy
Didn't get much sleep last night, my neck is stiff and sore, on top of that my "Thermarest" matress got a hole in it. Bloody marvelous. Back onto sweetness I go and we head to the "Lava fields of Northern Kenya". The landscape is barren except for evenly spaced volcanic boulders as far as the eye can see. Very difficult to get the tent pegs in.
March 11th (Day 56) Friday
Daily stats: 0km (me), 85km (total), 0hr 0min, 4265km to date.
Bike: Well settled in on Betsy.
Day three of my enforced rest. Rotten night sleep with rocks sticking into my flat Thermarest matress (must fix it). I've been appointed Acting Race Director today as Colin wants to ride this section. Andre (Holland) is also on the truck so he becomes Assistant Race Director. The race starts at precisely 8.00am and after the Racers are gone we head off to the camp site. The road is terrible; washboard, rutted, gullys, no one is making goodtime. The race will end in the town of "Marsabit" at the "Highway Hotel". Andre and I position ourselves on the balcony of the hotel with two tuskers, our work begins. Kim (Denmark) and Martin (S. Africa) win the stage but it takes them five and a half hours to get in. It's going to be a long day for many of the riders. Every one is in by 6.00pm and agree it was one of the toughest days yet.. Tour Leader Randy warns us that Baboons may try and get into our tents and steal our toothpaste. I wonder if they'll take the floss as well?
March 12th (Day 57) Saturday
Rest day today and I finally had a good sleep. A group of us head into town and get some fried eggs and chips for breakfast. Attempt to change some money at the "Kenya Commercial Bank"; three tellers, two queues, and one hour later I walk out with some Shillings (I got a better rate with the black market guys at the boarder). Walking around town some of the locals tell me about "Big Game" in the afternoon. Could this be the gathering of elephants or lions? Actually no. They've invited me to join them at 3.00pm to watch the "Big Game", Arsenal vs Bolton in the FA Cup quarter finals. I arrive at 2.55pm at a place called "Jey Jey's shed" and walk in. The place is packed with around 150 ardent Aresenal supporters. I pay my 10 shillings and sit down. I'm told Marsabit is a strong hold for Arsenal and the inside of the shed bares this out. The walls have posters of the team and a number of the players. As the game starts there's a big cheer and it continues for the next two hours
. Arsenal win 1-0 which is good and I head out for some fresh air. Back at the camp site I meet Paul, a young fellow who is working with 10 orphans who have HIV. We chat and I give him a little donation and my email address. We'll stay in touch
---
February 28, 2005 Update
Arrived in Addis Ababa last night, here's the latest news.
Feb 22nd (Day 39) Tuesday
Spent the morning at an Internet café down the road from the Dim Anbessen hotel in Bahar Dar. There's two golden rules when travelling in Africa: Internet cafes are never as good as they seem and ALWAYS carry a roll of toilet paper with you. In the afternoon a group of us visited two monasteries on islands in Lake Tana. The Religion in Ethiopia is predominately Orthodox Christian and a monk at one of the monasteries showed us scriptures and artefacts dating back to the 14th century.
Feb 23rd (Day 40) Wednesday
Daily stats: 121km, 6hr 57min, temp 30C, El 2400m, 3097km to date
Bike: Ewald did a tune up, in great shape
Well we're a third through the trip and let's summarize: We're in our third country out of ten, travelled over 3000km, four of the cyclist's are no longer with us (Aris and Arnold will be back later, Dr Boinet left after one day and Alfons tragically passed away). Me, I'm in 29th place, 51hrs behind the leader Kim. The question is, when do I make my move? I don't want to go too early so I think I'll wait a couple of weeks. The roads are getting a little better so I'll pick my spot.
Feb 24th (Day 41) Thursday
Daily stats: 142km, 6hr 50min, temp 35C, 3239km to date
Bike: Spokes sound like wind chimes
Felt good today and William (Holland) and I won the "Lunch Truck" stage. It's not an official stage but at least we got to see what the racers have to eat each day at lunch time before the rest of the pack arrives (doughnuts, strawberries etc). In the town of Amanuel met "Mr Big" (Lem Lemu Zeleke) and he told me that the Great Ethiopian Trench Digging Project was for telecommunication cables, things are moving on.
Feb 25th (Day 42) Friday
Daily stats: 88km (me), 105km (total), 4hr 53min, temp 49C, El 2545m, 3327km td
Bike: No problem Big day on the tour, we traverse the Blue Nile Gorge, 20km decent (drop 1300m) then a climb of 18km. We cycle 65km to get to the gorge then down we go on an unpaved, gravel path. Both hands are on the brakes and I hold on for dear life. At the bottom the temp is 49C. I try to go up but my brain cooks, I turn around, go back to the bottom and wait for the truck. The views are great and I'm beat.
Feb 26th (Day 43) Saturday
Daily stats: 91km, 4hr 48min, temp 40C, El 3100, 3419km to date
Bike: Very smooth
Riding along a paved high in the morning I see a shocking sight, a dead donkey in the middle of the road. As I get closer I realize it's not a donkey but a hyena! The thing is HUGE and a group of locals are standing around and poking it with sticks. We arrive at the camp site and are told that the wife of Bob Marley, the reggae singer lives next door, yes celebrities every where. Down the road is the Portuguese Bridge, cement made of limestone and eggs. The views from this location are incredible.
Feb 27th (Day 43) Sunday
Daily stats: 113km, 6hr 20min, 3532km to date
Bike: No problems, going well Preston
Today we cycle into Addis Ababa. We continue through small villages and rolling hills. On the left I see "The Hay Pyramids of Ethiopia" towering hay stacks up to 120' high. One of the farm workers, Muzaka, explains that the farm is owned by the Government and is run as a cooperative. The road is excellent and we make good time. We all congregate at the top of a large hill over looking the city and travel through the streets in convey. We arrive at the "Addis Ababa Golf Club" in the early evening. Tomorrow is a rest day and my bike eeds cleaning, but this is a golf club, decisions, decisions
---
February 22, 2005 Update
I'm presently in Bahar Dar on the Southern tip of Lake Tana in Ethiopia. Here is the latest updates.
Feb 11th (Day 28) Friday
Had a good sleep in the Acropole hotel. Got up early and sent an email to my daughter Kristina, it's Autumn's first birthday today so grandpa sent her best wishes. Today we're guests of the Sudanese Ministry of Tourism. First stop the race track. We walk into the grandstand and sit in the private boxes. Behind us are three rows of Army Generals, must be military appreciation day. We watch three horse races, there's no betting but lots of cheering. The rest of the day includes a museum, speeches, lunch, speeches, gymnastic display, speeches and supper. Tour Leader Randy presents three bikes, from the Tour D'Afrique, to the Minister of Cycling. This is one of the mandates of the Tour and he will be going this as we proceed through the trip.
Feb 12th (Day 29) Saturday
Daily stats: 152km, 5hr 50min, temp 36C, 2323km to date
Bike: No problem
In the lobby of the Acropole hotel bumped into Robin Thomson and Gary Gray from the YMCA in Sudbury, amazing. They're doing work for the Y in Cairo and Khartoum. We're escorted out of town and for a while "Betsy", one of the support vehicles is stuck under a bridge. The road is OK as we head South, this night camp ground is a school yard.
Feb 13th (Day 30) Sunday
Daily stats: 160km, 7hr 12min, temp 34C, 2483km to date
Bike: No flats
Happy Birthday Kyle (20). Today was another high mileage day on good roads. People yell "where are you going" and I shout back "Gondor". Yes, the mystical city in the misty mountains of Ethiopia. My precious has performed well so far, no flats over the last few days, but there are still six days to go before we enter the dark fortress. Kimo and Arnoldwise are leading the Fellowship of the Tour but there are many hazards still ahead! OK too much sun. The desert is still all around us, will it ever end.
Feb 14th (Day 31) Monday
Daily stats: 145km, 6hr 24min, temp 35C, 2628km to date
Bike: No problems
Today was a tragic day. One of our riders, Alfons Zehnder, from Switzerland, died from a heart attack. He hadn't been feeling well during the day and he got on the truck to rest. He fell asleep and never woke up. Alfons was 61 and rode his yellow bike with a cadence of 90 plus every day. We're all thinking of you and are in our prayers.
Feb 15th (Day 32) Tuesday
Daily stats: 0km (me), 85km (total), temp 48C, 2628km to date
Bike: On the roof of the truck
Didn't feel well last night and beat by the morning. Time for a break. Spent the morning snoozing on the truck as the temp started to climb. The country side has changed from desert to scrub, small bushes and a brown dry soil. It's a long day and a number of the riders arrive late and exhausted. We then hear the news that's there's been another accident. Arnold (Holland) has come off his bike and hurt his hip, no assessment as to how bad. He'll need an x-ray. Will any one make it to Cape Town?
Feb 16th (Day 33) Wednesday
Daily stats: 65km, 4hr 20min, temp 51C, 2692km to date
Bike: No problem
Felt good and left early this morning to try and beat the heat. Today is boarder crossing day from Sudan to Ethiopia, should be interesting. Reach the town of Galabat at 11.30am and get an exit visa from Sudan, no problem. We then cross a bridge and several men point to a straw hut, Ethiopian customs. While we wait, "Jimmy", a lad of 16, organizes money exchange and beers. There was even a suggestion box outside the hut. This was the best boarder crossing ever. Luckily camp was only 100m from the boarder. No drinking driving!
Feb 17th (Day 34) Thursday
Daily stats: 59km (me), 96km (total), 4hr 36min, temp 49C, 2752km to date
Bike: Went well, me no
The night was hot and loud. It doesn't cool down and during the night there were dogs, donkeys, chicken and other assorted animals making a racket. I start off and it's getting hotter and hotter. The land is becoming mountainous and is similar to Arizona. By 11.00am I've drunk my 3L in my Camelbak and the 2L in my bottles and still no lunch truck! I finally see it and that's enough for me for today. At camp, thunder clouds roll in and we get a show of heat lighting. Then the rain comes, huge drops, the first in five weeks but still it's hot.
Feb 18th (Day 35) Friday
Daily stats: 46km (me), 90km (total), 4hr 43min, temp 40C, 2797km to date, Elv. 2300m
Bike: Good
Today we go to Gondar and on the way I speak to Thiery Henry, the Arsenal striker (well that's what he said). The kids over here wear the soccer shirts of their favorite teams and the majority are from the Premier League in England. Soccer is a common language and they know the names of all the top players. The day starts with a 25km mountain climb, brutal. Herdsmen with their donkeys are passing me going up the hill. Going down is tricky, it's all gravel and one false move and I'll do a face plant. By 1.00pm I've only covered 45km, that's it, truck time. Tonight we're in the Goha hotel in Gondar, shower time!
Feb 19th (Day 36) Saturday
Took a taxi into town with a couple of the riders and found an Internet café. There I met the "Computer from Hell". Slow, continually cutting off, losing emails, time for a beer. Andre, Pat and I head over to the Circle Hotel, on the front door is a sign "Arsenal vs Sheffield United, FA cup" date 25/5/1997, time 1.00pm, I'm confused. I learn that date and time, in Ethiopia, has no relationship to the rest of the World. I try to figure it out but am no wiser. Head back to the Hotel and walk into the lounge, there on the TV is the game, a miracle. Arnold (Holland) had an x-ray today and his hip is broken, he'll fly back home tomorrow and hopes to join us later on for the rest of the tour.
Feb 20th (Day 37) Sunday
Daily stats: 103km, 5hr 12min, temp 39C, 2900km to date, El. 1800m
Bike: Cleaned and running well
We go as a convoy out of Gondar and Race Director Colin tells us that the next 30km are hell. We start off and the dust kicked up by the cars and trucks is suffocating, here we go again. Then out of the blue a brand new highway. We learn that a Chinese contractor is laying a new road from North to South in Ethiopia and from what we see in the next few days it's excellent. Along the way I take pictures and chat with the locals. Some times it's as simple as "Canada", "Snow", "Martin". They're generally very friendly other than a few kids who throw stones at the bikers. A couple of kids help push my bike for a while, great, then when I stopped I found that they had opened my tool bag and tried to pull out the spare tube, little buggers. We're 80km from the next town and rest day, Bahar Dar.
Feb 21st (Day 38) Monday
Daily stats: 76km, 3hr 56min, temp 38C, 2977km to date, El 1600m
Bike: Into Bike Mechanic Ewald for a tune up
As the sun rises shapes can be seen around the perimeter of the camp site. Last night groups of locals came and stared at us for hours, they just looked. I know what it must be like to be a monkey at a zoo! This morning there they are again. Sections of the road are still being paved but the rest is great. We arrive in Bahar Dar by mid day and go to the Dim Ambesser hotel. Tour Leader Randy wants to lift everyone's spirits with all that's been going on so he organizes a party for the evening , the theme : cross dressing, it's not a pretty site. Tomorrow we're going to visit a monastery on an island in Lake Tana, very appropriate.
---
February 11, 2005 Update
Sorry for the delay in dispatches. There were some personal and scheduling hiccups in Eygpt and the Sudan. I am presently in Khartoum, Sudan after nine days in the desert (lots of sand!
Jan 20th (Day 6) Thursday
Daily stats: 97km, 3hr 58min
Bike: No problems
Today heading South towards Luxor. Lots of kids on the side of the road waving and shouting "bacshes, bacshes" (money, money). Best to just keep going as there's so many of them. Arrive in Luxor mid afternoon and stay at the Rezeiky Camp hotel (1/2 star).
Jan 21st (Day 7) Friday
Rest Day. Have booked a half day tour of the West bank of the Nile. Nine of us head off in a mini bus and our first stop is the Temple of Hatchepsut. Massive construction into the limestone rock, Heiroglifics on all the walls with huge columns and statues. The rest of the morning includes stops at the tombs of Ramsis 3,6 and 9 and on to the valley of the kings resting place of Tutankarman. The trip ends in the late afternoon and I stop at a tea stall next to the hotel. Here they serve it strong and sweet.
Jan 22nd (Day 8) Saturday
Daily stats: 121km, 5hr 1min, temp 21C
Bike: No problem
Todays ride took us along the East bank of the Nile. The area 1km either side of the river is fertile, then desert. The people live along the desert's edge and cultivate the irrigated area. As I ride along I spotted five camels in the back of a pick up (max load). Today's camp site is in a soccer stadium (no grass)in the town of Idfu and all night long Egyptian pray chants are blared out over a load speaker. Then every so often they play "Barbie Girl" by Aqua, very strange.
Jan 23rd (Day 9) Sunday
Daily stats: 117km, 5hr 29min
Bike: No problem
Some injuries are starting to make themselves apparent. Sore knees and bum require a call to Nurse Edi, she prescibes 600mgs of Ibuprofen and lots of fluids. Not feeling great in the morning so Nurse Edi gives me another happy pill at lunch and sprays my knees with an anti inflamatory spray. I'm falling to pieces! Hooked up with Dave Williams (Canada) and rode slowly the rest of the day. Finally got to Aswan (for the first time) and went for a Felucca ride with Pat (Canada)on the Nile. Our Captain was Muhammid Ali and the boat was the "Thomas Cook".
Jan 24th (Day 10) Monday
Daily stats: 177km, 7hr 11min, temp 23C
Bike: No problem
Had my usual breakfast, cereal and a happy pill from Nurse Edi. Today we head towards Abu Sombel, it's a desert crossing and fortunately the wind is behind us. It's still a long slog and it's my first "100 mile" day. Camp site is off the road in the desert. I find a good spot.
Jan 25th (Day 11) Tuesday
Daily stats: 115km, 4hr 30min
Bike: No problem
Rode into Abu Sombel today, site of the Temple of Ramsis II. Spent the day riding with Bike Mechanic Ewald. He's from Holland and is a car and bike mechanic by trade. He quit his job to do this trip and hopes to open a small bike shop when he gets back. I've booked into the Nefertari hotel, time for a shower. Tomorrow is a rest day.
Jan 26th (Day 12) Wednesday
Went to visit the Temple of Abu Sombel, Ramsis II. Due to the construction of the Aswan Dam and the creation of Lake Nasser, This temple was moved in the late 60's to a higher location. The group had supper at the Seti Hotel, clubhouse and fries, excellent. Tomorrow we're off on a boat ride from Abu Sombel to Wadi Hafi in the Sudan, about a 8 hr trip. It all sounds so simple.
Jan 27th (Day 13) Thursday
Problems. We meet at the Abu Sombel Tourist Village (3/4 star) and wait for the OK Tour Leader Randy. Bad news, the Ministry of Defence say's we can't go from Abu Sombel to Wadi Hafi due to an "issue of National Security". We must go back to Aswan (3 hr bus ride) then take the boat (barge#5) past Abu Sombel to Wadi Hafi (24hrs?). Ok, another night in the metropolis is Abu Sombel (one computer in the internet stall).
Jan 28th (Day 14) Friday
Terrible night, diaryha and fever. I try Imodium, not good. Into the bus and off to Aswan. At the camp site I put up the tent and crawl into my sleeping bag, I'm freezing. It's 27C but I have to put on two jackets in my sleeping bag to keep warm. William (Holland) also has the same ailments.
Jan 29th (Day 15) Saturday
Tour Leader Randy say's we'll leave at 9.00am. I have a breakfast of Imodium, Ibuprofen and Tylanol. Time for the big gun, CIPRO, an antibiotic. We gather all our stuff and mke our way over the Aswan Dam to the Aswan Port. It's a long morning and it drags into the afternoon. We finally get on Barge #5. It contains: 1 Land Cruiser, 4 organizers, 32 bikers, 36 bikes, 5 crew and 2 rats. We leave at 3.00pm for a 28hr Lake Nasser "Cruise". I find a shady corner and go to sleep.
Jan 30th (Day 16) Sunday
We stopped during the night because the barge Captain couldn't see where he was going. We waited on "Cobra Island" until the moon came out. Today was a blur. Mostly taking medication and sleeping. Didn't make good time, will be on the barge another night at no extra charge.
Jan 31st (Day 17) Monday
Arrive at Wadi Hafi at 10.00am. In total 43hrs on the barge. Now for Sudanese customs. It goes fairly smoothly once a few US $'s are handed over. Each bag is checked by a "Sticker Guy" who is then followed by the "Marker Guy" who checks that the sticker has been put on. The Marker Guy has more seniority than the Sticker Guy. We all pile out and are meet by "African Routes" the support team for the rest of the trip. The Cipro is beginning to kick in. The first camp site is on the outskirts of Wadi Hafi. That evening we're invited to go to a "Nubian Wedding Celibration". Sudan is a "Dry" country both literally and figureatively. The drink of choice is Coke or Pepsi, yes cola wars.
Feb 1st (Day 18) Tuesday
Daily stats: 51km (me), 97km (total), 5hr 15min.
Bike: Changed tires and pedals
Brutal day. First taste of the roads (?) in Sudan. I had kept my slick tires on and clip in pedals (not good). The path(s) are washboard and full of sand. Five hours and eight falls later I cut my losses and climbed into the truck. Must make some changes. That evening I put on the fat knobby tires and flat pedals. If that doesn't work it'll be a long bus ride to Cape Town.
Feb 2nd (Day 19) Wednesday
Daily stats: 100km, 7hr 46min
Bike: No problem
If it's Wednesday it's Malaria pill day. Long day on the bike but the changes worked. We cycled (pushed) our bikes along the East bank of the Nile and I started to figure out how to ride this stuff. Along the way there are little off roads, you must take these, as they will take you round a particularly bad section of the main road. Note : there are no "good" sections of the main road. Directions are also a challenge. I got lost in a small town and asked a car mechanic "Short Daragat Men Hena" (where did the cyclist go?), maybe my pronuncation was not the best but he looked at me in total confusion. Then I did some hand gestures and he pointed to the desert. OK, I ended up in a field and asked the farmer the same thing, he smiled and shook my hand. At this point I spotted a cyclist on the horizon and headed off that direct. I reached camp as the sun was setting. Almost 8 hrs on the saddle, owch!
Feb 3rd (Day 20) Thursday
Daily stats: 61km (me), 120km (total), 3hrs 52min, temp 38C
Bike: Went well
Another day in the sand! We're heading to Dongola and I felt good in the morning. Had lunch and off. No, I've got no strength and felt completely wiped. I stopped by a bush on the edge of a small town and went to sleep in the shade. I was woken by a group of small kids. They must have wondered what they had found as I got up from under the bush. "Betsy" one of the African Routes truck came along and on board was a group of walking wounded: Pulled muscles, blisters, scrapes. Yes, a sorry looking bunch are we.
Feb 4th (Day 21) Friday
Daily stats: 96km, 5hr 48min, temp 39C
Bike: needs cleaning, 1st flat (Preston, I thought these tubes were flat proof!)
The African Routes Leader is "Croc" and his back ups are "Wimpy (Vimpy)" and "Clair". He calls us the Tour D'AFreeks", he has a point. Today we go through the town of Karma and must ride in convoy. He compares it to the "Circus" comming to town, every one's going to be out watching the 30 whitey's on bikes in spandex and garish cycle shirts (AKA The Clowns. We have a ferry crossing from the East to the West bank of the Nile, fortunately this one is only 45mins. Camp is in another soccer stadium this time in the town of Dongola. Have my first shower in days from a hose connected to a bike stand, luxury!
Feb 5th (Day 22) Saturday
Rest Day. Off into town to find an internet cafe, no luck. Find a phone office and give Sue a ring. Dongola is a market town and today is market day. the central area is filled with goats, donkeys and Camels. Everyone is friendly and I have a cup of tea with "Mr Sir". He speaks good english and visited Canada for 8 hrs several years ago. The afternoon is spent washing my clothes, we each have a red box for our daily gear and it makes a great wash tub. Process: 3 inches of warm water (the water is always warm) in the tub, a bar of soap and all your delicates. Then step into the tub and stomp like you're crushing grapes, after 10mins, rinse, squeeze and hang up. then it's bike cleaning time. Tomorrow back on the road.
Feb 6th (Day 23) Sunday
Daily stats: 103km, 5hr 40min, temp 41c, 1736km to date.
Bike: 2nd flat, front tire (Preston!!!!!!)
Finally some paved road. This soon ends and I'm back on the sand. My life saver is the "Camel Back" pack that I use each day. It holds 2 litres of water plus I take a first aid kit, handi wipes, sunblock (30), power bars, camera and toilet roll. I drink continuosly on the bike and have another two bottles of water on the frame. Another accident today, Hunney (Holland) was hit by a car, siix stitches to the left arm and a bent back wheel, she was lucky.
Feb 7th (Day 24) Monday
Daily stats: 109km, 7hr 43min, temp40C, 1844km to date.
Bike: 3rd flat, changed to slick tires for pavement.
Continue towards Khartoum. Race Leader Colin noted that of the 450km left to Khartoum only 45km's were unpaved, yes! The desert is never ending but the sliver of hard top allows you to observe it without having to fight your way through it. We stop at a "Desert Cafe", sort of like the motorway service centres but these are made of wooden poles are arces of canvas for shade. We have cokes and cookies and watch as five huge trucks pull in. These are customized monsters for all terrain travel and are the property of a group of Germans. They had come from Chad and were headed to Ethiopia. The place remined me of the desert bar in the original Star Wars movie, very interesting. Ten km on is the camp, well a spot in the sand actually.
Feb 8th (Day 25) Tuesday
Daily stats: 137km, 4hr 45min, temp 43C, 1981km to date
Bike: 4th and 5th flats, switched to clip in pedals.
Finally a full day on pavement. A litle up date on the race. The top cyclist is Kim (Denmark). Medhat, our Sudanese guide and excellent cyclist himself, said that Kim is one of the best, if not the best racer he has seen in the three years of the tour. Also Aris, who broke his collar bone early on in the tour, is back, incredible. The wind is behind me and for once I'm not battling the road. I think about when I return to England after the trip and take Sue to the Avon Beach Cafe for a full English breakfast, excellent. Only two days to Khartoum and a hotel room.
Feb 9th (Day 26) Wednesday
Daily stats: 131km, 5hr 31min, temp 39C, 212km to date.
Bike: 6th,7th,8th flats. These stick on patches are rubbish. Time to get some glue.
I ride with Henning (S Africa) today and we take it very easy. We stop at a pop stand next to a toll booth (?) and have cold mango juice. We're invited to have tea and learn that one fellow has three wives and another has two, between them they have 14 kids. There's not a lot of stress here and every one has all the time in the world to chat. Henning and I head off and thank our hosts for their hospitality. Into camp at 4.30pm. Tomorrow into Khartoum.
Feb 10th (Day 27) Thursday
Daily stats: 59km, 2hr 33min, temp31C, 2171km to date
Bike: No flats!
We started today with a time trial. Distance 27.5km, one min between cyclists, slowest first, that's me. Complete trial in 53min and two people get by me. The winner in 42mins, Kim. We get a police escort into Khartoum and have a lunch reception put on by the City Mayor and a General. We then ride in two's with the police and a gentleman dressed in a Sudanese flag banging a drum, to the Nile River Sailing Club, our camp site. Pat and I have opted for a hotel so Mr Baggy, another Sudanese guide takes us to the Acropole. Time to get rid of all this sand, shower and bed. Tomorrow is a rest day and time to catch up on email.
---
January 21, 2005 Update
I'm in an internet cafe in Luxor on the banks of the Nile. Here's the latest dispatch from the tour.
Jan 16th Sunday (Day 2)Daily stats: 154km (me) 170km (total), 7hrs 30min (ride time), position 32/32
Slept well and up at 5.45am, pack tent and over to breakfast. Cereal, boiled egg, bread roll, jam and coffee. Today is a 140km ride say's Tour Leader Randy, OK. I rode with Randy (Canada) and Henning (South Africa)and headed East. After 30km we reach the Red Sea. It's a beautiful day and we stop at a little cafe for a Fanta, the view out to sea is great. I was last to lunch and one reason is I always have morning tea (or juice) along the way. Randy and I continue into the afternoon and by 4.00pm had reached the 140km mark. We're told by the travel company the tour is using, EMECO, that the camp ground is another 30km. Can't make it before dark so I get a ride on the truck for 20km and finish the last 10km on the bike. This is frustrating because now I'm out of the EFI (Every F*!#%@* Inch) club, in a previous tour nine of the thirty riders completed the whole thing on their bike. Oh well, fish fry for supper.
Jan 17th Monday (Day 3)Daily stats: 138km (total), 6hr 34min (ride time), position 30/32
Since leaving Cairo we've seen sand and more sand. The ride along the Red Sea has been barren except for the odd resort and oil refinery. Today we're heading towards Hurghada which is 190km away. We're told today's ride will be around 130km, OK. I ride with Christine (Canada) and Dave (Canada) for most of the day as we battle it out for last spot. The day's ride is down the Red Sea coast and we arrive at the campsite mid afternoon. That evening Tour Leader Randy gives us a talk on saddle sores, how to prevent and deal with them ( gauze, ointment and duct tape). On that note it's off to bed.
Jan 18th Tuesday (Day 4)Daily stats: 128km (total), 4hr 48min (ride time), position 23/32
Had Bike Mechanic Ewald (Holland) have a look at my bike this morning. Found out the the back brake disc was sticking and that my tyres were at half pressure. With this fixed and the chain well oiled I'm off and running with the lead pack for 30km. We're heading to Safaga and a hotel room, lots of incentive to push it along. Up ahead there's been a crash, one fellow has come off and there's blood on his face but he continues. Arrive at Safaga at 1.30pm and Pat (Canada)and I share a room in the hotel Amira.A hot shower! no cup of water today! A number of riders are camped on the beach and we head down for supper and a beer around a camp fire.
Jan 19th Wednesday (Day 5)Daily stats: 144km (total), 7hr 55min (ride time), position 23/32
Some things about the tour, it is a race and Aris (Holland) has won two of the first four stages (more later). After a buffet breakfast at the hotel we get a police escort to the edge of town for the start of the race. Now we are heading West, away from the Red Sea through the mountains towards the town of Qina. I start off in the lead pack but am quickly burnt off and settle with the second pack. The ride is hell. A steady incline for 50km with a head wind. the mountains make a pleasent change of scenery but there is still only a few shrubs. After an early lunch it's another 50km into the wind with the last section a little easyier. On arriving at the camp site I hear that there has been another accident, Aris (Holland) the race leader has come off his bike and broken his coller bone. He'll be flown back to Amsterdam tomorrow and hopefully back with the tour in a month. Tomorrow we ride into Luxor and a day off on Friday, great.
---
January 18, 2005 Update
Martin writes: "Here is the first dispatch."
Jan 12th Wednesday (Day -3)
So the journey begins. My fiance, Sue, drove me to Bournemouth Bus station,with bike box and large, large hockey bag, and I was off on the 6.50am to Heathrow airport. Arrive at Terminal 4 and it was over to Air Malta for check-in "Sorry Sir you can't leave as you have no return ticket from Eygpt!" I go to see some management types and explain that I'm flying back from Cape Town and am part of a bike tour. This seems to satisfy them and it's off to Malta. With a 6 hour lay over in Malta I headed into Valletta, the Capital and spend a couple of hours walking around the harbour. Catch the 10.25pm flight from Malta and arrive in Cario at 2.00am Thursday morning. There I'm meet by Harmy and he takes me, my bike box and large, large hockey bag to the "Cataract Hotel". Check in time 4.00am. (Martin recently got engaged. Congratulations to the both of you).
Jan 13th Thursday (Day -2)
Breakfast at 9.30am and met Randy, tour director and bike mechanic. He gives me a hand to put the bike together then off on a ride into Cario with Martin and Henning, two South Africans on the tour. We head to the pyramids at Abu Sim 15km away and at the entrance are greeted by Harid. He designates himself as our guide and he shows us a number of carvings, columns and tombs. After negotiating a guiding fee with Harid we ride through a number of small villages and get waves from loads of children. The road is covered with grass (Sisal)and we see a number of men collecting the grass, feeding it into a machine and making cord type bails. This later made into rope. Back on the hiway we stop at the "Carrot man" and buy three carrots, excellent. That evening the Ministry of Tourism had laid on a boat trip down the Nile with supper. Lots of good food and belly dancers.
Jan 14th Friday (Day -1)
After breakfast I went with Patrick (Canada), Jack (America) and Martin to the Cario Museum. Many facinating items on display including the Tutankarmun exhibition. However what caught my eye was the animal mummification hall. In here was a blue mummified Hedgehog that apparently was good to cure baldness in the after life, sign me up!.
We headed back to the hotel and had a tour briefing. Key points included :How to take a crap in the desert (carefully!), How to have a shower with a cup of water (interesting)and How to protect yourself from attacking dogs (squirt water at their noses!). The tour is made up 28 men and 4 women, nationalities include: 11 Holland, 9 Canada, 4 UK, 3 South Africa, 3 Swiss, 1 France, 1 German, 1 Denmark and 1 America. Early start tomorrow at the Pyramids at Giza.
Jan 15th Saturday (Day 1)
Checked out of the hotel and rode in pairs 10km to the Pyramid and Sphinx at Giza. The Ministry of Tourism had a big spread of food and at 9.23am the race was started. We traveled in a group and rode past rows of unfinished buildings (only taxed if a building is complete). The smog was thick and it took us 30km to get out of the city. We headed south and reached the lunch truck at the 65km mark. The country side is flat and sandy with burnt out tyres along the way. We reached the campsite at the 105km point. Putting up my tent was a pathetic but I've got 100 days to get it right! First night supper beef stew and rice, excellent.
---
December 21, 2004
No problem with the "roving reporter". I leave for Cairo on Jan 12th with the race starting Jan 15th. First report should be around then.
All the best, Martin