| | | |
| --- | --- | --- |
| | | |

Hello Everyone, November 13, 2014
In this Issue:
Laurentian Women's Cross Country Places 11th at Nationals
Proudfoot Goes Out on Top
The Quest for a Dilly Bar
Upcoming Local Events - Fun Run Under the Lights and Santa Shuffle
Running Room Update -
Track North News -
Laurentian Women's Cross Country Places 11th at Nationals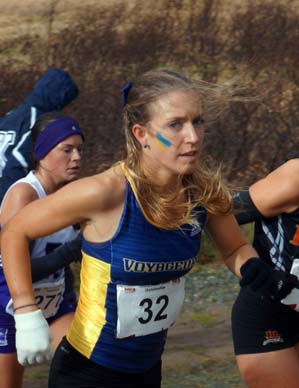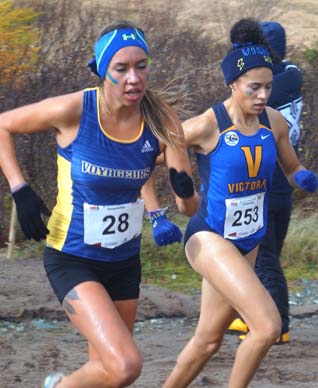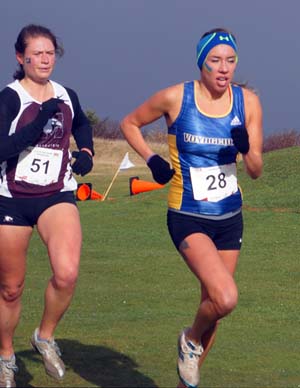 Katie Wismer #32 and Michelle Kennedy #28
---
Saturday November 8, 2014 Laurentian Women's Cross Country Places 11th at Nationals

The Laurentian women's cross-country running team competed at the CIS Championships in St. John's, Newfoundland, this weekend, completing their season with an 11th-place finish and a score of 274 points.

Laurentian's score of 274 was only 18 points from the top-ten position that was their season's goal. The race involved 26 universities, including 19 full teams and 7 partial squads.

The conditions in St. John were challenging, with wind gusts approaching 110 km per hour on the Pippy Park Golf Course, and a mix of sun, hail and rain facing the 132 runners who competed. The extreme wind speeds made it difficult for runners to breathe and maintain their balance, with a number of slips and falls occurring. "In my 48 years of involvement in this sport, I've never seen a race run in such high winds," said head coach, Dick Moss.

"Some of our girls had trouble with the wind and we lost our normal tight scoring split," said assistant coach, Darren Jermyn. "At the OUA's our top-five finished within 17 seconds of each other. Today, our split was 53 seconds, and it cost us on the scoreboard. And the conditions slowed everyone's time by about two and a half minutes."

The Vees were led by Michelle Kennedy, who finished an excellent 34th overall with a time of 24:32, followed by Marissa Lobert in 61st at 25:07 , Emily Marcolini in 63rd with 25:09, Katie Wismer in 65th in 25:11 and Maddy Bak in 79th with a 25:25. Emily Driedger and Samantha Edwards acted as displacers, in 80th and 96th with times of 25:26 and 25:47 respectively.

"We matched our school's best-ever finish ever at Nationals and were 82 points and two positions better than last year" said head coach, Dick Moss. "We almost met our season's goal of a top-10 finish, but came up 18 points short. That said, we've made remarkable progress this season, and most of the girls are back for another shot next year, so the program is looking good."

Laurentian finishes their season with a cumulative win/loss record of 47/23.

Laurentian Individual Scores
34, Michelle Kennedy, 24:32
61, Marissa Lobert, 25:07
63, Emily Marcolini, 25:09
65, Katie Wismer, 25:11
79, Maddy Bak, 25:25
80, Emily Driedger, 25:26
96, Samantha Edwards, 25:47

Team Scores
1. Guelph, 34
2. Trinity Western, 105
3. Queen's, 132
4. Toronto, 159
5. Western, 163
6. Victoria, 164
7. Laval, 185
8. Dalhousie, 189
9. Ottawa, 244
10. Alberta, 258
11. Laurentian, 276
12. McMaster, 302
13. Calgary, 303
14. MacEwan, 353
15. Waterloo, 368
16. Regina, 385
17. Manitoba, 437
18. Memorial, 557
19. Thompson River, 577
Partial Squads
20. Concordia
21. McGill
22. Windsor
23. St. Francis Xavier
24. New Brunswick
25. U. of Quebec
26. Trois Rivieres

http://english.cis-sic.ca/championships/xc/2014/files/sched_results
L-R: Yves Sikawabo, Ross Proudfoot, Tristane Woodfine

Ross Proudfoot ended his university cross-country running career in style Saturday.

The Lively native and University of Guelph student-athlete won his first Canadian Interuniversity Sports individual gold medal, finishing the 10-km race in 33:47.2, to wrap up one of the most decorated CIS cross-country careers of all-time.

"I have been in the lead pack at CIS before and I have been looking at a shot at winning since my second year when I finished fourth, and coming into the CIS, I always a couple of seconds off, and to finally get it in the last year was huge, a great way to cap it off," Proudfoot said Monday from Guelph. "I had such a great season going and I just tried to play it smart as I could."
It was certainly a cerebral race. Winds peaked near 110 km per hour at Pippy Park Golf Course in St. John's, Nfld., where the races were contested, along with rain and some hail.
"I played the wind smart," said Proudfoot, who won his second OUA title two weeks ago. "Others might have done more leading early on, but there was a big pack in the first five kilometres and I didn't take the lead at any time and I didn't make a move until there was a kilometre to go.
"It was up on a mountain, so it was pretty coastal and it was high up, so you could see the ocean and it was hurricane winds, so you couldn't do much when you had a head wind," he continued. "The top eight stayed together until the last 1,500 metres or so. I'm glad I had a good lead with 200 metres to go, and the last 50, it felt great to know I had enough in the tank to get it. It felt awesome and it was a big relief and I was thinking before the race, 'don't miss this shot,' and finally getting it was huge. I felt pretty good when I crossed the finish line, pretty cold, but it was awesome."
Proudfoot finishes his varsity career as a five-time first team All-Canadian, and his gold medal run helped the Gryphons achieve arguably the most dominant performance in CIS history, setting the meet record for largest margin of victory and winning their ninth straight CIS title. In addition to his five All-Canadian awards, Proudfoot is a five-time CIS team champion in cross-country and was named the CIS cross-country athlete of the year.
"I had been running hot all season and always had good preseason meets and have always done well over eight kilometres, and this season I think I had my best ever," he said.
Proudfoot took a few moments to look back on his Gryphons cross-country career.
"My first year was a dream year where I all the sudden stepped into university and was running better than I had in high school," he said. "So that first season here at Guelph was my first big step into the international scene, as well as elite running in Canada. Running has been my life and I was making national junior teams and stuff like that and working my way in the sport. It has been a whirlwind, and all five years I have been All-Canadian and have accolades in track and field as well, and it is an awesome place to do it in Guelph. The school has always helped me and I have great teammates and we have a running culture and put in great amounts of training and everyone runs at such a high level and it's instilled in us and every season we have be consistent, so it has been really cool. It has been a great five years, and capping it off with that win was nuts."
Proudfoot isn't done racing for the Gryphons, however.
"I get a bit of time off now and will do an indoor season in the CIS," he said.
Proudfoot is already looking beyond university competition though.
"Hopefuly this summer I will qualify for the Pan Am Games and maybe worlds," he said. "The standard for Pan Ams is pretty easy, you need to be top two in 1,500 and I was third last year. For the world championships, I need to match the Olympic A standard, so I need to take three seconds off."
On Twitter: @bheidmanSS
The quest for a Dilly Bar by Laurel Myers | November 5, 2014
Sudbury Sports Magazine editor Laurel Myers (right) completed the 10-km event at Sudbury Rocks with her mother, Shelley Myers. PHOTO SUPPLIED

Sudbury Fitness Challenge inspires with ice cream

It's a common refrain with those in the weekend warrior fitness realm: "I run to eat."

We pour our hearts and souls into exercise and fitness — be it running, biking, triathlons, etc. — not so much to be the best athlete out there, but to be able to indulge in the finer things in life (eg. dessert, wine, beer and pizza) without the bulgy consequences.

I love to run. Consequently, I also have a weakness for ice cream and red wine.

Around this time last year, I committed to take part in the year-long Sudbury Fitness Challenge, which includes six events in a variety of disciplines spread out over the year.

"The Fitness Challenge is a way to get people out to what would otherwise be considered fairly obscure sports," said Neil Phipps, co-ordinator of the Sudbury Fitness Challenge, when I interviewed him prior to the 2014 series.

"You're almost certainly going to have the best athletes in the city at these events," he continued. "But at the same time, any recreational athlete would be able to participate in them as well. Each of the events really strives to accommodate the full range of participants."
I definitely fit into the recreational athlete category. And I'm always up for a new challenge.

I decided to take part for three reasons: 1. To help promote the challenge, which has been running since the early 1980s, and, in turn, encourage participation; 2. To rub elbows with some of the city's top athletes and event organizers; and 3. I simply wanted to see if I could do it.

So, as the calendar year rolled over to 2014, I launched into my first experience in the Sudbury Fitness Challenge, starting with the Sofie Manarin Nickel Loppet in January.

There were times, pre- and mid-event, when I was questioning what I had gotten myself into — the Island Swim, in particular, was absolutely incomprehensible to me. But when I crossed the finish line at each event, and saw the cooler of Dairy Queen Dilly Bars designated for participants, everything came back into focus — I am skiing/running/canoeing/swimming specifically for that creamy roll of chocolate-dipped motivation.


Truth be told, by the end of each of the events, the physical exertion caused me to be uncharacteristically uninterested in consuming ice cream. But the other participants all flocked to the Dilly Bars with uninhibited glee.

I completed the final of the six events — the Turkey Gobbler Trail Run, held at the Naughton Trails — just a couple weeks ago. Looking back, I can happily say I accomplished all to which I had originally set out.

First, and most importantly, the numbers were up.

"I'm really excited this year about the turnout for the Fitness Challenge," Phipps said. "We had not just big numbers but it was quite clear people were targeting all of the events, that they were using it to challenge themselves throughout the year.

"It's an exciting growth year for us," he added. "It's good to see people getting out."

As for my second goal, I can definitely connect more faces to names now in Sudbury's endurance sports world. I met some great people, both elite level athletes and those at the same green level as myself. No matter the level, each of those competitors was full of positivity, encouragement and pride.

Same goes for those who volunteered their time to organize and facilitate these events. They are a dedicated and generous bunch who ran their events with admirable precision. I was extremely lucky to be able to have some one-on-one training time with a couple of the convenors prior to the events. Without them, I would have surely sunk come race day.

My third goal turned out quite a bit better than I had anticipated. I accomplished every single event and even managed to pull out a couple of wins in my age category (Disclaimer: it's easy to take first when you're the solo competitor). Overall, I finished third in the women's 30-39 age grouping, and 13th in women overall. Not too shabby for a first-time hack.

The Sudbury Fitness Challenge was, all in all, a wonderful experience which gave me a gratifying sense of accomplishment and appreciation. In about two months' time, the 2015 edition will be underway and I'll likely find myself at the starting lines again.

But first, I'm going to get myself a Dilly Bar.
---
Myers (second from left) ran the Beaton Classic as part of a four-person relay. Her team included, from left, Darren Bomhower, Sherry Shea and Craig Shea. PHOTO SUPPLIED

What I learned in the Sudbury Fitness Challenge:

1. Sofie Manarin Nickel Loppet – Race day is not the best time to use wax on your skis for the first time.
2. Sudbury Rocks Race, Run or Walk for Diabetes – It's equally, if not more, fulfilling to successfully help your race buddy push her pace, rather than worrying about your own time.
3. Canoe Marathon – Kayaking solo causes less relationship strife than paddling a tandem canoe with your partner.
4. Island Swim – Thinking about training is not sufficient training.
5. Beaton Classic – Last place is still a place. I'd rather finish at the bottom than not have participated at all.
6. Turkey Gobbler Trail Run – Trail running is a completely different (yet still enjoyable) sport than road running.
2014 Fitness Challenge Winners
Upcoming Local Events
November 20, 2014
| | |
| --- | --- |
| | Run Club Update |
Store News

---

Training Program News

We have FREE run club Wednesday nights at 6pm and Sunday mornings at 8:30am.

Join us for FREE Practice Club
| | |
| --- | --- |
| | Track North News - by Dick Moss |
Memorial University | St John's, NL | November 8
2014 CIS Cross Country Championships

Saturday, November 8
11:50 Introduction Women's Teams Start Line, Pippy Park GC
12 noon Women's Championship 6K
12:50pm Introduction Men's Teams Start Line, Pippy Park GC
1:00pm Men's Championship 10K
1:45pm CIS Championship Presentation Admirals Greene Club House, Pippy Park GC

Dick Moss, Head Coach
Laurentian XC/Track Team
c/o Coach Moss <pedigest@cyberbeach.net>
Web: http://laurentianxctrack.com
Facebook: https://www.facebook.com/groups/laurentianxctrack/
For information call me.
Vincent Perdue
341 Fourth Ave, Sudbury On. P3B-3R9
705-560-0424
vt perdue@cyberbeach.net
Proud sponsor of the Sudbury Rocks!!! Race, Run or Walk for Diabetes
HOME | ABOUT US | CONTACT | ARCHIVES | CLUBS | EVENTS | PHOTOS | RACE RESULTS | LINKS | DISCUSSION

All photos images and content copyright Sudbury Rocks!!

All Web site Graphic Design by Steve Violence