| | | |
| --- | --- | --- |
| | | |

Hello Everyone, November 6, 2014
In this Issue:
New York City Marathon
Hamilton Road to Hope Marathon
Sudbury Fitness Challenge 2014 - More Participation + Close Contests
Nellie Rocks!! in 3rd Birthday Dash
Upcoming Local Events - Fun Run Under the Lights
Running Room Update -
Track North News - 2014 CIS Cross Country Championships This Weekend
NEW YORK – Kenya's Wilson Kipsang and Mary Keitany won titles at the New York City Marathon on Sunday, with both pulling away in the final mile.

Kipsang was the world-record holder until five weeks ago, when occasional training partner Dennis Kimetto broke the mark in Berlin. With a windy morning slowing the pace Sunday, Kipsang showed he can win a strategic race, too. "I had to exercise a lot of patience," he said.

Keitany redeemed herself from failed tactics at her last NYC Marathon. In 2011, she surged ahead to a huge early lead only to be caught and settle for her second straight third-place finish. "I worked hard for this opportunity," she said. "I'm happy because I have a victory today, because I know I've been coming to New York two times, and I was in that position. So I'm happy today because it was a good day and I win."

Kipsang finished in 2:10:55 -- more 7 1/2 minutes off his former record. He has now won titles in Berlin, London and New York in just over 13 months and clinched the $500,000 World Marathon Majors bonus.

Ethiopia's Lelisa Desisa was second, 11 seconds back, and 2010 champ Gebre Gebremariam third. Boston Marathon champ Meb Keflezighi of the United States was fourth. Two-time defending champion Geoffrey Mutai settled for sixth.

Sunday was Keitany's first marathon since 2012 after taking time off because of the birth of her second child.

Fellow countrywoman Jemima Sumgong appeared to be pulling away with just over a mile left, but Keitany had one last burst left and passed her with about 800 meters remaining.Keitany won in 2 hours, 25 minutes, 7 seconds -- 3 seconds ahead of Sumgong, matching the closest finish in the history of the women's race.

Portugal's Sara Moreira was third in her marathon debut.

Sumgong is still seeking her first major marathon title. She was also second in Boston in 2012 and in Chicago in 2013.

Sumgong was making her NYC Marathon debut, a late entry after defending champion and training partner Priscah Jeptoo withdrew because of a leg injury.

Bronx resident Buzunesh Deba of Ethiopia was ninth after finishing as the runner-up at the last two NYC Marathons. She was seeking to become the first New Yorker to win the race in 40 years.
Hamilton Road2Hope marathon draws 5,000 runners
Participants encouraged to wear poppies to honour fallen soldiers
By Sunnie Huang, CBC News Posted: Nov 02, 2014 3:08 PM ET Last Updated: Nov 02, 2014 3:50 PM ET
---
Alexandre Boule completed the Road2Hope full marathon on Sunday in 2:41:44, a stunning first-place finish in his age group and third place overall. But his race didn't stop at the finish line. After pacing around with a gold ring in his hand, the runner from Quebec City proposed to his girlfriend Marie-Claude Brassard, who crossed the finish line 20 minutes later. Sunday's race in Hamilton is Boule's fourth full marathon, but it was Brassard's first."I feel like it's a good moment," Boule said. The two have been dating for two years.

Billed as the No. 1 qualifier for the Boston Marathon, Road2Hope drew 5,000 runners to Hamilton this year, according to organizers. The two-day event is now in its eighth year. Participants this year were also encouraged to wear poppies to honour the two Canadian soldiers killed in last month's attacks.

Cpl. Nathan Cirillo, a Hamilton native, was fatally shot by a gunman while guarding the National War Memorial in Ottawa on Oct. 22. Warrant Officer Patrice Vincent died after a targeted hit-and-run in St-Jean-sur-Richelieu, Que., on Oct. 20.

While runners in the 1K, 5K and 10K races on Saturday braved gusty winds and the city's first snow of the season, Sunday's half marathon and full marathon races took place under clear, sunny skies.

The half marathon was briefly stopped after a man collapsed near the finish line. Runners were detoured to make room for the ambulance and the paramedics.

Starting at ArcelorMittal Dofasco Park in Stoney Creek, the marathon takes runners through the back country roads of Hamilton and the edge of the escarpment for the first 15 kilometres. Runners then get on the Red Hill Valley Parkway for a scenic downhill coast before turning onto Beach Boulevard and heading toward Burlington. The last seven kilometres of the race takes runners along the waterfront trail, which leads to the finish line at Confederation Park.

For 24-year-old Taylor Kraayenbrink, the first full marathoner to cross the finish line, the downhill coast was the toughest part. "Those are my slowest kilometres," said Kraayenbrink, from Sarnia, Ont. "It was a three-man race to 36K and I broke away at 36K and ran alone." Nonetheless, he said he is still satisfied by the result: 2:31:11. The avid runner has completed Road2Hope's 5K and 10K races before, and he came back to Hamilton — where he attended school — this year to complete the full marathon. "I love running in Hamilton. It's my second home," he said.

Proceeds of the race will go to two local two charities, including Hamilton City Kids, a youth advocacy group, and Joy and Hope of Haiti, a volunteer group that helps raise funds to build elementary schools in Haiti.
Remembering Richard Greidanus

Very sadly, along with the happiness of the day, we also experienced a deep tragedy.
Richard Greidanus, our fellow runner and friend, died on Sunday morning doing what he loved - running. He was an avid runner with Runner's Den and an all around great man. Richard will be sorely missed. We are deeply saddened and sending our love, sympathy and prayers to his family.
---
Road2Hope runner's death a tragedy, likely unpreventable: doctor
Male racer who died near half-marathon finish line described as an avid, fast runner
By John Rieti, CBC News Posted: Nov 03, 2014
While running is good for the heart, even elite runners can't completely eliminate the risk of cardiac arrest a Hamilton heart doctor says. (Kathy Kmonicek/Associated Press)
---
Hamilton's running community is in shock Monday after the death of an avid runner at yesterday's Road2Hope Marathon, but a McMaster heart doctor says running can still be worth the risk.

The man was described by store staff at the Runner's Den as an avid, fast runner who had previously qualified for the Boston Marathon. He was in his mid-50s and just 10 metres from the half-marathon finish line when he collapsed.

"All the runners here are so upset," said the Running Den's Esther Pauls, who is also one of the Road2Hope co-ordinators.


An emergency crew that included physicians, nurses, paramedics and first aid responders immediately performed CPR on the man, but he was pronounced dead in hospital. It's unclear what caused him to collapse, but in most marathon deaths cardiac arrest — the deadly condition when the heart stops beating — is to blame.

Dr. Robert McKelvie, a cardiologist with Hamilton Health Sciences and McMaster professor who specializes in heart failure, physiology and exercise testing, said it's possible an underlying heart condition likely caused the runner's collapse.

"A lot of these guys that are avid runners … may not have been as physically active for their entire life," McKelvie said, noting disease starts accumulating in the coronary arteries in your 20s.

"Most times with people in this age group, it's usually coronary disease that's the culprit."

McKelvie said it's a good idea to get checked out by a doctor before embarking on a running program.

But, the scary thing for runners, is that these "occult" heart diseases, as McKelvie calls them, don't necessarily impair a runner's performance or even present symptoms. He recalls treating an Around The Bay running race competitor who raced to a fast time and then collapsed in his office two days later.

Overall, being physically fit reduces the risk of heart disease. But it can't stop tragedies like Sunday from happening.

"There's nothing in life that brings things down to zero risk," McKelvie said.

Among runners and race organizers, the risk of cardiac arrest is known but marathon deaths are still shocking. At last year's Road2Hope a runner collapsed near the Confederation Park finish line, while multiple runners have died over the years at major marathons like Toronto, New York and Chicago.

The RACER study, a widely-cited 2012 report in the New England Journal of Medicine, laid out perhaps the best analysis of cardiac arrest in long-distance running races.

The study found there were 59 cases of cardiac arrest (40 in the full marathon and 19 in half-marathons) among the 10.9 million registrants in U.S. races from 2000-2010. That's one cardiac arrest per 184,000 racers. Of those who suffered cardiac arrests, 42 died.

Men were far more likely to suffer cardiac arrests than women, while the average age was 42-years-old.

The incidences of cardiac arrest, the study found, spiked in the fourth quarter of the race. The study also found that late into races fewer people were able to survive a cardiac arrest.

According to Heart and Stoke Canada, there are up to 40,000 cardiac arrests each year in Canada — one every 12 minutes — most of which result in death.

More Participation + Close Contests in 2014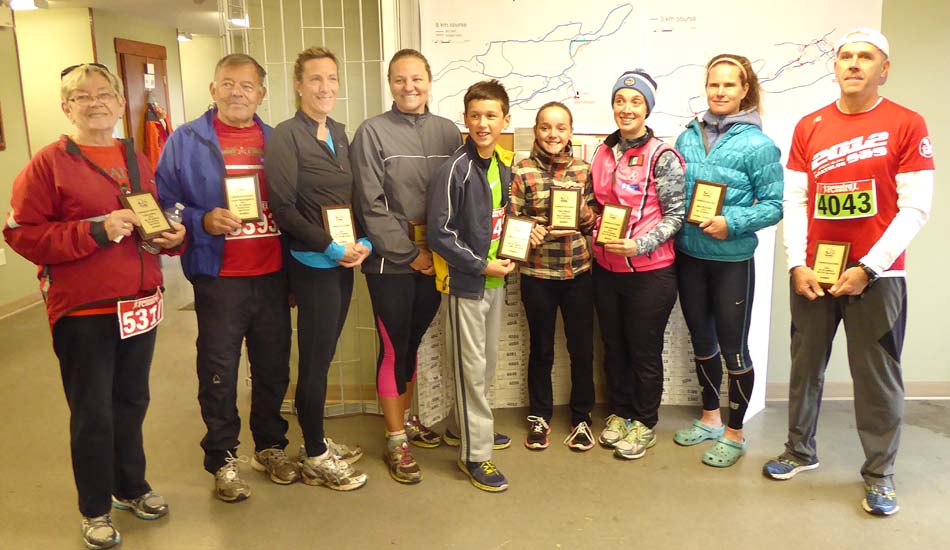 Some of the 2014 Fitness Challenge Winners
The 2014 Sudbury Fitness Challenge is now officially in the books. It was a very successful year for the series which saw a significant increase to the depth of the fields in almost every category. It is clear from the many tight races for age group and overall titles that folks are beginning to pay attention to the points and standings. More people than ever before completed all 6 of the events in the series. Some of them were chasing the points, others were using the events as motivation to keep their fitness goals going all year long and a few brave souls took it as an opportunity to expand their comfort zones and try new activities altogether.

There is no doubt that the race for the overall women's title was the closest (and most closely watched) competition this year. It started with a number of very strong contenders vying for the title but by the time that the final event (The Turkey Gobbler) rolled around it was evident that the field had been whittled down to two. Amanda Kosmerly toed the start line with a ridiculously slim 2 point lead over the defending Ms. Fit Sudbury, Sara McIlraith. Sara was able to defend her title for the 5th year in a row by running to a strong 2nd place finish over the hilly, slippery 8km cross country course. Her final point total for the year was 6967 points.

The men's overall title was not quite as close as the women's but the depth was even greater with 4 men having a crack at top spot. Todd Withers, Colin Ward and Kerry Abols were all sitting within 200 points of the leader Buddy Green…..and all four of them showed up to duke it out at the final event. Once again, 2nd was good enough to win as Kerry Abols ran his way to a strong 2nd place in the Turkey Gobbler and earned enough points to claim the overall Mr. Fit Sudbury title. Making his win even more impressive was the fact that Kerry was not able to participate in the Island Swim this year and so he only scored points in 5 of the 6 events.

There was no shortage of impressive performances in the age group competitions this year either. The depth and calibre of the age groupers was a sure sign that the Sudbury Fitness Challenge is gaining momentum.

Emily Marcolini easily defended her 13-19 yrs Ms. Fit title despite missing the Island swim due to a conflicting running event. She finished 4th overall, just missing the 6000 point mark. Julie Rathwell topped the 20-29yr category with consistently strong finishes in all 6 events and Tamara Flannigan captured the 30-39yr title. Tamara had been challenging Sara and Amanda all year long for the overall top spot but the final running event proved to be the Achilles heel of the swim star. She ended up finishing a strong 3rd overall and became only the 3rd person in the modern era to crack the 6000 point barrier.

Special mention goes out to Laurel Myers. Laurel took up the challenge to compete in all six of this year's events and to write about her experiences. She easily met her goal despite having little or no previous competitive experience in several of the disciplines. She approached all of the events with a great attitude and personified the spirit that the Fitness Challenge was designed to inspire. Laurel ending up finishing 3rd in the women's 30-39 yr category. We look forward to seeing her out again next year.

The 40-49 women's age group was a two woman battle from start to finish as the top two overall women came out of this group. It was great fun to watch these two fantastic master's athletes compete against each other while showing all of the younger racers a thing or two about endurance sport. They both smashed the 6000 point barrier. The support that they showed each other and the athletes around them before, during and after each of the events was something that we can all learn from. Sara and Amanda both also played strong roles behind the scenes at all of the events, helping organize and promote(and baking for) all of the events in addition to training and competing themselves.

The women's 50-59 category was another hotly contested battle. After missing the Sofie Manerin Loppet, Kelly Bowie spent the rest of the year clawing her way up the rankings to finally claim the title in the last event with a great run at the Gobbler.

The husband and wife duo of Linda and Perry Kirkey once again managed to take both 60-69yr categories from afar. This is the second time that the Northbay couple has pulled this off. Lois Luoma easily defended her 70+ Ms. Fit Sudbury title based on her strong run finishes.

On the men's side, Nathan Johnston traveled back from U of Waterloo for the weekend just to put a stamp on his 13-19yr Mr. Fit Sudbury title with a great run at the Turkey Gobbler. Despite a rough day at the Gobbler event, Buddy Green was still able to capture the 20-29 yr old category quite handily, finishing 4th overall in the standings.

The 30-39 yr group was the one to watch this year with the top two overall men and 4 of the top 10 men all coming out of this group. Kerry Abols and Colin Ward, both high school teachers and coaches, represented their schools well with strong finishes all year long. Marc Nellis came from behind to capture the perennially strong 40-49 title and Todd Withers (the defending overall Mr. Fit Sudbury) finished off an injury plagued year by easily winning the 50-59 category and finishing a very close 3rd overall. Louis Moustgaard was the class of the 70+ field, earning double the points of the 2nd place athlete. He was also 32nd overall out of the 730 men who earned points in the series this year.

One of the most exciting age groups this year, for many reasons, was the 12 yr and Under group. This was the first time in recent years that we have seen kids, in both genders, targeting series points and coming out to participate in multiple events to try and win the title. Philippe De La Riva came out on top of a strong field on the Boys side that had all of the top 7 series finishers show up at the final event. The girls field, once again, was even stronger still. Paris Macey led a strong group of girls to become Ms. Fit Sudbury in the age group. 8 girls scored more than 1000 points this year and all of the top 14 girls were on hand at the Gobbler. The strength of this age group is very encouraging and hopefully a sign of great things to come for Sudbury's endurance sport community.

Thank you to everyone who came out to participate in or the volunteer at this year's events. If you see any discrepancies with the points calculations or have any questions about the 2015 Sudbury Fitness Challenge please e-mail

beatonclassic@hotmail.ca

.

I hope to see you all on February 8, 2015 as the new season kicks off with the Sofie Manerin Loppet at Laurentian University.
Nellie Rocks!! in 3rd Birthday Dash
A Rainbow Dash was held November 1st, 2014 to celebrate Nellie Brunette's 3rd Birthday. Nellie (daughter of ROCKS member Michelle Brunette) and the next generation of ROCKS ran a 1km route through the Valley East trails to the Val Caron baseball field and Confederation Secondary School, then back to Michelle & Jamie's house for a rainbow warm up party. A total of 37 people joined the Rainbow Dash, but only 14 braved the cold & snowy weather on race day. Instead of gifts, donations were made to the Maison Vale Hospice; Nellie is presenting her donation at the Hospice Gala on November 14th
.
Upcoming Local Events
November 20, 2014
| | |
| --- | --- |
| | Run Club Update |
Store News

---

Training Program News

We have FREE run club Wednesday nights at 6pm and Sunday mornings at 8:30am.

Join us for FREE Practice Club
| | |
| --- | --- |
| | Track North News - by Dick Moss |
Memorial University | St John's, NL | November 8
2014 CIS Cross Country Championships
THIS WEEKEND!!
Saturday, November 8
11:50 Introduction Women's Teams Start Line, Pippy Park GC
12 noon Women's Championship 6K
12:50pm Introduction Men's Teams Start Line, Pippy Park GC
1:00pm Men's Championship 10K
1:45pm CIS Championship Presentation Admirals Greene Club House, Pippy Park GC

Dick Moss, Head Coach
Laurentian XC/Track Team
c/o Coach Moss <pedigest@cyberbeach.net>
Web: http://laurentianxctrack.com
Facebook: https://www.facebook.com/groups/laurentianxctrack/
For information call me.
Vincent Perdue
341 Fourth Ave, Sudbury On. P3B-3R9
705-560-0424
vt perdue@cyberbeach.net
Proud sponsor of the Sudbury Rocks!!! Race, Run or Walk for Diabetes
HOME | ABOUT US | CONTACT | ARCHIVES | CLUBS | EVENTS | PHOTOS | RACE RESULTS | LINKS | DISCUSSION

All photos images and content copyright Sudbury Rocks!!

All Web site Graphic Design by Steve Violence