| | | |
| --- | --- | --- |
| | | |

Hello Everyone, September 18, 2014
In this Issue:
First Annual Discover Rotary Park Fun Run
Terry Fox's cancer now highly curable
Run for the Cure Media Launch
Upcoming Local Events - Brain Tumour Walk, Laurentian Elementary X Country Challenge, Run for the Cure, Turkey Gobbler
Running Room Update -
Track North News -
September 13, 2014
Discover Rotary Park Fun Run

September 13, 2014
---
Sudbury Rotary clubs host Fun Run to celebrate park

Sep 13, 2014

---
The 1st annual Discover Rotary Park Fun Run was a success! We had 128 runners come out from all ages despite the rain and cool temperatures. The Rotary Club of Sudbury and the Rotary Club of Sudbury Sunrisers would like to thank all participants and volunteers who helped make our event a success. We hope every walker and runner in Sudbury has the opportunity to enjoy the beauty of our park in the heart of Sudbury for many years to come. All proceeds from our event will help fund future projects within the park. Jocelyn Filippini Sep 17, 2014
From CBC Radio interview Sep 11 edited: The idea behind Rotary Park was to create something everyone in Sudbury could enjoy, and this weekend the clubs are encouraging people to take them up on that offer.

The Sunrisers Rotary Club and the Rotary Club of Sudbury put on a Fun Run and fundraiser on Saturday on the trail they created.

The trail in Rotary Park is now part of the Junction Creek Waterway Park, which runs from Mountain Street to Adanac Ski Hill on Beatrice Crescent. The route is a popular link for people to cycle and walk between New Sudbury and the downtown area. It also includes staircases that lead to views of the city. The Rotary clubs came together to build the park and trail more than a decade ago.

It was designed to be a natural environment where citizens can go out and enjoy in the middle of the.

Brian Smith from the Sunrisers Rotary Club and Jocelyn Filippini from the Rotary Club of Sudbury are 2 of the event organizers.
September 14, 2014

Terry Fox's cancer now highly curable
By: Heidi Ulrichsen - Sudbury Northern Life
Sep 14, 2014
Cancer survivor Jim Christison cuts the ribbon to start the Terry Fox Run in Bell Park Sept. 14. Photo by Heidi Ulrichsen.
---
Run organizer: Progress being made in fight against cancer
The type of cancer that claimed Canadian hero Terry Fox's life — osteosarcoma — is actually highly curable today.
According to national news reports, the majority of patients now not only keep their limbs, but survive the cancer.
When Fox was diagnosed in 1977, doctors amputated one of his legs above the knee, and he underwent chemotherapy treatments for 16 months. He died in 1981 at the age of 22 after the disease spread to his lungs, but not before he attempted to run across Canada on his prosthetic limb and captured the imagination of Canadians.
By the time the spread of his cancer forced Fox to halt the Marathon of Hope, he'd raised $1.7 million for cancer research. The annual Terry Fox Run, first held in 1981, has raised more than $600 million for the cause.
The fact that Fox's cancer can now be beaten "tells us that research is working," said Frances Summerhill, the honourary chair of Sudbury's annual Terry Fox Run, which took place in Bell Park Sept. 14.
"What people need to understand is cancer isn't one disease, it's 200 diseases," she said. "So these researchers are trying to cure 200 diseases, and yes, progress is being made. People are living longer with cancer. It's awesome."
Last year, the local Terry Fox Run brought in $43,000. Summerhill said she hoped to surpass that amount this year, raising at least $45,000.
Appendix cancer survivor Jim Christison shared his story at the local run. After being diagnosed seven years ago, he underwent a long, complicated surgery involving the removal of his appendix and spleen. His stomach and colon were taken out of his body and subjected to chemotherapy for hours, and put back inside him. Today he's cancer-free and doing well. When he was diagnosed, the operation he needed had only been around for five years. "If I would have been diagnosed when Terry Fox was diagnosed years ago, I probably wouldn't be alive today," Christison said. "If he was diagnosed when I was diagnosed, maybe he'd be alive today."
As usual, many of the few hundred people at the local Terry Fox Run were students living in Laurentian University's residences. Even though Laurentian student and residence assistant Josh Meek-Levis wasn't even born when Fox was running across the country, he said he's grown up hearing about him. Not only did his his elementary school had its own Terry Fox Run, his grandparents told him about seeing Fox running near Thunder Bay. "I personally couldn't imagine going through what he went through with the run," Meek-Levis said. "It's amazing how far he did run and what he did, and standing up for what he believed in, which I think is awesome."

Media Launch at Cambrian Ford Sep 16, 2014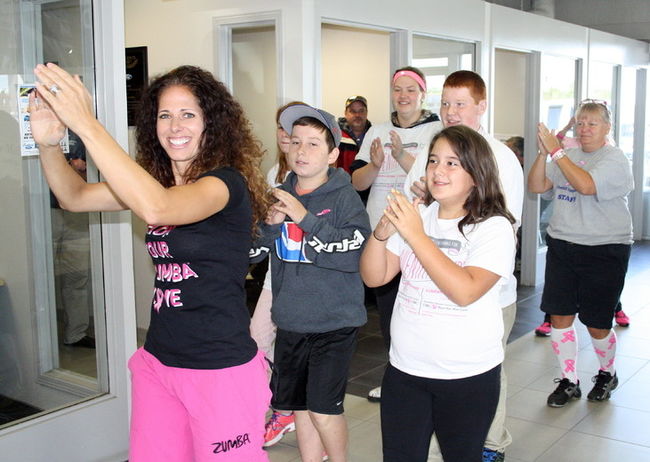 Photo by Ben Lesson Sudbury Star
Ben Leeson/The Sudbury Star/QMI Agency: Christina Chicoine from Zumba Vibe leads students from Churchill Public School in a Zumba dance fitness demonstration during the CIBC Run for the Cure media launch at Cambrian Ford in Sudbury on Tuesday. The Vibe Tribe team will be dancing for five kilometres of this year's run, on Oct. 5, and is inviting other participants to join them.
All Photos Here
---
Never hard to spot in their pink shirts, hats and feather boas, CIBC Run for the Cure participants will make their way to the finish line with even more eye-catching flair this year. Christina Chicoine is owner of Zumba Vibe, a sponsor of the annual breast cancer fundraiser, and has led the warmup for participants the past three years. On Oct. 5, she and her fellow Vibe Tribe team members, along with anyone else who's willing, will dance for five kilometres of the course. When volunteer run director Stephanie Koett approached Chicoine about added a dance fitness component to this year's run, she jumped at the chance. "Stephanie asked me, 'Can you do Zumba moving forward?' and I was like, 'Yeah,'" Chicoine recalled. "Then she asked, 'Can you do it for five K?' and I said, 'Absolutely.' "It was something we thought would be fun, a different element to the run, giving people more opportunities – they can run, dance, jog or walk. It's up to them." Response has been positive. The Vibe Tribe is some 20 members strong and sits second among local teams in fundraising. "Even people who are just there for the walk, instead of running, they can also join the dance element of it as well, because it's going to be on the tail end of the run," Chicoine said.
Run for the Cure, a major fundraiser for the Canadian Breast Cancer Federation held in cities across the country, is a cause close to Chicoine's heart. She's a cancer survivor herself, having been diagnosed with thyroid cancer 12 years ago, and her mother is a breast cancer survivor, who was diagnosed 14 years ago. "I'm really doing it for her," Chicoine said. "My dad was diagnosed with cancer, too, and so was my sister, so there are four of us, just in my immediate family, who have been diagnosed with this disease, and I'd love to see a future without breast cancer for my children."
So does Koett, another breast cancer survivor, who's determined to keep the run fresh and exciting for those who participate.
"This is a family event and not everyone wants to run or wants to walk, so I think about what would inspire me and my family members to take part," Koett said at the event media launch on Tuesday. "And who wouldn't want to dance? It brings families together, it celebrates life, and it honours those who, unfortunately, may have lost the battle. As a survivor, I think this is the coolest thing, and I'm a runner, so that's why I fought to incorporate this into our run this year."
Several students from Churchill Public School were present at the media launch, even joining Chicoine for a Zumba demonstration, and several more will be part of a team taking part in the run.
The Churchill Chargers have raised more than $100,000 for the CBCF in six years of participation. With $35,902, they were the top elementary school in Ontario, and No. 2 in Canada, in 2013. Churchill's involvement with the run started after Dave Farrow became principal at the school. The school has about 430 students, and 111 of those were members of the Run for the Cure Team last year. "The kids love it," said Leslie Paul, a staff member at Churchill and team captain. "For the new students coming in, it's a big eye-opener. We bring in students in grades 7 and 8 from other schools and now they're realizing it's really something."
This year's event, starting from Cambrian College, begins with opening ceremonies at 9 a.m.
More information can be found at www.runforthecure.com.
Twitter: @ben_leeson http://www.thesudburystar.com/2014/09/17/run-for-the-cure-ready-to-dance-in-sudbury
Upcoming Local Events
September 20, 2014
Event Details
Date: Saturday, September 20, 2014

Location: College Boreal

Time: Walk begins at 10:00 with event wrap-up at 12:00 noon.
Registration opens at 9:00 am.
Information and online registration at:
http://www.braintumour.ca/5096/sudbury-brain-tumour-walk
We could also use some volunteers to help us along the route (in both places)– people can contact me directly – swhiteside@braintumour.ca or 1-800-265-5106 ext 229
September 25, 2014
2014 Laurentian University Elementary School X-C Running Challenge


Event Date: Thursday, September 25th, 2014
Event Location: Laurentian University Track and Field Stadium and Trails
Eligible Athletes: This competition is open to all elementary Schools
All information at: http://www.tracknorth.ca/
Meet Director/All Inquiries: Darren Jermyn – jermynd@vianet.ca
Cell: (705) 507-8246
Work Phone: (705) 523-7100 ext.3138
Fax: (705) 523-7170
October 5, 2014
| | |
| --- | --- |
| | Run Club Update |
Store News

---

Training Program News

We have FREE run club Wednesday nights at 6pm and Sunday mornings at 8:30am.

Join us for FREE Practice Club
| | |
| --- | --- |
| | Track North News - by Dick Moss |
Dick Moss, Head Coach
Laurentian XC/Track Team
c/o Coach Moss <pedigest@cyberbeach.net>
Web: http://laurentianxctrack.com
Facebook: https://www.facebook.com/groups/laurentianxctrack/
For information call me.
Vincent Perdue
341 Fourth Ave, Sudbury On. P3B-3R9
705-560-0424
vt perdue@cyberbeach.net
Proud sponsor of the Sudbury Rocks!!! Race, Run or Walk for Diabetes
HOME | ABOUT US | CONTACT | ARCHIVES | CLUBS | EVENTS | PHOTOS | RACE RESULTS | LINKS | DISCUSSION

All photos images and content copyright Sudbury Rocks!!

All Web site Graphic Design by Steve Violence