| | | |
| --- | --- | --- |
| | | |

Hello Everyone, March 6, 2014
In this Issue:
Ontario Masters Championships 2014
SudburyRocks!!! Media Launch
Upcoming Local Events - Let's Stomp out Breast Cancer Mar 9 + Catch the Leprechaun March 15
Running Room Update -
Track North News -
Ontario Masters Championships 2014
North Bay Nordic was pleased to welcome the Ontario Masters for this years championships. It was held on Feb 28-Mar 2.
---
Rocks!! Member Sara Mcilraith Wins Big in the Masters Championship - by Neil Phipps

It was a dominating performance from Sara against a very strong women's field. She was the top female skier, overall, in all three races. The weekend began on Friday with a 10km classic race in pretty cold conditions. Sara(W3 category) won by 35 seconds against second skier Stephanie Rees(W2). Sara was able to pull away on the long climb from kilometer 3 to kilometer 7 and then stay away on the long downhill back to the stadium.

Saturday was the 20km skate race which was the largest and most competitive race of the weekend. Sara once again used her strength and fitness to pull away on the relentless climbs in the first half of the race, in very difficult conditions, and then she rocked the long and challenging descents. She has traditionally been a bit cautious on downhills but the stiff competition this weekend spurred her to take some chances, which paid off. She won in 1:22:09, finishing a little over a minute ahead of Chris Huet(W5).

Sunday's 10km skate race proved to be her biggest challenge and most impressive victory of the weekend. Sara was the only one of the top women who had raced both previous days and the 30km of racing was taking it's toll on her legs. Due the cold temperatures on Sunday morning the races were delayed by half an hour to allow for the temperature to rise to a balmy -20c and they changed the course to 3 shorter laps(with fewer hills) from 2 long laps(with many hills). This took away much of the climbing advantage that Sara usually "enjoys". To add even more adversity to her day, the women started 1 minute behind the second men's wave and the top women had to spend the entire race cutting a path through the stragglers. Sara lead most of the first two laps with Chris Huet and Jillian Flowers(W3) right on her tail. On the last significant climb of the race, Sara made her break only to trip over one of the slower men that she was passing as she crested the climb.
The three women were all together again as they started the descent back to the stadium(not usually Sara strongest area). As the three of them circled the stadium and flew into the finishing straight they fanned out three a breast and the sprint was on. Sara looked strong, smooth and confident as she ignored her burning legs and powered across the line in 31:47.2, three tenths of a second ahead of Chris and seven tenths ahead of Jillian. It was pretty impressive to see all three of them battling to the line. I had a 2 minute head start on them and my vision had just barely cleared after crossing the line when I looked up to see them finishing.

All of the hard work that Sara has put into her technique and strength over the last couple of years have really paid off and she is clearly the top Women's Masters skier in the province. Congratulations Sara!!!!!!!!!!!

Other skiers from Sudbury were:

Kerry Abols
Clinton Lahnalampi
Marc Nellis
Rob LePage
Jamie Fairchino
Neil Phipps

See the following links for complete results.

http://zone4.ca/results.asp?ID=6578&cat=all
http://zone4.ca/results.asp?id=6572
http://zone4.ca/results.asp?id=6567
SudburyRocks!! Media Launch 2014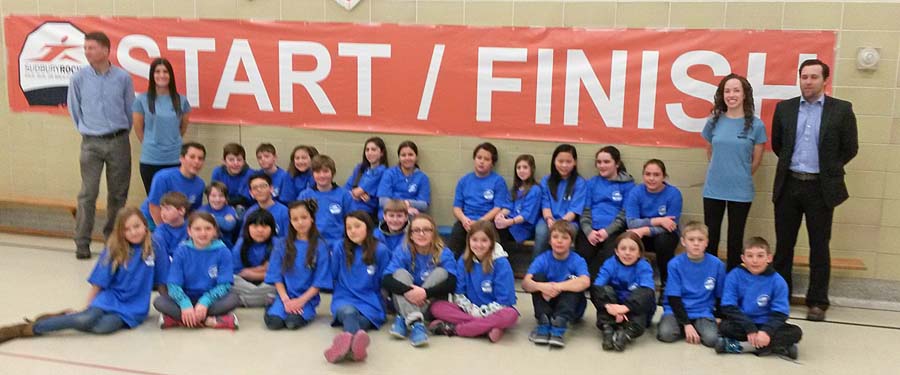 Media Launch at Carl A. Nesbitt Public School with the "Running Team"
Students at the school helped kick off this year's Sudbury Rocks!!! Race, Run or Walk for Diabetes.
Sudbury Rocks!!! Race, Run, Or Walk For Diabetes Charts New Course in 2014

Sudbury's annual charity marathon is going in a new direction this year, right past City Hall!

For the third year in a row, Sudbury Rocks!!! Race, Run, Or Walk For Diabetes is being held on Mother's Day, Sunday, May 11. Only this year, the event is being staged at Tom Davies Square, instead of the Centre For Life (YMCA Building) downtown.

This year's race expo is also being moved from the Centre For Life to École secondaire du Sacré-Coeur on Notre Dame Boulevard, Saturday, May 10, from 9:00 am to 5:00 pm.

"Tom Davies Square represents the heart of the city, and we thought we'd try the event there this year to really encourage the general public to come out and take part in Sudbury Rocks!!! either as participants, volunteers, or cheerleaders along the course," says Brent Walker, Race Co-Chair. "It's the same great event for a great cause we've always had, but with a couple of new twists this year."
Sudbury Rocks!!! Race, Run, Or Walk For Diabetes was first held in 2006, and attracted 400 runners and participants. Since then, it has grown to become notheastern Ontario's largest annual running event. In eight years, over 13,000 participants and 3,000 volunteers have taken part in the event.

Sudbury Rocks!!! Race, Run, Or Walk For Diabetes features a 1 km children's event, 5km and 10 km races, a 5km celebrity challenge, a half marathon, a marathon relay and a full marathon, which is an official qualifying event for the Boston Marathon.

Funds raised by Sudbury Rocks!!! are used by the Canadian Diabetes Association for diabetes education and research in Greater Sudbury and northeastern Ontario. Since 2006, the event has raised over $350,000.

"Diabetes has been described as a health care epidemic in Canada, and Greater Sudbury and northeastern Ontario have some of the highest rates of diabetes in the country, " says Chris Montgomery, Mission Funding Coordinator, Canadian Diabetes Association, Ontario East. "The proceeds from Sudbury Rocks!!! stay in northeastern Ontario to raise awareness and educate people on how to either avoid diabetes or manage their condition. Sudbury Rocks!!! is more than just a sporting and community event, it's health care in motion."

It is estimated 9 million Canadians, including 15,000 people in Greater Sudbury, are living with diabetes and pre-diabetes.

To register for Sudbury Rocks, visit sudburyrocksmarathon.com
Upcoming Local Events
Sunday March 9, 2014
LET'S STOMP OUT BREAST CANCER
JOIN US FOR THE 7TH ANNUAL SNOWSHOE EVENT OF THE WINTER
---
Sudbury – Are you ready to stomp out breast cancer? Join us for an energetic morning of snowshoeing and celebration. On March 9, 2014, Tubbs Snowshoes and the Canadian Breast Cancer Foundation (CBCF) are hitting the trails for the seventh consecutive year in Ontario.

"You may be a weekend warrior or a first-timer; it doesn't matter. That's the beauty of this event, all are welcome" says David Blasak of Tubbs Snowshoes. "It's an incredible feeling to organize something that brings friends and families close together for some good old-fashioned winter fun, during one of the coldest month of the year. Even better? To support a great cause too."

Since inception is 2008, the Tubbs Romp to Stomp Snowshoe Series has supported CBCF by raising over $200,000 to help fund innovative research, health education and advocacy programs. The Tubbs Romp to Stomp Snowshoe Series includes a: 3 km snowshoe race, 3km / 5km snowshoes walk and Lil Romper Dash (for the little ones and their families) which benefits the CBCF. This fun-filled day is an opportunity for Rompers of all ages to make some memories, enjoy the fresh air, and enter to win some great prizes – all with one goal in mind, and that is to support the breast cancer community.

"I'd like to thank Tubbs Snowshoes and all of the Rompers for supporting CBCF and helping to carry out our vision of
creating a future without breast cancer," says Leigh Jasmine, Community Development Director at CBCF. "This year, we are also honoured to have breast cancer survivor, Hannah McEdwards with us as one of our speakers. Her story and spirit will light up the day, so break out your best pink winter gear, this is an event not to be missed."

Key highlights of the day:

-Free snowshoe demos provided by Tubbs Snowshoes
- ?Lil Romper Dash - perfect for families!
- ?Great prizes for top race finishers, top team fundraiser, and top individual fundraisers (including a chance to win a
7-day cruise for two if you raise over $1,000)
- ?Goodie bag provided to all registrants
- ?Lunch provided post event



Event details:
When: NEW DATE: Sunday, March 9, 2014
Where: Rainbow Trail at Laurentian University, Sudbury Ontario
Register here: Tubbs Romp to Stomp Ontario
For more information visit: http://tubbsromptostomp.com/
Reserve now by emailing romptostomp@tubbssnowshoes.ca with your name, email and phone number and number of spots to reserve.

Follow the Romp to Stomp conversation online too:
Facebook.com/RompToStomp
Twitter.com/romptostompca
Instagram.com/romptostompca
Vimeo: http://vimeo.com/77701362
March 3, 2014
Now here again for 2014!
10km Running Clinic.
Starting Monday March 3, 2014 at 6:00pm
Location: Sudbury Running Room
Cedar Pointe Plaza
117-1984 Regent st
Sudbury ON
Phone 705-523-4664
The SudburyRocks!!! and the Sudbury Running Room will be hosting a 10k clinic designed to prepare you for our 10k walk/runs on Sunday May 12, 2013. Rocks!! members Sara McIlraith and Vince Perdue will once again be your instructors.

Click

"REGISTER"

to sign up online. You can also call the Running Room Sudbury store at 705-523-4664 or drop in and register there.

Running Room Sudbury

Cedar Pointe Plaza

117-1984 Regent St.

Sudbury ON
--------------------------------------------------------------------------------
10k Program
This training program is designed to prepare you for a 10K event.

Whether you are new to 10K training or have a time goal in mind, this program will get you there. In this program you will be introduced to hill training and steady runs to build your training schedule.

Each session starts with a 20 to 30 minute class followed by a group run. You will then join your group for Run Club on Wednesday evenings and Sunday mornings to complete your weekly training.

The full program is 10 weeks and includes 1 information lecture per week including a training walk/run plus training sessions on Wednesday at 6:00pm and Sunday at 8:30am. Cost is $69.99 plus tax.
| | |
| --- | --- |
| | Run Club Update |
Store News

---

Spring clinics are begining this week, our 10K clinic started last night and the group is very excited to start training for the Sudbury Rocks! 10k race despite the less than ideal conditions outside. There is still lots of time to sign up and join the clinic !

Don't forget about our 5k clinic that is also training for the Sudbury Rocks race, they get going this thursday night at 6pm. This clinic is great for beginners or those who have been away from running and are looking to get back into it.

We hope to see lots of you out on Sunday March 16th for our annual St-Paddy's day 5K fun run, we will again be doing an out and back on Loachs road at run club.

*Someone left a pair of lady's Sorel winter boots (black size 10) in the back of our store during the Hypothermic Half Marathon, they will be left to claim until the end of next week but afterwards if unclaimed will be donated.*

- SUDBURY STORE STAFF

---

Training Program News

We have FREE run club Wednesday nights at 6pm and Sunday mornings at 8:30am.

Join us for FREE Practice Club
| | |
| --- | --- |
| | Track North News - by Dick Moss |
Dick Moss, Head Coach
Laurentian XC/Track Team
c/o Coach Moss <pedigest@cyberbeach.net>
Web: http://laurentianxctrack.com
Facebook: https://www.facebook.com/groups/laurentianxctrack/
For information call me.
Vincent Perdue
341 Fourth Ave, Sudbury On. P3B-3R9
705-560-0424
vt perdue@cyberbeach.net
Proud sponsor of the Sudbury Rocks!!! Race, Run or Walk for Diabetes
HOME | ABOUT US | CONTACT | ARCHIVES | CLUBS | EVENTS | PHOTOS | RACE RESULTS | LINKS | DISCUSSION

All photos images and content copyright Sudbury Rocks!!

All Web site Graphic Design by Steve Violence