| | | |
| --- | --- | --- |
| | | |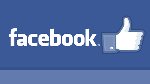 Hello Everyone, October 19, 2017
In this Issue:
Oct. 15 Wiky
Farewell to a friend
Rocks!! Wednesday pm Run - Xavier's send off
Niagara Marathon Stories
Upcoming Events: November 12 Run to Remember College Boreal
Running Room Run Club Update
Track North News Laurentian XC: Marauder Bayfront Invitational Results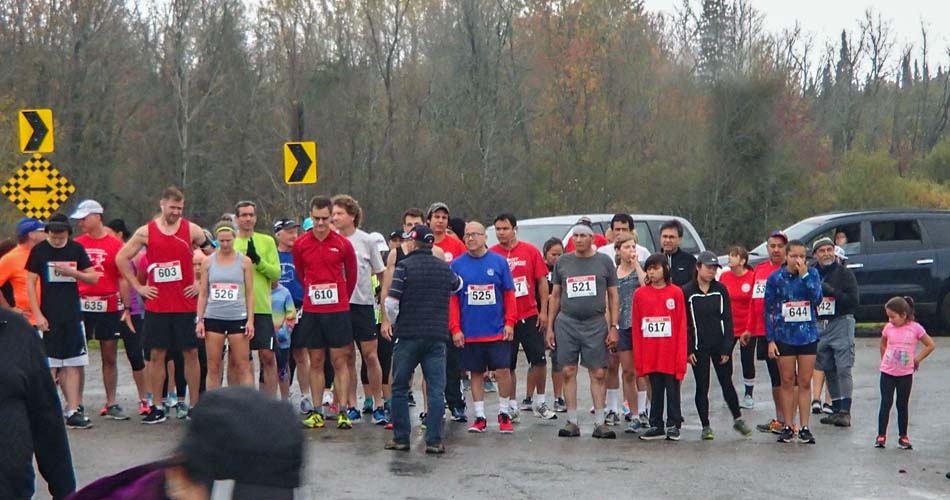 ---

It was a wild cold rainy windy day for the 45th running of the Wiky 10km roadrace. But the unusual conditions did not deter about 35 walkers and 53 runners from trekking to Kaboni for the run back into town. Almost reasonable startline conditions quickly changed to a full on headwind, driving rain and falling temperatures. No problem for tough northerners though. Even the dogs stayed out to welcome us along the route.
Times were a little slow due to conditions but there were no complaints forwarded. It was the same for all. The only hiccup we were made aware of was 3rd place runner Brent Walker took a header in the water and mud entering the stadium. This provided great entertainment for onlookers and the finish line crew. Too bad he wouldn't do the requested encore.
This year saw the return of the full lunch which was a hit of course. Lots of salads, sandwiches and 2 soups to warm us up.
And the organizers award medals in multiple categories so most of us come away with hardware... or at the least a long sleeve T...all for 20 bucks.
A big thank you to the organizers and volunteers. You put a great event on in tough conditions (there was even 2 thunderclaps that concerned us for 2 seconds).
Congratulations to the winners, placers and all finishers. What a good time. We'll be back again next year.
45th Annual Wikwemikong 10km Championships
POSITION TIME NAME AGE G
1 34:45 Evan Bayer 34 M1
2 38:28 Sebastian Diebel 24 M2
3 41:51 Brent Walker 52 M3
1 42:52 Michelle Kennedy 25 F1
2 43:15 Sara McIlraith 46 F2
3 47:01 Eva Maciaszek
Race Info: (705) 859-3164
Farewell to a friend
Xavier's Farewell...until we meet again
Xavier Icardo joined our group about 20 months ago to no fanfare. Lots of newbies come along and disappear as quickly. Not so Xavi. He quickly joined our Wednesday Running Room group and immediately commenced initiating change. Group trail run pics were always a part of our running experience but Xavi made it commonplace. So much so that a few participants began carrying their I phones and we would purposely search out a photo opportunity on our trail excursions.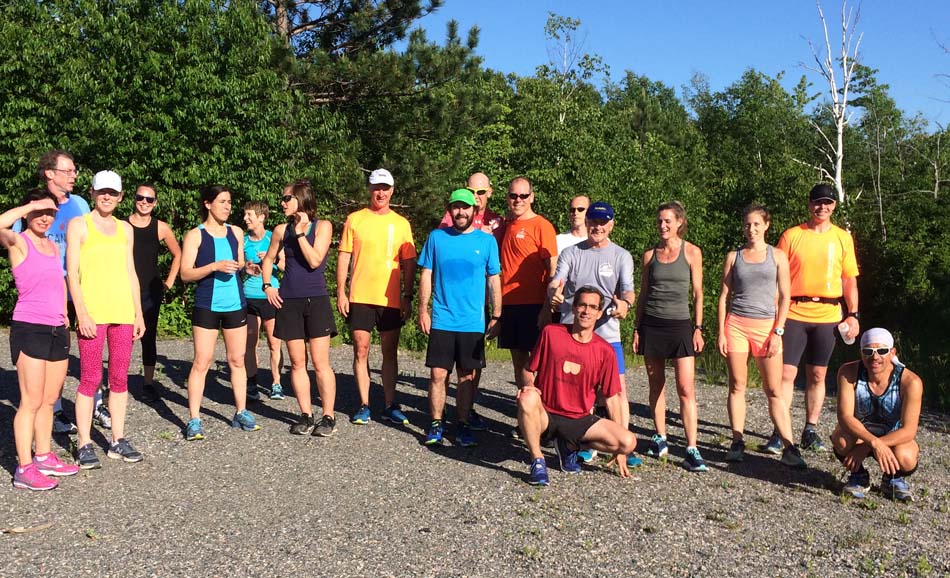 Rocks!! on Laurentian trails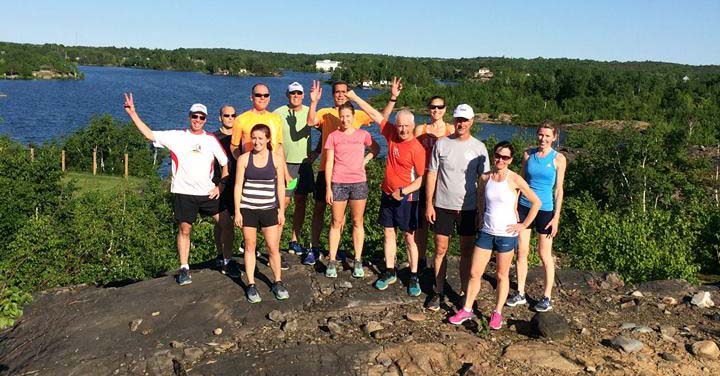 Rocks!! at St. Charles Lake

Xavier's greatest challenge and contribution to the group was the introduction of the Hydration Station. When Xavi first joined the group he would end the day by inviting all to Buzzy's for a celebration brew. Nobody accepted...initially. Not to be deterred Xavi continued to solicit and finally after 3 weeks he broke through some barrier and we found ourselves in the bar ordering beers. The evening has become a welcome tradition and will live on and prosper.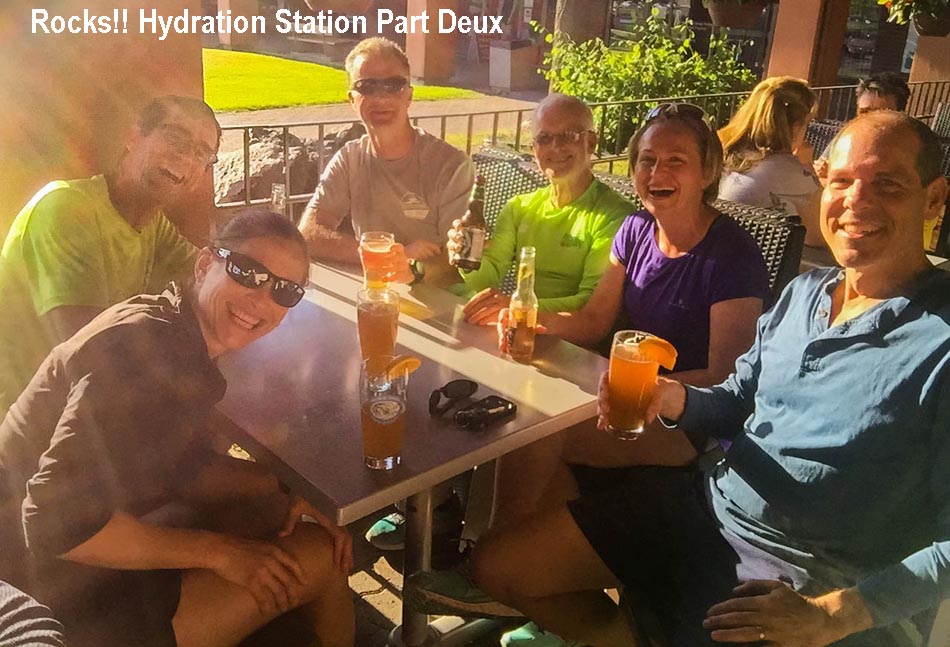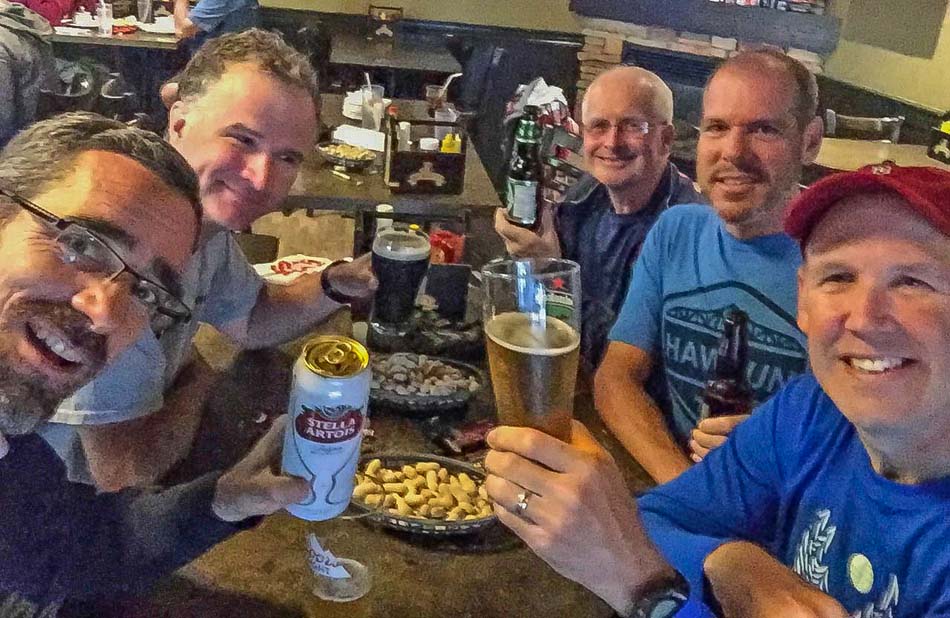 Apres Run at Buzzy's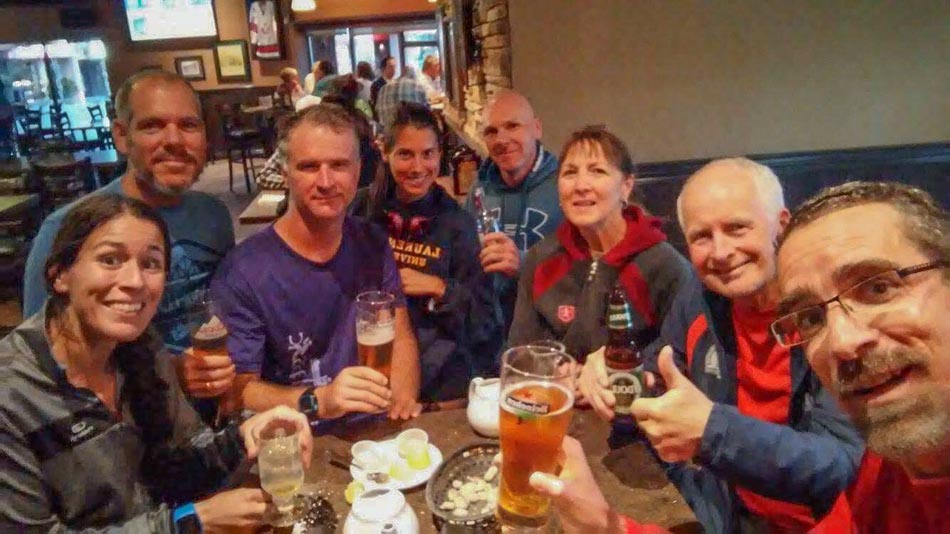 Apres Run at Buzzy's
It was Xavier's greatest hope during our many off road excursions that we would cross paths with a bear. Being a southern urbanite Xavi had never seen a bear in the wild. It's rather difficult with a group our size tramping through the bush to encounter anything let alone a large animal. We did come close once when one was spotted below an apple tree but it had disappeared by the time Xavi and the front of our troupe could be made aware.
The drama finally concluded when the bears, obviously feeling sorry for the gentleman, got together and wandered up the main walkway of the TownPlace Suites on the Kingsway in Sudbury and displayed themselves in all their splendor, even posing for photos. Xavi is manager of the facility and was onsite for the viewing. This was one of his northern highlights. But not the only one. On a recent trip to Manitoulan Island he got to witness the chinook salmon run up close at Bridal Veil Falls.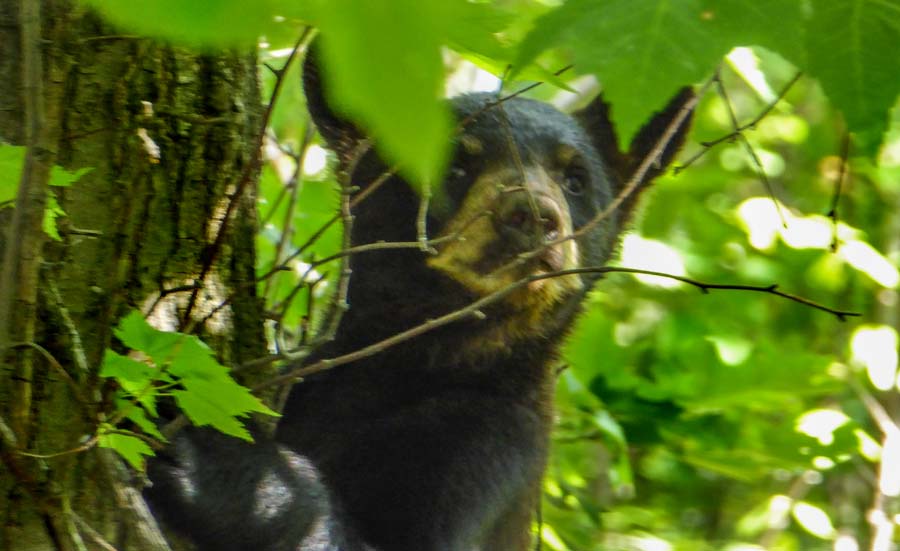 (not Xavi's bear)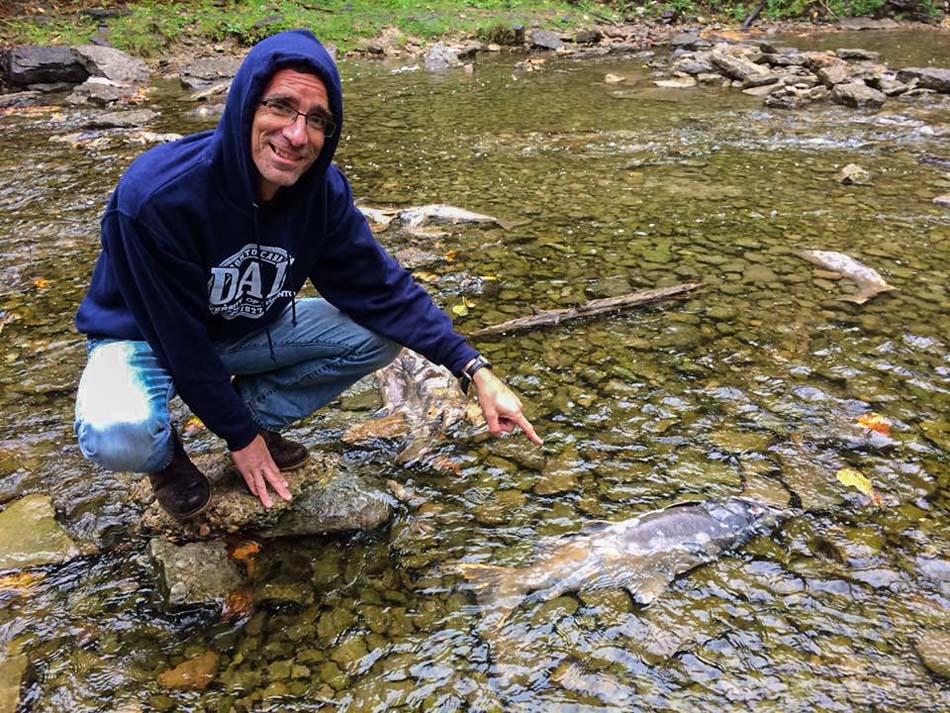 Chinook salmon at Bridal Veil Falls
While the wild bear encounter and run of salmon were something very special Xavier was never satisfied with the status quo. He was always looking for a little chaos. His 2 summer Ragnar events indicated to us he was searching for the unique and unusual. Something with a little flair. Something that people would talk about for time to come. Perhaps a pub run.
Thus was born the "6 Pubs in 6 Kms. in 6 Hours".
The ambitious plan was to start at our local establishment (Buzzy's), drink 1 beer, travel approximately 1km to the next watering hole and repeat same until 6 spots had been visited and a way home had been worked out... hopefully in advance.
A special treat awaited the group when member Ania ordered Buzzy's management to have French beer on hand for the event start. Since our Apres Runs commenced months ago Xavier let it be known EVERY week that he if he was to drink beer he would prefer it to be French beer. The waitress always smiled and promised to take his concern to management but the French beer never materialized...until Pub Run Day. Buzzy's finally came through and special ordered a case of Kronenbourg 1664 French beer. What an excellent way to get the party on their lubricated path. Take a look at the photo and link below to see the Pub Runners in action. Further description not required...or wanted by the pub runners.
P.S. They didn't stick to just one beer per location and they all arrived home safely.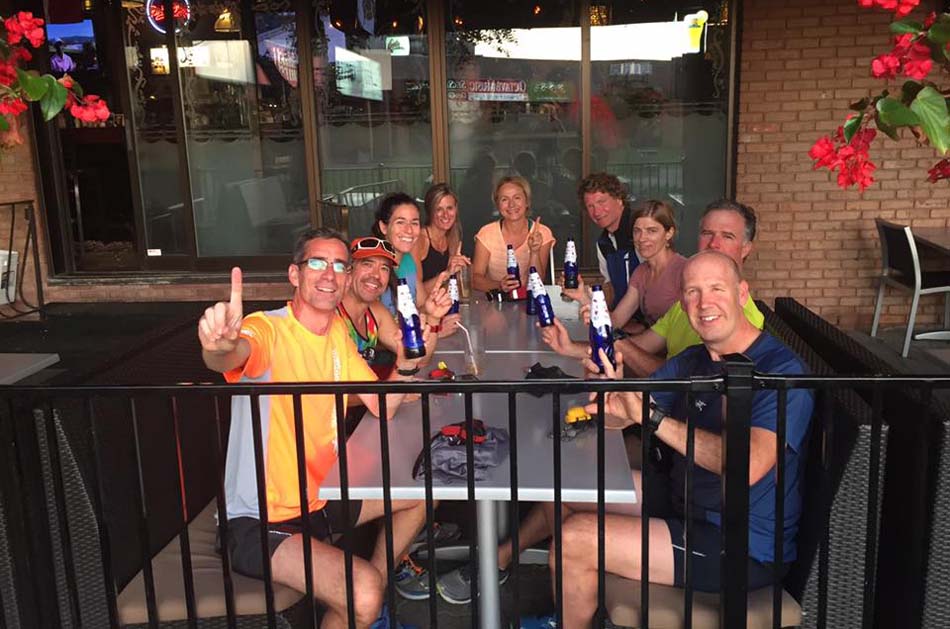 Buzzy's with Kronenbourg
---
Time marches on and unfortunately for us, so does Xavier. A new opportunity in hotel management has opened up for him in the GTA and he will be leaving us within the week. Fortunately for us he is not going quietly into the night. How fortunate we are to have our good friend organize his own Farewell Xavier party and invite all his friends.
In his farewell speech Xavi was heard to say:
"Loose translation from this French movie quote I have in mind " regarding that particular town, one cries twice : when you arrive and when you leave" pretty much how feel about leaving Sudbury this week".
Thank you for joining me tonight ! It was truly great and I hope you had as much fun as I did ! Thanks again for everything !
Thank you Xavier. We'll miss you and until we meet again here are some more memories.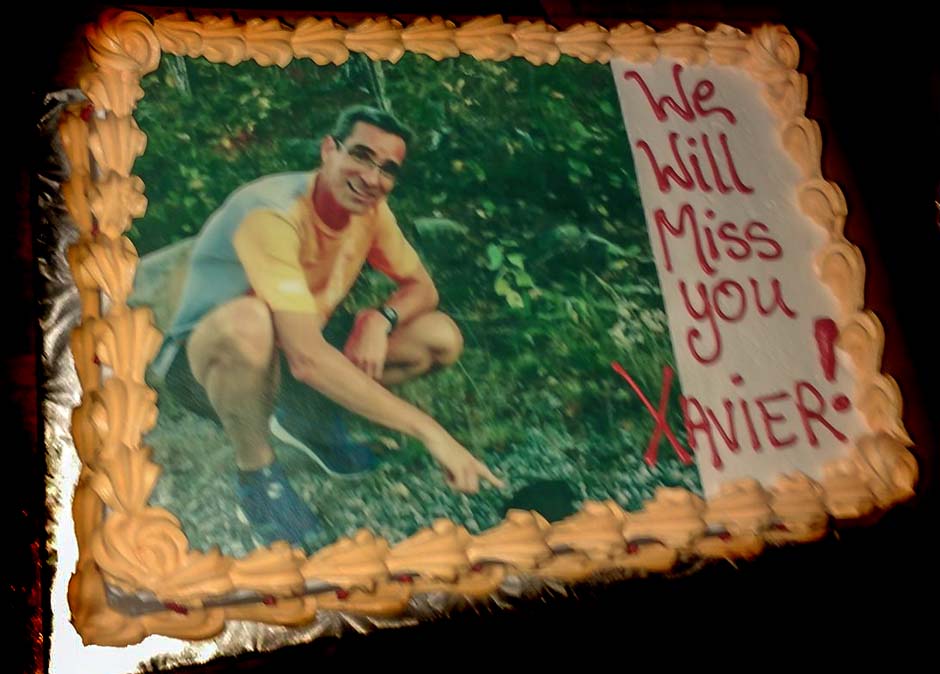 Xavi pointing out suspected bear scat (the closest he got to anything ursine in the wild)
Cake by Ania D.
Rocks!! Wednesday pm Run
and Apres Run
(Xavier's send off)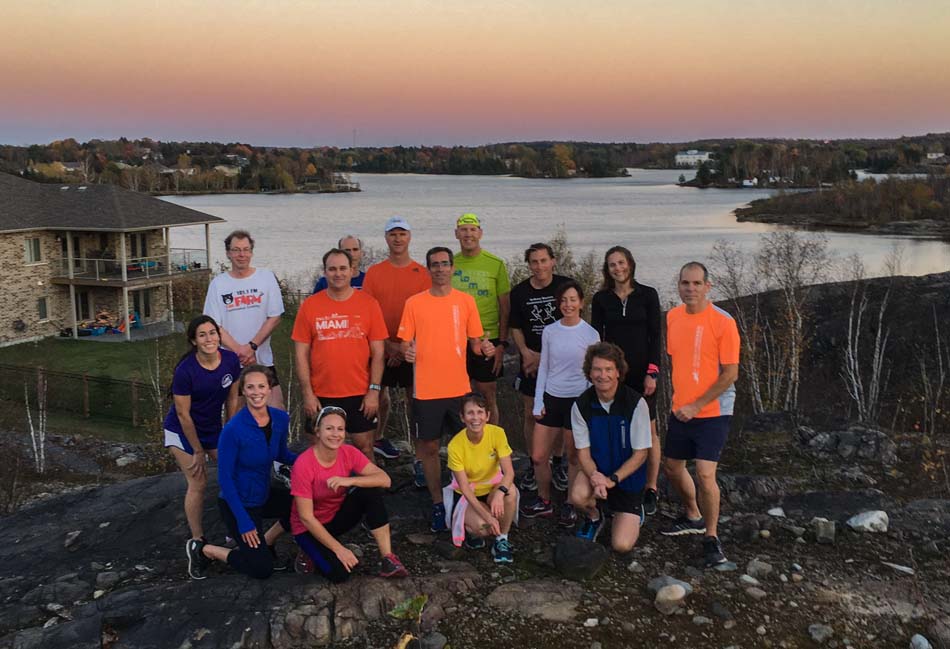 St Charles Lake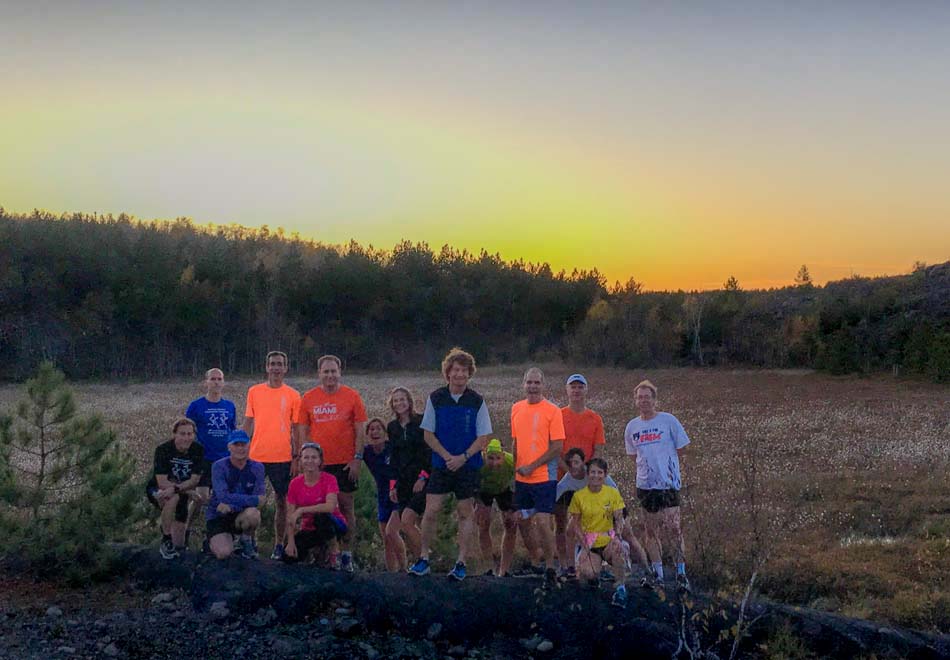 Middle Lake area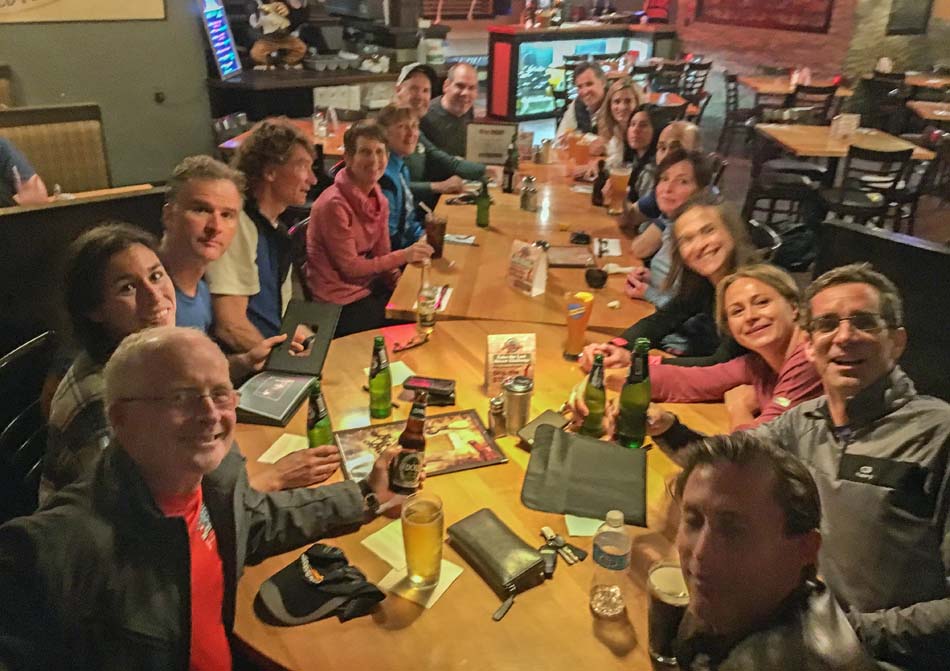 Apres run at Buzzy's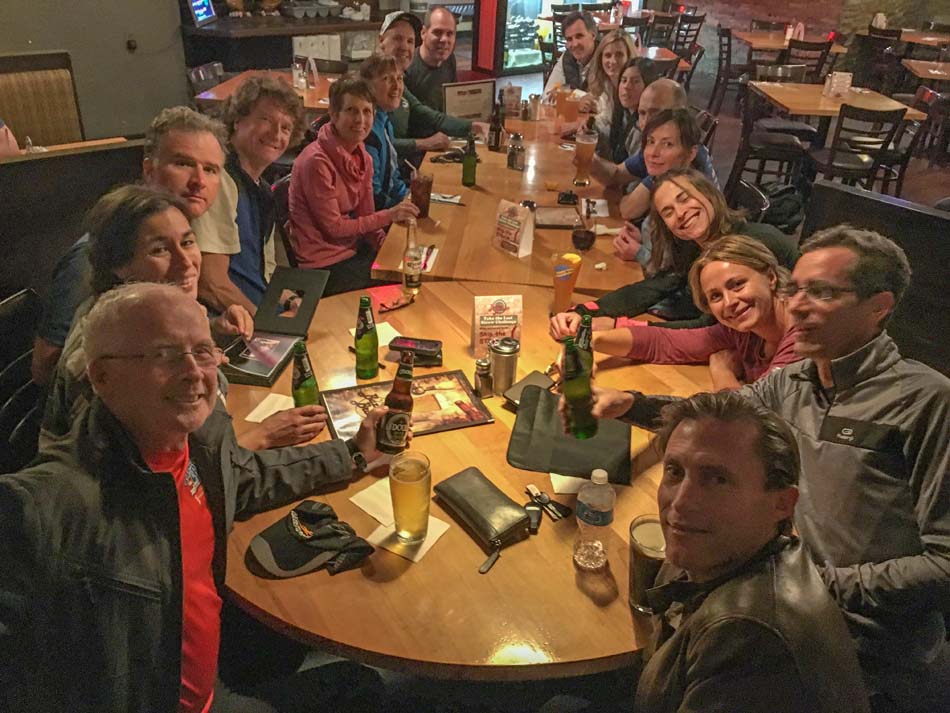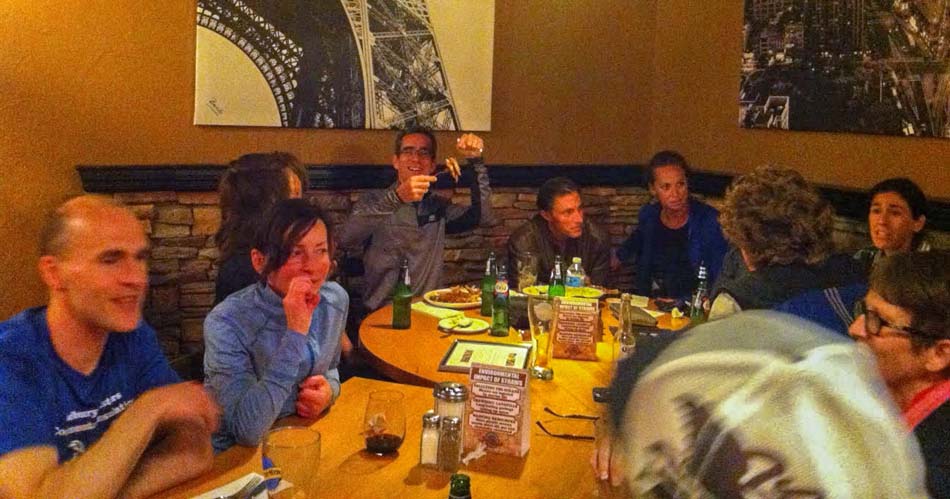 Xavier enjoys first plate of poutine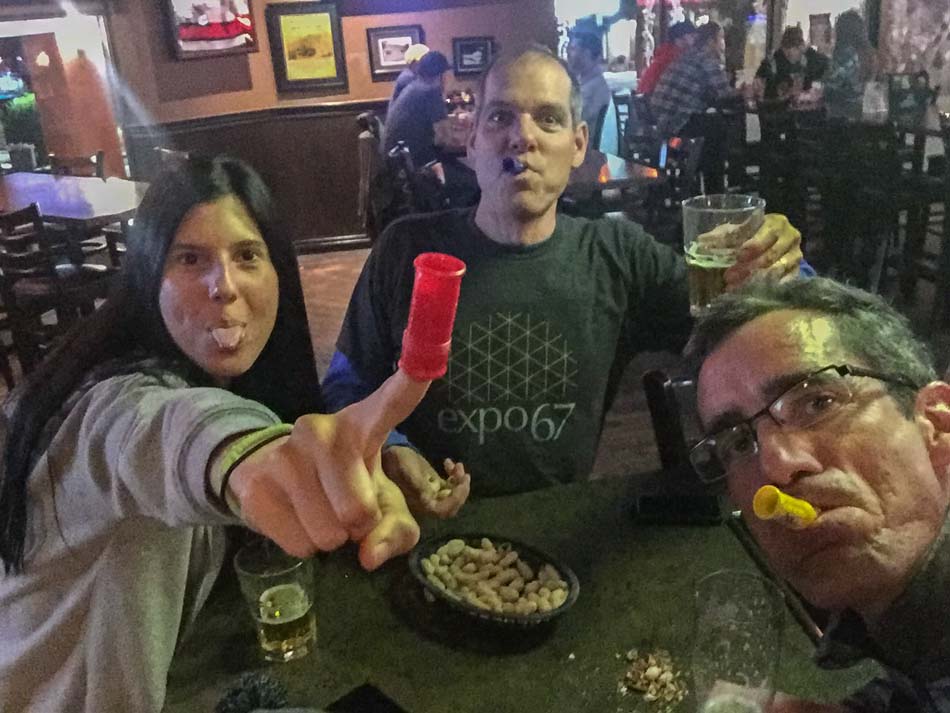 too much enthusiasm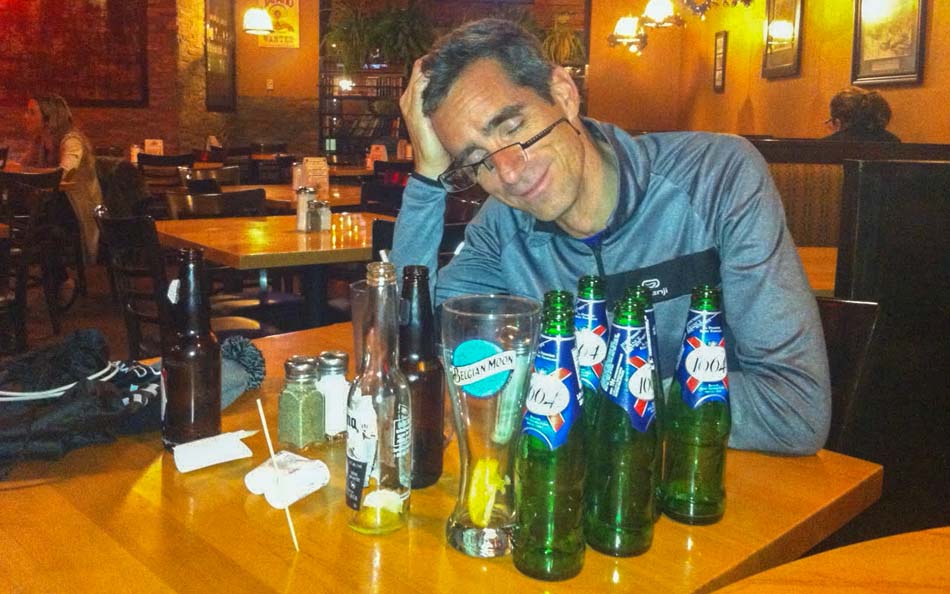 one more 1664 please! ... or ...the party is over

Niagara man breaks world record while dressed as grapes
By Ray Spiteri, Niagara Falls Review
Sunday, October 15, 2017 1:29:09 EDT PM
Niagara resident Rob Lapensee unofficially broke the Guinness World Record for the fastest half marathon while dressed as fruit during the Niagara Falls International Marathon that took place on Sunday, Oct. 15, 2017. (Ray Spiteri/Niagara Falls Review/Postmedia News)
---
Niagara resident Rob Lapensee unofficially broke a Guinness World Record during the Niagara Falls International Marathon Sunday.
Lapensee ran the fastest half marathon dressed as a fruit, as the St. Catharines resident did so in a grape costume. The 39-year-old completed the 21.1-kilometre run from Fort Erie to Niagara Falls in 1:19:13, beating the previous record holder, Thomas Priest from the United Kingdom, who ran a half marathon as a banana in 1:20:37.
Lapensee began his run along the parkway, near Warwick Avenue in Fort Erie, and finished near Table Rock, in Niagara Falls. He finished fourth overall in Sunday's half marathon, behind a trio from Western New York. He said dressing up as a grape gave his record attempt a "distinct Niagara flavour." "It was a lot harder than I thought it was (going to be)," said Lapensee after the race. "I did do some training in it ... but today (facing some windy conditions), there's a lot more wind resistance. I usually run in a tank top."
He said during the race, he tried to stay focused on his pace. "I had a crew with me, so we were chatting about the different things that we needed. We needed to compile some evidence to send off to Guinness for verification, so I had that in my mind. I had my family, my friends, everyone who was waiting for me at the finish line, everyone who has supported me along the way (in mind). When it started getting hard, that's all I could think about is, 'Oh my gosh, I'm trying to show everyone that you can make your dreams come true, I've got to do this.' That's where I found a little bit of that inner strength when the going was getting tough." Lapensee said part of his motivation for the record attempt was to help inspire others, especially younger children, to take on active, healthy lifestyles.
He targetted the fastest half marathon dressed as a fruit because he recognizes fruit as a healthy food choice. He also ran to raise awareness and pledges for Fit it Forward, the Niagara Falls International Marathon's program that helps provide new running shoes to school-aged children who need them through Community Care, Project SHARE and the Education Foundation of Niagara. Lapensee said he also wanted to show his daughters anything is possible. "My daughters are really into the Guinness World Record books and I thought they'd be excited to see their dad's name listed with all the other people who have done amazing things. This is a great way for me to inspire my girls — and everyone, really — to be healthy and active, follow their hearts and live their dreams."
Lapensee said he has participated in the Niagara Falls International Marathon before, but this was the first time he tackled the half marathon. "It's one of my favourite races. It's a great race, right here in our backyard. It's a beautiful, scenic course."
Approximately 4,000 people from more than 15 countries converged on the city Sunday to compete in the annual marathon. The event, which was voted one of the most scenic marathons in Canada by a U.S. running magazine, is one of only a few marathons that starts in one country and finishes in another. The runners began the marathon in Buffalo, N.Y. and crossed the Peace Bridge into Canada and followed the Niagara Parkway to the brink of the Horseshoe Falls near Table Rock.
In addition to the international marathon, the event included a half marathon, the David Gregory MacKinnon Memorial 10 kilometre run, and a five kilometre run.
Diane Chesla, co-race director with her husband Henri Ragetlie, said participants usually talk about how "beautiful" and "pretty" the course is. "The races that are well organized always get positive reviews," she said. "The experience running over the Peace Bridge is really, really cool. And one thing I know myself as a runner is that the course is great because it's completely flat. Some courses may say they're flat, but they have a little bump somewhere. This is completely flat, and it's not major twists, turns, corners - it's just slight meanders on the parkway, that's a big advantage."
rspiteri@postmedia.com
twitter.com/rayspiteri
---
Rocks!! in Niagara
Donna Smrek and Jocelyn Fillipini complete Niagara Marathon
---

Well that was a shit show...lol, by Jocelyn Fillipini

Definitely one of the toughest events I've done. It's advertised as a beautiful, scenic, flat and fast course which I know it can be however beautiful can also mean a hot and humid sunny day, scenic can also mean big waves on the Niagara, flat can mean how you would rather be laying as opposed to fighting the fast, at literally 65 km/ hr, wind gusts...wtf?

At 12 km I was done, the wind was evaporating any water I took in, I didn't like that I knew the route because I knew how far I was from the finish and I seriously said to myself, ONLY 30 k to go, I'd just started damn it...??

Awe look, we are so happy on the bus ride to the start and excited that the thunderstorms held off, a mere hour later I prayed for lightning so I'd have a really good reason not to finish ??
Guess it's time for the mental games; let's make it fun, meet some new friends, keep moving forward, try not to blow over ??and in another 5 hours you get a medal.

I did make it to the finish, somewhat upright, got the medal and swore never to run again. So a typical day on the run course
Rocks!! members Donna Smrek and Jocelyn completed the marathon while Mike Wilson, Yves Robichaud and Jesse Winters took on the half. Congratulations to all for very good runs.
All results can be found at Chiptime
---
Upcoming Local Events
November 12, 2017
| | |
| --- | --- |
| | |
---
Store News

Hello Runner's and Walker's,

Hello everybody,

Eric, Ania, Cassandra, Sam, Erich, Caleb

We have FREE run club Wednesday nights at 6pm and Sunday mornings at 8:30am.
| | |
| --- | --- |
| | Track North News - by Dick Moss |

Marauder Bayfront Invitational Cross-Country Running Race,
10/13/17, Bayfront Park, Hamilton
1. "Women's-Start_use2.jpg": Photographer: Adam Kalab, Laurentian runners, Left to Right:
Jessie Nusselder, Lindsay Robinson, Megan Crocker, Nicole Rich, Meghan Sippel, Jenny Bottomley, Heidi Tuszkiewicz, Karissa Merrylees, Lindsay Greasley
The Laurentian cross country running teams raced at the Marauder Bayfront Invitational in Hamilton's Bayfront Park this weekend. The women finished 5th out of 8 teams, while the men's squad finished 8th out of 10 squads.
The women were led by Jenny Bottomley, who finished 10th over the 7km course in a time of 25:11. She was followed by Heidi Tuszkiewicz, who placed 12th in 25:15; then Megan Crocker who placed 31st in 26:28; Nicole Rich who was 37th in 26:43; and Jessie Nusselder, who completed the scoring by placing 40th in a time of 27:00. The two displacers were rookies Meghan Sippel and Lindsay Robinson, who finished 46th in 27:15 and 53rd in 27:39 respectively.
"Jenny and Heidi aren't afraid to mix it up with anybody, regardless of their reputation," said head coach, Dick Moss. "They immediately established themselves in the front chase pack then fought from there. Guelph and Toronto are ranked 2nd & 3rd in the country with Western and Mac ranked 6th and 10th. On the men's side, Guelph, McMaster, Queens and Western are all nationally ranked in the top-6, so this was a good chance for both teams to race some quality runners."
2. "Jenny-Heidi_use.jpg": Photographer: Adam Kalab, Jenny Bottomley (front) and Heidi Tuszkiewicz.
Laurentian Results - Women
10. Jenny Bottomley, 25:11
12. Heidi Tuszkiewicz, 25:15
31. Megan Crocker, 26:28
37. Nicole Rich, 26:43
40. Jessie Nusselder, 27:00
46. Meghan Sippel, 27:15
53. Lindsay Robinson, 27:39
80. Nicole Sartor, 29:45
86. Lindsay Greasley, 30:19
89. Karissa Merrylees, 30:27
Team Results - Women
1. Toronto, 40 points
2. Guelph, 57
3. McMaster, 60
4. Western, 101
5. Laurentian,109
6. Laurier, 172
7. Lakehead, 189
8. Ryerson, 233
---
4. "Paul Sagriff": Photographer: Mackenzie Crowther
The men's squad was led by rookie Paul Sagriff, who finished 27th over the 7km course in a time of 21:50. He was followed by Caleb Beland who placed 55th in 22:38; Sam Delage who was 82nd in 23:20; Jarod Milford who was 95th in 23:56; and Jordan Burkitt who completed the scoring by placing 96th in a time of 24:01. The two displacers were Gordie Chown and Mika Muinonen who finished 109th in 24:30 and 111th in 24:43 respectively.
Laurentian Results - Men
27. Paul Sagriff, 21:50
55. Caleb Beland, 22:38
82. Sam Delage, 23:20
95. Jarod Milford, 23:56
96. Jordan Burkitt, 24:01
109. Gordie Chown, 24:30
111. Mika Muinonen, 24:43
Team Results - Men
1. McMaster, 24 points
2. Western, 45
3. Toronto, 100
4. Queen's, 127
5. Guelph, 136
6. Laurier, 159
7. Laurentian, 228
8. Brock, 233
9. Lakehead, 242
10. Ryerson, 305
3. "Caleb-Beland": Photographer: Adam Kalab
"Paul, Heidi and Jenny all had excellent races," said Associate Head Coach, Darren Jermyn. "We hope to have our full roster ready for the OUAs, and if we do, we'll be at least as competitive as last year."
The Voyageurs next race is at the OUA championships, to be held in Windsor on October 28.
All the photos below:
https://lu-tracknorth.smugmug.com/Laurentian-XCTrack/2017/Cross-Country-2017/Marauder-Invite-by-Mackenzie-Crowther/
https://lu-tracknorth.smugmug.com/Laurentian-XCTrack/2017/Cross-Country-2017/Marauder-Bayfront-Invite17/
Dick Moss, Head Coach
Laurentian XC/Track Team
c/o Coach Moss <pedigest@cyberbeach.net>
Web: http://laurentianxctrack.com
Facebook: https://www.facebook.com/groups/laurentianxctrack/
For information call me.
Vincent Perdue
341 Fourth Ave, Sudbury On. P3B-3R9
705-560-0424
vt perdue@cyberbeach.net
Proud sponsor of the Sudbury Rocks!!! Race, Run or Walk for Diabetes
HOME | ABOUT US | CONTACT | ARCHIVES | CLUBS | EVENTS | PHOTOS | RACE RESULTS | LINKS | DISCUSSION

All photos images and content copyright Sudbury Rocks!!