| | | |
| --- | --- | --- |
| | | |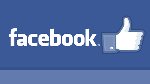 Hello Everyone, October 5, 2017
In this Issue:
Rocks!! Wednesday pm Run
Oct. 1 Run for the Cure
A Rock!! Completes 100 Marathons
Life is a Relay | Martin Parnell | TEDxYYC (Martin is a SudburyRock!!)
Upcoming Events: Oct. 8 Sudbury Fitness Challenge Turkey Gobbler, Oct. 15 Wiky
Running Room Run Club Update
Track North News Bottomley Wins ! Mike Woods Geneseo Cross Country Invitational
dog-who-ran-half-marathon-accused-of-cheating
Rocks!! Wednesday pm Run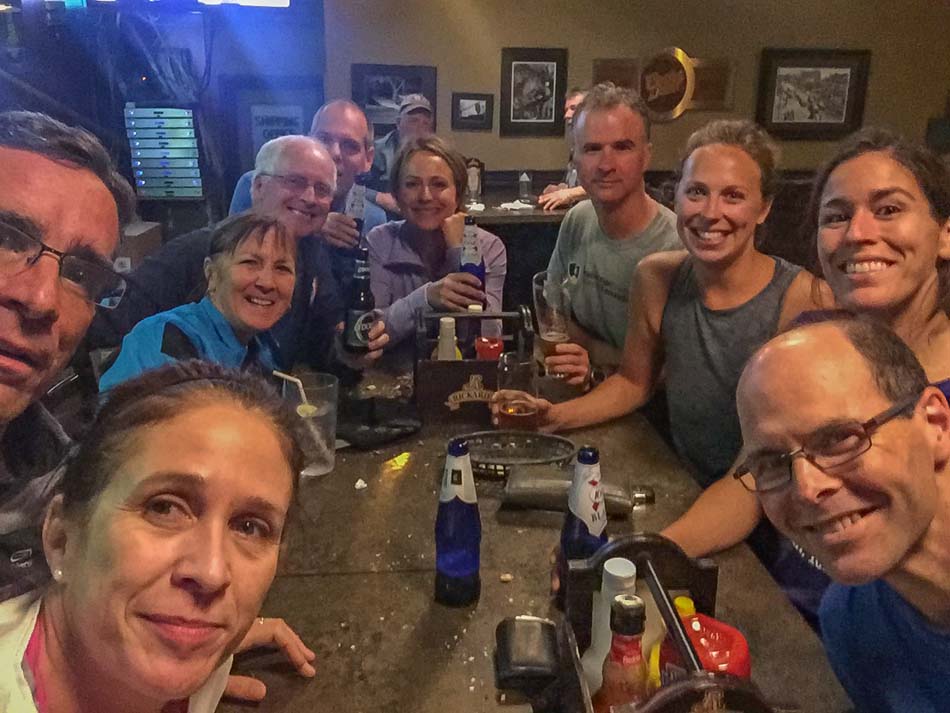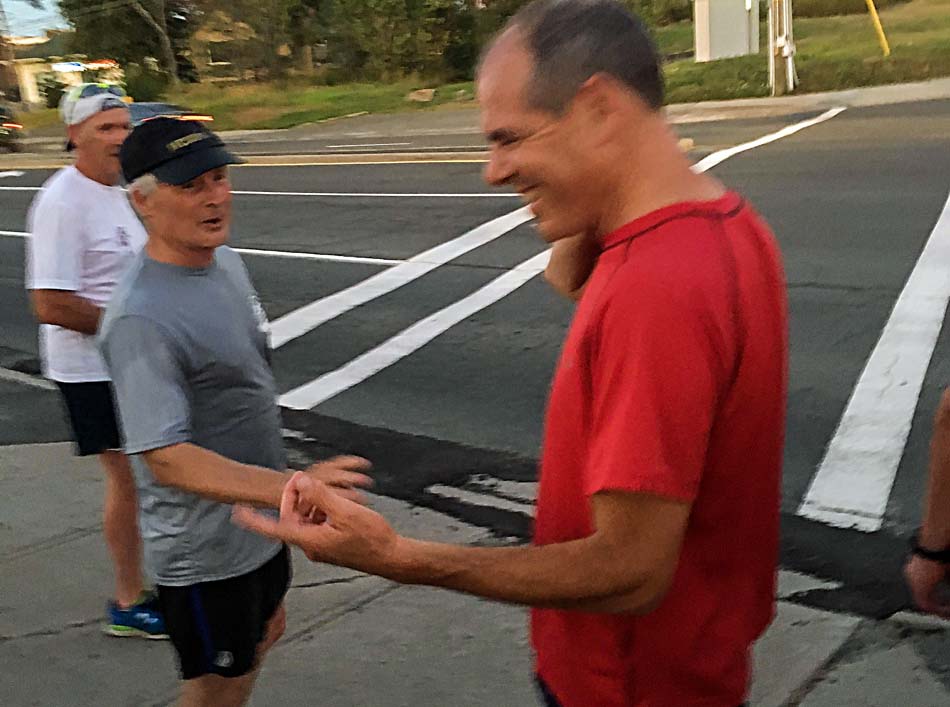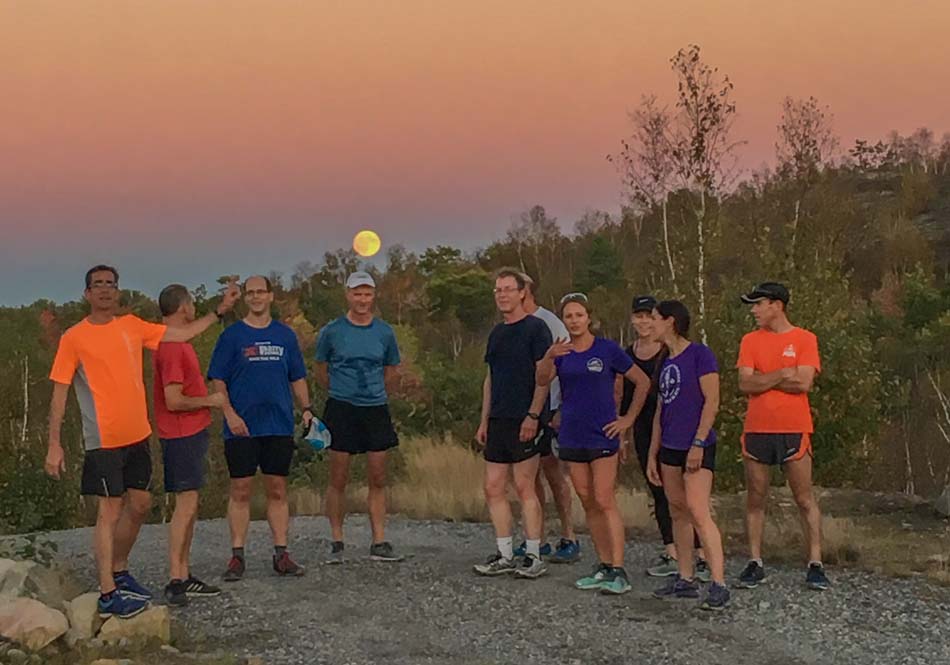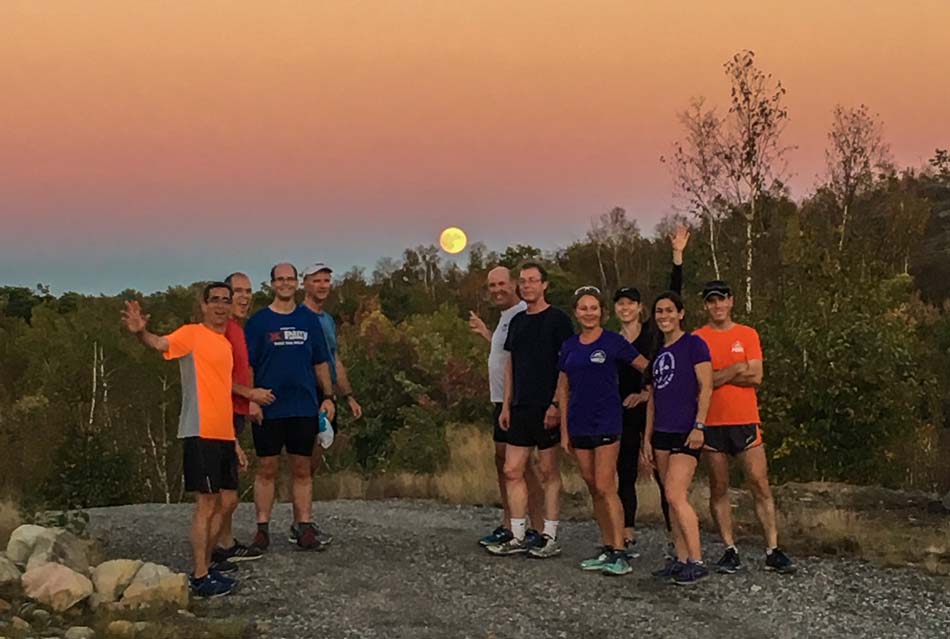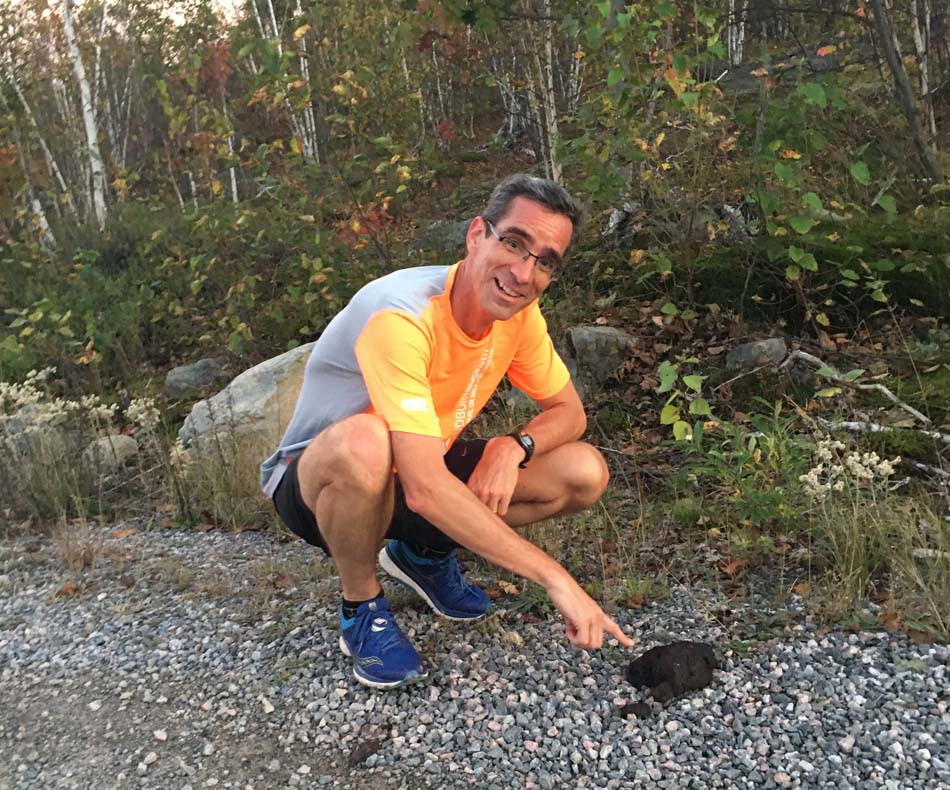 Bear Scat... or a big dog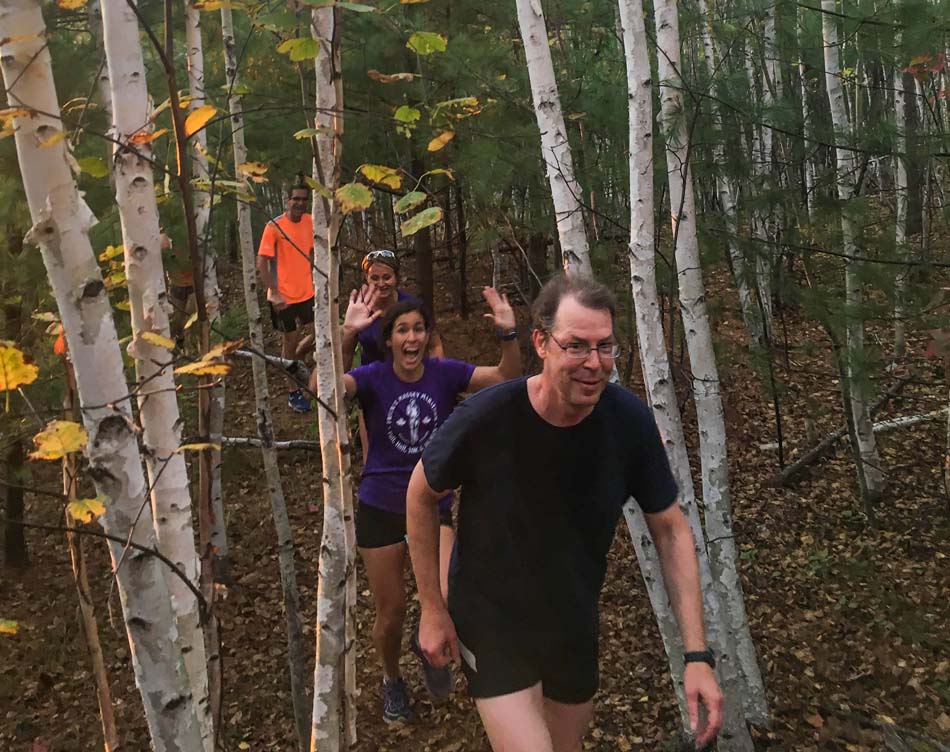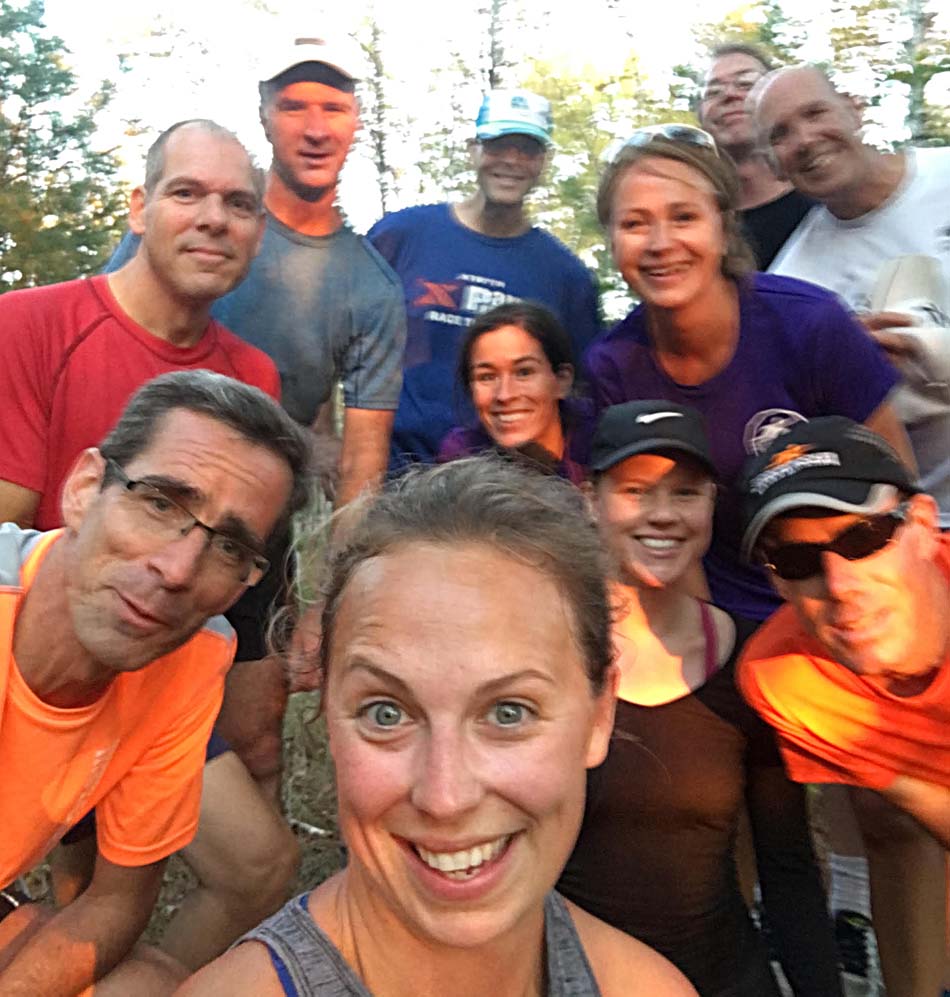 Photos by Chelsea Tait
October 1, 2017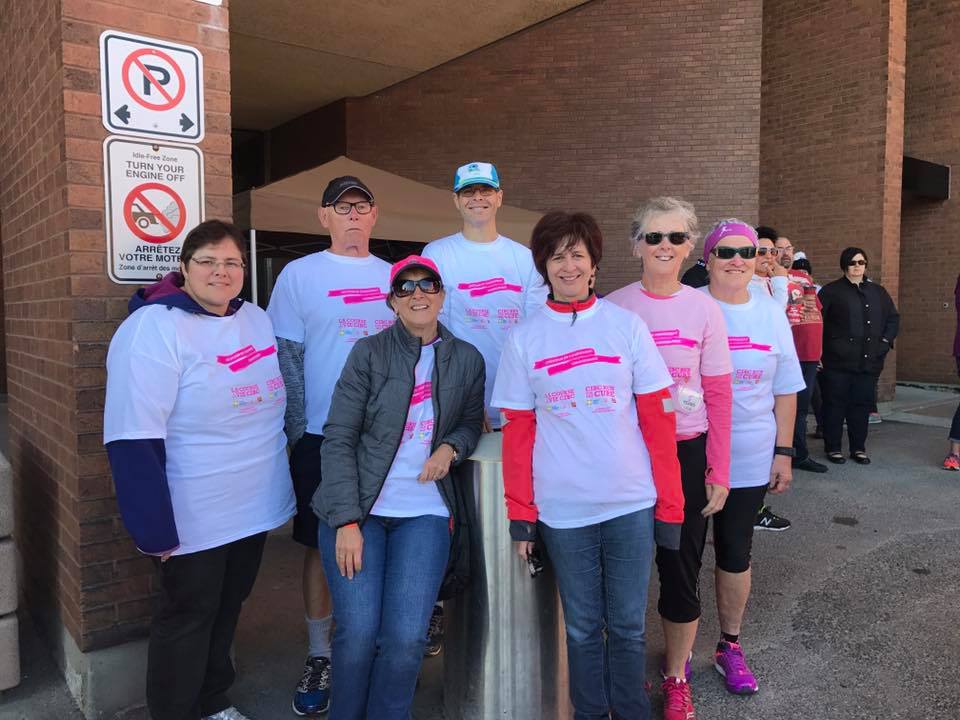 SudburyRocks!! Team
Thanks to Lise for organizing the Sudbury Rocks!! Running Club Run for the Cure Team. It was a beautiful day for a run and as always, a great event. It was sad to see fewer participants than in previous years, but the enthusiasm of everyone made up for it.
I encouraged my step daughter, Ewa Ceccon to join our team and told her she try to run as fast as she could to give her an idea of how fast she actually can run. For a woman that only runs once a week, if she's lucky, she was amazing. Her time was 24 minutes, not sure of the seconds, and she was the second female to cross the finish line! We are very proud of her. Just think of how fast she could be if Vince got a hold of her! I was very happy with my time, crossing the finish line at 27 minutes. I remember years ago when we trained hard for races Vince used to tell us if we had enough energy to wave for pictures we weren't running hard enough. I have to tell you Vince, at the start of the race I was thanking the volunteers and police officers. By km 4 I was trying very hard not to stop, could barely lift my hand and smile to the volunteers. I gave it all that I had and was very proud of it, even in spite of an injured, Stephanie Koett coming in a good 1 1/2 minutes earlier. Way to go Steph! I must say though the best part of the race was watching Maureen Moustgaard cross the finish line with a great big smile. She is and always will be my inspiration to keep up this sport that I love to do.
Sheila Lada

---
'Close to my heart': Run participant
Twitter: @keith_dempsey
Sunday, October 1, 2017 9:41:20 EDT PM

Years ago, Stephanie Koett, a long-distance runner, ran a marathon in honour of her aunt who had passed away from breast cancer. Years later, she herself was diagnosed.
"I had a pink ribbon on my little runner's bib," Koett, 54, said. "When I was diagnosed years later it devastated me. The fact that I'm still standing here 12 years later ... The proceeds from this race go to help us survivors who need it, those who are going through. It's horrendous when you get diagnosed."
Koett, a survivor of breast cancer, participated with roughly 375 others in the Canadian Cancer Society's Run for the Cure at Cambrian College on Sunday.
"I've participated in this race for several years," Koett said. "I've also been run director for a couple of years. This is close to my heart."
In 2015, Koett's sister-in-law died from breast cancer. "So to me we've gotta keep on fighting," Koett said. "This is my little way to help contribute to that fight."
Despite sustaining an injury a few days ago, Koett pushed herself across the finish line while being cheered on by a fair-sized crowd of spectators and volunteers. "I probably shouldn't have been running today," said Koett, who fell during a training run leading up to Sunday's event. "(My time) today was slower than what I would have liked, but today was dedicated to my sister-in-law. She was with me every step of the way."
Some participants took part in a one-kilometre run or walk, as well.
"This is big for awareness and raising funds for research," said run director Telana Arseneau. "We're trying to connect with people with an event like this."
Roughly 60 cancer survivors took part in Sunday's Run for the Cure.
---
5k Run Award Winners
Nolan Moxam 19:52

Colin Burrell 20:26
Casey Crowe 20:39
Sara McIlraith 20:56
Eva Ceccon 24:21
Rachel Conway 25:15
Child 12 and under
Nolan Kulberg 22:16
Matthew Muzi 22:56
Emily Bradley 23:31
Survivor
Stephanie Koett 25:38
A Rock!! Completes 100 Marathons

We had amazing weather for our races in Prince Edward County on Sunday morning. It's a beautiful route from Wellington to Picton through Sandbanks Provincial Park. I completed my 83rd half marathon alongside my good friends Nicole & Deb Patton. We are an awesome team.
Ken successfully completed his 100th full marathon. Sharing some of the race with his friend Lee. The race organizers made sure he had race bib #100 for the special day. Lots of congrats from many and fun balloons and a yummy personalized cake from Deb was much appreciated.
Lynn Stubbings
100 Ken Stubbings M50-59 38 28 5 01:49:20 03:39:47.7 03:39:56.7
325 Lynn Stubbings F50-59 280 147 26 01:03:51 02:22:07.4 02:22:48.2

Life is a Relay | Martin Parnell | TEDxYYC

Martin Parnell is our western SudburyRock!! and a good friend of the group.
View his motivational story above.
Sharing his own stories of personal tragedy and triumph, Martin Parnell tells us that life is a relay. In this humorous and insightful presentation, Martin takes us from exploding out of the blocks to hitting your stride, and finally to passing the baton to the next wave of change makers. Martin is passionate about making a difference in the world, and inspiring others to do the same. He lives by his adage, "In life you don't have to do much but you have to do something."

In 2010, following a 25-year career in mining, Martin started his "Quests for Kids" initiative. Over the next five years he completed 10 "Quests". These included running 250 marathons in one year, setting five Guinness World Records in endurance events and summiting Mount Kilimanjaro in 21 hours. At the end of 2014, he had raised over $1.3m for the humanitarian organization Right To Play and 27,000 children had been given the gift of hope.
Martin's words: " The Sudbury Rocks running club is where it all began".

Upcoming Local Events
Click on Image for Full Poster
October 15, 2017
10k Championships on beautiful Manitoulin Island Plus 10k Walk
We have the 10 km Slower Runner Division for beginner runners and walkers.
Sponsored by the Wikwemikong Health Centre Diabetes Program this Race Starts at 10:00 a.m. Kaboni
GREAT NEWS: The after run full lunch is returning for 2017!
10 Run Starts at 10:50 a.m.
Registration: 8:30 a.m. to 10:15 a.m. – Wasse Abin Pontiac School
Entry Fee: $20 for Adults $10 for Students
Shuttle service is available.
Info: (705) 859-3164
| | |
| --- | --- |
| | |
---
Store News

Hello Runner's and Walker's,

Hello everybody,

Congratulations to all who participated in the annual CIBC Run for the Cure. Heartfelt thank you to all participants, volunteers, and organizers. Job well done! Also, congratulations to our Run Club member and clinic participant, Lisa Church, for being the top online fundraiser! Also, congrats to the top online teams: Candocrew (Catherine Perrin) and Sudbury Rocks!! Running Club (Lise Perdue). Amazing job everybody!

With the summery weather spoiling us this fall, it's hard to believe Thanksgiving weekend is almost here! What does it mean to us runners? TURKEY GOBBLER time! This annual trail run is happening on SUNDAY, October 8th at the Naughton Ski Trails and is the final event of the Sudbury Fitness Challenge. Please register online on the Running Room website, stop by the store to register (cash or cheque only) or register the day of. Race kit pick up is on Saturday, October 7th, 12 - 3pm at the Running Room. Please note, all participants receive a special VIP 25% off discount. Don't miss out on this sale!!!

Happy Running and Happy Thanksgiving!

Your Sudbury Running Room crew,

Eric, Ania, Cassandra, Sam, Erich, Cale

We have FREE run club Wednesday nights at 6pm and Sunday mornings at 8:30am.
| | |
| --- | --- |
| | Track North News - by Dick Moss |

Mike Woods Geneseo Cross Country Invitational
10/31/17, Letchworth State Park, Mount Morris, New York

Bottomley Wins Geneseo!
Jenny Bottomley


Led by a stellar first place individual finish by Jenny Bottomley, the Laurentian women's cross country running team placed 2nd out of 14 NCAA Division III teams at the Mike Woods Geneseo Cross Country Invitational in Letchworth State Park, New York this weekend. The men's team also raced well, placing 7th out of 17 teams.

Bottomley ran the 6km course in a personal best time of 21:27, outpacing the field of 197 runners. She was followed by Heidi Tuszkiewicz in 10th place, also with a personal best time, in 22:25. Nicole Rich, Megan Crocker and rookie, Nicole Sartor, all finished in close succession, completing the scoring with a 19th, 20th and 22nd place finish. Their times were 23:11, 23:13 and 23:17 respectively. Jessie Nusselder and rookie Megan Sippel acted as displacers, finishing 29th and 41st with times of 23:29 and 23:45.

The women's squad's time of 22:42 was a meet record for the Vees, as was Bottomley's individual time. Bottomley ran 1:44 faster than her time at this race last year. It was the first time a Laurentian runner has won this race.

"Jenny was aggressive from the start, taking the lead almost from the gun," said Associate Head Coach, Darren Jermyn. "She was challenged by Geneseo runners Ramirez and Cossaro at the 4.5km mark, but she put the hammer down with 800m to go and was just flying at the finish."


Individual Results – Laurentian Women

1. Jenny Bottomley, 21:27
10. Heidi Tuszkiewicz, 22:25
19. Nicole Rich, 23:11
20. Megan Crocker, 23:13
22. Nicole Sorter, 23:17
29. Jessie Nusselder, 23:29
41. Meghan Sippel, 23:45
52. Breanne Steven, 23:55
54. Lindsay Robinson, 24:00
117. Lyndsay Greasley, 25:24
125. Kelsey Lefebvre, 25:36
148. Karissa Merrylees, 26:28


Team Scores - Women
1. Geneseo, 38 pts
2. Laurentian, 72
3. Rochester, 124
4. Fredonia, 185
5. Rowan, 188
6. Penn State Behrend, 208
7. Daemon College, 223
8. Brockport, 247
9. SUNY - ESF, 265
10. Shenandoah, 288
11. Adrian, 311
12. Oneonta, 339
13. William Smith, 421
14. Hilbert College, 460
Paul Sagriff_finish: Paul Sagriff's finishing kick


In the men's race, rookie runner, Paul Sagriff, once again led the Voyageurs, placing 10th in the large field of 238 runners from 17 teams. Sagriff, a first year runner from Kingston, ran a personal best time of 25:32 over the 8km course to finish in the top 10 for the first time in his university career.
He was followed by Liam Passi, who finished 23rd in a time of 25:32; Caleb Beland who was 40th in 26:14; Sam Delage, who was 98th in 27:21 and Jarod Milford, who finished the scoring a 122nd place finish and a time of 27:56. Gordie Chown who was 156th in 28:40 and Mika Muinonen who was 173rd in 29:16 acted as displacers.

"Paul showed great composure in a large field, "said head coach, Dick Moss. "He worked his way through the pack and kicked his way into the top 10 on the home stretch. And the rest of the squad ran well, with almost everybody, on both the men's and women's teams, running personal bests or season's PBs."


Individual Results – Laurentian Men
10. Paul Sagriff, 25:32
23. Liam Passi, 25:54
40. Caleb Beland, 26:14
98. Sam Delage, 27:21
122. Jarod Milford, 27:56
156. Gordie Chown, 28:40
173. Mika Muinonen, 29:16

Team Scores – Men
1. Geneseo, 35
2. Rowan, 81
3. Oneonta, 90
4. Brockport, 129
5. Penn State Behrend, 158
6. Rochester, 191
7. Laurentian, 194
8. Fredonia, 222
9. Shenandoah, 315
10. Daemen, 335
11. Suny- ESF
12. Hobart, 363
13. Adrian 435
14. Alfred, 445
15. Finger Lakes CC
16. Hilbert, 490
17. Villa Maria, 534

The Voyageur running squads' next race is the Marauder Bayfront XC Invitational in Hamilton on Friday October 13.
========
The Team
Start of the women's race
Women's Team Pointing: LU Women's Cross Country team points to race winner, Jenny Bottomley.
• Front Row (L to R): Meghan Sippel, Lindsay Robinson, Jessie Nusselder
• Back Row (L to R): Lyndsay Greasley, Nicole Rich, Jenny Bottomley (#394), Megan Crocker, Mackenzie Crowther (trainer), Heidi Tuszkiewicz, Kelsey Lefebvre, Natalie McConkey (trainer).

Photos for the Mike Woods Geneseo Invitational are available on SmugMug.
http://smu.gs/2yBeLiG

Dick Moss, Head Coach
Laurentian XC/Track Team
c/o Coach Moss <pedigest@cyberbeach.net>
Web: http://laurentianxctrack.com
Facebook: https://www.facebook.com/groups/laurentianxctrack/
For information call me.
Vincent Perdue
341 Fourth Ave, Sudbury On. P3B-3R9
705-560-0424
vt perdue@cyberbeach.net
Proud sponsor of the Sudbury Rocks!!! Race, Run or Walk for Diabetes
HOME | ABOUT US | CONTACT | ARCHIVES | CLUBS | EVENTS | PHOTOS | RACE RESULTS | LINKS | DISCUSSION

All photos images and content copyright Sudbury Rocks!!