| | | |
| --- | --- | --- |
| | | |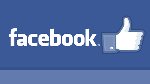 Hello Everyone, September 14, 2017
In this Issue:
Rocks!! Running Room Wednesday Evening Run September 13
Ramsey Tour
Killarney - Perfect Setting for a Fall Run
Upcoming Events: Sep. 17 Terry Fox Run, Sep. 24 Killarney Fall Classic, Oct. 1, Run for the Cure with Sudbury Rocks!! Team, Oct. 8 Sudbury Fitness Challenge Turkey Gobbler,
Running Room Run Club Update
Track North News
dog-who-ran-half-marathon-accused-of-cheating
Rocks!! Running Room Wednesday Evening Run September 13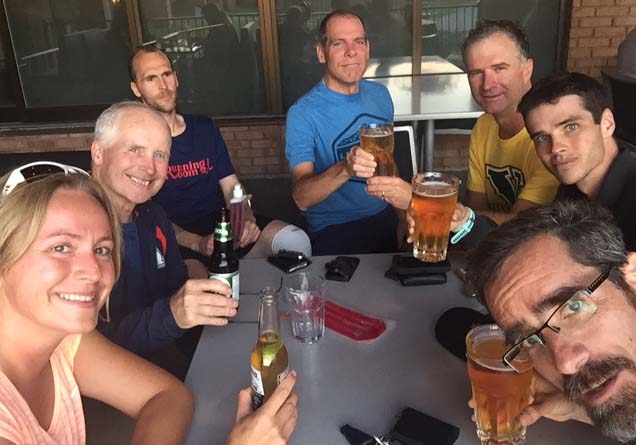 After Run Debrief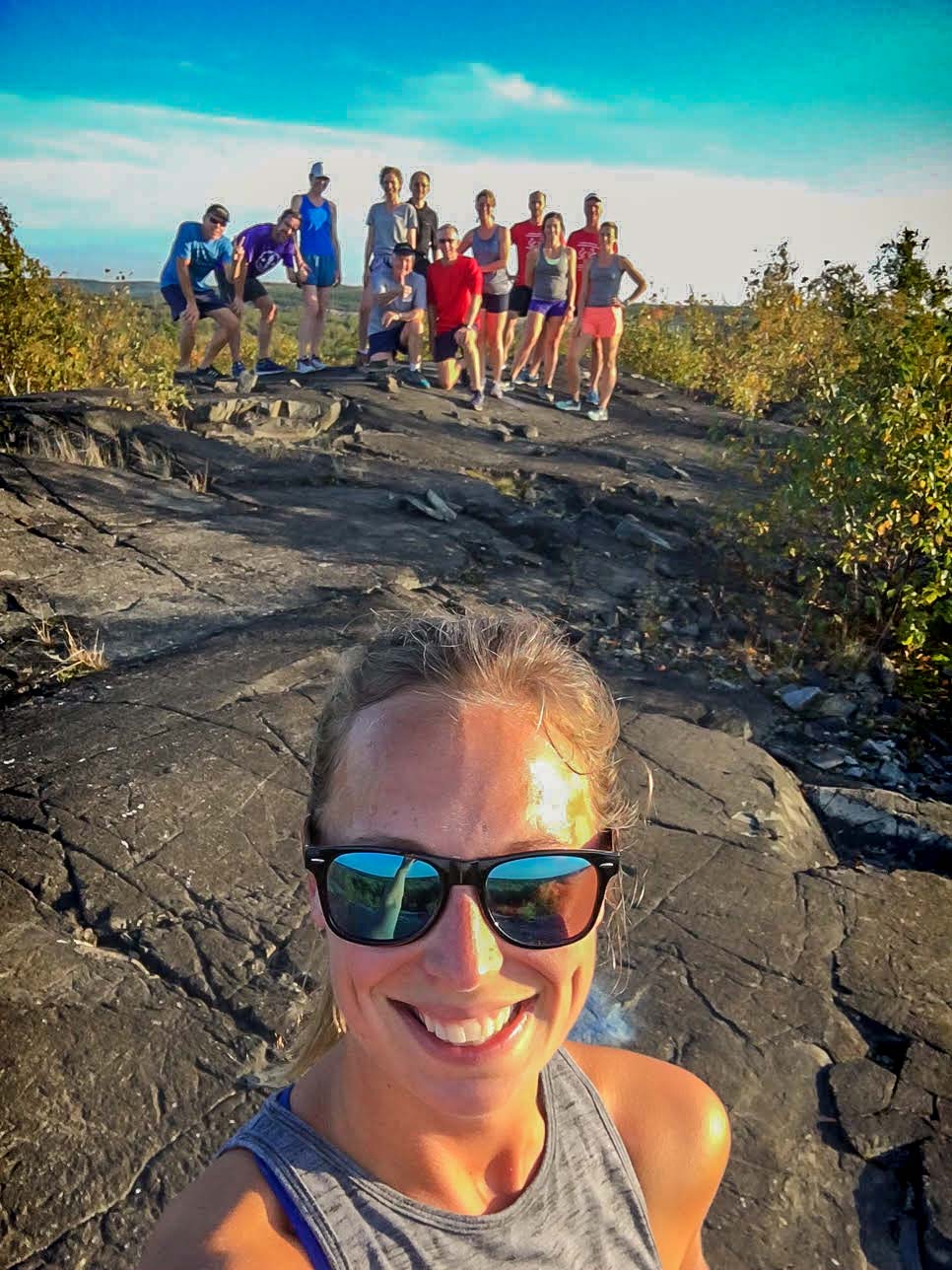 Laurentian Trails by Chelsea Tait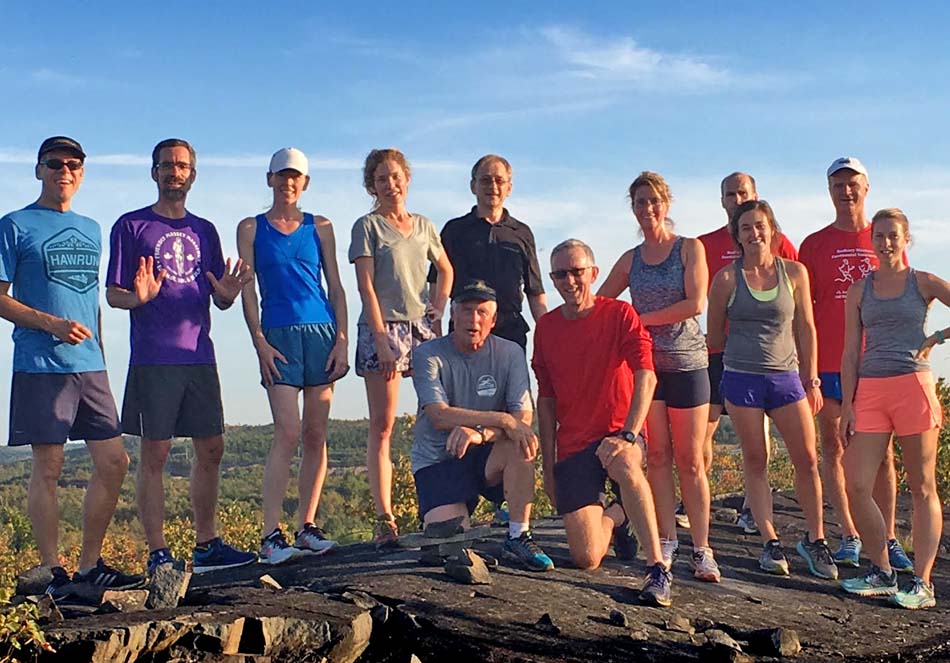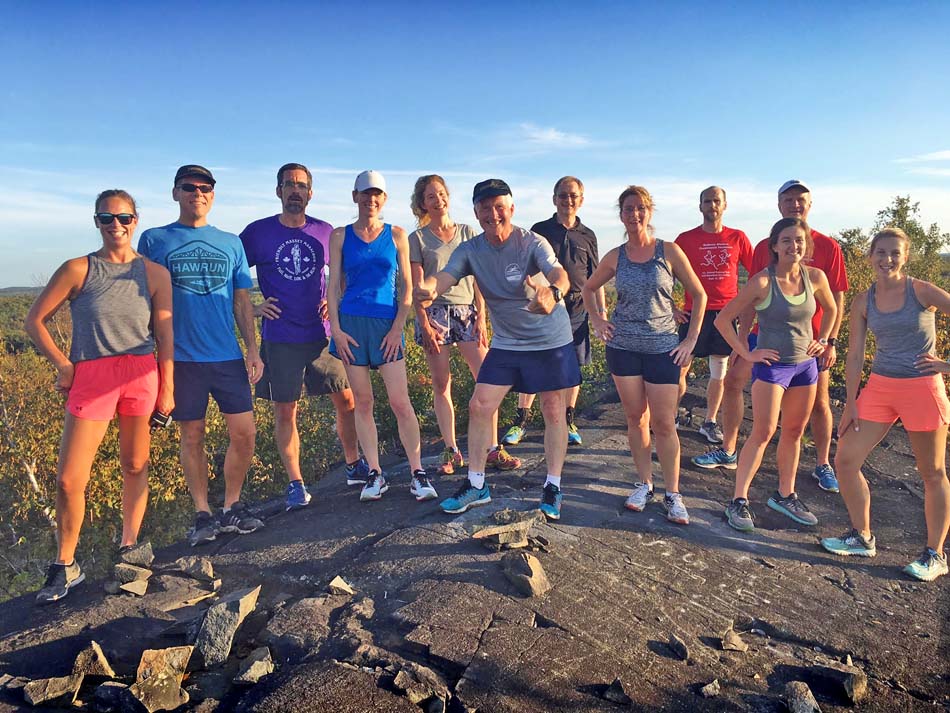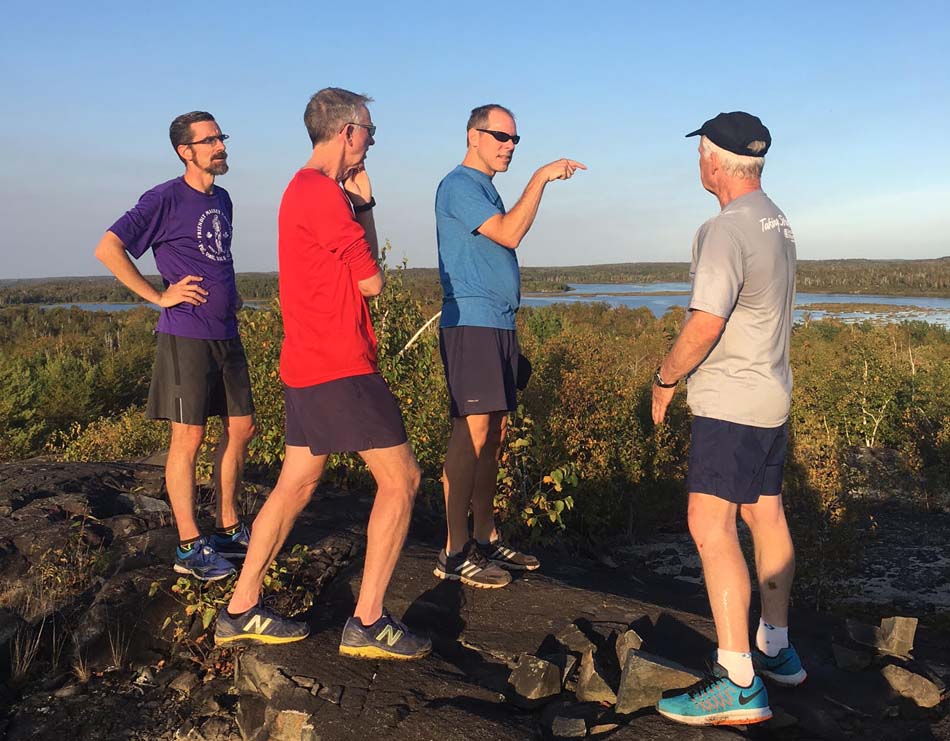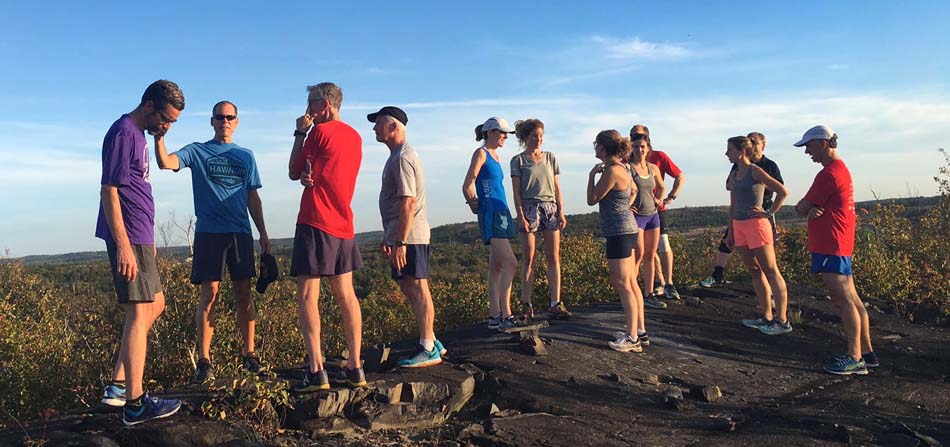 September 10, 2017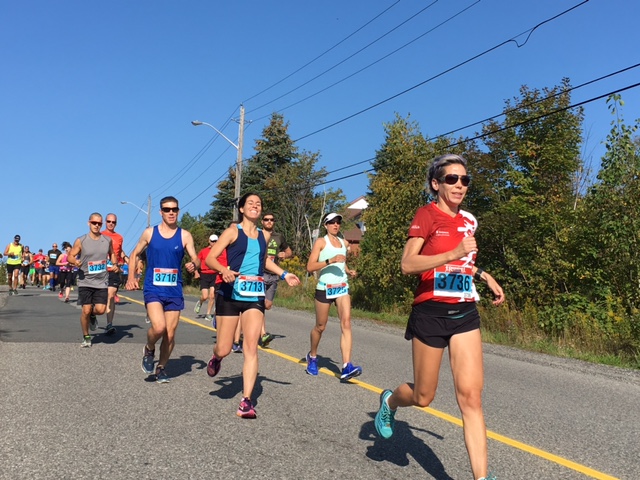 ---
The 41st annual Sudbury Masters Continental Insulation Ramsey Tour was held this Sunday September 10. The 5km and half marathon participants were treated to excellent weather conditions with little wind, warm temperatures and sunny skies. The organizers, volunteers and sponsors worked to ensure a rewarding experience was had by all and they succeeded. Thank you Jesse Winters, Louis Moustgaard and others for hosting a stellar event.
There were 135 finishers in the 5km event. Top 3 males are below
1 334 Cascagnette, Jordan M26 Nipissing University 15:57.97 1
2 354 Passi, Liam M20 Laurentian University 16:04.34 2
3 316 McKevitt, Dylan M24 Laurentian University 16:11.44 3
Top 3 females are below
24 301 Bottomley, Jenny W22 Laurentian University 18:57.48 1
25 343 Robins, Donna Mae W40 Unattached 19:09.99
29 331 Sasson, Sarah W20 Nipissing University 19:48.22 2
There were 35 finishers in the half marathon run. Top 3 males are below
1 3716 Marsaw, Ryan M42 Unattached 1:29:09
3 3735 Dumont, Pierre M53 Unattached 1:36:47
4 3714 Schinke, Robert M51 Unattached 1:37:33
Top 3 females are below
2 3736 Moreau-Verlaan, Lindsay W38 Unattached 1:31:45
5 3713 Iserhoff, Kaylie W28 Unattached 1:38:30
10 3725 Snider, Amanda W32 Unattached 1:41:31
There were 6 finishers in the half marathon walk.

1 3796 Staalstra, Diane W52 Unattached 3:27:28
2 3799 Sabourin, Sharon W55 Unattached 3:28:36
3 3800 Hall, Sharon W59 Unattached 3:29:05
4 3797 Marikkala, Monica W36 Unattached 3:29:06
5 3794 Venne, Francine W40 Unattached 3:29:57
6 3795 McDonald, Krista W36 Unattached 3:29:57
Perfect Setting for a Fall Run
Second Annual Killarney Mountain Lodge Fall Classic
Set for Sunday, September 24, 2017
One of the province's most scenic areas to host second fall classic road race…

A stunning scenic course newly sanctioned as a Class A road race by Athletics Ontario, the Killarney Mountain Lodge Fall Classic boasts both road and trail runs. Three races will get underway on the morning of Sunday, September 24 with a 5km, 10km, and 21.1 Half Marathon attracting a cross section of runners. Each race features plenty of road running with some gravel trails, and a course that's relatively flat with plenty of wild life and magnificent fall colours on view.

Last year's winner of the Half Marathon James Morgan says he'll be back to defend his title, "It's such a treat to come to this part of the country for the beautiful scenery and wilderness, not to mention that running in the fall is a lot of fun. He adds, "I'm returning not only to keep the tradition alive and try and set another personal best time, but also because I love running and I love this event." Morgan ran the Half Marathon in 1 hour and 48 minutes and his goal is to beat that, "I hope I've trained enough to set another personal best. I plan to give it my best shot."

Organizers are also setting the table to ensure runners have the ideal diet both before and after the race. Athletes can look forward to carb loading the night before, when Killarney Mountain Lodge hosts a pasta buffet feast. General Manager, Kelly McAree says it's also becoming a bit of a tradition, "We're excited to get the runners ready for race day by providing them with a pasta dinner ahead of the run, and once again our chef has planned a fish fry post-race to help them build back much needed protein after crossing the finish line. We're also hearing the Fall Classic is an event runners are flagging for their race calendars."
Killarney Mountain Lodge Fall Class Race Details:
Half Marathon departs 8:00am
10km Run departs 8:30am
5km Run departs at 9:00am
The Lighthouse landmark entrance at Killarney Mountain Lodge will act as the Start/ Finish Line for the races and the Lodge will provide runners with first class amenities. A pasta buffet is scheduled for Saturday, September 23 to help runners build their carbohydrate intake and a post-race fish fry will build back much needed protein after the runs are completed. Participants and volunteers receive a souvenir race t-shirt commemorating the event.
The entry fee is $25 with proceeds going to the Children's Wish Foundation of Canada. The Half Marathon winner takes home a sunset cruise on "Stormy Night" from Killarney Mountain Lodge. For a look at the course maps see below or go to their Facebook page: https://www.facebook.com/killarneymlodge/
Click on Maps for larger PDF
Register at the Running Room here
For more information please contact Kelly McAree
---
About Killarney Mountain Lodge
Killarney, a jewel that is less than four hours north of Toronto, is a nature lover's paradise offering nearby access to hiking, kayaking and canoeing on Georgian Bay and in the interior lakes set within 187 square miles of undisturbed mountain wilderness at Killarney Provincial Park.

The surrounding pristine, sapphire blue lakes provide the perfect setting for recreational adventure. Other activities organized by the lodge include biking, fishing, sailing and powerboat excursions, swimming, tennis and yoga. After a day on the mountain, or on the water, guests can savour gourmet cottage cuisine, including a weekly fish fry, along with lakeside views from the channel at one of the Georgian Bay's best adventure resorts.

For more information, visit www.killarney.com. Killarney Mountain Lodge, #3 Commissioner Street, Killarney, ON, Canada - or call 1-800-461-1117.



Upcoming Local Events
September 17, 2017
Sunday, September 17, 2017
Registration: 9:30 am - 10:30 am
Official Ceremonies: 10:30 am
One Start: 10:45 am
Location: Grace Hartman Amphitheatre off of Bell Park Boardwalk
October 1, 2017
Welcome to CIBC Run for the Cure in Sudbury
We invite you to run or walk with us on Sunday, October 1, 2017 for the CIBC Run for the Cure in Sudbury. Whether it's your first time, or you've participated for years, we look forward to having you join the movement! Help make this year's event inspirational and memorable, all while you help the Canadian Cancer Society create a future without breast cancer.
Lise Perdue has entered a Sudbury Rocks!! team in this year's Run for the Cure We would love you to support the cause and join the group. You can become part of the team by going to the REGISTER page. Click on JOIN A TEAM and then type Sudbury Rocks!! Running Club
RUN START TIME: 10:00 AM
Sudbury
Cambrian College, 1400 Barry Downe Rd.
Sudbury, ON, P3A 3V8
Route Map
Contact Information
sudbury@cbcfcloud.org
705-524-6739
Team Coordinator
teams_Sudbury@cbcfcloud.org
705-524-6739
Volunteer Coordinator
vol_Sudbury@cbcfcloud.org
705-524-6739
| | |
| --- | --- |
| | |
---
Store News

Hello Runner's and Walker's,

Hope everyone had a great weekend with the fantastic weather we experianced,

I would like to start by saying congratulations to everyone that took part in the 41st Ramsey Tour in either the 5km or Half Marathon, you all did amazing I seen some PBs out there from a lot of people great job everyone. Thank-you Jesse and Louie for once again organizing a great event.

Up coming events this weekend the Discovery Rotary Park fun run at Adanac ski hill, the 1km starts at 10am and 5km starts at 10:15am. For more information you can email Mike at m.pagnutti@northernsecurity,ca and you can sign up online at the Runningroom website.

Another event that is scheduled to go off on Sunday September 24th is the Killarney Fall Classic. The Half Marathon goes off at 8am, 10km at 8:30am and 5km at 9am, for more information you can contact Kelly by email at gm@killarney.com.

As well we are looking for an instructor for the Learn to Run and 5km clinics that are starting on Monday September 18th going for 10 weeks if you are interested, swing by the Sudbury Store.

Take care everyone and see you all tomorrow night for Wednesday Run Club :)

Eric, Ania, Cassandra, Kristina, Caleb Erich

We have FREE run club Wednesday nights at 6pm and Sunday mornings at 8:30am.
| | |
| --- | --- |
| | Track North News - by Dick Moss |
For information call me.
Vincent Perdue
341 Fourth Ave, Sudbury On. P3B-3R9
705-560-0424
vt perdue@cyberbeach.net
Proud sponsor of the Sudbury Rocks!!! Race, Run or Walk for Diabetes
HOME | ABOUT US | CONTACT | ARCHIVES | CLUBS | EVENTS | PHOTOS | RACE RESULTS | LINKS | DISCUSSION

All photos images and content copyright Sudbury Rocks!!