| | | |
| --- | --- | --- |
| | | |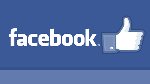 Hello Everyone, September 7, 2017
In this Issue:
Rocks!! Wednesday Apres Run Sep 6
Ramsey Tour September 10 - THIS SUNDAY
Rocks!! in Jordan
Upcoming Events: Oct. 1, Run for the Cure with Sudbury Rocks!! Team, Sep. 24 Killarney Fall Classic, Oct. 8 Sudbury Fitness Challenge Turkey Gobbler
Running Room Run Club Update
Track North News
dog-who-ran-half-marathon-accused-of-cheating

Rocks!! Wednesday Apres Run Sep 6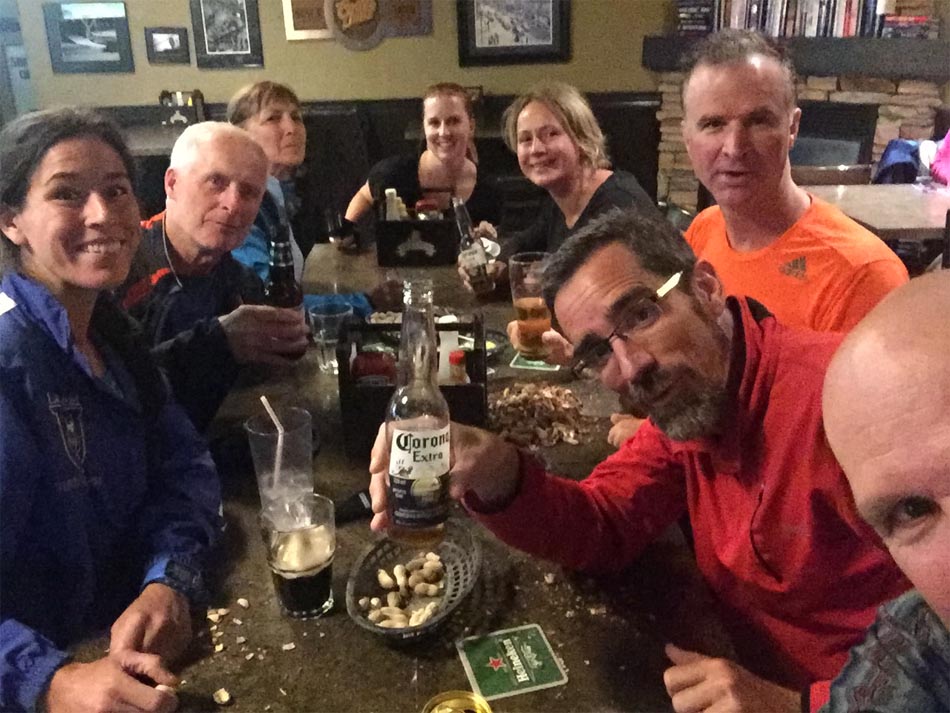 The group with almost Rob
September 10, 2017
The Tour turns 41
reprinted from 2016
A few changes have occurred over the 40 years but essentially the Sudbury Masters Continental Insulation Ramsey Tour has remained true to its routes. The original goal was to provide a high level running opportunity to athletes in the community and also make it accessible to all levels. The original 25km route around Ramsey Lake might have proved difficult for the novice participant so a 5km run was put in place. The growing popularity of half marathons in the running community saw the directors reduce the long run to 21.1km in 1981. Both courses have remained the same since. The long one still goes around the lake, still goes through 8km of tough hills and can still trap an unsuspecting runner at the CP rail track. But it's also still one of the most rewarding runs in the area. The short one serves multiple rolls. It has become a college and university sanctioned race which draws the faster, younger crowd. But it also pulls in those who would like to challenge the kids, themselves or their peers. And not to be left out, everyone is welcome... from the very best to those where the challenge will just be to finish upright and hopefully smiling.
Continental Insulation came onboard as title sponsor in 2013. Their financial contribution along with others like Dairy Queen and about 22 other sponsors...and, of course the participants, have allowed the run to assist athletes from both Laurentian University and Cambrian College in meeting financial obligations while furthering their education. The grateful students have made their thanks noted by continuing to support the race through volunteering or running in the event well after their school days are done.
Original Masters runners Jesse Winters and Louis Moustgaard continue to put on the run every year without fail. They do have the assistance of their significant others as well as support from remaining Masters and many members of the SudburyRocks!! Running Club and the Laurentian Voyageurs. The guys must be doing something right as this is the oldest run in Sudbury and as it turns 41 it doesn't appear to be going away any time soon.
The run has stayed true to its original goals of providing a high quality running experience open to all. We applaud the organizers and supporters.
You can still register for the event at the Sudbury Running Room on Saturday or before the race on Sunday. Please come early if planning this option.
See you on Sunday for the 5k or the half marathon.
T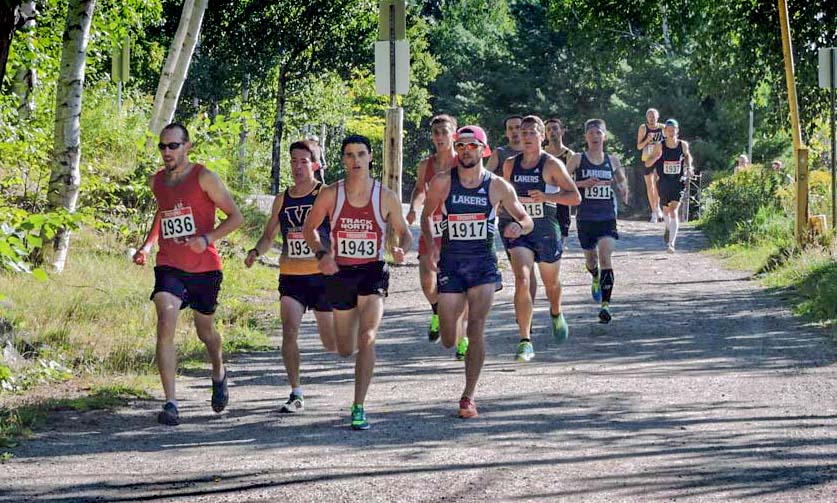 5k & 21.1 k Roadraces
The SudburyMasters Continental Insulation Ramsey Tour is taking place on Sunday, September 10 at Laurentian University at 10:00 am.

EVENTS: 5 km and a 1/2 marathon.

REGISTER:on-line through the Running Room - or - Manual Entry Form

If you have any questions please feel free to contact Jesse Winters

PHONE: (705) 674-2293

Rocks!! in Jordan

Will and Tawnecia Tai - Camping in Wadi Rum, Jordan. What an adventure!

Upcoming Local Events
October 1, 2017
Welcome to CIBC Run for the Cure in Sudbury
We invite you to run or walk with us on Sunday, October 1, 2017 for the CIBC Run for the Cure in Sudbury. Whether it's your first time, or you've participated for years, we look forward to having you join the movement! Help make this year's event inspirational and memorable, all while you help the Canadian Cancer Society create a future without breast cancer.
Lise Perdue has entered a Sudbury Rocks!! team in this year's Run for the Cure We would love you to support the cause and join the group. You can become part of the team by going to the REGISTER page. Click on JOIN A TEAM and then type Subury Rocks!! Running Club
RUN START TIME: 10:00 AM
Sudbury
Cambrian College, 1400 Barry Downe Rd.
Sudbury, ON, P3A 3V8
Route Map
Contact Information
sudbury@cbcfcloud.org
705-524-6739
Team Coordinator
teams_Sudbury@cbcfcloud.org
705-524-6739
Volunteer Coordinator
vol_Sudbury@cbcfcloud.org
705-524-6739
| | |
| --- | --- |
| | |
---
Store News

Hello Runner's and walker's,

Hope everyone had a relaxing long weekend and are ready to tackle the shortened week ahead.

We have moved into September and back to school as of today, so this is a perfect time to take advatage of the last couple of days of our sidewalk sale as it is getting packed up Sunday September 10th, As well the Sudbury Masters Ramsey Tour 5km and Half Marathon is taking place Sunday September 10th at Laurentian University starting at 10am, so remember to come pick up your race kit at the Sudbury Running Room on Saturday September 9th from 9:30am to 6pm, also for those of you running the race Running Room is offering 25% off of Regular priced shoes, and apparel and 10% off electronics and nutrient.

We are looking for an instructor for the Learn to Run and 5km clinics that are starting on September 18th going for 10 weeks if you are interested, swing by the Sudbury store.

Take care everyone and see you all tomorrow night for ouro Run Club :)

Eric, Ania, Cassandra, Kristina, Caleb, Erich

We have FREE run club Wednesday nights at 6pm and Sunday mornings at 8:30am.
| | |
| --- | --- |
| | Track North News - by Dick Moss |
For information call me.
Vincent Perdue
341 Fourth Ave, Sudbury On. P3B-3R9
705-560-0424
vt perdue@cyberbeach.net
Proud sponsor of the Sudbury Rocks!!! Race, Run or Walk for Diabetes
HOME | ABOUT US | CONTACT | ARCHIVES | CLUBS | EVENTS | PHOTOS | RACE RESULTS | LINKS | DISCUSSION

All photos images and content copyright Sudbury Rocks!!