| | | |
| --- | --- | --- |
| | | |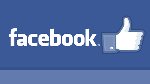 Hello Everyone, August 3, 2017
In this Issue:
Rocks!! Wednesday Pm Run (with a blueberry theme)
Don't Miss the Beaton Classic
Sudbury Fitness Challenge Rankings
Canaqua Sports SwimRun Challenge
The 41st annual running of the Mattawa River Canoe Race
This Sudbury man is running a marathon for mental health
Runner Dana Wilson grows from planting trees
The meeting of the two sporting worlds of Amber Konikow
Upcoming Local Events: Aug 10 Finlandia #3, Aug 13 Beaton Classic
Running Room Run Club Update
Track North News TNOR Coachs on vacation
dog-who-ran-half-marathon-accused-of-cheating
Rocks!! Wednesday Pm Run
(with a blueberry theme)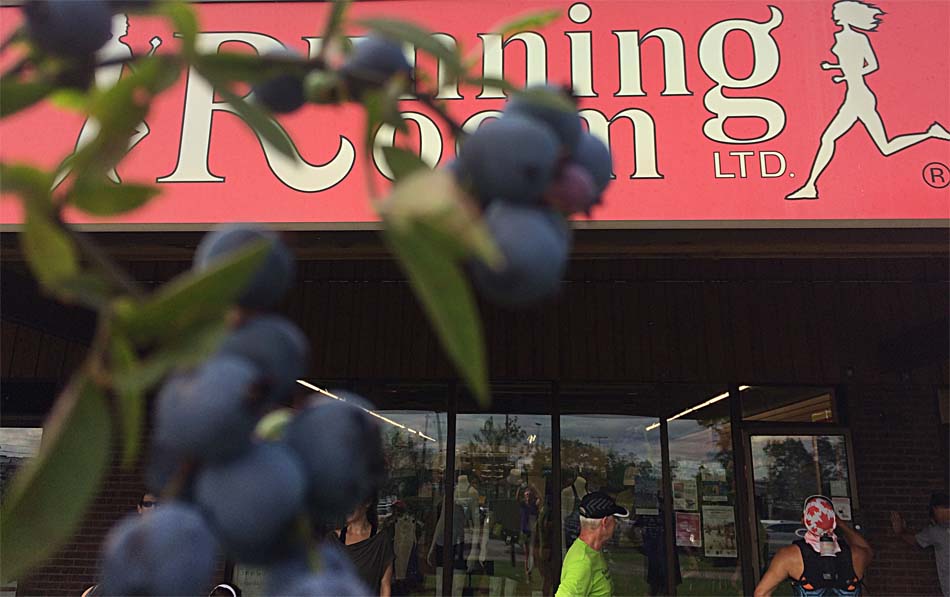 Don't miss the 2017 Beaton Classic!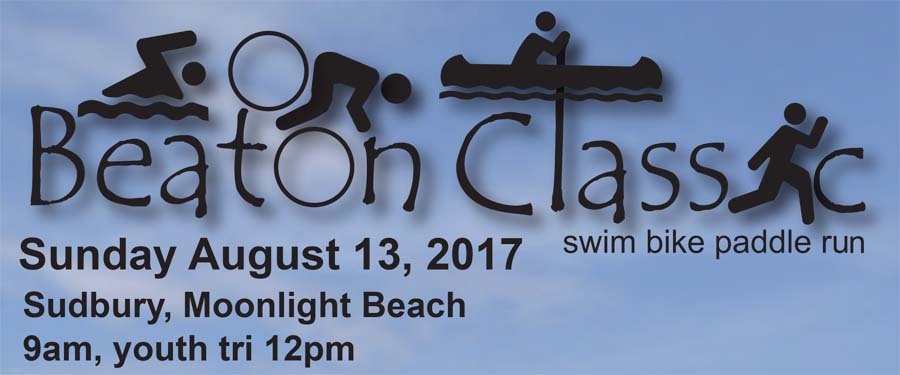 The Beaton Classic is the 6th event in the Sudbury Fitness Challenge series. Challenge yourself in this unique Sudbury quadrathlon. Participate solo, in a pair, or a team of 4. Kids aged 8-12 can take part in the Beaton Youth triathlon.

All events are on Sunday August 13th at Moonlight Beach. The Beaton starts at 9am, with the Youth Tri following at 12pm.

For more information, registration forms and course maps see the links provided below.

Register online at the Running Room, paper forms available at the Outside Store (day of entries only for the Youth Tri):


Volunteers needed!

We are in need of volunteers for all aspects of our event. Students earn volunteer hours. Please consider helping out. Volunteers get a race t-shirt, home-made jam, and lots of amazing snacks.
https://www.events.runningroom.com/site/?raceId=14441
Beaton Classic Course Instructions
Contact: BeatonClassic@hotmail.ca

Sudbury Fitness Challenge Rankings
July 30, 2017
Canaqua Sports SwimRun Challenge

Kivi Park
All Photos Here

https://www.facebook.com/pg/SwimRunChallenge/posts/
---
SwimRun Challenge draws dozens to Kivi Park
First event of its kind in Ontario held in Sudbury
Dozens of competitors participated in the first-ever SwimRun Challenge at Kivi Park, which combined the sports of swimming and running on the park's scenic trails and waterways. (Arron Pickard/Sudbury.com)
With 47 registered participants for the first-ever SwimRun Challenge at Kivi Park, the event's organizer is optimistic it will only grow from here.
Ian Feldman, race director and owner of Canaqua Sports, said he brought the first SwimRun Challenge to Sudbury because he's received a great deal of support. His technical director, Buddy Green, lives in Sudbury and was responsible for setting up the course.
It's a 17-km course consisting of alternating swim and run distances for participants to complete over a variety of terrain throughout Kivi Park, including Crowley Lake. The course included 3.6 kilometres of swimming, split up into three 1.2-km legs, combined with running, with stretches ranging from 1.5 km to 4.2 km, Feldman said.
The No. 1 rule for all racers was, whatever equipment they started with, they have to finish with. That includes all swimming aides like swim fins, goggles and floats, even the swim caps issued to each participants when they registered. Dropping any of the items along the way means disqualification, he said.
"This type of race is huge in Europe," Feldman said. "There was nothing like this here. A friend of mine introduced me to it two years ago, and I thought it was one of the coolest things I've seen in the world."
The race format has been modified from the European races, he said.
"There, they race over much rougher country. It's a nice alternative for triathletes who don't necessarily want to do the biking any more, or for those who don't have a bike."
The Sudbury race is "very much a test event," he said, with hopes of launching more races next year. Kivi Park set the scene for the first race of its kind in Ontario, and the second in Canada.
"Kivi Park is amazing," Feldman said. "They said they would love to have us here, and they've gone well out of their way to make this happen. It's probably one of the most incredible settings I've ever seen. The Sudbury race, which will be our signature event, will remain at Kivi Park for as long as they'll have us."
---
The course was just over 17 k with a nice mix of both swimming and running through Kivi Park. Here are the distances.
Run 1 - 4.4km
Swim 1 - 1.2km
Run 2 - 1.6km
Swim 2 - 1.2km
Run 3 - 3.0km
Swim 3 - 1.2km
Run 4 - 4.8km
The overall winner: Jennifer Piper from Powassen in a total time of 2:08:00
YOUNG: 'A real sense of accomplishment'
By Laura Young, Special to Sudbury Star
Monday, July 31, 2017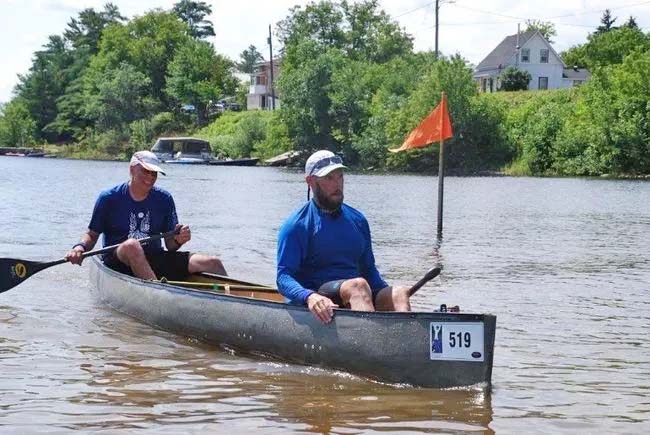 Rob Gregoris, left and Shawn Bruins of Sudbury win the men's rec A division at the Mattawa River Canoe Race on Saturday. They completed the 64-kilometre event in 6 hours 48 minutes, despite the heat Saturday afternoon.
---
Was that six or eight inches? Was the water drop a gradual thing since Wednesday, or overnight, from Friday to Saturday?
And yes, many a canoe emerged from the 41st annual running of the Mattawa River Canoe Race scratched and banged up from rocks.
Despite surprisingly low water on the river, three Sudbury teams completed the 64-kilometre event, placing first, third and fifth in the men's recreational A division of the race, run by the North Bay-Mattawa Conservation Authority.
Shawn Bruins of Lively and Rob Gregoris of Sudbury won in six hours, 48 minutes, two minutes faster than last year.
They tested the durability of Gregoris' homemade canoe by discovering a rock head-on in the river. Later joking they should have deployed air bags on that crash, they still finished well ahead of Brian Wall of North Bay and Mike Todd of Oshawa, in 7:16, and second place.
Sudbury's perennial paddling father-son duo of John and James Larmer were third in 7:20.47. Scott Hopkins of Lively and Robert Marcolini of Sudbury, in their first-ever attempt, were fifth of six teams, in 9:16.45.
"It's the best race I've ever been to," said Larmer, having replenished at the post-race awards banquet and feast.
"As far as canoeing goes it has every aspect of the sport -- whitewater, rapids, it's got flatwater, wind, distance. It has really good people."
Still, it was a long day and they suffered mightily as the race wore on. Larmer believes they simply didn't eat enough to sustain them. Coupled with the heat, they up and bonked.
"I'm happy with the time because it got us on the podium," he said.
Marcolini was happy to finish a race he has always wanted to enter.
"It's one of the best races in all of the province for paddling," he said. "It's like the granddaddy of paddling in Ontario. It's a good mix of high-end racing and weekend warrior-type racing. Everybody's got to go through the same thing. It's challenging on and off the water. It's well-organized."
The 2017 edition of the Mattawa River Canoe Race featured one of the highest-ever number of entrants, said Brian Tayler, CAO of the conservation authority.
There were 63 teams entered in the 64-kilometre race and seven in the family/division, which is a 13-kilometre paddle from Samuel de Champlain Provincial Park into Mattawa. Paddlers came from as far as Saskatoon, Sarnia and Ottawa to join a core group from the Near North.
The overall winners were Mark Clout and Dean Brown, in 6:3.5.
"It's a family event," said Tayler. "It's families you've got that aren't always together. Somehow they make this event something to do together."
The race is enjoying a resurgence of sorts. Back in the mid-1990s, the number of sponsors had dropped; then from 2005-2010, the number of entrants was down.
The race organizers began to broaden the race classes and modernize the event by adding kayakers, stand-up paddleboards and the stock race class. That class features some very pretty watercraft, between professional and regular recreational canoes. "It just opens up the possibilities (of boats) for people," said Tayler.
Ironically there were no Voyageur canoes entered along the historic Mattawa River, once an artery in the fur-trading route.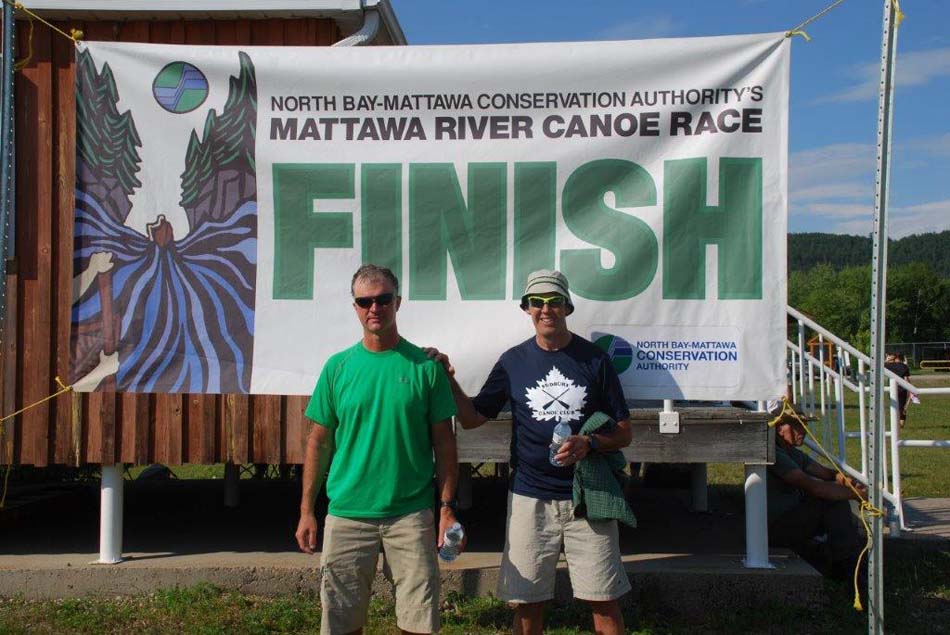 For Hopkins and Marcolini (above), being back of the pack didn't mean they were alone. There was some back and forth and cheering with other teams, as well as boaters on the river supporting the teams.
"When you get finished, you feel a real sense of accomplishment," said Marcolini. "At the end you get a great banquet."
On another note of marathon canoeing, Sudbury will host the Canadian Marathon Championships this weekend at the Northern Watersports Centre.
Laura Young's column appears each Monday in The Sudbury Star.
Why this Sudbury man is running a marathon for mental health
Body energized, mind mentally clear:
Darren Parker is accepting charitable donations to bring running therapy sessions to Sudbury, Ont. youth
By Olivia Stefanovich, CBC News
Darren Parker is planning to run in the Scotiabank Toronto Waterfront Marathon on October 22 to raise awareness about suicide and mental health. (Olivia Stefanovich/CBC)
---
Darren Parker has been feeling the effects of suicide since he was 17-years-old.
He said he lost three family members and has contemplated taking his own life, but now he is living by a new personal motto to never give up.
"In the midst of difficult circumstances, we still can put one foot in front of the other," Parker said.
"I just know that I personally can't afford to give up. I won't give up because there's lives of people who I absolutely love who literally depend upon it."
Parker credits his family, faith and running as his sources of strength.
Running to 'work it through'
Now 51, he is trying to help others with their mental health issues use physical activity as a form of therapy.
"It absolutely helps keep my body energized and my mind mentally clear," Parker said.
"If I'm having a rough day ... when I go out for a run, while I'm running, I'm able to work it through."
On October 22, Parker plans to take part in the Scotiabank Waterfront Toronto Marathon with the hope of raising enough money and awareness to bring running counselling sessions to young people in his hometown of Sudbury, Ont. through the charity Cameron Helps.
Parker is accepting donations through his "courageous hope fundraising campaign."
He said he became motivated to start the initiative after participating in the Unbreakable Spring Open in Sudbury last April, which was launched by teenagers for the same cause.
'A way to stop suicide'
Parker's openness and perseverance with mental health issues have become a source of inspiration for his son Joshua, 29, who is overcoming his own struggles.
"I've spent a lot of time trying to overcome and change, but I just seem to keep reverting, and there are times where I kind of just throw in the white flag and say what's the point," Joshua said.
"When I hear my dad saying he's never going to give up, and I watch him ... It's rising up in me that desire to never give up."
Speaking publicly about suicide has not been easy, but Parker said he believes it is the right thing to do for encouraging prevention and eradicating stigma.
"We are absolutely convinced that there is a way to stop suicide," Parker said.
"Or to help people who are dealing with severe depression and suicidal ideation, to help them come to a place of restored hope so they can actually see another way of managing life and to be convinced that life is actually worth living."
Runner Dana Wilson grows from planting trees
2017-07-27
by Randy Pascal
Dana Wilson shows off her winnings from the 2017 Sudbury Rocks Marathon.
---

There are countless starting points that have prompted young adults to pick up running as a pastime that soon transforms to a passion. But I can't say that I have heard "tree planting", before, as the genesis to a marathon championship.
Yet that was exactly the case for 39 year old Wasaga Beach native and 2017 Sudbury Rocks Marathon female first place finisher Dana Wilson. Having moved to Sudbury with her husband (Nathan) in 2014, the mother of two young children posted a time of 3:42:52 in showing the way for the women's delegation, completing the fourth marathon of her career in May, but her first in the past eight years or so.
A volleyball player during her high school years, Wilson is in a relative minority of marathoners who can look back on absolutely no competitive involvement in either cross-country or track and field from their youth. Her base, as noted, would come from a highly unlikely source.
"I went tree planting during the first summer of my undergrad degree at Waterloo," stated the member of the team at the Sudbury District Health Unit. "With tree planting, you make more money the more you do, and I had a really great summer out west."
"I worked really hard and made a lot of money, and that gave me some positive feedback about how gratifying it was to be out there doing something. It was hard, physical work for sure. I would say I have never worked so hard physically in my life. That was the biggest thing that got me into fitness."
Running initially with friends from school, Wilson was not about to ease her way in. "A girlfriend in grad school suggested training for a half marathon, so my first race was actually a half," said Wilson. "I've actually never raced anything below a half marathon."
Her life journey, through her mid-twenties and into her thirties, would take her on an interesting academic path that featured stops at Waterloo, McMaster, McGill and the University of New Brunswick, all of which offered, to some extent or another, an accompanying side trek that related to athletics.
"It kind of started with triathlon training while at McGill," recalled Wilson. "I really enjoy swimming and really enjoy running, and I really like biking, I just don't like road bikes as much. I just don't feel safe. But they have the F1 (Formula One) track that you can train on, and that was great."
"When I was doing my post-doc at UNB, I met some really lovely ladies that I lived with for a summer, and we started training for triathlons," she added. "At the same time, the Fredericton Marathon was coming up and it just happened to be the same route that I was running quite regularly, so I said what the heck. I had time to kill."
By the time the family moved to Northern Ontario and was in the process of expanding via the birth of both Finn and Brooke, life became busier, as Wilson looked to find a way to squeeze in various workouts, even if racing was not in the mix.
"I started doing more running on the treadmill in the basement, and then I would do other fitness stuff – biking a lot, workout videos, swimming a lot in the lake in the summer," she said. Clearing up some nagging post child-birth health issues, Wilson received a clean bill of health late in 2016, wasting no time at all in setting her sights on a brand new target.
"I had to wait until January 1st to start running, but I think I went a couple of days early, because I just couldn't wait any longer," she laughed. "I wanted to do another marathon before I turned 40, so I targeted the Rocks Marathon in May and signed up right away. If I signed up, then I have to do it, right?"
Indeed she would, opening a door to a Sudbury running community that she did not even know existed. Best to go directly to the long-time local running guru who runs the Sudbury Rocks Running Club website and also serves as a leader and primary contact person for twice a week group runs.
"I emailed Vince (Perdue) the next day. He told me not to worry, that there's something for everyone, that I would be welcomed." While Wilson was not new to the concept of training in a group setting, there was something a little different with the set-up in the city she now called home.
"I really had a great time running with the Hyde Park Road Runners (Toronto), but it's a big place, and there are always thousands of people in every race that you run," noted Wilson. "I feel like I've gotten to know Sudbury much better through running with our group. Everyone that I trained with was there on race day, which was really cool."
That included, of course, the highly personable point man of the group. "I don't know how Vince does it, out every Saturday, every Wednesday, always there to give advice. He's got a story for every situation. He's got every type of running experience. If he hasn't done it, he knows someone who has."
Her victory in Sudbury was nice, though Wilson had no trouble keeping it all in perspective. "I've never been a speed demon, and there wasn't a very large number of female runners," she said with a smile. Still, she is looking to moving on to her next challenge, perhaps aiming to break the 3:40 barrier in the next year or two.
"Everyone is training for something," she stated. Even when one is simply planting trees.
The meeting of the two sporting worlds of Amber Konikow
2017-08-01
by Randy Pascal
Amber Konikow is seen tackling the 2016 Sinister 7 Ultra race in Alberta, taking her through rugged, remote and beautiful terrain in the Rocky Mountains. (Todd Weselake/Raven Eye Photography)
---
A two-time national champion and bronze medal winner at Worlds, there is no doubt that Amber Konikow drew heavily from her boxing career as she transitioned towards her current status as an accomplished ultra-distance marathoner.
Surprisingly, the carry-over was hardly at all what one might have expected.
To be sure, the cardio and general fitness that accompanied her demanding training regimen over a series of years allowed Konikow to enjoy an athleticism that became the base for her ability to now travel one hundred miles or more, by foot, over a matter of just a few days.
But the two distinct aspects of her life, or at least her life since her late twenties, have truly intermingled in manners so much more meaningful than that. And it dates back to her very start in sports.
"I was active as a kid," said Konikow recently. "Because we lived in the country, I would walk a lot, ride the bikes, doing activities, but not organized sport. I had no interest whatsoever. I was really shy, and felt intimidated."
Fast forward to the age of 26, perhaps 27, and Konikow had now returned to Northern Ontario following a stint in Washington D.C., a point in time in which she admitted the "fit just wasn't for me."
"I moved back home and got a job in ICU," recalled the graduate of the Nursing program at Cambrian College. "But that was all I was doing – working, watching TV, working. I didn't know what I wanted to do, but I knew that I wanted more than what I was doing, so I thought about getting in better shape."
Taking a couple of cracks at various avenues to physical fitness, Konikow was eventually steered towards boxing, forging a connection that clicked immediately. "At that time, I don't really know why I wanted to go, except that I felt such a great sense of belonging in a very positive environment," she said.
"For some reason, I felt like I was allowed to learn and express myself there. Boxing made me feel safe. Everyone was there to learn, no one cared if you were a girl or a guy, I felt like we were all equals. And I loved how it made me feel."
"You could see the transition, the confidence that was building up, the self-esteem that was building up, and I was seeing it even in my professional work as a nurse," Konikow continued. "It progressed, and it's so empowering."
Over time, that progression would create a national champion boxer, as the inner potential of an amazing athlete was only beginning to be unearthed. Looking back now, connecting the dots, Konikow recognizes the building blocks of a mental toughness that is the core strength of her success in the challenging world of endurance racing.
"Mentally, it's how you perceive yourself in that time and moment, whether it's in the ring, or it's out doing a hundred miler," she said. "A lot of it is will, determination and heart, and you have to have a passion for the sport that you're involved with. I was passionate about boxing. With ultra marathon running, I'm always smiling. I'm happy that I'm out there, just doing it."
"I'm not saying the mental strength came overnight, this has to build up over the years." There would be additional sources of information, sources that could expand the scope of the athlete that Konikow would eventually become, sources that she certainly did not see coming.
"I ended up taking up yoga while I was running ultras," Konikow reminisced. "I had kind of a bad attitude, like what's yoga going to do for me when I'm already a boxer and a runner. But the benefits were huge and I was wrong to judge. Some of the things that we talked about, being in the moment and accepting where you are instead of when am I done, I definitely used that."
"I used to say that to the boxers, never think when is it over, when is it over? Just be in the moment and control the situation. Make it happen, as (coach) Gord (Apolloni) would say, so I applied that to running."
"If you're doing a hundred miles, you know damn well you're going to be out there for 24, 30 hours, so you might as well accept the fact that you can't change that," Konikow stated. "But you can be in that moment and enjoy every step, take care of any challenges, go with the flow. It's helped me a lot."
Pragmatically speaking, the training for endurance racing simply filled the void when the laws that govern international boxing stipulated that the bronze medal winner at the 2008 World Boxing Championships in China could no longer compete, due to her age.
"Boxing had become such a big part of my life," said Konikow. "Instead of having to find motivation to do it, it just became part of my normal routine. It was the joy of my life. When it was gone, I felt such a huge emptiness. I think I lost a sense of purpose. I was looking for other means to set goals for myself, to try something interesting and challenging."
Just a few short years later, Konikow would again scale the mountain, earning bragging rights as the first female finisher at the Haliburton 100. And while there might be constant interconnectivity between the two athletic pursuits that have dominated the past fifteen years of her life, so too are there stark contrasts between the two, even as she recalled her greatest achievements in those respective fields.
"Compared to winning Haliburton, the world medal is completely different," she said. "At first, I was told I wasn't allowed to go to worlds, because of my age, so I had to fight that and got the OK to go. When I got there, I already felt a sense of accomplishment."
"When I actually won a medal and was able to stand on the podium and see the Canadian flag, it was the hugest thing I've ever, ever, ever achieved. I was now one of those people that I used to watch on TV, when I was thinking that I need to change my life."
She was thinking back to a time when she would start down a path that, amazingly, would eventually see the meeting of the two sporting worlds of Amber Konikow.
| | |
| --- | --- |
| | |
---
Store News


Good morning everyone,

Hope you are all enjoying the beautiful summer weather! As you enjoy your favourite activities, please keep in mind hydrate and protect yourselves from the sun! we hate to break the news to you, but summer will not last for ever:) If you would like to sign up for the Resolution Run, please keep in mind there is a price increase tonight at midnight! Yes, it seems unreal at this time of year, but it will be here before you know it! sign up today.

Please know that we are offering a FREE Survivors Training Program for breast cancer survivors. it is a 10 week program that will get you ready for the CIBC run for the Cure. Please share with anybody that you think might be interested! Thank you all!

Sudbury Beaton Classic is coming up on Sunday, August 13th. you can register for this unique event taking place at the Moonlight beach, at www.events.runningroom.com or at the store! if you are not planning on taking part please consider volunteering!!!

Also, the Ramsey Tour 1/2 marathon and 5km run is coming up on Sunday, September 10. Please stop by the store to register!

See you all tonight for Run Club at 6pm

Happy Running,

Eric, Ania, Brendan, Sam, Kristina, Caleb

We have FREE run club Wednesday nights at 6pm and Sunday mornings at 8:30am.
| | |
| --- | --- |
| | Track North News - by Dick Moss |
For information call me.
Vincent Perdue
341 Fourth Ave, Sudbury On. P3B-3R9
705-560-0424
vt perdue@cyberbeach.net
Proud sponsor of the Sudbury Rocks!!! Race, Run or Walk for Diabetes
HOME | ABOUT US | CONTACT | ARCHIVES | CLUBS | EVENTS | PHOTOS | RACE RESULTS | LINKS | DISCUSSION

All photos images and content copyright Sudbury Rocks!!