| | | |
| --- | --- | --- |
| | | |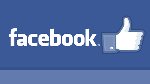 Hello Everyone, July 13, 2017
In this Issue:
Rocks!! Wednesday Run Done
Locals at Limberlost
Thompson, McIlraith and Richards Win in Timmins
Chantal Warriner attempts Women's FKT on the Bruce
Upcoming Local Events: July 16 Island Swim, July 16 Massey and July 19 20 Minute Challenge, July 22 Finlandia Series, July 23 Sudbury Fitness Challenge Mountain Bike Tour
Running Room Run Club Update
Track North News
dog-who-ran-half-marathon-accused-of-cheating
Rocks!! Wednesday Apres Run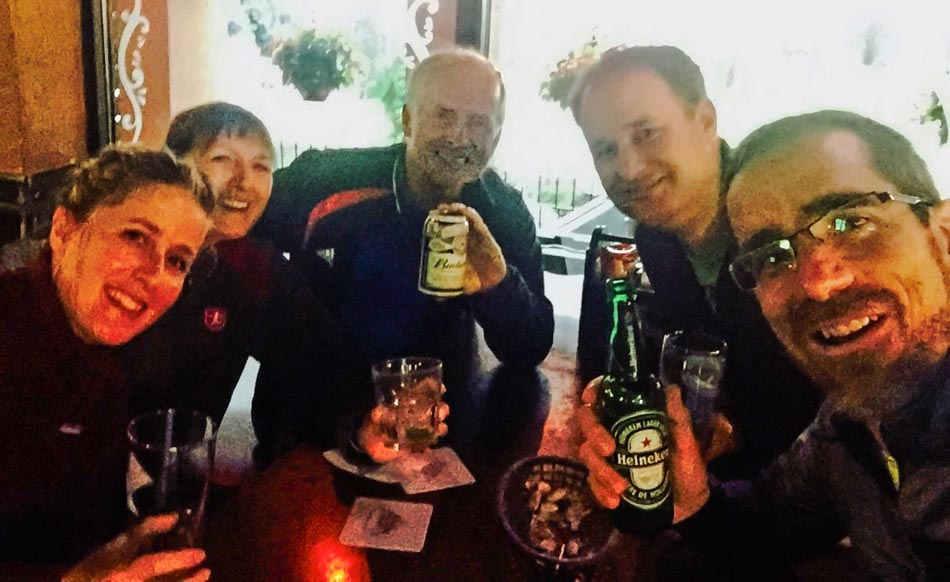 Locals at Limberlost
Shawn Schryer (file photo), Amber Konikow, Jane Hurban and Jenny-lynn Fortin at the Limberlost Challenge
---
About the Run
You will run through technical areas that will require the nimblest of footwork and on trails that allow you to open up to your best speed, plus everything in between. You will marvel at the extraordinary beauty of this privately owned Reserve that we are so privileged to enjoy. It will leave you breathless in more ways than one!
We promise you a well marked course, enthusiastic volunteers and a post-race meal that you will write home about.
| | |
| --- | --- |
| | This course features some of the most beautiful scenery you will ever see. These historic trails will take you alongside five lakes, several ponds and wetlands, across creeks and boardwalks and under some amazing rock formations. It is 95% trails and 5% gravel road. Considered to be a challenging course, it is generally flat to rolling. It has some longer gradual inclines such as up the Wetlands and some shorter steep hills that will get the heart rate up. With bush cover and the lakeside for most of the course, the summertime heat will be tempered. The one area where we have seen mosquitoes is downhill, so you can outrun them! |
---
Our Participants:
Shawn Schryer, a long time Sudbury Rock!!, is just getting back into organized trail runs after a few years off due to nagging issues. He competed in the dual loop 28k. Lively's Amber Konikow has had a few issues since completing the Annapurna Challenge. a six day 200+ kilometer trek through the Himalaya Mountains in Nepal. She's inching her way back now and did the single loop 14k at a conservative smart pace. Amber ran accompanied by Jane Hurban. Jenny- Lynn Fortin from Val Therese successfully completed the 4 loop 56 k event. Quite an achievement.
308 160
Jane Hurban
3:32:34 Lively 15:11 /Km F 171 1F40-49 48 53
309 167
Amber Konikow
3:32:35 LIVELY 15:12 /Km F 172 1F40-49 49 53
73 643
Shawn Schryer
4:03:28 4:03:16 Sudbury 8:42 /Km M 55 2M40-49 21 33
53 737
Jenny-lynn Fortin
9:27:17 9:27:06 Val Therese 10:08 /km F 14 4F30-39 6 8
Thompson, McIlraith and Richards Win in Timmins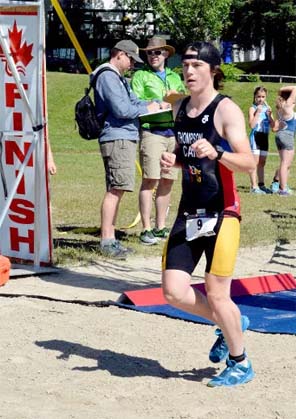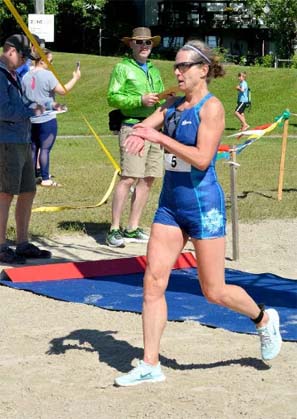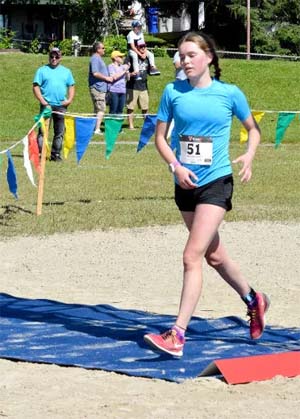 Kelly Thompson, Sara Mcilraith and Kate Richards
---
TIMMINS - Near ideal conditions made for some "Lively" competition at the 2017 Heart of Gold Triathlon held at Gillies Lake on Sunday July 9.
A pair of runners from Lively (part of the City of Greater Sudbury) were the winners of the male and female portions of the Sprint Triathlon — the Heart of Gold Triathlon's marquee event. Kate Richards won the female portion of the Duathlon.
Kelly Thompson posted a time of 1:07:55.9 to edge out Timmins' Marc Charlebois, who finished a time of 1:10:56.7, to win the event. It was the best finish in three tries for the Lively native who finished 20th in last year's Sprint Triathlon after placing third in the 2015 Tri-A-Triathlon. "The bike leg was the area where I improved the most this year," he said. "You can't not train on the bike and expect to go fast. This year, the bike has been the best part of my races, but I was first out of the water today. I was pretty shocked about that." Thompson and his father made the 295-kilometre trek from Lively to Timmins on the morning of the race, making his strong finish all the more incredible. "We left about 4 a.m.," he said. "It worked pretty well, so we might have to do it again."
With cool temperatures on Sunday, most spectators assumed the water would have been a little chilly for the 750-metre first leg of the event. "The water was warmer than it was outside the water, so it felt good to be in there," Thompson said. "The water was pretty calm and I had clean water to swim in, so I was able to do my own thing." Conditions for the first half of the 20-kilometre bike ride were a little different than the final portion of the event. "We had a tail wind on the way out, but it was tougher on the way back with a head wind," Thompson said. The hill the riders had to climb to get to the finish line taxed the majority of the riders, as well. "From past experience, I knew I had to put the gear in the little ring on the bike and just spin," Thompson said. "Then, you are ready to go for a run after that."
A five-kilometre run — two loops of the trail around Gillies Lake — finished up the vent for the Sprint Triathlon athletes. Thompson was not sure if he was in the lead when he got off the bike for the final segment of the race. "I didn't really know I was in the lead, because I think a duathlete passed me," he said. "Then, with a double-lap run course, it was tough to figure out who was in front, so I just ran my own race and paced it. I guess I paced it pretty well."
Heading into the competition, Thompson's game plan was to build up as much of an advantage as he could during the first two legs. "My weakest leg is the run, so I really tried to hammer the swim and the bike portions, then hoped I wouldn't get passed on the run," he said. Thompson plans to come back in 2018 to defend his title. "For sure, it was a lot of fun," he said. "I really like the community part of triathlons. You don't find many sports where you get a lot of people you don't know cheering for you. It is pretty magical, especially on the run course when there are a whole bunch of people out there."
The margin of victory for Lively's Sara McIlraith in the female portion of the race was a little smaller, but her time of 1:17:31.4 was good enough to secure a win over second-place finisher Navarra Good, who completed the course in a time of 1:18:33.6.
"The swim portion of the race was amazing," she said. "It was so calm and the water was really warm. Everyone was good and there wasn't a lot of crowding like you see in some races. "The bike is usually my weakest part of a triathlon, but I managed to keep a good pace. I kept strong on it and I was very happy."Th e run is always my strength. I am a runner at heart. I understand why some triathletes hate running because it is so hard at the end of an event like this, but I just tried to keep my cadence quick and I managed to do OK."
McIlraith actually thought she was in second place when she crossed the finish line, but the runner ahead of her was part of a team entry in a different category. It was the first time she has taken part in the Heart of Gold Triathlon, but it won't be her last. "It was amazing," she said. "It is a great event and very well organized. They have a lot of very good volunteers and I am very impressed."
McIlraith was pleasantly surprised with the conditions for the race. "I was a little nervous when we got in last night (Saturday) and that cold front moved in," she said. "The forecast said it was going to be about 8 C in the morning and I hadn't brought a lot of warm clothes, but the day turned out beautiful. You couldn't ask for better."
In the Duathlon (2.3-kilometre run, 20-kilometre bike and five-kilometre run), Danny Brunet won the race in a time of 1:09:09.6, while the top female finisher was Kate Richards, in a time of 1:26:30.3. Kate is the daughter of Sara McIlraith
Longtime race director Chris Salvador, who was the chairman of this year's event, was pleased with how the day turned out, as well. "Everything has been great," he said. "The weather has co-operated and it has been another great day." Registrations for this year's Heart of Gold Triathlon were down slightly from 2016. "We ended up with 101 participants," Salvador said. He agreed the weather couldn't have been any better for Sunday's event. "I think the temperatures were perfect for anybody taking part in the triathlon," Salvador said. "We have had a couple of years in the past when it was very hot and we needed a lot of water stations. The athletes have to stay hydrated."
---
Sara M.

Sara McIraith adds:

This Spring Kate started training with the Triple Threat Triathlon group here in Sudbury. Her passion for cycling, combined with her running background lead her to the world of duathlons. Her friend and team mate Kelly Thompson suggested Kate sign up for the duathlon at the Timmins Heart of Gold Triathlon. Not wanting to miss out on all the fun, I decided to register for the triathlon as well.

The Heart of Gold Triathlon was a wonderful event. A great venue, well organized, and lots of volunteers. The race centres around Gillies Lake, a small lake in the heart of the city. The water temps were warm, even making it a bit chilly to get out into the cool air. The bike course out to the GoldCorp mine was really neat, a highlight was riding through a rail tunnel right at the mine site. The run is a nice gravel path that circles Gillies Lake, complete with a huge flock of pigeons and ducks you had to run through. The organisers had 4 water stations along the 2.5k run loop, meaning you had 8 opportunities to grab a drink, and they had a volunteer with a water hose offering to 'hose you down'.

We all had amazing races, Kelly winning outright for the first time, my surprise win, and Kate won the duathlon her first time racing!

I highly recommend putting this race on your bucket list. It's a small event, everyone is very supportive, making it perfect for those newer to the multi-sport world. The organisers really do have their 'Heart' in this event.
Chantal Warriner

Welcome to my journey. My name is Chantal Warriner. I am an ultra runner from central Ontario, Canada. Starting July 1st, 2017 on Canada's 150th birthday, I will depart Tobermory Ontario and travel south along the beautiful Bruce Trail foothpath. My goal is a women's FKT (fastest known time) attempt on the Bruce Trail (890 km).


I live in Barrie, ON. I have been a competitive athlete for two decades, now specializing in ultra trail running. I love to run and my dedication and passion for ultra running is demonstrated through my career highlights which include:
- OCAA Hall of Famer
- 2016 Women's Relay Bruce Trail FKT record
- 2015 2nd Place Oilcreek 100k finisher
- 2015 Killarney Silhouette unsupported woman FKT
- 2014 Fatdog 70 miler winner
- 2013 undefeated trail running season
- 2012 5 Peaks series champion
- 2010 Masters Canadian Cross Country Champion, to name a few.



When not running, I am a mother of 2 young girls and a Paramedic. I am also an advanced registered holistic nutritionist (ARHN), and founder of Refresh Nutrition. I have a passion for natural living and I love to pass on this knowledge to anyone who wants to learn.
---
Latest Update
As of 9:30pm on Wednesday July 12 Chantal was passing by Grimsby. south of Hamilton. She should complete the full 895km trail tomorrow afternoon if all goes as planned. You can follow her and keep up with the blogs at the links below.
Good luck Chantal!
---

Half way through Day 12- How to count your FKT
July 12, 2017
I have had a few people asking just when Chantal needs to finish by in order to get the FKT. Since the current record is 13 days 6 hrs 28min, and Chantal started on July 1, she essentially has to finish before Friday at noon to beat the record. Sound confusing? Chantal started at 6am on July 1, so technically today is only part-way through day 12, and day 12 will end tomorrow (the 13th) at 6am. So as of July 13 at 6am, we will be 12 days exactly into her journey. Support crew Blaire explains it like this- think of how you count your birthday. You don't turn 1 until you have already been around for a full year. Same with this!

Our current plan is to have a big day today, sleep for a few hrs, then get up early and start hammering home- or 'the bell lap' as us runners like to call it. The bell lap is the last lap you run around a track- they ring a bell to let you know it's the last lap as you often lose track of which lap you are on when running around a track. So tomorrow is our final day/ bell lap! I'm not going to tell you what time we are hoping to start, only because Chantal likes to read these posts and sometimes it's best leaving the planning to your team Chantal ;). That way she can just get up and focus on running and not worry about anything else.
|
Caitlin
---


If you would like to follow along with Chantal's live 'spot' tracker, follow this link for update.



This FKT attempt would not be possible without the support of Chantal's friends, family and sponsors, so once again- thank you on behalf of Chantal.

For updates from start to finish please check out the link here: https://aspirebrucecelerity.wixsite.com/mysite
Upcoming Local Events
34th Annual Ian McCloy Island Swim
Registration opens 9 a.m. University Beach. Races start 1030 a.m.
the fee is $35
The swim features events for children and adults, including a 100-metre youth swim, 500-m, 1.6-kilometre and 3.2-kilometre swim challenges.
What is the 20 minute challenge?
The 20 minute challenge started in July 2004, which was the 20th anniversary of the Running Room. John Stanton invited the country to visit a Running Room and get active by walking or running for 20 minutes. This has become an annual event across the country. We encourage everyone to come out and bring friends and family to walk or run for 20 minutes, receive a FREE hat, and have fun.
https://www.events.runningroom.com//site/?raceId=13782
July 23, 2017
Family, Fun & Fitness Too!
Sudbury Fitness Challenge Mountain Bike Tour

Save Sunday July 23, 2017 on your calendar.
| | |
| --- | --- |
| | |
---
Store News

Hello Walkers and Runners,

Who is doing the Friendly Massey race this coming Sunday? It is fun, it is flat, it includes post-race pancakes, and you can get the famous wooden stool for being first in your age category! You can register online at www.runningroom.ca or on Saturday in Massey. Please note, no same day registrations.

On Wednesday, July 19th, please join us for our annual 20 minute challenge. Please sign up online at www.events.runningroom.ca. All participants receive a FREE hat. Bring your friends and family and be active with us for 20 minutes!

If you, or anybody you know would like to join our 5km,10km, or 1/2 marathon clinic, it is not too late. Please register online or talk to us at the store!

Happy Running everybody!

Your Sudbury store team,

Eric, Ania, Sam, Brendan, Kristina


We have FREE run club Wednesday nights at 6pm and Sunday mornings at 8:30am.
| | |
| --- | --- |
| | Track North News - by Dick Moss |
For information call me.
Vincent Perdue
341 Fourth Ave, Sudbury On. P3B-3R9
705-560-0424
vt perdue@cyberbeach.net
Proud sponsor of the Sudbury Rocks!!! Race, Run or Walk for Diabetes
HOME | ABOUT US | CONTACT | ARCHIVES | CLUBS | EVENTS | PHOTOS | RACE RESULTS | LINKS | DISCUSSION

All photos images and content copyright Sudbury Rocks!!