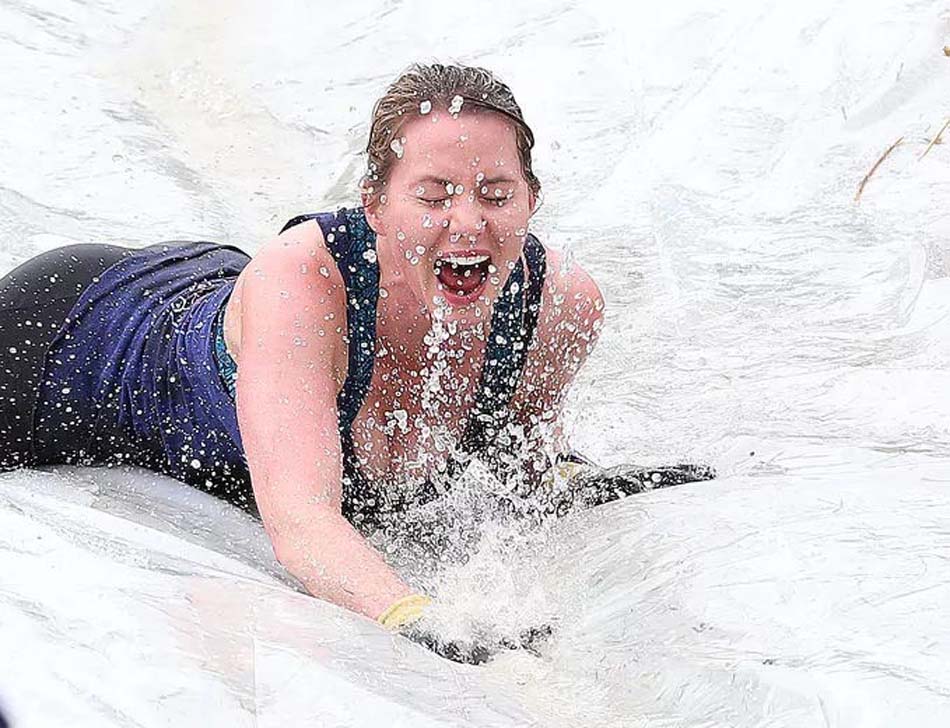 Lynn Bulloch takes part in the Miner's Mayhem at Adanac Ski Hill and the Rotary Park on Saturday. Hundreds of people were challenged to complete a 6.5 kilometre course with 17 obstacles. (John Lappa/Sudbury Star)
---
On Saturday about 400 people ran, walked, crawled, climbed, slid and slogged through a 6.5-kilometre course plotted with 17 obstacles, including a trudge up and down Sudbury's Adanac Ski Hill at the Miner's Mayhem obstacle course race.
As two-time veteran of the Mayhem, I had hoped to recruit my boyfriend Dan to race with me in 2017. He's a natural athlete with fond memories of glory days in amateur wrestling and track. Together, we enjoy back-country canoeing, so I figured he might be interested in this outdoor physical challenge, too.
His first response: "Why would anyone pay money to run up a hill?" It's a fair question. And it's far worse than running up a hill.
"It's so much more than that," I said. "You climb slippery ropes, jump barriers, crawl through sewer pipes, and people shoot water at you. Then, you climb the hill, and on top, you have to get across narrow planks up in the air while you're feeling a bit dizzy from the climb!"
I was really excited about all of this. He was still looking at me quizzically. He signed up, but then he couldn't make it, so I ran solo, like last year.
Fear is the first obstacle. During the shuttle bus ride to Adanac Ski Hill, a fellow racer regretted not bringing gloves, observing mine. Others wore long socks with shorts and knee pads, anticipating abrasions and bruises. Each had registered despite concerns ranging from missing out on other weekend plans to arachnophobia, claustrophobia, bug bites, and blisters. Some had come from out of town. Some wore matching apparel and braided their teammates' hair on the bus. Other racers sat quietly and kept to themselves. We were a motley crew of adults on a packed school bus that sort of knew what we were in for.
I signed up in March, ready to race ahead into the unknown. It was a git-'er-done kind of commitment and I planned to train harder than ever before, cross-fit style, with five-kilometre trail runs built in for cardio. Yet, I let all sorts of life obstacles get in the way. So, a week before the event, I tried running the Rotary Trail and up and down Adanac Ski Hill a few times to test my readiness. My legs burned and pollen clogged my lungs, but I felt something stir – it was that awesome feeling of adrenaline when you look at a monster, then slay it.
At the site, waves of racers start in the "cage." It's a shipping container packed with people. For some, it feels claustrophobic. The doors close and create total darkness until they fly open and it all begins. The fresh air and light felt amazing once I left the cage. My legs carried me forward almost effortlessly, until the first obstacles: tires, greasy ropes and steep metal stairs.
Twenty-one minutes in, through those first trials, I was doing okay. I was soaked from the waist down, my running shoes squishy after emerging from a tub of water about the size of two refrigerators. The good news: I was breathing well and not cramped up. I figured long and boring flats lay ahead of me and I pushed on. Instead, there was a detour through the forest, with over/under obstacles, banishing my expectation of boredom and leaving me guessing.
Pushing through, volunteers and racers exchanged words of thanks and encouragement. There's a camaraderie that you don't find in every road or trail race. "Crawl on your toes, save your knees," remarked one racer moving through a low tarp-covered grass-crawl obstacle. "It works, do it," yelled another from beneath the tarp. I swapped muddy high-fives and heard shouts like: "It's the last hill, I swear, you're almost there."
When you're in the Mayhem, you don't think about anything else – you're living minute-by-minute, pushing yourself while protecting yourself. In a nod to mine safety, racers remark "no miner left behind," offering hands to a muddy buddy or struggling stranger.
At the end, most racers can't wait to see the finish. They grimace with effort, then smile as they cross the line. Some wait for teammates to finish together, or to pose for a photo.
At that moment, I still had lots of energy, but the timing chip laced to my shoe didn't matter as much. I felt a sense of community and accomplishment more powerful than my time or divisional rank. But, for the competitive and the curious, the fact that it's a chip time race is a big benefit. I'm proud to be No. 31 of 147 women solo racers. Results are online at chiptimeresults.com.
I'm grateful that I "paid money to run up a hill." I have more great memories, a few bruises of honour, and I helped a charity (the cause was muscular dystrophy).
To everyone who volunteered, who raced, and who generally made this event excellent in 2017, thanks. To everyone who's still wondering why anyone does it: you won't know until you try. I'll see you out there, if you can manage the Mayhem!
Lynn Bulloch was a member of the Blasting Agents team in 2015, and competed as an individual racer in the last two Miner's Mayhem events.