| | | |
| --- | --- | --- |
| | | |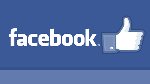 Hello Everyone, May 11, 2017
In this Issue:
Sudburyrocks THIS SUNDAY!!!
Goodlife Fitness Toronto Marathon
Runners brave cold in Mississauga Marathon
Sara McIlraith Earns Ontario Masters Athletics Silver Medal
Nike's Sub-2 Marathon Attempt
Upcoming Local Events: May 27 Defeat Depression, May 28 CF Walk
Running Room Run Club Update
Track North News
dog-who-ran-half-marathon-accused-of-cheating
SudburyRocks THIS SUNDAY!!

If you have already registered for the 2017 SudburyROCKS!!! Race, Run, or Walk for Diabetes, we thank you so much for your support in this event!
For those still wishing to register: Online Registration closes Wednesday May 10th, 2017 at 11:59pm.
Last minute manual registration for all race distances can be done at the Race Expo on Saturday May 13th, 2017, located at École Secondaire Du Sacré-Coeur at 261 Notre Dame Avenue in Sudbury from 9:00am to 5:00pm. The registration process is cheaper and quicker if you register yourself online!
If you don't want to run or walk, you can always volunteer! We need more than 200 volunteers to make sure everything goes smoothly.
Also, don't forget to continue raising pledges! Every dollar you raise and every kilometer you race helps those living with diabetes and helps our community for generations to come!
We've got an amazing prize lined up for the TOP PLEDGE RAISER! VIA Rail Canada has generously donated one (1) travel voucher for two (2) people to travel anywhere between Sudbury and Ottawa!
For more information, please visit: www.sudburyrocksmarathon.com
Once again, we sincerely thank you for your support! We look forward to seeing you on race day, Sunday May 14th, 2017!
We're getting excited for race day! All the t-shirts and medals are here
Take a sneak peak at what they look like!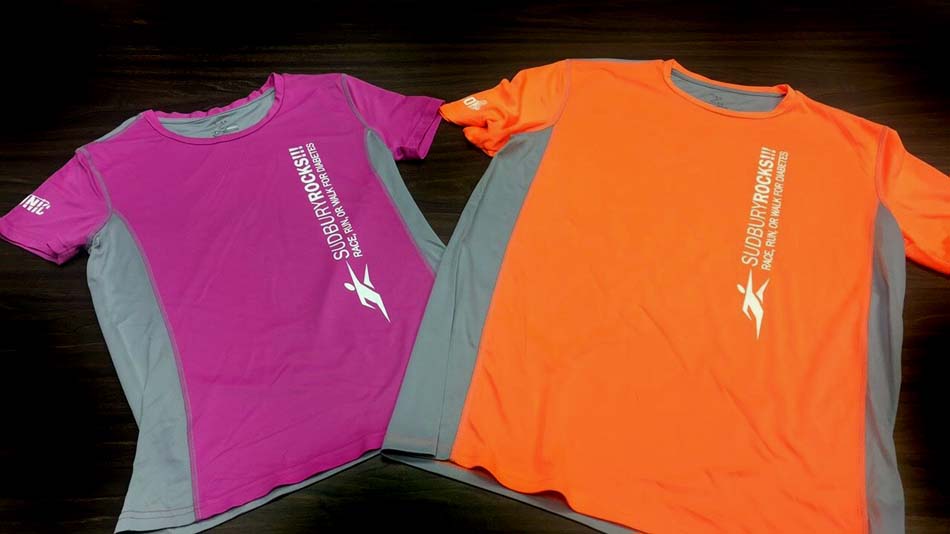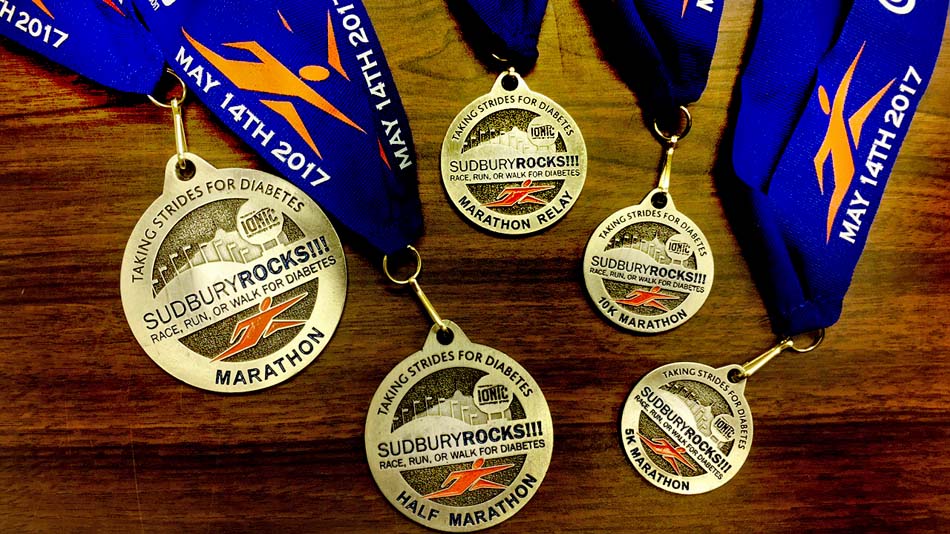 | | |
| --- | --- |
| | Peter Kemboi of Etobicoke wins GoodLife Fitness Toronto Marathon |
Race leader Peter Kemboi (right) takes the turn off Wellington Street ahead of a struggling Jeremy Walsh during the Goodlife Fitness Toronto Marathon on Sunday, May 7 morning. Kemboi went on to win the event with a time of 2:41:06. - Staff/Metroland
---
Peter Kemboi of Etobicoke is the fastest runner in today's GoodLife Fitness Toronto Marathon.
Kemboi finished in two hours, 41 minutes and six seconds.
Unseasonably cool temperatures today didn't dissuade 14,000 runners from more than 50 countries to hit Toronto streets for GoodLife Fitness's marathon, marathon relay, half-marathon, half-marathon walk, 10-kilometre run, 5K run/walk and relays.
Michelle Spencer of Guelph was the fastest female marathoner, finishing in a time of 03:00:30.8.
Toronto's Jane Weber was just two-and-a-half minutes behind with a time of 03:02:54.1.
The fast, downhill marathon course took runners from Mel Lastman Square in North York through several Toronto neighbourhoods to the finish at Ontario Place.
Organizers report many runners post their personal records in the annual event, for many, a qualifier for the Boston Marathon.
Rogers Rutto of Eldoret finished first in the half marathon with a time of 01:07:50.2.
Ruslan Kramariuk of Toronto ran the half marathon a close second at 01:08:37.9.
Sarah Elliot of Toronto was the fastest half-marathoner with a time of 01:02:17.4.
---
Locals and Friends Run Goodlife Toronto Events
Lynn Stubbings finishes half marathon
Yesterday was an almost optimal weather race day. The sun-cloud combo was much more welcomed than the predicted rain/snow mix. The winds picked up at times but nothing like last week in Waterloo. Ken Stubbings finished his 92nd full and I finished my 74th half marathon. Both a little faster than last week. We love that we can keep doing this for our health and well-being. You can get some great thinking time during long solo training runs. During the race, I choose to take in the excitement of other participants, the volunteers, and the spectators. We shared some of this event's course with my niece Katie Hamilton who had a super 10k race. It was great to connect with her after we finished. Just like us, she's anticipating the next adventures. Ken and I have races on both Saturday and Sunday this coming weekend. It's a first for us doing marathons a day apart. We've done many a week apart. Gotta keep it interesting. We've talked with many others who've done this lots. The key is being smart in the way we push our bodies to manage the challenges. Feeling great today, but still looking forward to yoga tonight. Nice change of pace.
---
Amber Konikow Paces Her Recruit, Andrea Marich
Amber Konikow pacing Andrea Marich at the half point in Rosedale Valley. Andrea is just killing it!!!!!!
Toronto Half Marathon Completed!

I am so happy for Andrea! She finished her first half marathon and did incredible while pushing through the aches and pains.

Fantastic day for a run!
Runners brave cold in Mississauga Marathon


Thousands take part in weekend events
They're off. Nearly 800 runners headed off a cool morning to run the Mississauga marathon on Sunday. Lucas McAneney of Burlington was the first to cross the line, two hours and 26 minutes after he started. May 7, 2017. - Rob Beintema/Metroland
---
Cool weather did not deter nearly 800 runners from racing the full course at the Mississauga Marathon on Sunday, May 7.
A total of 484 men and 311 women started the challenge with Lucas McAneney of Burlington the first to cross the line in 2:26.09.4, more than three minutes ahead of second-place Robert Brouillette from Cambridge.
Hamilton's Truphena Busiene was the top female in 3:06.31.1. The second female was Fiona Thompson of Calgary who crossed about 12 minutes behind her.
The half marathon had 2.047 participants. The fastest time was by Toronto's Bonsa Gonfa in 1:06.17.5. Justin Lagat of Eldoret was not to far behind in 1:06.24.1. The top female Lyndsay Tessier of Toronto finished in 1:16.33.3. Second-place Collen Wilson of Ancaster was timed in 1:18.06.2.
Five and 10-kilometre races were run on Saturday, May 6. Sergio Raez Villanueva from Mississauga won the 10K in 30.17.6 with Lagat second in 31.26.4. The top female Tanis Bolton from Paris was clocked in 36.20.0. The second female Laura McLean from Toronto ran the course in 39/03.7.
Top finisher in the 5K run and walk, out of 1,169 participants was Dylan Alick from Mississauga in 16.20.6. Second-place finisher Brendan Hancock from New Hamburg crossed in 16.33.2.
The top female Catherine Rodriquez from Brampton ran the course in 19.46.0. The next female was Mellissa Jacobs of Mississauga in 20.14.5.
In the half marathon walk Jennifer Blackburn from Mississauga was top overall and the top female in 2:12.32.7. Top male was Brett Clark from Toronto in 2:22.07.3.
Toronto's Diana Zamora was the top finisher and top female in the 10K walk in 1:07,41.5. Top male and second overall was Hongfeng Zhang of Brampton in 1:08.47.4.
Two relays were also contested. A team from UTM took the Sal Guzzo, LLB Relay Challenge. The RTMS boys captured the 10K elementary school Grade 6 to 8 race.
The Mississauga Marathon has been held annually since 2004. The race is a qualifier for the Boston Marathon.
The full and half-marathon courses and the Sal Guzzo relay began at Celebration Square for the first time.
by Frank Juzenas
Frank Juzenas is a sports reporter with the Brampton Guardian and the Mississauga News.
Sara McIlraith Earns Ontario Masters Athletics Silver Medal
| | |
| --- | --- |
| I'm really proud of this accomplishment. Silver Ontario Masters medal from my race at Around the Bay. You have your highs and lows with running, and getting this in the mail today made me feel better about my running low as of lately. It's important to celebrate your accomplishments, they don't happen all the time. | |
Nike's Sub-2 Marathon Attempt

So Close! Kipchoge Runs a 2:00:25 in the Breaking2 Attempt
---
After three years of planning, Nike's goal of staging a sub-2-hour marathon is still just that—an audacious aspiration. But Eliud Kipchoge, a 32-year-old Kenayn, ran 26.2 miles faster than anybody in history, finishing the time trial in 2:00:25.
The achievement on the Formula One track in Monza will not count as a world record, because the race utilized practices like alternating pacers that are not sanctioned by the International Association of Athletics Federations. Kenyan Dennis Kimetto's 2:02:57 in the 2014 Berlin Marathon still stands as the world record.

Kipchoge averaged 4:35.7 per mile, but an approximate 4:34.5 was required to run under two hours.
"The world now is just 25 seconds away from under two hours," Kipchoge said.
Three men attempting the two-hour-marathon, including Kipchoge, Lelisa Desisa, and Zersensay Tadese, and six pacers took off at 5:45 a.m. Saturday at the Formula One track in Monza, Italy. A team of scientists and physiologists had tried to account for and control every detail, including picking a time that offered the best weather. At the start, reports showed 54 degree temperatures with light rain and 74 percent humidity. The pace and went largely according to plan for the first part of the race.
Right around the 16K mark, with about 11 laps to go Desisa faded from the pack. Shortly after, at the 20K mark, Tadese fell back as well, and while he fought for a few strides to hold on, he ultimately ended up putting significant space between himself and the pace group. Tadese ultimately finished in 2:06:51—a huge improvment from his previous best of 2:10:41.
Kipchoge, however, went through the 25K mark still on pace at 1:11:03. At 30K, he was just one second off the desired pace. He continued on, sometimes with a smile on his face, sticking to the script.
At the end he sprinted the final stretch to break the tape, coming up 26 seconds shy of the goal. He said afterward that the effort was 100 percent of what he had to give.
Upcoming Local Events
May 27, 2017
May 28, 2017
Kivi Park hosts annual CF walk
| | |
| --- | --- |
| | |
---
Store News

Sudbury Rocks!! Race, Run, or Walk for Diabetes is approaching fast on Sunday, May 14th. If you have not signed up, please VOLUNTEER! If you have any high school students in your life, please pass the message on to them - it is a great experience and a great way to earn volunteer hours. To volunteer, please sign up at the store, email sudburymarathon@hotmail.com or call Amylee at 705-670-1993.

Our spring clinics are in full swing, with the Run to Quit being the newest addition. If you know anybody who would be interested, it is not too late to join the Run to Quit clinic which is intended for individuals who would like to quit smoking while getting physically active. Learn to Run, 5km, and 10km clinics are to start next week if you or anybody you know might be interested. We always are looking for coaches too so if you are not participating in a clinic, please consider being a coach.

Enjoy your Wednesday and hope to see you tonight for the Run Club!

Eric, Ania, Samuel

We have FREE run club Wednesday nights at 6pm and Sunday mornings at 8:30am.
| | |
| --- | --- |
| | Track North News - by Dick Moss |
For information call me.
Vincent Perdue
341 Fourth Ave, Sudbury On. P3B-3R9
705-560-0424
vt perdue@cyberbeach.net
Proud sponsor of the Sudbury Rocks!!! Race, Run or Walk for Diabetes
HOME | ABOUT US | CONTACT | ARCHIVES | CLUBS | EVENTS | PHOTOS | RACE RESULTS | LINKS | DISCUSSION

All photos images and content copyright Sudbury Rocks!!