| | | |
| --- | --- | --- |
| | | |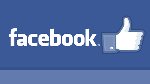 Hello Everyone, March 2, 2017
In this Issue:
50 at 50 - The Glenn Woods Birthday Celebration
OFSAA Nordic Ski Championship in Timmins
Sudbury Rocks!!! Race News
Upcoming Local Events: Trek for Cancer March 5
Running Room Run Club Update
Track North News Ontario University (OUA) Indoor Track & Field Championships
dog-who-ran-half-marathon-accused-of-cheating

50 at 50

The Glenn Woods Birthday Celebration

---

The Plan: from Helen Bobiwash

Join us as we celebrate Glenn`s 50th birthday by helping him to complete 50K on his 50th. Maybe we`ll even throw in his birthday burpees.

It`s a night run on the Rotary Trail. Bring your headlamps and some warm running attire. Once expected guests have arrived, we`ll figure out how many KM needed by each to complete a total of 50k. You can walk, run or even snowshoe if you want to go off-trail. Following the total 50 km completed by the team, we`ll celebrate with cake (healthy-ish) and hot drinks. Please join us and let`s try to keep this a secret from Glenn.

The Day:

The weather was a bit variable. Temperatures were warm at about 0 and the ongoing rain threatened to freeze. Fortunately new snow on the Rotary park trail soaked up the moisture just fine making conditions better than expected for our 50k walk/run attempt.

The Surprise:

Glenn was in his pajamas downstairs watching a movie and totally oblivious to a crowd assembling upstairs. It was obvious he never intended to go running in the rain in the dark on his 50th birthday. Ms. Bobiwash changed all that. Finally hearing the commotion Glenn ventured upstairs to see Helen and friends making up a schedule to ensure all of us combined walkers and runners would complete at least 50k. Only then could we celebrate with cake and other goodies. Glenn was actually impressed and enthused for the adventure. He quickly donned running gear including headlamp and we were off.
Success:
Twelve hardy souls struck out in a mild rain to hike to the end of the Rotary park trail and return. Five runners agreed to add a bit more distance and continue on the roads and trail system to the flour mills and back. If all went well Glenn would be assured of achieving the his magic distance.
It turned out to be a great outing. The park hill even played a part. It challenged us and we claimed victory in the night, running up with graceful ease - almost. The group finished as one and after tallying the distances we were way over the 50k mark covering 68km. Definitely an acceptable excuse to gorge on goodies as we celebrated Glenn's 50 at 50.
Glenn adds:
Thank you for all the Birthday wishes. It was a great day. Helen Bobiwash invited over some friends as a surprise. The plan being to run/walk 50km and we totaled up to 68km. Of course, I expect the same group in 20 years for my 70th so we can repeat and add that extra 2.5km.
Helen also got me a registration to the Niagara Barrelman triathlon as a gift. So who isn't busy on September 17 and wants to come do it with me?

Nordic Skiing Championship
NORDIC SKIING (NEOAA)
Feb. 28- March 1, 2017, Timmins

The Lo-Ellen Park Nordic team in Timmins- with Vanessa Catto, Sara McIlraith and Neil Phipps.
---
Day 1 Results:
In the Junior Boys Division, Tyler Allan, of Ashbury College captured the gold medal, finishing the five-kilometre course in a time of 0:13:00.3.
The silver medal went to Nick Poole, of Parry Sound High School, who finished second in a time of 0:13:36.8, while Cameron Pouw, of Glebe Collegiate Institute, was third in a time of 0:13:46.0, to pick up the bronze medal.
In the Senior Girls Division, Olivia Westbrooke, of Collingwood Collegiate Institute won the gold medal, finishing the five-kilometre course in a time of 0:15:01.8.
Natasia Varieur, of Huntsville High School, finished second in a time of 0:15:07.9 to capture the silver medal, while Shaylynn Loewen, of Parry Sound High School, finished third in a time of 0:15:15.5 to take the bronze medal.
Thériault's Isaac Rondeau-McNair cracked the Top 10 in the Senior Boys Division, but he had to settle for a seventh-place ribbon after finishing the 7.5-kilometre course in a time of 0:20:38.8.
Alec MacLean, of Eastview Secondary School, won the gold medal, finishing the race in a time of 0:19:21.0.
The silver medal went to Pierre Grall-Johnson, of Glebe Collegiate Institute, who completed the course in a time of 0:19:24.0, while the bronze medal was captured by Oliver Grocott, of the University of Toronto Schools, in a time of 0:19:35.7.
Competitors in the Senior Boys Division were the last to take to the trails on Tuesday and they also skied the longest race. "The last 2.5 kilometres were the hardest for me today," Rondeau-McNair said. "The hills really start coming on you quickly and you don't get a chance for much rest in between."
Weather conditions for Tuesday's races was close to ideal. "It was really good and the snow was really fast," Rondeau-McNair said. "It was getting a bit warm by the end of the day, but overall conditions were really good."
Day 1 of OFSAA also featured the Para-Nordic events, with Caelan Flannigan, of Timiskaming District Secondary School winning the Sit Boys 2.5-kilometre event in a time of 0:12:05.3.
In the Stand Boys 2.5-kilometre event, Mark Cheek, of Huntsville High School finished first in a time of 0:10:03.4; followed by Hudson Booth, of Almaguin Highlands Secondary School, in a time of 0:11:48.0 and Rory McDonald, of Mayfield Secondary School, in a time of 0:14:56.2.
Audreanne Soenens, of Macdonald Cartier, won the Stand Girls 2.5-kilometre event in a time of 0:14:53.9, followed by Clarista Ardiel, of Almaguin Highlands Secondary School, in a time of, 0:16:52.7.
Results below
The Lo-Ellen Park Nordic team after Day1
---
I feel the need to do a day 1 race report. Crazy good day!! by Colin Ward
There are 15 OFSAA medals around the necks of these kids! 5 OFSAA ribbons! Junior girls and boys, bronze! Senior girls silver, and senior boys 6th! This is also a young team!
We are currently in 2nd for the Junior Combined Championship win and 3rd for the Senior Combined win. Both titles are in reach and will be determined in the relays tomorrow!
Proud of this bunch. — celebrating this day with Neil Phipps, Vanessa Catto and Sara McIlraith.
Neil Phipps adds: If there was an overall team award, Lo-Ellen Park would be winning OFSAA right now....14 points - Collingwood would be the next closest with 19. Unbelievable for a team with so many first year skiers!!!!!
**SudburyRocks!! Couples Who Run**
---

Meet committee member Sara, and her husband Neil, who met through endurance sport, and often run, ski, and bike together. And whose number one fitness goal as a couple is to beat each other in a ski race, and to ensure that their dog Dexter gets a run in every day. #ROCKTalkWednesday #CouplesWhoRunTogether

"I would definitely say skiing is our favourite to do together. We are quite competitive with each other on skis, so we often push each other when we ski together. Neil has more speed than I do, but my endurance is better. He helps me push the pace, while I motivate him to ski longer distances.

We actually went for a headlamp ski together on Valentine's Day! I couldn't have asked for a better present.

There have been lots of memorable moments together over the years. Neil often reminisces about our first run together. He had just started to get back into running after a multi-year hiatus that involved a lot of downhill mountain biking and bad food choices. I was nervous to run with him, as I knew he was a very fast runner in the past.

We went out for a 10k run, and I tried to push the pace a bit so that he didn't think I was really slow. We finished the run, and he went inside and immediately crashed on the bed for a nap! I think that might have been the only time I've ever out-ran him."



---
**SudburyRocks Race Facebook Contest**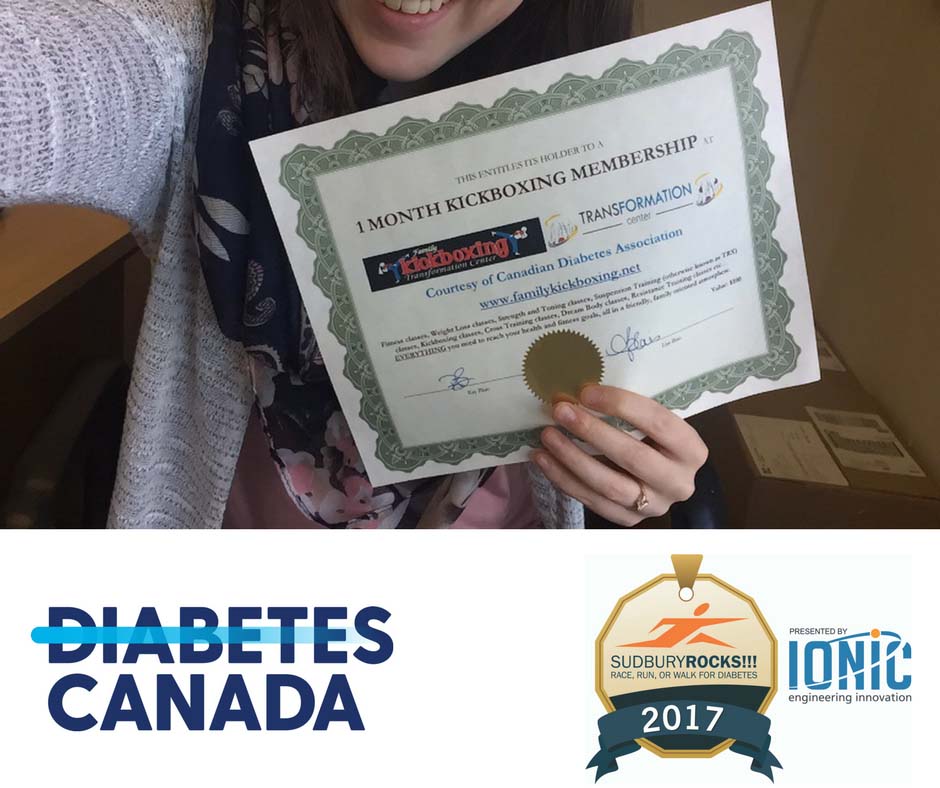 ---

February was Heart Month!
Did you know that diabetes contributes to 40% of heart attacks? Exercise is extremely important to living well with diabetes.
Even though February is over, we want to help you do some good for your heart! We're giving away ONE (1) 1 month Kickboxing Membership from Family Kickboxing!
All you have to do for your chance to win is: Go to our Facebook page and:
- LIKE this post!
- SHARE this post!
- And COMMENT whether you'll be joining us on May 14th!
We'll be entering everyone who LIKES, SHARES, and COMMENTS' name in a draw and tabulating all entries received by MONDAY, MARCH 13. We'll be drawing ONE (1) name on TUESDAY, MARCH 14TH, 2017!

---
---

SudburyROCKS!!! Race, Run, or Walk for Diabetes
Presented by Ionic Engineering
**Team Marathon Relay**
---

Your team has conquered the Marathon Team Relay in the past – and we know you have what it takes to do it again!
There's just over two months until the 12th annual SudburyROCKS!!! Race, Run, or Walk for Diabetes presented by Ionic Engineering! This is your chance to take part in Northern Ontario's largest competitive running event.
11 million Canadians are currently living with diabetes or prediabetes.
Support your community, and your neighbours living with diabetes, by challenging your co-workers, friends, and family to some healthy competition by registering your team for this year's Team Marathon Relay!

By participating in our 2017 event, you are supporting Diabetes Canada in its mission of shedding light on the diabetes epidemic Canada is facing, building awareness of the disease and its implications, and in ending diabetes and its health impacts.

SudburyROCKS!!! Race, Run, or Walk for Diabetes wouldn't be the success that it is each year without the honourable contributions of pledges raised by community members like you. We ask that you start fundraising upon registration – pledge forms will be mailed out upon your registration!

We look forward to seeing your team on Sunday, May 14th, 2017!

For more information about the Team Marathon Relay, visit: http://www.sudburyrocksmarathon.com/marathon-relay.html
Like us on Facebook: https://www.facebook.com/sudburyrocksmarathon/
Follow us on Twitter: https://twitter.com/sudburymarathon

Upcoming Local Events
March 5, 2017
2nd Annual Trek for Cancer Snowshoe Fun Run

Join the Northern Cancer Foundation and its community partners at Kivi Park and help raise funds for the Northeast Cancer Centre! Whether you're looking for a corporate team building experience, a group outing or just an opportunity to get outside and have fun, this event is for you.
Push yourself to the limit with the Trek for Cancer Snowshoe Fun Run Whether an individual or part of a team, register today and join us as we snowshoe to raise money for the best cancer care in Northeastern Ontario.
As always, all the money raised here, stays here.
| | |
| --- | --- |
| | |
---
Store News

Good evening Runner's and Walker's

Goodbye to February Hello March one step closer to spring, the next round of clinics and the Sudbury Rocks race weekend on May 14th.

We were supposed to have a 10km clinic starting next Tuesday March 7th but we will have to push it back due to our clinic instructor Erika having to finish up the 5km clinic she is currently coaching. We are looking at a March 20th start date. If anyone would like more information regarding the clinic you can stop by the store or come out to Wednesday night run club at 6pm. As well you can always contact the store at 705-523-4664.

The spring race season starts this coming Sunday with the Chilly Half Marathon taking place in Burlington Ontario there are still a few entries left.

There is also a new event coming to Sudbury the Unbreakable Spring Open 5km taking place on April 23rd, the kids 1km starts at 10am while the 5km starts at 10:30am.

Have a great rest of your day and see you at Run Club Wednesday night at 6pm.

Your Sudbury Team,

Eric, Ania, Cassandra, Alex, and Bernadette

We have FREE run club Wednesday nights at 6pm and Sunday mornings at 8:30am.
s-plan-break-the-2-hour-marathon-barrier-in-2017
| | |
| --- | --- |
| | Track North News - by Dick Moss |
Ontario University (OUA) Indoor Track & Field Championships
York University, Toronto, February 24-25, 2017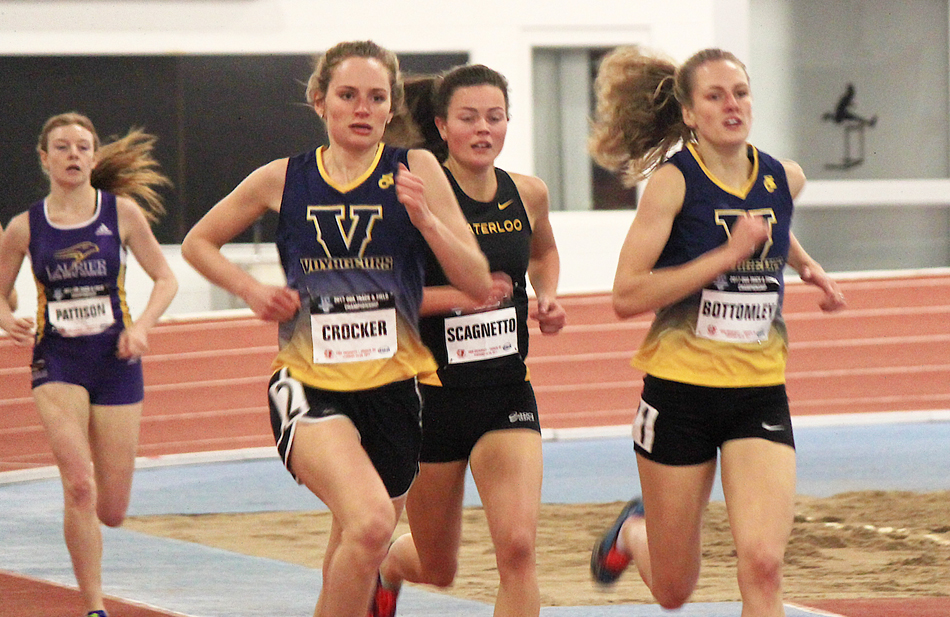 Megan Crocker and Jenny Bottomley
---
The Laurentian indoor track team competed at the OUA Track & Field Championships at York University this weekend. They returned with no medals, but ran four personal-best performances during the competition.
Danielle Roy, Kirsten Crowe and Rashid Dia Hantchi all ran personal bests in the 60m. Megan Crocker followed up by running a four-second best time in the 1500m.
This concludes the track team's competitive season. After a short break, they'll begin training for summer competition and next year's varsity season.
Laurentian's Performances
Women
60m
18. Danielle Roy, 8.00 (Personal Best)
23. Kirsten Crowe, 8.15 (PB)
300m
19. Natasha Mayer, 41.98
DQ, Kirsten Crowe, 42.37
1000m
11. Megan Crocker, 3:01.95
14. Jenny Bottomley, 3:03.58
1500m
14. Megan Crocker, 4:44.67 (PB)
17. Marissa Lobert, 4:51.29
21. Jenny Bottomley, 4:56.30
3000m
14. Marissa Lobert, 10:31.92
Men
60m
22. Skyler Savage-Perreault, 7.27
23. Rashid Dia Hantchi, 7.28 (PB)
600m
19. Michael Petta, 1:24.13
Complete Results: http://bit.ly/2lnA1Sw


Thank!
Dick Moss

Dick Moss, Head Coach
Laurentian XC/Track Team
c/o Coach Moss <pedigest@cyberbeach.net>
Web: http://laurentianxctrack.com
Facebook: https://www.facebook.com/groups/laurentianxctrack/
For information call me.
Vincent Perdue
341 Fourth Ave, Sudbury On. P3B-3R9
705-560-0424
vt perdue@cyberbeach.net
Proud sponsor of the Sudbury Rocks!!! Race, Run or Walk for Diabetes
HOME | ABOUT US | CONTACT | ARCHIVES | CLUBS | EVENTS | PHOTOS | RACE RESULTS | LINKS | DISCUSSION

All photos images and content copyright Sudbury Rocks!!