Ottawa Last Chance Meet
Louis Riel Dome, Ottawa, 2/18/17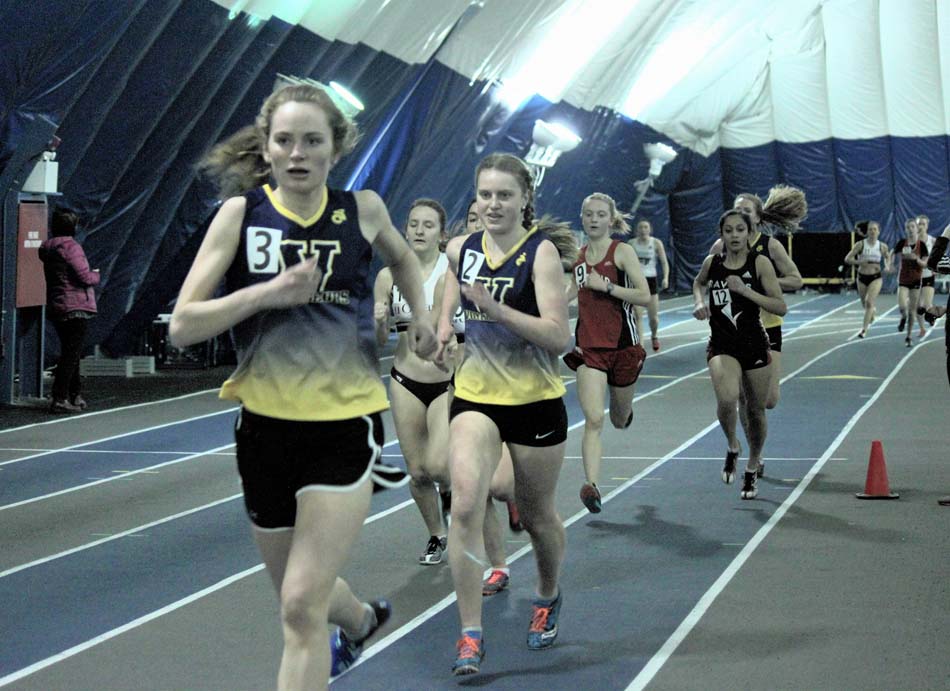 The Laurentian indoor track team competed at the Ottawa Last Chance meet this weekend. They returned with six OUA qualifying times, one school record, one medal and 11 personal best performances.
OUA Championship qualifiers included Kirsten Crowe in the 60m and 300m, Jenny Bottomley in the 1000m and 1500m, Megan Crocker in the 1000m, and Rashid Dia Hantchi in the 60m.
The school record was broken by Natasha Mayer in the women's 300m. Mayer topped Ashley Huard's previous record with a time of 41.66 seconds.
Seven universities and nine track clubs from Ontario and Quebec competed in the event.
The Laurentian track squad leaves for the OUA Championships next weekend with a total of nine participants - the largest team they've fielded at this event.
Laurentian Results - Women
60m
5. Danielle Roy, 8.13
7. Kirsten Crowe, 8.19 (PB, OUA Qualifier)
11. Natasha Mayer 8.36 (Heats - 8.33)
12. Zvia Mazal, 8.44 (8.43 Heats)
16. Jennie Philipow, 8.52 (PB)
300m
5. Natasha Mayer, 41.66 (PB, School Record)
8. Kirsten Crowe, 42.10 (PB, OUA Qualifier)
11. Zvia Mazal, 42.50
1000m
5. Jenny Bottomley, 2:58.60 (PB, OUA Qualifier)
6. Megan Crocker, 2:58.73 (PB, OUA Qualifier)
1500m
6. Megan Crocker, 4:48.50 (PB)
8. Jenny Bottomley, 4:50.00 (PB OUA Qualifier)
9. Marissa Lobert, 4:51.50
3000m
3. Marissa Lobert, 10:19.16
7. Lyndsay Greasley, 11:48.47

Laurentian Results - Men
60m
14. Rashid Dia Hantchi, 7.35 (7.33 Heats - PB, OUA Qualifier)
Skyler Savage-Perrault, 7.23 (Heats Only)
300m
26. Aidan Lucas, 37.76 (PB)
600m
23. Tony Thomas, 1:25.94
1000m
9. Sam Delage, 2:40.95
1500m
10. Dylan McKevitt, 4:10.27 (PB, School Record)
19. Gordie Chown, 4:20.57
25. Caleb Beland, 4:27.52
3000m
6. Dylan McKevitt, 8:57.78
12. Gordie Chown, 9:23.44
15. Caleb Beland, 9:37.10

Photos and videos from the Ottawa Last Chance meet are now available on SmugMug. The videos are at the bottom of the page. You can identify them by the small video icon that shows up when you hover over the pic.
http://smu.gs/2lY6Ucr